Thursday, May 31, 2007
One of the Blogs at
The Chronicle of Higher Ed...

...links to my post on the faculty retention problems at the University of Wisconsin Madison (scroll down to A University is a Sometime Thing). The blog is all about faculty hiring, and is well worth a look.
Wednesday, May 30, 2007
The Commencement Dream Machine



John Sutherland, in The Guardian, drifts into the dreamy world of the commencement speech.



... [Bill Clinton,] who's doing the rounds of six campuses this summer ... puts it this way:

"I always urge them to have dreams that are both timely and timeless, to try to live their dreams knowing that life's real regrets are more rooted in not trying than in not succeeding, and to find joy in the effort."

Dream the impossible dream - where have I heard that schmaltz before?

Addressing the most venerable of African-American campuses, Howard University, on May 12, Oprah Winfrey, "commencement oratrix", told her ecstatically cheering, begowned audience: "I stand here as a symbol of what is possible when you believe in the dream of your own life."

With that sublimely meaningless platitude Dr Winfrey, who has honorary degrees like Imelda Marcos had shoes, received another PhD in humanities. She may also have received a hefty fee. Or not. Universities are chary about revealing how much they pay their speakers: it rather takes the bloom off the platitude...




The last commencement speech UD covered was Villanova's, in 2004. The speaker was Big Bird.
Hybrid Rice

UD's student, Christina, sends her a link to this intriguing announcement from Rice University Press:



Rice University has re-launched its university press as an all-digital operation. Using the open-source e-publishing platform Connexions, Rice University Press is returning from a decade-long hiatus to explore models of peer-reviewed scholarship for the 21st century. The technology offers authors a way to use multimedia — audio files, live hyperlinks or moving images — to craft dynamic scholarly arguments, and to publish on-demand original works in fields of study that are increasingly constrained by print publishing.

Rice's digital press operates just as a traditional press, up to a point. Manuscripts will be solicited, reviewed, edited and resubmitted for final approval by an editorial board of prominent scholars. But rather than waiting for months for a printer to make a bound book, Rice University Press's digital files will instead be run through Connexions for automatic formatting, indexing and population with high-resolution images, audio and video and Web links.

Users of Rice University Press titles are able to view the content online for free or, thanks to Connexions' partnership with on-demand printer QOOP, order printed books in every style from softbound black-and-white on inexpensive paper to leather-bound, full-color hardbacks on high-gloss paper.

Authors published by Rice University Press retain the copyrights for their works, in accordance with Connexions' licensing agreement with Creative Commons. Additionally, because Connexions is open-source, authors will be able to update or amend their work, easily creating a revised edition of their book.



Much more detail on their web site.

This is the new face of scholarly publishing.

I think it's particularly cool that you can order the thing as a traditional book if you like, with design decisions up to you...
Putrid Powerpoint

Eric, a reader, sends a link to a video about putrid, putrid Powerpoint.

UD thanks him.
Lots of fun stuff...

...on Christopher Hitchens, in The Times UK. Nicely written piece.
Fine. Those Who Say
It's Getting Out of
Hand May Have a Point.

But UD's still a mad lover of Bloomsday.




BLOOMSDAY GROWS INTO
WEEK-LONG CELEBRATION

James Joyce's day-long journey through the streets of Dublin has bloomed into a week-long series of cultural events.

Celebrations marking Bloomsday on June 16 will run for a week at the James Joyce Centre in Dublin's North Great George's Street.

A number of films will be shown in tribute to his 732-page masterpiece, Ulysses, alongside the historic breakfast, talks by Joyce scholars and guided walking tours of the capital.

Irish film-maker Ian Graham's 'Joyce: The Journey Home' and 'James Joyce: The Trials of Ulysses' will be screened.

During the week of events from June 10-17, a special outdoor screening will also take place of John Huston's 'The Dead'. A new musical 'Himself and Nora', headed for London's West End, and Broadway will be shown at the James Joyce Centre on Bloomsday evening. [Er, this isn't new. It has appeared here, to bad reviews.]


---irish independent---





It's June 16. Maybe something's happening in your town.
A University is
A Sometime Thing

A faculty hemorrhage at the University of Wisconsin-Madison has attracted some unwelcome Associated Press attention.


University of Wisconsin-Madison has long been an attractive target for elite schools like Harvard and Stanford looking to steal faculty. But Arizona State? Pittsburgh? Florida State?


Well, Arizona and Florida shouldn't be that surprising. There's a clear trend toward many professors choosing quality of life over national ranking. Recall one of UD's favorite people, Colin McGinn, who (to quote myself in an earlier post):



...left the philosophy department at Rutgers for the University of Miami so that he can surf. "I like water sports. Miami is a year-round water-sports place." The top-ranked philosopher is leaving a top-ranked philosophy department (his departure "could leave Rutgers' high ranking vulnerable," worries the Rutgers student newspaper) for lowly UM, which is "definitely not as good as Rutgers is," McGinn acknowledges. "But I have to weigh how much that matters to my daily life."


You need only recall Ann Althouse's extensive winter wonderland photo gallery to know why some people prefer to live south of Madison.



But that's only part of it:


Dozens of UW-Madison professors left in the past two years, and Chancellor John Wiley said a growing number of them are going to schools that traditionally could not compete with his campus. More than 115 professors reported receiving outside offers last year, the most in 20 years and more than double the number from five years ago.

The trend has alarmed Wisconsin administrators who say some departments are in a crisis after losing prominent teachers and researchers. At stake, they say, are the quality of the state's flagship university, which has traditionally ranked among the nation's top public schools, and coveted research dollars.

Faculty members say the departures accelerated as professors' salaries hit rock bottom among their peers and morale sagged amid budget cuts. [Well, of course, this is a huge part of it. Note that some of the professors about to be mentioned have been radically undervalued by the university.]

To address the problem, lawmakers are expected to soon consider Gov. Jim Doyle's plan to create a $10 million fund to retain faculty at Madison and other campuses in the UW System. UW-Madison, whose rivals increasingly see it as an easy target, is lobbying hard for the plan.

"In years past, schools like Pitt or Rutgers, even some of the other major state universities like Ohio State, Michigan State, Iowa and Indiana would not have been able to hire away from Wisconsin," Wiley said. "And they are doing that now."

Particularly hard hit, Wiley said, have been departments such as political science, English and history.

Joe Soss, a political science professor leaving for the University of Minnesota, said the departures should be a wake-up call to taxpayers to decide whether they want to maintain UW-Madison's status as a world-class university.

"In my case, the decision to respond to an invitation is something that arose after a number of years of frustration with the resources at the university," said Soss, who said Minnesota will increase his $90,000 salary by 50 percent. "I think that you've seen a real upswing in the number of people who are responding to invitations because of what's going on."

Clark Miller, a professor of public affairs, left last year after Arizona State offered to increase his $64,000 salary to $92,500 and promised more research support. Some colleagues reacted with surprise when they learned of his departure.

"I think that is also part of the danger that UW-Madison faces at the moment: I think it's become a little bit complacent," Miller said. "It's become a little, 'We're very good and we'll always be very good and we don't have to do anything to make sure we stay at the top."' [This is a very real problem at many universities - a kind of complacency about their stature that can morph into self-delusion. Reputation, even at the Ivies, is a delicate thing; but there are strong provincial tendencies at all universities that make them insist they're just terrific, the best in the world...]

Wiley said the university, which maintained its U.S. News & World Report ranking as seventh best public university last year, is doing its best to retain the brightest in the face of decreasing salaries.

A UW-Madison full professor earns an average of $103,000 per year, the lowest in its 12-member peer group and well below the $117,000 average at those schools, according to the American Association of University Professors.

University officials say a retention fund in the last state budget helped keep more than 100 key faculty members, including Laura Kiessling, a chemistry professor recently elected into the National Academy of Sciences.

Kiessling said she was recruited by two schools but the university's pay and research package will keep her here for now. Nonetheless, she said she's troubled by "the lack of support for the university."

University statistics show about two-thirds of those who received outside offers have been retained in the past three years but more than 100 have left in total, often taking with them expertise and research funding.

In the last two years alone, the departures cost the university up to $36 million in federal and private research funding, UW-Madison lobbyist Don Nelson said.

The departures of eight faculty members in political science will require a major rebuilding of the department, chair Graham Wilson [who's also leaving] said.

Wilson said he is leaving because his wife, Virginia Sapiro, received a promotion at Boston University but the department's other losses were troubling.

"The word is out that salaries are lagging behind comparable institutions and that makes you very vulnerable," he said.

Those departing include Jon Pevehouse, an award-winning teacher in international relations who said the University of Chicago will nearly triple his $75,000 salary when he starts there this summer. [That's what I mean about a radically undervalued faculty member.]

Pevehouse, 34, said he was frustrated by low salary increases in his seven years at the university and being told the way to receive a larger raise was to receive better offers elsewhere. [Indeed, UD has always found this bit -- endemic to most American universities -- rather baffling. You don't reward your best faculty because they're your best faculty. You don't even figure out who your best faculty are until they attract offers from other schools. You make clear to faculty that intrinsic worth doesn't matter; if they want serious promotion, they have to be found worthy by other schools. Well, the peeved Pevehouse demonstrates the problem with lacking your own institutional standards of merit. You create a culture of outside-offer-mongering, which will almost certainly result in many faculty going ahead and taking the outside offers, if they're such a terrific thing as all that...]


"By the time you look around, your momentum is towards leaving," Pevehouse said.

Seven faculty members left the top-ranked department of educational psychology for positions at other universities since 2002, typically receiving a salary bump of 50 percent, department chair Ronald Serlin said.

The department retained seven others who were recruited but lagging salaries mean the department remains "at great risk of being raided," he said.

Wiley said one of the biggest blows was in 2005 when Florida State University lured away David Larbalestier, director of the Applied Superconductivity Center. Larbalestier, who generated $15 million in research grants in the previous five years, took with him 30 staff members.

"This is another university that never used to be successful in hiring from us," Wiley said.
Tuesday, May 29, 2007
Athletic Directorectomy
'It was open season on Vanderbilt on Sept. 9, 2003, when chancellor Gordon Gee eliminated the athletic department and put all sports under Student Life and University Affairs along with intramurals, fraternities, sororities and the student health center.


... Fast forward four years and nine months, and Vanderbilt is basking in the afterglow of several championships. The baseball team clinched its first SEC title since 1980 and followed that by winning the SEC Tournament on Sunday.

The Commodores (51-11) are No. 1 in the nation. They are the first Vanderbilt men's team to ever be No. 1, but they are the third Vanderbilt team to reach No. 1 since Gee's radical move. The women's golf team was No. 1 in 2004, and the women's bowling team won the national title last month in just the third year of the sport.

Vanderbilt does not have an athletic director or an athletic department, but that has not seemed to hurt the school's sports. The men's basketball team reached the Sweet 16 this past season. The women's team won the SEC tournament and reached the NCAA tournament. Seven teams have been nationally ranked this spring alone --baseball, both basketball teams, bowling, women's golf, women's lacrosse and women's tennis.

... [It's estimated that] Vanderbilt has saved about $1.5 million a year because of the morphing of the athletic department into Student Life and University Affairs. Four fundraising positions just for athletics were scrapped. Most athletic department employees remained, but they took on other duties. The director of facilities, for example, oversees the football stadium as well as the intramural gym.


... "It's about making athletics more a part of the university, and not serving as a farm team for the NFL," [said one campus observer].

"We proved you don't need an athletic department that is isolated and segregated and separated from the rest of the university and acting as its own entity in some arms race for facilities," he said. "We performed surgery on that model. We removed the athletic director and the athletic department. We treat athletics the way we treat physics. What we did was get rid of a lot of mid-level bureaucracy. Our dollars go to student-athletes and coaches, not to a lot of assistant athletic directors and other bureaucratic nonsense." ...'
---the gainesville sun---
It's UD, Live,
at Inside Higher Ed!


My first post is up.
They're Dropping Like Flies

Beginning to see a pattern here? Yet another university coach resigns -- is pushed out -- because the naughtiness of his players reaches a tipping point:




Frank Ostanik resigned as men's basketball coach at the University of Alaska Fairbanks, citing off-court incidents involving his players as one of the reasons.

"After a meeting at which a number of ongoing issues were discussed, Coach Ostanik decided to resign from university employment," athletic director Forrest Karr said Monday in a statement released by the Division II school. "We respect his decision to put to rest the issues that have surrounded the men's basketball program." [Not at all clear why they think this will put them at rest.]

Ostanik has been associated with the Nanooks for 16 years as a player, assistant coach and head coach.

He had a 55-32 record in three years as head coach, the highest winning percentage in school history. He led the Nanooks to the NCAA Division II West Regional final in his first year and just missed the playoffs the past two seasons.

However, six of his players were dismissed from the team last season. Two were arrested, two violated team rules and two were declared academically ineligible...
Monday, May 28, 2007
Scathing Online Schoolmarm

The local paper takes Berkeley's professors to task for refusing to take a stupid, unnecessary, mandated ethics quiz (background here).




JUST TAKE THE COURSE


Much eye-rolling probably took place from the earliest announcement that the University of California would require that an online ethics course be completed by all employees on all campuses. As elementary as it may be, basic reminders of right and wrong can refresh one's ethical synapses. [From rolled eyes to stale synapses is a little awkward, but okay.... Isn't it more likely, though, that very elementary forms of moral didacticism, whose black-and-whiteness insults one's intelligence, will shut down your synapses?]

Although most UC system employees had little problem taking this course -- which doesn't appear to be the case with the state-mandated sexual harassment training that many employees have been blowing off for a year and a half [

If I were writing about sex training, I'd avoid most forms of the word "blow"]

-- Berkeley employees, professors in particular, have rebelled against these ethics lessons.

This is how they've acquired the reputation as being pompous. [And... we're off! Time to replace arguments about the exam with populist poopoo.... Oh, and he means to write a reputation for pomposity. ]

The old "no time to take it" excuse is bogus because apparently the course can take as little as 15 minutes and seldom longer than 30. [No one's made this excuse. And yes, the exam is so pitifully primitive that fifteen minutes does it, voila, moral clarity... ] It is true that the program has not been completely geared to university settings, therefore every situation is not one every person is likely to face.

[Time to introduce this writer to the semi-colon.]

Surely people as smart as these can cull applicable information regardless of the perfection of the example. [I haven't a clue what this sentence means, though the writer's class resentment comes through clearly.]

Certain standards and morals are expected of everyone, regardless of position. The multiple-choice quiz is designed for every employee to relate to on some level; [

proper use of semi-colon here

] its lessons attempt to be widely relevant. And as UC President Robert Dynes says in the introduction, a common course gives a common frame of reference on ethics and expectations.

For most people the ethical answers are obvious in each situation. For some, however, the examples may provide reminders that keep them from falling on the wrong side of the thin line between right and wrong. [

This writer actually believes that taking a fifteen-minute multiple choice test can make people more ethical.]



Many UC faculty members act as if this is all so trivial, so beneath them. [

Fucking Marie Antoinettes

.] Yet the reminders are obviously necessary. Last year UC officials violated university policies in awarding hidden compensation and special perks, involving millions of dollars, to some top executives, sometimes without telling the regents and certainly not considering the increased tuition students were paying. Maybe all Berkeley faculty were above this fray. [Yeah, they were. So the administrators, and not the faculty, should take the test.]

Regardless, it most assuredly isn't going to hurt these deep-thinkers [

Hit me again baby.

] to take 15 to 30 minutes. They've wasted more time complaining and pouting than it would have taken to complete the thing. [

They're not complaining. You are. They're ignoring, laughing, shredding.]

They should pick their fights carefully. This is not a good one to pick.
Labels: SOS
No Longer a
Ward of the State

The University of Colorado is inching its way toward firing ethnic studies professor Ward Churchill. CU's president will recommend a permanent separation. Ward's lawyer is pissed:



Churchill's attorney, David Lane, told FOX News Channel Monday that it was time for his client's case to move out of the "kangaroo court," and into a real court with a real jury.


Ward needs to talk to his lawyer about his use of the ethnically pejorative term 'kangaroo court.'



Churchill said he and others plan to file academic charges with the university alleging that the faculty committee committed research misconduct. He said he also plans to publish as many as three books defending his research.
Sunday, May 27, 2007
"Some schools are so academically inferior
and so poorly serving their students
they should be shut down."

A thoughtful opinion piece by Bill Maxwell, St. Petersburg Times, relevant to the Florida A&M situation.
Saturday, May 26, 2007
HOLIDAY FUN
WITH UD
(final photo)

UD working for her uncle
at his engineering firm
circa 1975.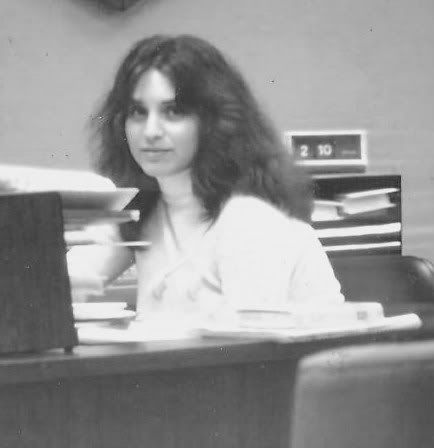 HOLIDAY FUN
WITH UD
(Continued)


Early days at the piano.
England, 1960.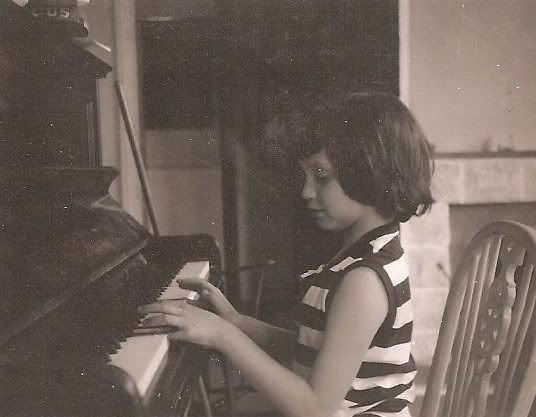 HOLIDAY FUN
WITH UD
(Continued)

UD's father eventually
settles on being a man.





















Johns Hopkins University
frat house.


[Click on all images for
a larger view.]
HOLIDAY FUN
WITH UD
(Continued)


At a 1951 Halloween party,
UD's father cops to
the radical ambiguity
of gender.


HOLIDAY FUN
WITH UD

Here she is at an early age,
showing what would become a
lifelong tendency toward
extreme anxiety: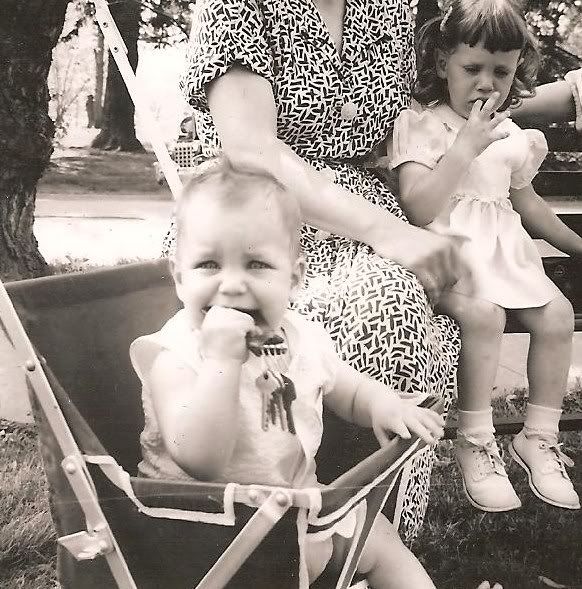 The Post Just Below This One
Is About Florida A&M's Basketball
Coach. This One's About Another
Breaking FAMU Story.
And By the Way: How Do People
Learn to Talk Like This?

"A preliminary assessment indicates
that the funds are indeed available.
We have decided that we will not utilize
any funds that will adversely impact our
ability to provide courses necessary for
the summer and subsequent terms."
'Florida A&M will pay $4.3 million to four computer consulting companies working without a contract or payment since Jan. 1, chief operating officer Larry Robinson said Friday.

"A preliminary assessment indicates that the funds are indeed available,'' Robinson said in a statement released by the university. "We have decided that we will not utilize any funds that will adversely impact our ability to provide courses necessary for the summer and subsequent terms."

Robinson and the school's trustees had no knowledge of the obligation until a trustees meeting Thursday when chief financial officer, Grace Ali, apologized to the board and said the debt would be paid out of the current budget, but not without some difficulty.

"Everybody is going to share this pain,'' Ali said.

Robinson is running the school until former Provost James Ammons returns to his alma mater as president in July. Robinson replaced the interim president, Castell Bryant, who is on leave until her resignation takes effect May 31.

Bryant resigned earlier this month because of the ongoing turmoil that has engulfed the university, mostly the persistent financial problems that have haunted the school in recent years.'
Backstory follows. Put your feet up.
In the past week , Florida A&M University's interim president announced she was stepping down early and the provost said she was leaving, too. In the past two months, five of 13 FAMU trustees have either quit or been replaced.

At most universities, this would be earth-shattering.

At FAMU, it's business as usual.

Since former President Frederick Humphries said goodbye at the end of 2001, Florida's only historically black public university has had a revolving door in top positions, including deans, trustees, executive directors and vice presidents.

Counting interims, there have been five athletic directors in five years, four deans at the business school, four vice presidents for student affairs and four vice presidents for research. Just since 2005, four different directors have run the financial aid office.

"I hardly know who's working in some of these offices,'' said Bill Tucker, a retired physics professor and former faculty union president. "I call up there and all kinds of strange names show up.''

Instability has allowed factional feuding to escalate, and worsened or prolonged FAMU's fiscal problems. It has also drawn the attention of state auditors, who pointed to turnover problems repeatedly in their most recent review.

Turnover isn't unique to FAMU, but "it's been a little more devastating for FAMU because they've had a void in leadership for five years,'' said state Sen. Al Lawson, D-Tallahassee, a FAMU graduate whose district includes FAMU.

At Florida State University, by contrast, the same provost has been in place 12 years, the same vice president for finance for 16.

Some FAMU supporters say more than institutional knowledge has been lost.

Excessive turnover "took us (away) from looking at a cohesive, shared, holistic vision for the future,'' said Corey Alston, a former trustee and former corporate turnaround specialist for the international consulting firm McKinsey & Co. "It took us away from the big picture and it might have even brought into question, 'What is the big picture?' ''

Humphries ran the school for 16 years with a core group of longtime administrators. He was replaced by interim president Henry Lewis III, who was replaced by president Fred Gainous, who was fired and replaced by Bryant, who announced last week in the face of withering criticism from many FAMU supporters she would resign ahead of schedule. Trustees appointed a former provost to be the head guy (they decided he would not be called "interim president'') until president-designate James Ammons takes over in July.

New presidents want their own people in key positions, and those people want to hire their own staffs. But when turnover becomes the norm, hiring becomes difficult.

At some point, turnover also undercuts the university's academic mission. The FAMU law school has had two interim deans since June 2005, when Bryant canned the permanent dean over a scandal involving an employee who drew a $100,000 salary but did not work. Yet, because of a looming deadline, the law school has still been forced to slog through a complicated process to gain full accreditation, leaving some students and faculty uneasy.

"The fact that we haven't had a dean has really hindered our accreditation process,'' Robert Grimaldi, a law school student from Tampa, wrote in an e-mail. But Ammons, the incoming president, has promised a permanent dean by the fall, Grimaldi continued, "so that brings us some hope.''

Top administrators aren't the only ones being shuffled. State auditors have called attention to an "unusually large'' amount of overtime payments in some FAMU departments, including campus security and groundskeeping. In its response, the university acknowledged the latter had been short-staffed for several years "due to budget constraints, staff turnovers and a high level of absenteeism.''

"We are severely understaffed,'' said Theresa Mordica, a senior custodian. "It used to be we would have five or six custodians, including the supervisor, per building. Now we're lucky to get two or three.''

In 2001, the dean of the College of Education was accused of stealing more than $60,000 in state funds. FAMU has had at least three interim or permanent education deans since. And in 2005, the man who essentially worked as FAMU's associate controller - a top financial position - was indicted for allegedly creating fictitious loans at a federal credit union.

Turnover in fiscal staff has been especially critical. Since July 2002, FAMU has had five top financial officers. During one stretch, it went six months without one.

In March 2005, both the vice president for financial services and the controller resigned after FAMU submitted a fix-it plan to a key legislative committee.

Two years later, state auditors issued a report rife with concerns about what else? Turnover.

FAMU officials said in the report that staff shortages were to blame for improper controls for electronic fund transfers and incomplete reviews of commissions tied to auxiliary contracts. Auditors said staff shortages may be behind ballooning costs for consulting services, which grew from about $900,000 in the 2002-03 fiscal year to more than $10-million in 2005-06.

FAMU officials did not respond to written questions about turnover in fiscal staff.

But Grace Ali, FAMU's chief financial officer, readily acknowledged the problem to the state task force formed to right the university's fiscal affairs. At last month's meeting, she passed out a diagram showing turnover in top financial positions, including her own seat, which she has held for eight months.

Ali's comments suggested FAMU may have become mired in a vicious cycle: Given the negative publicity generated by its financial problems, hiring quality staff has become more difficult. So top administrators like Ali are being diverted from bigger tasks to get bogged down in things like reconciling bank accounts.

That's "really not what I want to spend my time on, and it's not what the taxpayers are paying me to do,'' Ali said. "But if that's what it takes, because we have to have it, then we do whatever is necessary."


Shut the place down.



Oh, and FAMU's really disappointed that the governor just vetoed their request to expand their pharmacy building. They don't understand why the state doesn't want to give them any more money.
Florida A&M Basketball Coach
Has to Wear One of Those
GPS Tracking System Things



Another role model from bigtime university sports bites the dust. UD's not sure how much more disillusionment she can take.

This time it's the basketball coach at basketcase university Florida A&M (there's everything wrong with this place -- its financial mismanagement is so amazing that the state legislature's talking about just shutting down the school), who seems to have had attachment issues with an old girlfriend. In pressing the charges that have the guy under arrest for stalking, she said



she and Gillespie dated from September 2004 to March 11, 2005 ... [she] has called the police on numerous occasions complaining of stalking dating back to 2005. The stalking, she said, began after she broke off their relationship. She said that Gillespie said he was getting a divorce at the time she dated him.

The complainant said she never asked that charges be filed against him in any of the previous incidents, but that she wanted the harassment to stop.

Police warned Gillespie to stop his behavior in 2005 after the woman made her original accusations. The police warned Gillespie again in March 2007 after she made more accusations.

No charges were filed, however.

The complainant said in the arrest report that she looked out the window of her place of work at about 5 p.m. Thursday and saw Gillespie driving through the parking lot, but that he did not stop or attempt to contact her.

The complainant then said she saw Gillespie's car parked behind a row of shrubs in the parking lot of her job Friday morning.

The woman decided to press charges after this latest incident, according to the arrest report.

Garrett [a policewoman] said she tried on two occasions Friday morning to reach Gillespie to get his version of this latest complaint, and he refused both opportunities, she said.

Garrett said that is when she decided to have him arrested.




UD wonders... on that financial mismanagement thing... this is from a newspaper account UD quoted in an earlier post:


'Angry state legislators called for a criminal investigation of Florida A&M University's continuing financial woes today... They said it's time to turn the books over to the attorney general's office of Florida Department of Law Enforcement.... "There could be a decision by the Legislature not to fund it," said [one legislator]. "The university would cease to exist." ... [Along with ongoing payroll discrepancies,] FAMU didn't have records for $1.8 million in athletics department collections, and university property that went missing sometimes was not reported to police agencies, the audit said.'


What about that $1.8 million? How much does it cost to stalk someone for three years ...?
Friday, May 25, 2007
Two Auburn University
Scholarship Recipients
'Grade changes on the transcripts of two Auburn University football signees from Mobile are under investigation by the Mobile County school system and the NCAA Clearinghouse ...

Superintendent Harold Dodge confirmed to the Press-Register on Thursday that several grades of one student graduating this week from B.C. Rain High and another from Williamson High were changed on the students' transcripts. Later versions of the transcripts had higher final grades than what the students originally earned, Dodge said.

"There seems to be some variance in the scores," Dodge said. "On a first blush, it looks like either the first transcripts were really wrong" or the grades were changed for some other reason.

That may have helped the students become academically eligible to play football at the Division I college level, officials said.

Both students whose grades are in question have received scholarships to play at Auburn, according to officials close to the situation.'...
---alabama press-register---
It's Kind of an Interesting Mental Exercise
To Imagine Under What Conditions Montana State
Might Decide to Shut Down its Football Program...

...at least temporarily. But the conditions described below don't merit much response from the school, beyond looking for a new coach:






A former Montana State University football player was the leader of a cocaine ring that brought pounds of the drug to Bozeman, according to an affidavit supporting drug trafficking charges against former Bobcat wide receiver Rick Gatewood and his brother.

The affidavit, which identifies the former player only by street names, also mentions last summer's shooting death of cocaine dealer Jason Wright.

And documents filed in Justice Court in Bozeman last week tie Randy Gatewood to a June 17, 2006, bar fight that involved two former MSU athletes who are charged with kidnapping and killing Wright six days later.

"I look at it, and I'm just heartbroken," MSU President Geoff Gamble said Wednesday. "We're a very good university and we have very good athletic programs, and to have so much negatively painted across both the athletic program and the university is just heartbreaking." [Before your heart bleeds for this sensitive man, keep in mind that this scandal is about a pattern of willful, criminally negligent recruiting on his watch. He should be fired.]

The arrests of former basketball player Branden Miller and former redshirt football player John Lebrum in Wright's slaying prompted MSU officials to seek an NCAA review of its recruiting practices. [Hey, our players kill people. Let's check with the NCAA on this...]

The February report -- written by officials from the NCAA, the Southeastern Conference and the Big Sky Conference -- suggested several improvements, particularly in recruiting, academic and social mentoring programs, and in the graduation rate of MSU football players. It said the football program should limit its reliance on transfers.

But by then, informants were talking with investigators, former assistant head football coach Joe O'Brien was finishing a four-year federal prison sentence on methamphetamine charges [Don't you think this factoid merits more than a teeny clause? The former assistant head coach just spent four years in prison for meth!], and the curtain was coming down on Mike Kramer's coaching career at MSU.

The Gatewoods were arrested in Missoula last week and face federal charges of conspiracy to distribute cocaine and distribution of cocaine. Prosecutors estimate they distributed 11 pounds of the drug between June 2005 and May 2007. The brothers remain jailed in Missoula pending a detention hearing.

Rick Gatewood's arrest was the fifth involving former MSU football players in less than a year, and that, along with academic issues that have cost the school football scholarships in past years, led school officials to fire Kramer last Friday.

"I think [athletics director] Peter Fields and I just reached a point where enough was enough," Gamble said. [Oh, I don't know. Could've waited for five or so more arrests...]

The affidavit filed in the Gatewood case, signed by FBI Special Agent Gregory Rice, uses information gathered from two Bozeman informants and pegs the leader of the drug ring as a former MSU football player who used the street names "D," or "DW or "Demetrius." "D" had six drug runners working for him, including the Gatewood brothers and two informants, court records said.

"D" is listed as an unindicted co-conspirator and is not named in court records. Investigators would not say if he has been arrested.

"I don't think we know the end point," Gamble said. "It's my understanding there's still ongoing investigation. We're waiting, like everyone else, to see where the end of this will be." [Yes, just standing to the side, watching and waiting like everyone else... Who knows how this happened at our university?...]

During the summer of 2006, "not long after the murder of Jason Wright (a known local cocaine dealer in Bozeman)," the affidavit said, "DW" told an informant that "there was a lot of 'heat' going on right now in Bozeman."

In late 2006, "DW" said he was going to California and that Rick Gatewood was taking over the cocaine ring, court records said.

On May 11, investigators said Rick Gatewood told them he had been involved in the cocaine ring since the summer of 2005, and that he gave "DW" some of his athletic scholarship money from MSU so he could buy cocaine from a supplier in Fairfield, Calif. [Is this what they mean by "academic issues"? Because this doesn't sound to UD like a very good use of scholarship money.]

Two days after the Gatewoods' arrest, information was filed in Justice Court in Gallatin County supporting two felony counts of assault with a weapon by accountability, two counts of assault and one count of filing a serial number off a gun in connection with a fight outside a Bozeman bar on June 17, 2006.

Court records, obtained by KBZK-TV in Bozeman, accuse Randy Gatewood of participating in a fight in which Miller was accused of pistol whipping one man and placing a gun he said was loaded against another man's stomach. Witnesses said Lebrum was also involved in the fight.
---msnbc---
Berkeley: Where the Online Fun Never Stops!



Berkeley's online ethics quiz, mandated for faculty because of administrators' malfeasance, has now been joined by a couple of other online quizzes, similarly assigned to faculty because administrators fucked up.

Faculty wonder about the logic of this.


'A number of campus researchers received an e-mail yesterday announcing the beginning of an online course designed to educate them about conflicts of interest that can arise in research.

The course is the third in a series of new online programs aimed at streamlining university policy on ethical dilemmas. The programs were developed as part of a response to university and state audit findings after the executive compensation problems uncovered in 2005.

After rolling out an online training program on conflicts of interest for high-level management officials and an ethics briefing required of all university employees, the briefing on research conflicts of interest is aimed at making UC policy explicit and accessible to faculty, said Patrick Schlesinger, the director of research compliance in the UC Office of the President.

Like the ethics training, campus officials said the new conflict of interest briefing will likely face some criticism as a program that was developed in response to high-level policy breaches but is aimed at lower-level employees or faculty members.

"It is a little bit annoying that the systemwide seems to muck up on their ethics and then we're the ones that take the course," said UC Berkeley chemistry professor Richard Mathies, who chairs the campus conflict of interest committee.

Mathies, who said he is generally in support of a faculty training program, pointed out that no one from the campus committee was consulted in the formation of the briefing.

... Mathies said there is currently no mandatory training for researchers at UC Berkeley. However, he said the universal training may pose problems.

"There's no question that we need to take these things seriously," he said. "I am concerned, however, that if you present a very naive Web-based course it tends to trivialize the issues and generates an environment of lack of respect."

Schlesinger said there is currently no policy for those refusing to complete the online courses, but he added that the design is meant to make training easy for faculty.'
--the daily californian--
"Educationally, they're definitely going
in the right direction," the Chicago Democrat
said. "These are some serious allegations
which I'm sure, hopefully, they will be
able to adequately answer."



I'm sure, hopefully, the president and other administrators at Chicago State University can account for the many thousands of state dollars they recently spent on bogus seminars set on Caribbean cruises, as well as on alcohol, first-class hotel rooms and plane tickets, theater tickets, and other disallowed expenses.

So far, the university spokesperson has been vague: "The substance of the transactions represent valid university business." Yes, look at the substance, not the ... the what? State auditors seem to be looking directly at the substance.





'Two "leadership seminars" on Caribbean cruises for the university president, just a year apart. Two plane tickets upgraded to first class for an extra $1,500. A $995 meal tab that covered $139 worth of alcohol and a 28 percent tip.

A state audit Thursday questioned dozens of expenditures by Chicago State University, saying in most cases there was little or no documentation to justify the spending.

University president Elnora Daniel attended the cruises and on at least one, the room rate was 3,000 for the nine-day affair when $1,499 rooms were available, according to the report by Auditor General William Holland.

Five family members attended one or both cruises at state expense, a perk allowed by Daniel's contract, which allows for $10,000 in travel for family members.

Thirteen charges to the university's credit card totaled $3,932 for "various theatrical events," including "The Lion King" and the Lyric Opera, but included no details or reasons for the spending, the audit found. Employees slept in hotel rooms whose rates exceeded the state limit; stayed past the end of conferences they attended; and were reimbursed for movies, gifts and alcohol.

Lawmakers who review the audit could decide to take action against the school.

Robyn Wheeler, spokeswoman for the 6,600-student school refused to answer specific questions about Daniel's travel, the audit, or the $10,000 in family travel perks, which Holland noted was not reported as income as required for tax purposes.

... State travel rules don't allow reimbursement for alcohol or entertainment, Holland said. They also require that the most economical mode of travel is used and that hotel rates not exceed the state limit unless there's special approval.

The $995 meal, charged to Daniel's university-issued credit card, covered 12 people and occurred when Daniel was not traveling. She's only supposed to be reimbursed when on the road.

A spokesman for Holland did not immediately know who took a $13,751 trip out of the country that was not preapproved by the school. [

Er, checking, checking...]



In most cases, the audit found, there was insufficient documentation to justify the expenditures, such as a two-night pre-cruise reception on one of the Caribbean seminars.

Holland's report also noted prohibited expenditures including "movies, gifts, alcohol, and supplemental charges related to a seminar aboard a cruise," but said the total amount of spending for these items could not be determined.

During the audit period _ the year that ended June 30 _ Holland also found the university was charged $520 for hotel no-show or early departure penalties, charges related to extended hotel stays and a lengthy automobile rental with no explanation.

University officials said in the audit that longer hotel stays were required in some instances because flights or vehicles were unavailable. The officials also said they would sometimes try to avoid penalties for changing travel arrangements.

The first-class plane ticket upgrade was necessary because of the length of the trip and the need for travelers to "finalize preparations for the trip/mission," the school said, without elaborating.

Officials said they will train staffers in properly filing travel vouchers. [You need to train the president.]

Senate Higher Education Committee Chairman Edward Maloney praised Daniel for progressive ideas to improve the school.

"Educationally, they're definitely going in the right direction," the Chicago Democrat said. "These are some serious allegations which I'm sure, hopefully, they will be able to adequately answer."'
Compare This Account
of Evangelical Colleges...

... with this pathetic one.



We seem to be getting somewhere, reality-principle-wise:


'It used to be that being 33 and in charge of 93 U.S. attorneys would mean you'd been top of your class at Harvard or Yale or clerked at the Supreme Court. Now, Christian schools are joining that mix. Regent has had 150 of its graduates working in the White House; the school estimates that one-sixth of its alumni are in government work. Call them the [Monica] Goodlings: scrubbed young ideologues, ready to serve their nation, the right's version of the Peace Corps generation.

The image of Goodling that emerged in [a recent congressional] hearing did not match the "hayseed" of [Bill] Maher's imagination. A colleague said that it was not unusual to find Goodling BlackBerrying at 2 a.m. or preparing briefs late into the night. Goodling described one bit of office politics as a clash between two "Type A" women in which she played the Eve Harrington character in "All About Eve" and won. "Televangelist" did not seem to be on her list of career goals.

Falwell and Robertson were outsiders and always behaved like it. Goodling's Christian contemporaries grew up with Bush as their president, speaking their language. Even after this administration is gone, they can work for one of the more than 150 members of Congress who call themselves evangelical or dozens of conservative think tanks and activist groups. Or they can run for office: Robert McDonnell, Virginia's attorney general, is a Regent alum. They are part of the Washington establishment now and, much to Bill Maher's chagrin, they will be around long after Bush is gone.

Recently, I spent a lot of time among the students at Patrick Henry College, a seven-year-old school founded in much the same spirit as Regent. The students there easily matched Goodling's description of herself as "anal retentive." They input their daily schedules into Palm Pilots in 15-minute increments -- read Bible, do crunches, take shower, study for Latin quiz. They intern at the White House. The atmosphere is much more Harvard than Bob Jones.'
Les Fantomes

They're trying again. Almost every European country periodically tries to drive a stake through the heart of its vampiric university system. We just saw another failed effort in Greece.

Nicholas Sarkozy is the most recent ghoul-slayer.

If he actually passes legislation, the streets of Paris will teem with the living dead.

From the International Herald Tribune:




'[T]he French system just produces dropouts. Forty-five percent of Sorbonne students do not complete their first year of university, and 55 percent do not finish their degrees. Without entrance standards, there is a "selection-by-failure" that squanders resources and professors' time on weak students who "have no real chance of success," [the system's president] said...

There's even a "phantom student" phenomenon where as many as 10 percent of students on the rolls never see the inside of a lecture hall, having enrolled only for free health benefits and student discounts on everything from train travel to movie tickets.

... The University of Shanghai publishes a world-ranking of universities, and in 2005, the top French University placed 46th, behind more than 30 American institutions...




The phantom students will rise up from their coffins and take to the boulevards in defense of their movie tickets, and the government will be paralyzed.
Thursday, May 24, 2007
US News and World Report...

... now has a university-news blog, called Paper Trail, and my friend and student, Christina Mueller (who's also helping my co-author and me perfect our book manuscript) is one of their writers.

They're planning to link to University Diaries, and University Diaries is returning the compliment.
Snapshots from Home:
Love Minus Zero




Last night, at the Walter Johnson High School spring concert, UD's kid and the rest of the Madrigals sang an updated version of the WJ alma mater song -- one verse for each decade or so of the school's existence.

The 'sixties verse [UD graduated from WJ in 1971] was appropriately Dylanesque. As they sang, the Mads made amusing peace signs to each other...



Today's Bob Dylan's birthday. Who knows why, of all the Dylan lyrics in my head, I return most often to these. Looking at them on the page, I don't think they're all that good. But they must have something. For decades they've had a front row seat in my frontal lobe.




My love she speaks like silence,
Without ideals or violence,
She doesn't have to say she's faithful,
Yet she's true, like ice, like fire.
People carry roses,
Make promises by the hours,
My love she laughs like the flowers,
Valentines can't buy her.

In the dime stores and bus stations,
People talk of situations,
Read books, repeat quotations,
Draw conclusions on the wall.
Some speak of the future,
My love she speaks softly,
She knows there's no success like failure
And that failure's no success at all...
Ex-Professor Now Ex-Commissioner

The University of Oregon student newspaper brings its readers up to date on one of their recent faculty members:



A federal report released May 9 revealed that a former University professor had contractual and friendly relationships with a publishing company whose products he endorsed as effective child literacy boosters.

Reading First, the federal student literacy program enacted under President George W. Bush's No Child Left Behind Act, has been the subject of increasing scrutiny in recent months. Former University professor Edward Kame'enui worked for publisher Pearson/Scott Foresman while directing the University's Reading First Technical Assistance Center - one of three in the country. Kame'enui's extensive financial ties with the publisher may have improperly influenced his actions, according to the report.

Earlier this month, Kame'enui resigned from his position as the Commissioner of Special Education Research at the Department of Education in Washington, D.C.

... Reading First recommends to schools textbooks and materials scientifically shown to improve literacy in grades K-3. The materials must meet a set of rigorous requirements to be promoted by Reading First. Although the program seems to work - students in the program who are proficient on fluency tests have risen about 15 percent, education department officials said - perceived mismanagement of Reading First led to a number of federal reports and a congressional hearing last month in Washington, D.C., where it was revealed that Reading First employees made at least $1 million recommending their own products.

The program first unwittingly stole the spotlight last fall when the federal Department of Education Inspector General's report stated University employees advised states to purchase products they developed themselves. Since then, an ongoing investigation has ensued.

E-mails and documents Kennedy obtained for the purpose of the report revealed Kame'enui entered into three contracts with Pearson/Scott Foresman, all of which resulted in direct royalties for Kame'enui because he was also developing programs for the publisher that were sold to Reading First schools. He also acted and lobbied on behalf of Scott Foresman while directing the Technical Assistance Center. [

Busy man, Kame'enui.]

Despite Kame'enui's claim to the contrary, the report revealed the primary source of Kame'enui's income since 2003 was not the publication of textbooks, but rather profits obtained through Reading First programs.



Perhaps Kame'enui can find a new job as director of a university's student loan program.

-----------------------

UPDATE: Education Week reports he'll return to his University of Oregon position. Ick. As if that poor university isn't in bad enough shape, with its jock-mad president...
Wednesday, May 23, 2007
All in Good Time, Jim.
'Jim Whitehead, a former Georgia offensive lineman and the leading Republican candidate in the 10th District congressional race, has taken a good bit of heat for cracking a particular joke, in which he says he wouldn't mind seeing the entire University of Georgia, save for Sanford Stadium, erased.'
Tuesday, May 22, 2007
Women of UW in Chador
Will Stay on Shelves,
Announces Bookstore:
"Does Not Objectify Women"
'The University Book Store has pulled a "Women of UW" calendar from its shelves, although the students who published the calendar are hoping to get it back into the store -- or at least recoup some of their production costs.

The students put together the calendar as part of a business course that required them to develop a company, create a product or service and sell it for profit. The calendar features 13 UW students posing in bikinis, shorts or skirts. There's also brief biographical information on each woman.

... Though the calendar was sold in the University Book Store earlier this month, it was taken off shelves last week, before the Seattle P-I published a story about it. The chief executive of the bookstore declined Tuesday to comment on the calendar's removal.

Zachary Meissner, a member of the student group, said the bookstore asked them to take back the unsold calendars -- about 250 in all. Although the students would like the bookstore to keep them on the shelves, they are willing to take the calendars back for a fee that would help cover the costs of producing them, Meissner said.

The students and the bookstore have a purchase contract, he said, and students would like it to be honored.

... UW Business School Dean James Jiambalvo said a few people from outside the business school have complained that the calendar objectified women. An associate dean will be meeting with the course instructor to discuss the group's project.

... The removal of the calendar from the bookstore has brought additional publicity to the group.

Members appeared on news radio KIRO-AM 710 on Monday night and on KISW-FM's morning radio show Tuesday...'
Last Week, Austin;
This Week, Hopkins

The financial aid director at the University of Texas who held stock -- undisclosed -- in a preferred lender at UT resigned last week; this week, a senior financial aid person at Johns Hopkins who got lots of money from loan providers she recommended to students there has resigned.


'"Every day there's a new revelation, so I don't think this is going to end any time soon," said Mark Kantrowitz, publisher of FinAid.org, a student aid information Web site.'
Monday, May 21, 2007
Columbarium U.

It is sort of the ultimate in pathetic. The New York Times, er, nails it:



Once upon a time, sweatshirts and pennants sufficed as markers of school spirit. And while more than a few Fighting Irish fans would be happy to have their final resting place under the 50-yard line at Notre Dame Stadium, most university devotees have understood the difference between a college and a cemetery. But the line is beginning to blur.

As Alan Finder reported in The Times recently, several universities, including Notre Dame, the University of Virginia and Hendrix College, have been hard at work building memorial walls. The technical name is a columbarium, where the ashes of alumni and professors can spend eternity on the collegiate grounds where they once found happiness.

There is, of course, a price. University administrators can be single-minded in their pursuit of donations, and anything that deepens the bonds, strengthens the affinity, they consider to be fair game. And it is often said that alumni contemplating the end of their mortal existence are especially susceptible to sentimental appeals to remember their alma mater with some cash.

That's how new dormitories and classroom buildings get their names, along with stadiums, parking lots and swimming pools. But there ought to be limits. If, as we suspect, the collegiate columbarium is just another fund-raising pitch, its crassness makes us shudder.

Many schools have monuments to their founders, to alumni who contributed to society or the nation, to students who fell in war. They remind us of contributions to be celebrated, of sacrifices to be remembered. Fund-raisers should focus on buildings, football, branded mugs and credit cards.
Three Ways of Looking
At A Sports Fiasco
I
'There is, however, one reason for optimism here: the very irrationality of the existing system. The peculiar turn intercollegiate sports has taken over the past 40 years seems pretty clearly to be the product of historical accident and interest-group politics run amok, rather than the true preferences of the stakeholders in the enterprise or the deep-seated ideals of those with power. In such a case, change that seemed impossible ex ante can sometimes come quickly and relatively painlessly if only a critical mass of people are willing to demand it.'


This excerpt is from a long, terrific essay about college sports by Barbara Fried, in a magazine called Change, part of the Carnegie Foundation for the Advancement of Teaching.

Here's another excerpt:


'[Some have] suggested that athletic preferences might add slightly to the socioeconomic diversity of the student body. Self-studies subsequently undertaken by Amherst, Williams, and Middlebury, however, found otherwise. Athletes in all three schools were both wealthier and less ethnically diverse than the rest of the student body. That trend, if anything, is likely to be exacerbated in the future, as the increasing professionalization of college athletics forces a steady, and very costly, professionalization of athletics in high school and even earlier. These days, it is not uncommon for parents to spend as much as $30,000 a year on private trainers, equipment, travel with elite club teams, marketers, etc., to position their kids as athletic recruits. At that price, athletic preferences will become just one more edge in the admissions game for the already most-privileged kids.'


Which reminds me to link to an article one of my readers, superdestroyer, sent to me the other day about a school, Georgetown Prep, just down the block from my house:




II
Entrenched as the most prominent athletic powerhouse among Washington area high schools, DeMatha finally plans to catch up with some of its peers when it comes to sports facilities. The Hyattsville Catholic school hopes to break ground next year on a $9 million convocation center that includes a gymnasium and is in discussions to have artificial turf practice and game fields installed at off-campus sites.

The improvements merely will keep DeMatha in step with many of the region's private schools, which are in the midst of a spending spree to build top-flight athletic facilities that would be the envy of many colleges. And the building boom is not limited to traditional athletic powers; it includes less well-known schools seeking to enhance their reputations.

After all, if Georgetown Prep in North Bethesda can spend $23 million for the Hanley Center for Athletic Excellence, why shouldn't Annapolis Area Christian School, which is fielding a football team for the first time this fall, build a 25,000-square-foot indoor practice facility?

Counting projects recently completed, those under construction and others planned for the next few years, area private schools are spending in excess of $150 million on new sports facilities. This does not include wish lists on long-range master plans for several schools.

"It is unbelievable, my goodness," said Al Hightower, co-athletic director at St. Andrew's Episcopal School in Potomac and a 23-year veteran of local scholastic sports. "And who says there is a downturn in the economy?"

Administrators cite several factors for the construction boom, among them heightened competition to attract students, the standard set by many colleges that in recent years have built expensive student recreation centers, and the lower maintenance costs associated with artificial turf fields, whose versatility and sturdiness reduce the number of canceled games and practices.

Officials cite another reason as well: What was sufficient 40 or 50 years ago no longer is considered adequate in a modern era of heightened expectations among parents, students and alumni.

"I think there are reasons that make sense for why we're seeing it," said Peter Roby, director of the Center for the Study of Sport in Society at Northeastern University. "You hope it's needed, that it's a timely addition and improvement as opposed to trying to keep up with the Joneses. Unfortunately, I think some of it is, 'Because prep school "X" has it, we need to do the same.' That certainly is what you see more of at the college level."


... Public school systems, in general, simply lack the money that private schools can accumulate through tuition dollars and alumni giving to undertake expensive capital improvements to their athletic facilities.

Private schools also view modernized sports facilities as a valuable tool to help them lure students.

"The competition for people is unbelievable and if you don't have stuff, forget it," Pallotti Athletic Director Steve Walker said. The Laurel school opened a $5 million gymnasium in 2004.

Foxcroft, an all-girls school in Middleburg, is building a state-of-the-art field house. National Cathedral, another all-girls school in Northwest D.C., has a 45-foot climbing tower in its $26 million Agnes Underwood Athletic Center that was built underground and opened in 2002, just ahead of the start of the building boom.

At Georgetown Prep and many other schools, officials determined that older athletic facilities no longer were keeping pace with demand. There are more teams (varsity, junior varsity, freshman) competing in more sports. More practice space is needed and a gym that seats only a few hundred spectators no longer is adequate.

"Frankly, we grew out of [the old field house] 25 to 30 years ago with the number of activities we had on campus," Georgetown Prep Athletic Director Dan Paro said. Talking about the Rev. William George, the school's president, Paro said: "Having not done anything in 40 years, one of his goals was to build something that will not be outdated in 10 or 15 years. His goal was trying to reach into the future; we have an opportunity to do this once."

Georgetown Prep moved its baseball field and reworked its nine-hole golf course to accommodate space for its new facility, which includes a gymnasium with space for 1,000 spectators, a 50,000-square-foot field house with an indoor track, a wrestling room with bleachers, a pool that can host races measured in yards or meters and a 6,000-square-foot weight room. There's also a snack bar that serves crab cakes and a big-screen television and leather sofas for students to relax.

As part of its upcoming project, St. John's plans to construct a baseball clubhouse, with a team locker room, coaches' offices, a press box and a VIP suite that can be used at football and baseball games. The cost: $1.5 million.

"In the private school market, everything seems to trickle down from the colleges after a few years," Brach said. "I think schools having dedicated space for their premier programs is going to be a growing trend."

Other schools are mimicking colleges with their recreation centers, such as Severn School's $12 million field house, which is scheduled to open Jan. 1. The $10 million Herndon Kilby Student-Athletic Center at Annapolis Area Christian, set to open in August, includes a 25,000-square-foot indoor practice area, similar to the ones many college athletic departments build for their teams....



And finally, there's this...



III


...which a reader, Bill, sent me this morning, and which looks forward to the world these recruits will join when they go to college:



Outsourcing, that common practice of big business, is flourishing in big-time college sports, including at the University of Minnesota.

The Gophers' new $288.5 million publicly funded campus football stadium is now up for commercial grabs. Advertising signs, corporate sponsorships and luxury suites are set to be sold at TCF Bank Stadium. But those lucrative sales appear likely to be conducted by Missouri-based Learfield Communications, not by university employees.

Such outsourcing is a trend sweeping the nation. College athletic departments, in search of revenue certainty, get sizable upfront payments from the likes of Learfield, who then sell, sell and sell some more in hopes of turning a profit.

"On the one hand, it's commercialism run amok," said B. David Ridpath, a Ohio University professor of sports administration who follows the business of college sports. "On the other hand, these athletic departments are in business to make more revenues in their never-ending college sports arms race. Companies like Learfield are helping in that process."

Learfield already controls the Gophers radio network and sells sponsorships, signs and suites at other Gophers arenas. Negotiations for a long-term deal that would cover TCF Bank Stadium are in progress. Learfield operates on 30 other Division I college campuses. Other firms that compete with Learfield for athletic department clients control the marketing and broadcast rights on dozens of other campuses.

Kentucky-based Host Communications, Learfield's top rival, has guaranteed a total of $240 million over the next decade for the marketing rights to three athletic programs: Arizona, Texas and Kentucky.

This marriage of commercial interests and college sports is creating cozy bedfellows. For instance, the U athletic department's lead representative in negotiations with Learfield for rights to TCF Bank Stadium is associate athletic director Tom Wistrcill.

Just 13 months ago, Wistrcill was a Learfield employee.

Gophers athletic director Joel Maturi says there's no conflict of interest.

"Tom is loyal to the University of Minnesota, is good at what he does and his experience at Learfield actually provides us with an understanding of the industry we would not otherwise have," Maturi said.

It happened at Oregon State, too, where the Learfield rep jumped to that university's athletic department.

"These companies have an immense amount of power," said Ridpath.

How it works

Learfield's relationship with the Gophers began in 2003 after Maturi arrived on campus to reorganize his department and balance its budget, which stands at $56 million annually.

Learfield has been on the college scene since 1975, when it first established a radio network for University of Missouri football. Since then, its services have expanded to, essentially, matchmaking corporate sponsors with athletic programs. Learfield develops regional radio networks and integrates on-air advertising with stadium signs, game program ads and, in some cases, selling suites, as in Williams Arena.

Learfield has similar deals with other Division I programs, including Wisconsin, Iowa and Penn State. Learfield recently signed with Wisconsin its biggest announced deal, a 12-year, $76 million arrangement. Since 1994, Learfield has taken on more Badgers business so that it now handles all of the sponsorship marketing, except suites at Camp Randall Stadium.

"This is a business that has to be self-supporting," said University of Wisconsin senior associate athletic director Vince Sweeney. "But we don't have the sales expertise or staff that Learfield does. It's what they do and not what we can do. That's a good reason why we outsource."

When Learfield took over marketing responsibilities for the Gophers, it upped the sales staff and now has six full-timers plus general manager Greg Gerlach, a former Minnesota Wild marketing exec.

The money works this way: Learfield gives an athletic department cash. In Minnesota's case, for this current year, it's $3.2 million for sponsorships, signs and arena suites and another $1.5 million for rights to control and sell ads on the radio networks.

After plunking down that $4.7 million, Learfield goes out into the marketplace and sells ads for the Gophers radio games, for coaches' radio shows, for daily reports on stations statewide, for signs and sponsorships in Mariucci and Williams arenas ... and keeps all it brings in, until total sales reach a threshold of about $7.5 million annually.

Then the U and Learfield split the surplus.

Since 2003, according to Wistrcill and Gerlach, Learfield hasn't reached the revenue-sharing threshold.

But Learfield has boosted Gophers sponsorship and broadcast revenues from about $3.6 million in 2003 to about $5.8 million this past year.

The real gold mine could be TCF Bank Stadium.

A feasibility study conducted by the university during planning for the stadium projected annual suite, luxury seating and in-stadium sign revenues at $3.7 million.

Learfield's Gerlach said that he hopes to nail down a deal this summer to get rights to market the stadium's inventory. From Gerlach's point of view, having the ability to sell all components of Gophers sports -- from women's basketball to suites at TCF Bank Stadium -- would provide blanket brand identity for a sponsor.

"We want that, and the school wants that," he said.

Cautionary note

But university central administrators are being more cautious.

University Chief Financial Officer Richard Pfutzenreuter said before he signs off on any Learfield-TCF Stadium deal he wants to be assured "we're getting full market value."

One issue is the negotiating role of Wistrcill, who was hired by Maturi.

"I haven't seen any conflict myself," said Pfutzenreuter. "I think Wistrcill knows exactly who he's working for. It's the University of Minnesota."

Said Wistrcill: "There could be the appearance of [a conflict] ... Others could say, 'Hey, here's a former Learfield employee negotiating a deal with Learfield. What's going on?' That's why other people [in the central administration] are involved. ... I'm going to do what's best for the university."

But Pfutzenreuter said that, if a tentative deal is struck with Learfield to market the new stadium, "I'm likely to say I want an independent assessment."

Suites could be the stumbling block. In Madison, for instance, Learfield will pay the Wisconsin athletic department about $4.9 million this year, or $100,000 more than Minnesota.

But Wisconsin doesn't allow Learfield to sell or capture the lucrative Camp Randall suites, which generate revenues of about $3.8 million per year.

Wisconsin's Sweeney said selling luxury seating to boosters and corporations is a development and fundraising task.

"Our core business is sitting down with donors or potential donors," he said. "That's not something we want to outsource."
TSUNAMI!

Here's a brief, rather pointless Washington Post article which seems to have been compelled into being not by a real trend, but by the need to mark somehow the end of the university year, combined with a couple of bizarre campus stories.

Now that I think about it, there's only really one recent bizarre university president story in the Washington area, so the vague gestures the article makes in the direction of a trend toward impossibly high-pressure university presidency jobs making presidents crack up (the article's headlined Pressure Cooker) go nowhere.




At dozens of colleges this month, graduates will get diplomas, hug their parents, toss their caps in the air. But it's not just students who are starting anew this commencement season: Many of the schools are, too.

There has been lots of turnover in leadership at Washington universities recently, shaking up schools that have had the same presidents for many years. [It's true there's been quite a bit of turnover, but I'm not sure this means much of a shake-up in most of these places.]

That means new leaders for the city's largest private employer (George Washington University), one of the country's most elite historically black universities (Howard), and the only liberal arts college for deaf people (Gallaudet) -- leaders who will make decisions that affect not only students and research, but neighborhoods, jobs, hospitals, real estate and the intellectual life of the place.

And "they may be a precursor for a major shift in higher education," said David L. Warren, president of the National Association of Independent Colleges and Universities.

Some longtime presidents remain in the area -- at George Mason University, the University of Maryland Baltimore County and elsewhere. [

Note that the article says nothing about the stable and successful presidency of the most important Maryland campus: College Park.]

But after years of stability, with many local presidents long outlasting the eight-year national average, the higher education terrain is shifting -- at some schools, dramatically.

Last month, William J. Frawley, the new president of the University of Mary Washington in Fredericksburg, was fired soon after he was charged with driving while intoxicated on two consecutive days. [The Frawley case is the only one that fits the Post's scenario, though even that one doesn't fit it very well. Frawley was not long- but short-serving. And he presided over a school that can't have been much of a pressure-cooker. Small, set in its ways, genteel... I suspect the problem with Mary Washington for someone like Frawley, who'd just been at GW for a few years, was the opposite: It was probably pretty dull.]

At Gallaudet University, protests set off by the choice of a new president paralyzed the school and brought international attention during the fall, ending with the board yanking the appointment. [This says nothing about the capacity of the chosen president to stand up to pressure. Indeed, far as I can tell, she stood up to it extremely well.]

And when Benjamin Ladner was forced out of American University a year and a half ago in a spending scandal that reverberated nationally, it made some trustees more aggressive about oversight. [

Again, the Ladner thing had nothing to do with a pressure-cooker presidency. He seems to have loped happily along through his years at AU. The Ladner thing was about his outrageous money-grubbing.]



"The climate in boardrooms has changed, and not for the better," said Patricia McGuire, president of Trinity University in Washington, who soon will find herself, with 18 years in the job, the longest-serving leader in the 15-member Consortium of Universities of the Washington Metropolitan Area. "There's a fine line between asking tough questions, probing, holding leaders accountable -- and making it so unpleasant to hold the executive office that people just can't do it anymore." [See how confused the article is? The prior paragraph has talked about Ladner. McGuire was one of Ladner's loudest and most eloquent attackers. Thus, at least in terms of the just-discussed case, McGuire had no trouble at all with a university making it so unpleasant for a president to continue to serve that he leaves. That's exactly what AU rightly did.]

Some presidents have told her, "I don't need this." [

Who in the DC area has said this? If it was Ladner, the complete sentence, presumably, would be, "I don't need this possibility of jail time, and the university is clearly on its way toward discovering things about my pillaging that might send me there..."]



Frank Wu, a trustee at Gallaudet, said, "The increasing complexity of colleges and universities, heavy regulation, intense public scrutiny, demands for fundraising, relentless pursuit of rankings -- each has dramatically increased the pressure, and together they've transformed the college presidency." [Wu makes it sound way pressured, to be sure. But take away words like intense and relentless, which just lard things up, and the reality is that this describes what university presidents have long done. When you add to his list an extensive administrative staff and, for more and more presidents, personal compensation worth millions, most of them seem to be holding up quite well.... And I don't want to lay it on too thick here, but presidents of Wu's university, Gallaudet, have come and gone for decades while presiding over a scandalous graduation rate, and there's been, far as I can tell, virtually no pressure on them about this.]

Warren said he could sum it up in a single word, all caps: MORE. More of everything is expected from presidents. [And immensely more by way of salary and compensation and perks is given to them. No doubt there's a connection between a real trend -- the insane growth in university presidential compensation -- and the language of crisis to which the Post is contributing.]

There's other pressure, too: Colleges are among the last true democracies, Wu said; people lower in rank can band together to force the chief out. [This can sometimes happen, but it hardly makes colleges -- notorious for the secrecy, for instance, of their decision-making -- true democracies. As in national presidencies, constant instability at the top is more likely to be a result of lack of democracy.]

Can and do, as faculty and students in Washington showed recently. The board makes the decision on hiring and firing presidents. But the campus community sure can ratchet up things.

There are new presidents at the Corcoran College of Art and Design and Montgomery College, and new ones coming this summer to George Washington University and Prince George's Community College. Howard University's president has announced he's stepping down next year.

Some said the local turnover is a sign of a growing national trend. A study by the American Council on Education found that half of college presidents are older than 60. "When you have half of your entire workforce in that retirement category, that implies huge change" coming, said Ray Cotton, a lawyer with expertise in higher education and presidential contracts. "I would call it a tsunami of change of presidential leadership in the U.S."

It's really a time when boards will be challenged to find new leadership," he added.

Some said it's easier to recruit someone to Washington, with all the opportunities it affords. Others think it's particularly tough, because city and national politics get layered onto the normal stresses of the job.

"It's a pressure cooker here," Cotton said. "When you're the president of a university in D.C., you're in the national limelight." [

But see, that's a good thing. The president of GW grooved on White House dinner invitations and general power-proximity. Other local university presidents do too. Yes, Ladner should have known that ripping off an institution down the street from Congress was liable to earn him more notice than someone ripping off a university in Idaho; but that's not about his pressure-cooker job. That's about his stupidity.]
Sunday, May 20, 2007
















portrait, stage-three
jocksniffery sufferer





President Stephen Weber of San Diego State University joins Presidents Michael Adams, Robert Bruininks, and Dave Frohnmayer as one of American academia's late-stage jocksniffers.




In early 1998, then-San Diego State Athletic Director Rick Bay spoke with a sense of urgency about the athletic department needing to support itself.

"We could be on the brink of something great," Bay said [Pant, pant! goes President Weber.], "but if it happens, it must happen over the next two or three years, because it will be difficult for the faculty to provide money for athletics. This is a very lean, very modest operation, but we've had to ask for an augmentation of $2.5 million, and that's money a lot of people in the university would like to have for their programs."

Nine years later, the goal remains elusive. While the current fiscal year doesn't close until June 30, the athletic department again will receive about $2.8 million in "one-time" or "auxiliary" funding from other university sources to balance its budget of about $27 million. [

Infinite one-time-only increases for athletics! Because... we could be on the brink of something GREAT!]



The infusion is necessary despite a $160 annual student fee increase implemented in 2004 by SDSU President Stephen Weber, overriding a student referendum [

Fuck the kiddies. We're on the BRINK OF SOMETHING GREAT.

]. That has added $4.8 million to $7 million to the athletic department coffers annually. An additional $5 million in athletics revenue comes from the state general fund.

How long can the athletic department count on this kind of support?

"It will go on as long as I am president of San Diego State University," Weber said in response to an e-mail question. [

Here I stand! I can do no other! God help me! Amen!]



That rankles some faculty members, who question whether the football program will ever produce enough revenue to eliminate the athletic department's need for additional university funding.

"One-time funding is a joke if it's been going on for the last 20 years, every year, no?" asked Leon Rosenstein, an SDSU emeritus professor of philosophy. [

Emeritus. Old fart. Ignore.]

"If forced to think about it, you will find – though they will rarely allow you to quote them by name – that most faculty agree; and, finally, no, no one bails out academics. Football is sacred."

Rosenstein added:

"The (SDSU) president should be censured by the Senate and (Associated Students) for his ridiculous persistence – in spite of all evidence to the contrary – that somehow, at some time, in some way, if we only 'stay the course,' football will be a big money-maker." [

SHUT UP.]





...Most athletic departments at NCAA Division I-A schools are not profitable. But for more than a decade, SDSU has needed help at a higher rate than the national average for public schools.

In 1996, Bay noted that athletic department derived 40 percent of its budget from the university. The national average, he said, was 8 percent.

Little has changed in 10 years. In the two most recent fiscal years, 42.7 percent of athletics revenue has come from student fees, the general fund and other university funding, according to audited financial statements.

SDSU's percentage of university and student support is second-highest in its conference among public nonmilitary schools. (Numbers for private schools and the Air Force Academy were not available.) Wyoming is first in the Mountain West Conference at 44.3 percent.

Among Cal State schools with football teams, San Jose State, which faces many of the same athletics revenue and marketing challenges as SDSU, takes a higher percentage of university and student support: 68.8 percent over the previous two years, according to financial statements required by the NCAA. Fresno State was at 14.6 percent.

In the Pac-10, where football ticket sales and TV revenue are far greater, most public schools receive less than 12 percent of their athletic funding from university and student support.



SDSU's goal is to make football and fundraising more lucrative. The school increased its salary budget for football coaches by more than $600,000 before the 2006 season, hoping to produce a more successful team on the field and more ticket-buyers in the stands. [

See, we'll spend MORE money! On winning coaches! THAT way, we'll make ever so much more... eventually!]



Last year, that investment resulted in a 3-9 record and 21,670 in actual average attendance – a figure buoyed by 39,964 for the SkyShow fireworks event.

Before the season, SDSU projected football ticket revenue of $3 million but ended up with only $1.9 million, forcing tightening in other athletic department expenses this year. The year before, SDSU projected $2.5 million in football revenue and brought in $2.3 million. Meanwhile, the team hasn't finished better than 6-6 since 1998. [I LOVE projections! When they come out, it just puts me in the greatest mood ... Sure, it's a downer when they don't work out... But... We're on the brink of something great...]

"We expect that our investments made in football in the last two years will take time to bring a return," Weber wrote in an e-mail. A spokesman said Weber was not available for an interview otherwise. [Fuck off.]

"What we hope to attain is consistent success in football from year to year," Weber wrote. "When that happens, we believe attendance and consequently revenue production will improve proportionately." [Here's the deal: I'll use big presidential words like consequently and proportionately. You'll be impressed by these words, and you will agree that we are ... on the brink!]

This year, the SDSU athletic department has a projected budget shortfall of $100,000 to $250,000 – even after about $2.8 million in "one-time funding" was arranged from a university contract with a broadband communications company. Next year, the athletic department expects $2.7 million more from the same contract.

"The expectation is . . . that these are investments," SDSU economics professor Mark Thayer said in a faculty senate executive committee meeting last year. "If they (the university sources) don't get their money back in short order, they will not continue to fund (athletics)."

Asked by another faculty senator last year how he defined "short order," Thayer responded:

"If next year SDSU has a great season and we make a Bowl Championship Series appearance, they could pay it back next year. If it takes three or four years to get to a BCS bowl, then it will be three or four years. If they never make a bowl, then it will be a tough payback."

But as Utah demonstrated after going undefeated in 2004, a BCS bowl berth is only a limited financial benefit – good for about $3 million for that year after revenue sharing and expenses, according to an athletic department official at Utah. And unlike schools in bigger conferences, no team in the MWC receives an automatic bid to BCS bowl games. To get there, SDSU almost certainly would have to go undefeated.



... At a faculty senate meeting in April, Steven Barbone, an associate philosophy professor, told Athletic Director Jeff Schemmel that "other programs on campus do not receive these kinds of favors" with one-time funding.

Schemmel responded: "We are committed to have the very best we can have here, and we understand that costs money."

It's virtually the same response the faculty has heard from Schemmel's predecessors. But some faculty members view it as unfair, because when they don't meet budget, they don't get "one-time" funding; they have to cut back. Others ask why revenue from the broadband contract, which lasts through at least 2016, is going to support sports teams instead of academic areas.

"By this point, there are two things that are common knowledge," said English professor Peter Herman. "The first is that the athletics are a financial black hole. The second is that the university will continue to fund them regardless of all sense and logic." [To hell with naysayers like you, Herman! Go crawl back in the stacks. You're afraid of greatness!]

Barbone expressed a similar sentiment:

"It seems to me that there is a disparity, one that does not support the mission statement of SDSU," he said. "There is some concern that the president, for whatever reasons, is beholden to continue athletics here no matter what the cost to any other program. There is another concern that with the big fundraising campaign coming up, that all resources will be put into athletics since it is widely believed that donations pour in when the home team wins."

Weber stated he steadfastly supports athletics because of their potential for student growth, development and community pride.

"I do not expect all faculty members share my belief in the importance of athletics," he said.

Weber also noted that in 1998 he kept a promise not to devote additional general fund revenue to support athletics. The student fee increase in 2004 allowed SDSU to decrease its reliance on the general fund by more than $2 million.

But repeated "one-time" funding is the main stickler for those unhappy about the situation in the academic sector.

"It's discouraging, primarily because there was a substantial increase in student fee support for athletics, and we're still in the same position with the athletics budget (as 1998)," said Gordon Shackelford, a lecturer in the physics department. "The only reason it's not vastly worse is the student fee increase."
Amnesiac Professor's
Memory Returning
'CHARLESTON -- Jailed economics professor Al Parish is helping investigators trying to track the curious group of assets he bought as investments.

Parish initially claimed amnesia when he was arrested last month. But his memory seems to be coming back, said J. David Dantzler, an attorney for the Atlanta company rounding up Parish's assets.

Dantzler spoke to Parish at the Charleston County jail Thursday. Parish, who also provided economic research for groups on the Grand Strand, has been indicted on 11 federal counts of mail and wire fraud.

Dantzler said he was allowed to ask whatever he wanted to, but did not question Parish about the collapse of his investment pools, where nearly 600 clients may have been victimized.

Throughout the discussion, Parish stressed that his assets, like his million-dollar pen collection, artwork, books and rare coins, some valued at tens of thousands of dollars, were a savvy set of investments he purchased below market value. Investigators said that appraisers and dealers have painted a different picture.

"He still believes that the value of most of the stuff is meaningfully higher than what we've been led to believe it's worth," Dantzler said.

The interview did not reveal any new items, but did fill in some holes.

Though Parish has claimed to suffer from amnesia, Dantzler said that there were few moments in the five hours he spent Parish where the former economist said he was drawing a blank, Dantzler said.

The former Charleston Southern University professor has been doing mental exercises to restore his recollection before federal investigators closed in on his business, Dantzler said.'



The exercises involve imagining his future if he doesn't tell authorities what he knows.
Saturday, May 19, 2007
Fulmer Cup

Okay, so thanks to a reader, Red Stater, UD now knows about the Fulmer Cup.

The Fulmer Cup is a yearly competition for the most criminal university athletic team. Based on a numerical system in which the more heinous the crime (felony burglary, dealing cocaine, felony armed robbery, aggravated battery, misdemeanor assault, etc.) the more points your school receives, the Fulmer Cup recognizes exceptional criminality on some of our most competitive sports teams.

The current top five schools, and their point totals, are:

1:Illinois - 24
2:Penn State - 21
3:Idaho - 17
4:Michigan - 12
5:Florida - 11
From an End-of-Academic-Year Roundup
at Georgetown University's Newspaper
'Cheers to closing the political graveyard

Retirees these days break the mold of the cloistered, old senior citizen. For a time, Georgetown made retirement options a little too convenient for some of the worlds not-too-best-and-brightest.

Students agree that former President of Spain Jose Maria Aznar and former Sen. Tom Daschle (D- S.D.) contribute nothing of academic importance, and that the acquisition of Douglas Feith was an embarrassment to the administration.

The weighty salaries and security details attached to these high-profile names are only some of a long list of negative consequences that resulted from the DeGioia administration's efforts to make Georgetown seem more prestigious. Today, just as 200 years ago, our university is judged by the quality of the academic contributions that leave its gates, not the political swine that come in. So cheers to Georgetown for correcting its ways. It's been nearly a year since the university opened its arms to another political failure.'


UD's impressed to see students not only paying attention to some of their university's, er, non-standard appointments, but complaining about them. There are always some people who end up in university positions for bad reasons. Students, who pay extremely high tuitions, deserve professors who are really professors, and who have earned appointment through a competitive process ending in a department vote.
Scathing Online Schoolmarm

Here, a blogger for the Oregon Statesman Journal complains that employers unfairly judge graduates of Oregon's schools to be inferior to job applicants who come from systems outside the state.

Yet this man -- himself a product of Oregon's education system -- writes so badly that he makes the opposite case: The employers are probably right.




Oregon finds itself last or lowest among all the states in its public support of higher education. Every obvious indication would lead the observer to believe that Oregon's legislators ignore the relationship between paying for what you get. ['Relationship' needs to be between two things: Paying for what you get and...?]

One Oregon newspaper's editorialist wrote, "Even now, there are legislators who pretend there's no connection between Oregon's lowest-in-the-nation corporate income tax, and being last in public support of universities." The editorialist goes on to say, "You know there's something wrong with a state's finance system -- and its leadership -- when even during good times like this it still can't bring itself to make a basic investment in higher education."

I disagree. [

As you read the rest of this paragraph, it's hard to figure out what this "I disagree" means.]

Having been born and grown up in Oregon, I remember back when I was in high school here, along the way of going

[slightly awkward formulation

] from preschool through graduate school to a Ph.D., realizing that anyone from an Oregon school, no matter how many degrees he or she got and achieved at whatever the highest level this state had to offer, the person involved was going to be overlooked by someone with similar or even lower achievement from somewhere else. [

Meandering and confusing sentence.]

That somewhere else, incidentally, could be another state in this country or overseas. The bottom line is that, unfortunately, Oregon has a pronounced inferiority complex about its higher education graduates. [

This is the man's basic argument. For clarity's sake, he should have put it somewhere in his first paragraph.]



That's the real reason corporations and others who could make a difference in academic standing in this state won't come forward to support higher education at any more than to the [

'any more than to' is awkward

] $10 minimum corporate tax to pay for a proper investment in higher education [

Note the redundancy of 'higher education,' which gives the sentence a circular feel. We're getting a sense that this writer is trying to push forth with some real emotion, but that the emotion, which at this point looks unpleasantly like free-floating resentment, has compromised his lucidity.].

They don't need to do so in order to get the candidates they seek to do the jobs they want done. Oh, they'll support the kicker because that puts more money in their pocket to the level of $1 billion and they'll quietly (sometimes even with great noise) support K-12 at the proposed $6.245 billion. [Again, the tone is snide, which is rarely a winner; and the writing is just awkward.]

Do you know why they support the kicker and more money for K-12? The first is obvious because it means they can stuff more bucks into their already bulging pockets. [

Stuffing more bucks in bulging pockets is nineteenth century populist boilerplate. It has absolutely no impact.]



The second, however, is a bit more obscure. Your see, if the state does well at educating students to the twelve grade level (even with an alarming number of some dropouts), then corporation[

s

], of course, have no recourse but to bring their pals in from elsewhere to fill the big buck jobs. [

Pals, big buck...]

The high school grads, GED holders, and dropouts can have the scraps; you know, the jobs they fight over with the illegal immigrant for the lowest,

[most]

menial, [

most]

poorly paid chores possible.

Look around at a few examples: every time there's need of a big-district superintendent, someone from another state is brought in and then he or she brings in his or her pals for the top positions or as exorbitantly-paid consultants. Where does Chemeketa Community College's new president come from? Somewhere in Oregon? Look again. She can absolutely be depended upon to bring her pals with her into all the top jobs. Did the new president and publisher of the Statesman Journal come from Oregon? Not this time! Just look around: Even Oregon's governor is not a native Oregonian. [The writer's getting uncomfortably close here to nativist rhetoric.]

I've lived in this state all my life. [

Note the negatives I'm about to highlight in the next sentence.

] Every person I know who attended an Oregon college who has not been able to earn more than a modest income has not been able to do so unless his or her family owned a business and he or she has been able to inherit it. [

See how confusing they are? The writer doesn't know how to tighten his prose, to avoid confusing redundancy; the result is that readers need to scan many of his sentences twice to make sense of them.]

It doesn't matter whether they went to school and earned a high degree, they'll never pull down other than a mediocre salary unless unless [

Delete one "unless" -- in a prose style full of redundancy, it plays as just more of the same.]

it's as a self-employed professional, like a doctor, dentist, or attorney (often from a family that had the means to pay their way), but to head an organization, private or public, no way!

[We expect guys at bars nursing vodkas to talk like this -- in rambling, emotional sentences that have trouble getting to the point.]

That individual just has to be hired from elsewhere, out of state. They cannot claim any Oregon school or higher education as their alma mater because my experience tells me that is the kiss of death here.

As long as Oregon has an inferiority complex about it

[its]

own higher education graduates there won't be more than "peanuts" [

Why quotation marks around peanuts?

] thrown higher education's way in this state. We can expect more of current same [

current same is awkward

] from the Legislature regarding the support of higher education because any Oregonian with an ounce of insight knows that our legislators are in the firm grasp of Oregon's corporations and organizations and those folks want their bread and butter spread just the way it always has been. [

Peanuts, bread, and butter: The writer has failed to make an argument, but has succeeded in making a sandwich.]
Labels: SOS
How Many Coked Up,
Homicidal Athletes
Does it Take...

...for a university to notice?

At Montana State University, the answer is six.


Mike Kramer was fired Friday as Montana State University's head football coach, a day after another of his former players was arrested on drug charges.

MSU athletic director Peter Fields said he made the decision Friday morning to fire Kramer, [

drop the comma after Kramer]

after consulting with MSU President Geoff Gamble and vice president for student affairs Allen Yarnell. Fields said Gamble and Yarnell agreed that the cumulative effects of the football program's troubles pointed to a "crisis in leadership."

"There is something broken with our football program, and we need to take decisive steps to fix it," Fields said during a hastily called news conference Friday afternoon.

"What's been happening is a black cloud over all our kids," Fields said. "You feel bad for the athletes. You feel bad for the staff that has worked so hard. They get painted with a brush that they're part of a drug university, when it's far from the truth. But that is the perception that is out there, so we need to change that perception." [Well, but how far from the truth is it? It'd be interesting to know if MSU has a particularly strong drug culture.]

Kramer could not be reached for comment Friday.

When Fields was asked to describe Kramer's reaction to the firing, Fields replied: "He didn't understand."

["So some of my guys sell drugs and shoot people. So?"]



Kramer was hired as MSU's 30th head coach Dec. 6, 1999, after a successful six-year stint at Eastern Washington University. He compiled a 40-43 record, led the Bobcats to three Big Sky Conference championships and guided the team to its first playoff victory in 22 years in November.

But five of his former players have been arrested on drug charges and another has been charged with murder in the past year.

"Whatever these problems are, we can't stay in this trajectory," Gamble said Friday. "These problems are linked directly to our university in people's minds. Perception is reality."

Several current players, many of whom had already left campus for the summer, said they were shocked by the decision.

"I can't imagine anything good coming out of this," said senior quarterback Jack Rolovich.

Junior running back Isaiah Taito said Kramer was a good coach. "Mistakes by the players have put him in this position," Taito said.

Gamble and Fields also praised Kramer for his success as a football coach. But Friday's decision came down to leadership, they said.

"We have criminal, academic and compliance issues," Gamble said. "Peter's point to me was: It might be a leadership issue. We needed to make a change to see if we can do this a little better." [Yeah. It'd also be interesting to know how many of these guys managed to graduate.]

Fields said the university will comply with the terms of Kramer's contract regarding termination of employment without cause. The former coach will continue to receive payments from the school. It was unclear Friday how much that would be, but Kramer was working under an annual contract, earning about $135,000 a year.

Fields said he will quickly begin a search for a head coach, adding that he plans to appoint an interim coach to oversee the program in the meantime. He said he has a number of applications from which to choose potential candidates, and plans to appoint a screening committee that will be asked to provide three to five names for consideration.

"This is a place to start," Fields said. "We're going to work from here and be diligent about it. The bad things that have happened are not what we're about, but it looks like this is what we're about. [

Twisted logic here. The coach is out on his ass precisely because his cynical indifference to the criminality of players has made these guys what MSU is about

.] The sad thing is, this is a very small minority, but this is very devastating to the program. The majority of student athletes are doing the right things."

Fields acknowledged that timing is tight in terms of hiring a new coach. Asked how quickly he needed to get one on board, he replied: "Yesterday."

Unclear Friday was what Kramer's firing would mean for the future of his assistants, many of whom were out of the office and could not be reached. Fields said he will meet with the assistant coaches and other members of the football staff Monday.

The firing comes a day after former MSU wide receiver Rick Gatewood and his brother, Randy, were arrested on two federal complaints alleging they were selling cocaine and conspiring to sell cocaine in Bozeman from June 2005 to May 2007, according to court records. The Gatewoods are being held in the Missoula County jail. Bail has not been set.

The complaints against the brothers are the latest in a long list of drug charges filed against former MSU athletes in recent years.

In December, three former football players were charged in connection with selling cocaine or marijuana the previous June to an informant. In June 2006, a former basketball player and a former football player were charged with deliberate homicide and aggravated kidnapping in the drug-related shooting death of a suspected cocaine dealer.

Gamble said he agreed with Fields that a change of leadership in the football program was necessary.

"Peter said he thought there was something broken with so many incidents, and for me, I must admit, I was tired of new incidents every few months," Gamble said. "Montana State is a great institution that doesn't deserve the negative reputation that is building because of these incidents. We have taken many positive steps, but it's clear we have a lot more work to do."

Fields agreed: "When you look at our football program's recent history, it is apparent that its direction does not fit with what this university is about. It starts with leadership."
Friday, May 18, 2007
A Diploma Mill Story
Good for a Few Giggles
From the Sacramento Bee:
Elk Grove schools' recently hired facilities chief -- already surrounded by questions about cronyism and a controversial land deal at his former job -- claims university degrees on his résumé that education experts say appear to have come from a diploma mill. [Well, this is a point UD's made more than once on this blog -- People scummy enough to do the diploma mill thing are scummy enough to do other scummy things, like - in this guy's case - cronyism and conflict of interest.]

The Elk Grove job posting required a master's degree, but The Bee discovered that the company hired to vet Frank C. Harding Jr.'s résumé never checked his academic credentials. [Pretty basic... You pay money to a search firm and, uh, you expect them to check academic credentials...]

On his résumé, Harding, who did not respond to several requests for comment, states that he did course work at UCLA from 1972 through 1976 but received both his bachelor's degree in economics and an MBA from Edenvale University. [

Edenvale! Edenvale! A heaven on earth!]



For $2,000 to $8,000, that university will provide a degree based upon "life experience, work experience and any kind of courses taken" at a prior college, said Edenvale registrar Brian Winslow.

Currently, Edenvale is a non-accredited online organization with offices in Dallas, New York and London, Winslow said. Previously, he said, it was a correspondence and distance learning organization.

Winslow declined to provide an address or phone number for the university's headquarters unless a reporter paid a fee for a degree. [Interesting policy. I'm not familiar with other universities where you have to buy a degree before they'll give you their address and phone number.]

Clients send Edenvale their résumé and transcripts and a panel of professors determines if they are qualified for degrees, Winslow said. Letters of recommendation and customized transcripts also are provided. [It goes without saying that all of this - the professors, the recs, the transcripts - is pretend.]

Many legitimate online college programs exist. But education experts said the practices described by Winslow can be tip-offs that an institution sells diplomas.

Alan Contreras, administrator for Oregon's Office of Degree Authorization, is widely known as an expert on bogus degrees. He looked at Edenvale's Web site, www.edenvaleuniversity.org.

"Fake, fake, fake," Contreras said. "This is not even a close call. This is a diploma mill."

Government officials in Texas and the United Kingdom say it is illegal for Edenvale to issue diplomas from those locations.

"(Edenvale) has never been recognized as a degree awarding body by U.K. authorities," Jackie Stevenson, a spokeswoman for Britain's Department for Education and Skills, said in an e-mail.



[Let's pause here in the article as we transition to the 'reaction shot' from the school district. This is often, UD has noticed, the best part of diploma mill stories.]



The superintendent of the Elk Grove Unified School District, Steven Ladd, said the district hired School Services of California to vet Harding's references as part of a rigorous screening process. Harding's previous jobs include posts with the Natomas Unified School District and the private consulting firm School Facilities Planning & Management.

Ladd said nothing of concern arose during that screening.

"The question for us is, 'Does he have the degrees?' and he does," Ladd said during a break in Tuesday's school board meeting. "You're asking questions about the quality of those degrees." [Yeah man. He's got the effing degrees. We're not saying they're worth shit. But he's got the degrees.]

Yet it turns out the education portion of the screening never actually occurred.

Ronald Bennett, president of School Services of California, at first said his firm paid another company to verify Harding's claims. When The Bee found that firm had not made the checks, Bennett said he had accidentally neglected to make that request. [Just a small matter of the candidate's educational credentials, after all. Totally understandable.]

On Wednesday, Bennett said he had notified Elk Grove's superintendent of the mistake.

Elk Grove Unified board member Brian Myers said the board would "certainly pay attention" if questions were raised about one of its employees. But he said it would be a personnel matter and he couldn't comment further.

Board member Jeanette Amavisca said she had faith in the district's backgrounding process.

"Mr. Harding was the best person for the job." she said. "We done good."

Told Harding's degrees were never checked, Amavisca said it was "a matter for the superintendent to take care of." Ladd, the superintendent, did not respond to requests for comment on the vetting error. [They done good.]

Harding started his $149,000-a-year position at Elk Grove -- Northern California's largest school district -- on May 1.

He came from a similar post at Natomas Unified School District, where he recently helped devise a deal for that district to purchase 41 acres of farmland at a record-breaking $325,000 an acre. Acreage in that area typically goes for between $50,000 and $100,000.

While Harding headed the Natomas department responsible for purchasing land for school sites and building new schools, he granted $433,900 in no-bid contracts to his former construction management consulting firm, Educational Facilities Program Management. [He done real good.]

At Natomas, Harding wasn't required to have a higher education degree, according to Superintendent Steve Farrar. That requirement was added this February, district records show.

Harding attended UCLA sporadically from 1971 through 1976, studying political science, said university spokeswoman Claudia Luther, but he did not receive a degree.

On résumés Harding submitted to Elk Grove and Natomas, he said he received his bachelor's degree in economics from Edenvale University in 1982 and his MBA in 1985. Winslow, the Edenvale registrar, said the university was created in 1983. [Hm. A little slippage there.]

However, Winslow would not say whether Harding has degrees from the university, citing privacy concerns.
RENO 911!
'Debbie Reynolds--the award-winning actress, recording artist, TV star, Broadway performer and hotel casino owner--will earn an honorary doctorate degree at the University of Nevada, Reno this Friday.'
UD Now an Adjective.

UD's blogpal, The Cranky Professor, employs what he calls the Soltanesque approach to prose analysis in a thoughtful take on what to do with ugly, unloved modernist buildings.

Which reminds me to mention that if you'd like to read UD on this and related architectural topics, you can spend eight bucks and buy an old copy of the wonderful journal Raritan at Amazon.com, in which she holds forth.
Thursday, May 17, 2007
Gandhian Ethics


It's rare that UD feels a sense of comradery with her fellow American university professors. It's rare that UD feels a sense of comradery, period.

But, as with the wonderful Southern Illinois professors who refused en masse to attend a moronic motivational talk that administrators at their university rigged up for them, so now with the Berkeley professors refusing to take a required online ethics quiz, UD says: COMRADE!

From an article by Matt Krupnick, in the Contra Costa Times:




Fewer than half of UC Berkeley faculty members and other employees have completed a required ethics course that some professors say is irrelevant. [Rebellion against corporate stupidity is good for the soul.]

All 160,000 University of California employees were told last year to complete the online course after the institution was stung by newspaper accounts of a series of administrative missteps. [

Professors didn't do anything wrong. They shouldn't be punished by having to take the same kindergarten-level ethics test that the administrators -- who need it -- have to take.

] Most managers, deans and other administrators statewide completed the training by January, but most UC Berkeley professors and other employees have not.

Berkeley employees must finish the course by Friday, but less than 40 percent of the faculty and about 44 percent of the remaining staff had completed the training by last week, administrators said. [These are great numbers. Non-violent protest is among the most ethical of acts.] It was not clear how the Berkeley numbers compared to other campuses.

UC Berkeley faculty and administrative leaders said they had received several complaints about the ethics course. Journalism professor Susan Rasky said she finished about two-thirds of the training before giving up.

"If they really cared about this, they wouldn't be doing it this way," she said. "It just seems so Mickey Mouse, so simple-minded." [A lot of people aren't insulted by in-the-pits stupidity. Professors, as a class, really are. More than insulted. A lot of them can't tolerate certain levels of the inane. I'm not kidding when I say that some of these professors physically cannot finish this test. I think these people should ask their universities for special accommodation, as some of their students do, because it is so difficult -- to the point of near-impossibility -- for them to take this test. I'm not saying that they absolutely positively cannot take it -- I'm saying that while it might take stupidity-non-aversives, say, a half hour to take the test, it will take stupidity-aversives perhaps weeks to summon the strength to take the test.]

The 15- to 30-minute course takes employees through a series of scenarios in which a business manager named Edna must decide how to respond to ethics questions. [

Edna.]



"In each of the following scenarios, do your best to help Edna choose the path toward ethical fitness," the program tells users. [

Help Edna reach ethical fitness

.]

For example, Edna must decide how to address an employee, Thuvan, who appears to be using her position to gain perks at luxury hotels. Another employee spends too much time fixing his old cars, and a department manager is spending university money on alcohol.

University leaders could not say what they would do -- if anything -- about employees who declined to finish the course. Although the test is mandatory, punishments have not been discussed, said Paul Schwartz, a spokesman for the 10-campus UC system. [I'm trying to think of a punishment for faculty worse than reading the ethics exam.]

"Completing the training is a priority, and it will be enforced if need be," he said. "We're hoping we don't have to police this." [

Help Paul become a policeman

.]

Richard Blum, the board's chairman, was not prepared Wednesday to say how the university should react.

"I'll have to see what the attorneys say and what our options are," he said. "I don't know anything about it." [

Help Richard threaten faculty with the legal staff

.]

The regents are scheduled to discuss the issue today and have the ultimate responsibility for regulating the policy.

Without a directive from systemwide leaders, campus administrators can do little else than remind employees about their responsibilities, said Berkeley's chief academic officer, Provost George Breslauer, who completed the ethics course in November. The training has little relevance to a professor's job, he said.

"They're galled, and I can understand that gall," Breslauer said. "The vast majority of people here, especially the faculty, probably cannot relate to the situations in the briefing. I didn't feel galled, but I did feel cynical."

[Bravo, George. Honesty

.]

Opposition to the quiz on other campuses did not appear to be widespread. At UC San Diego, faculty leaders said they had not received the same flood of complaints as had their Berkeley counterparts.

"A number of people have questioned it, but it hasn't been as burdensome as some online training in the past," said Henry Powell, a UC San Diego neuroscience professor who leads the campus Academic Senate. "These trainings are very valuable because they bring out certain issues." [Help Henry break free of his Me A Good Boy problem.]

Online courses have become common tools for university leaders. State law required all employees to take a sexual-harassment quiz -- which penalized employees who finished it too quickly [

Premature ejaculation.]

-- and UC officials this week launched conflict-of-interest training for all researchers.

For many employees, the courses are too time-consuming and repeat rules that people already understand, Rasky said.

"This was like a quiz you take when you go to traffic school and the answers are obvious," she said.

Still, she said, "I certainly hope I don't end up on someone's bad faculty list."
"Professor Sees Parallels
Between Things, Other Things"
"AUSTIN, TX— University of Texas professor Thom Windham once again furthered the cause of human inquiry in a class lecture Monday, as he continued his longtime practice of finding connections between things and other things, pointing out these parallels, and then elaborating on them in detail, campus sources reported.

"By drawing parallels between things and other, entirely different things, I not only further my own studies, but also encourage young minds to develop this comparative methodology in their own work," said Windham, holding his left hand up to represent one thing, then holding his right hand up to represent a separate thing, then bringing his hands together in simulation of a hypothetical synthesis of the two things. "It's not just similarities that are important, though—the differences between things are also worth exploring at length."

Fifteen years ago, Windham was awarded tenure for doing this.
the onion
Understanding and Humility...

... are the two great Franciscan values that St. Bonaventure, a Franciscan university, highlights in its mission statement.




How humble does this look to you?
'University officials will wait until the federal case against [St. Bonaventure baseball] coach Larry Sudbrook is over before deciding if university sanctions are necessary.

Sister Margaret Carney, St. Bonaventure's president, said the university wants to review all the facts in the case first. Until the federal case is resolved, Sudbrook will stay on the job as St. Bonaventure's head baseball coach.

Sudbrook ... was arrested May 10 by officers of the Transportation Safety Administration and the FBI at Buffalo Niagara International Airport after he allegedly attempted to take a loaded Colt .357 Magnum King Cobra revolver on board an aircraft. Sudbrook pleaded innocent to the federal felony charge of attempt to or carrying a weapon or explosive on board an aircraft.

... According to his FBI arrest affidavit, Sudbrook told officers he forgot the weapon was inside his carry-on bag. The gun was in a center, zippered compartment. Sudbrook has a Pennsylvania handgun license. According to the affidavit, before moving to Bradford 13 years ago, Sudbrook had a New York state handgun license. That license is no longer in effect.

The Erie County District Attorney's Office said Wednesday that federal authorities have not referred the case to them to determine if Sudbrook should face state charges for bringing a handgun from Pennsylvania to New York.

In a statement Wednesday, Sister Carney said she and university officials met with Sudbrook Monday to discuss the incident.

"As we would expect, he continues to be fully cooperative and respectful of the university's obvious interests and concerns," she said. "As a personnel matter, the details of our discussions are not something we can discuss openly. What we can say is, in a case like this, our policies would guide us to withhold final judgment on sanctions pending collection of all the facts of the matter."

A TSA security officer found the revolver in Sudbrook's carry-on bag while passing it through an X-ray machine. According to an arrest affidavit filed by FBI Special Agent Rebecca A. Lawrey, a reload of six hollow point .357 Magnum rounds in a device called a speedloader was also found inside the bag. A speedloader enables a revolver shooter to recharge all six cylinders of a handgun quickly once it has been fired. [Can never be too careful.]


Sudbrook did not return calls to his home or office Wednesday. He is represented by defense attorney Joel Daniels of Buffalo. A preliminary hearing is scheduled for June 13 at 10:30 a.m. Sudbrook was released on his own recognizance pending the court appearance.

According to Special Agent Lawrey's arrest affidavit, Sudbrook said he put the revolver in his bag May 7 while moving it from his detached garage to his home. He said he planned to secure the gun in his house, but set the bag down and forgot about the gun. [

Take a look at that baby. How could you ever forget her? I mean, her and the speedloader?]



Sudbrook told the FBI he brought the bag with the gun inside to St. Bonaventure on May 8 and May 9 and then took it with him to the airport for a Bonnies baseball trip to Charlotte for a three-game series last weekend.

Mr. Daniels told the Olean Times Herald last week Sudbrook uses the bag to carry team files and other documents to work each day.

According to St. Bonaventure University policy, the use or possession of weapons on campus is prohibited other than by authorized police agencies.


UD's posted stories like this one before, about university students and professors and administrators and coaches who just can't seem to remember that they're carrying big ol' loaded guns plus plenty of ammo on campus, on airplanes... hell, just about everywhere. Sometimes their memory gets jogged by federal agents who notice the guns and ask them about them...

I dunno. A man whose memory is this weak... How good a coach can he be?
UD Was Interviewed Today...

... by the website PayScale - "a market leader in online compensation data" - about what it's like to be a college professor. Not sure when it'll run. Probably pretty soon.
University Diaries
Goes to Blog U.


UD will soon be appearing not only here, at University Diaries, but also at Inside Higher Education, as one of their bloggers.

She'll post somewhat longer pieces at IHE, three or four or maybe more times a week. IHE's tech guy will be talking with UD in the next few days about picking up her James Joyce image and so forth...

She's excited about this. UD's ur-identity is freelance writer, and this is the sort of outcome freelancers love.
Where Are They Now?

The unspeakably dull, the totally over Ward Churchill story persists, I'm afraid, and UD, being the sort of blog compelled to follow significant university stories, must update you on it as it lives its long, lurid life.

Ward's made the news lately because the University Colorado committee that, on Churchill's request, reviewed another university committee's recommendation that he be fired, just came up with a recommendation not to fire him, but to suspend him for a year.


... Three of the committee's five members recommended suspension, according to a copy of the committee report provided to The Associated Press on Wednesday. The other two members said he should be fired.

Churchill's work was ``below minimum standards of professional integrity and ... requires severe sanctions,'' the committee concluded. It said Churchill ``committed multiple acts of plagiarism, fabrication and falsification.''

In a list of arguments against dismissal, it said his case ``shows misbehavior, but not the worst possible misbehavior.''

The committee said he did not fabricate data to obtain grant money, did not endanger people's lives by ignoring research standards and did not damage the progress of important research.

... CU President Hank Brown has until May 29 to decide what punishment, if any, Churchill should receive....


So basically, anything short of Josef Mengele, and you'll probably be okay.
Wednesday, May 16, 2007
American University Did A Whole Lot Wrong
in the Benjamin Ladner Mess, But This Figure...

...in a UPI story about Larry Summers, has got to be a mistake:



[Summers'] costly severance package came after Washington's American University paid out $33.7 million to its own controversial president Benjamin Ladner when he left the school in 2005.
William Frawley...

...in a letter to the local Fredericksburg paper, explains a long-ago arrest:




'The personal incidents ... concern a stalker who followed my wife and my attempt to stop him and to protect her. Here is a summary of what transpired.

More than 20 years ago, my wife was repeatedly pursued and harassed across three towns by a man who refused to heed her repeated attempts to get him to stop. Two of those towns were locales where she lived before we even met.

After my wife and I met in Newark, Del., this man showed up again and continued to intimidate her. We notified police in Delaware about all the incidents, past and then- present. One night, the stalker showed up on our porch, and I intervened; the whole series of events that evening resulted in police involvement. In the end, the incident was completely expunged from the record, given the circumstances. Such was the conclusion to this unfortunate episode in our lives.

While I have apologized to the [University of Mary Washington] community before, I make no apology for having to intervene personally in this repeated-stalking incident of decades past. The disposition of this case over 20 years ago shows that the authorities well understood this event and its context.'
UD's Becoming Quite the Fan...

... of Patricia McGuire, president of Trinity University here in Washington. Not only was she scathing on the subject of ex-American University president Benjamin Ladner's outrageous compensation, but she also has her own blog.

And maybe it's all that blogging she's doing, but she's also a very good writer:




Rip it up and throw it away.

[Glance down to the end of her opinion piece. She returns to the rip it up bit. This circular approach to structure is almost always a good bet.]

That's the advice I'm giving my fellow college and university presidents this month as the "reputation survey" from U.S. News & World Report lands on our desks. [

You guessed it. I'd take "reputation survey" out of quotation marks

.] I am one of 12 presidents who wrote a letter urging colleagues to take a stand for greater integrity in college rankings — starting by boycotting the magazine's equivalent of the "American Idol" voting process. [Everyone in the country except for tv-less UD knows what American Idol is -- again, no need for quotation marks.]

All presidents receive versions of the reputation survey organized by region. Mine lists 181 Northern universities, including schools as different as the behemoth City University of New York's Hunter College, with more than 20,000 students, and my Trinity, a historically Catholic women's college that's now a 1,600-student university.

The survey asks me to "rate the academic quality of undergraduate programs," assigning each school a single score using a 1-to-5 scale from "marginal" to "distinguished."

[Quotation marks here are fine, since this is direct quotation

.] That I have little real information about these 181 institutions does not seem to matter to the U.S. News editors. The tabulated survey results will account for 25 percent of the total score they use to rank colleges and universities in the "Best Colleges" issue.

Survey concerns

In a cover letter reminiscent of a sweepstakes mailing, U.S. News informs me that I am "one of a select group of people" with "the broad experience and expertise needed to assess the academic quality of your peer institutions." Most of what I know about these schools is through anecdotes, news stories and rumors. Should I score an institution poorly because I've heard that it has money woes? Should faculty unrest influence my vote?

This reputation survey is just part of the larger problem with "Best Colleges," a misnomer that feeds into the American obsession with celebrity, prestige and list making. [

A misnomer that feeds sounds awkward to me. One of those two words should be changed.]

What's "best" educationally for an aspiring physicist is quite different from what's "best" for a future reading teacher.

[Liberate "best" from the rabbit ears.

] But in the strange alchemy of U.S. News, the rich diversity of American higher education boils down to a few points about fame and wealth. [I love "strange alchemy," but would change "diversity" to "brew" in order to keep the boiling alchemic metaphor going.]

Crunching the numbers

In addition to the reputation survey, U.S. News collects lots of institutional data that it churns through its own formulas to score each school; those scores drive the rankings. Colleges that have high faculty salaries and strong "selectivity" — meaning that they reject a lot of applicants — fare much better than those that are more efficient with resources or that accept more students. [Liberate "selectivity."]

Universities that want to move up in the rankings dare not admit more low-income students from urban public schools who might lower the retention and completion rates.

U.S. News also provides an incentive for colleges to raise tuition because that means higher "educational expenditures per student" and more "faculty resources," which together account for 30 percent of the score. The very consumers whom U.S. News allegedly serves are paying a hefty price for what its rankings have done to higher education. [

Drop "allegedly."]



Privately, some presidential colleagues have said they agree with my position but are afraid to act publicly for fear of upsetting trustees or alumni. But one of the essential tasks of leadership is to risk speaking the hard truth.

U.S. News and others in the college-ranking business claim that they promote accountability in higher education. But what truly betrays public trust is permitting surrogate measures of academic quality to replace real information about what students learn on our campuses. Colleges need to take back the responsibility for communicating educational results, starting with posting accreditation reports on Web sites.

We also need to teach prospective students and families to assess what really counts in higher education — not a magazine ranking but how well a college meets a student's learning style and academic interests, how available the faculty are outside the classroom, whether students can get the courses they need to graduate in a timely way and what professional schools and employers welcome its graduates. [

Note that McGuire's style is elegantly simple and straightforward.]

The best way to assess a school's quality is to visit the campus, stay overnight in residence halls with other students, meet the faculty, sit in on classes and try on the "feel" of the place. [

Liberate "feel."]



PR campaigns

Some of the actual best colleges in this nation do not fare well in the U.S. News survey because they do not have the wealth, big-time sports notoriety or public relations clout to influence the peer voting system.

Every March and April, in anticipation of the reputation survey, some university PR machines go into overdrive and crowd my desk with glossy brochures touting their accomplishments. A few presidents go so far as to appeal for my vote directly, sending personalized form letters extolling the virtues of their colleges. I rip those up and throw them away, where they commingle in the trash can with the U.S. News survey.

["Commingle" is an odd choice -- a little too poetic for this trashy conclusion... But that odd, high/low tonal mix somehow works. Not sure why. Maybe because it's kind of funny.]
Labels: SOS
See?

Here's what UD's been trying to tell you about tenure rates at most American universities. It's an article about an astronomy professor at Iowa State University who was just turned down:



Tenure Statistics Contradict Iowa State's Claim that "many good researchers have failed to satisfy the demands of earning tenure" at ISU

Iowa State University has attempted to defend its denial of tenure to widely-published [pro-Intelligent Design] astronomer Guillmero Gonzalez by insisting earlier this week that tenure is hard to get at ISU. Indeed, according to a statement about the Gonzalez case posted on ISU's home page, "tenure is a high standard of excellence and achievement -- so high, that many good researchers have failed to satisfy the demands of earning tenure."

So just how "many" is "many"? Not very many, it turns out. We requested data from ISU on the number of tenure applications and rejections at the university for the past five years ...

According to these figures, the tenure acceptance rate at ISU has been steadily climbing for the past five years, from a "low" (!) of 85% in 2003 to this year's acceptance rate of 91%.

Put another way, the rejection rate for tenure applications at ISU has fallen from 15% in 2003 to only 9% in 2007 ...

Are we really supposed to believe that a 91% acceptance rate for tenure applications at ISU represents such a "high standard of excellence and achievement... that many good researchers have failed to satisfy" it?! Or that a scientist like Dr. Gonzalez—who has published 350% more papers than needed to satisfy his own department's standard for research excellence—was somehow in the bottom 9% of tenure applicants this year?

Even if one looks at Dr. Gonzalez's own department, the 10-year approval rate of tenure applications is nearly 70% if one accepts data reported in The Des Moines Register yesterday. That is less than the university as a whole, but still very good odds of acceptance. Again, are we to believe that Dr. Gonzalez—whose work has been recognized in Science, Nature, Scientific American, and many other scientific publications—is in the bottom third of his department? I guess that's why his department uses in its courses the astronomy textbook he co-authored for Cambridge University Press last year.




When you tenure that many people, it makes it hard to turn anyone down.

If for years you've been happily promoting all sorts of unimpressive people in unimpressive departments, you look biased when you turn down people who are in fact quite productive, but who hold controversial views.

And (in the Scathing Online Schoolmarm department): You look stupid when you use ye olde rhetoric about how being deemed worthy of tenure is real lofty and rare...
Tuesday, May 15, 2007
A Panicky Writing Instructor,
And His Long-Suffering Class.


From the San Jose State student newspaper:



A professor at San Jose State University no longer conducts his writing class because he said a student's story that fictionalized the killing of a professor, "had created an atmosphere of conflict in the classroom which would make learning difficult."

Mitch Berman, the professor for Writing Fiction, an English course at SJSU, said in an e-mail that the story, which was written before the Virginia Tech University shooting, had "created a great deal of anxiety," and several of his students wrote to him after the shooting, questioning "their own safety in the classroom."

Berman added that "the incident at Virginia Tech has underscored the need to err on the side of caution, and I believe the university well understands that incidents such as the one that happened in this class now need to be taken more seriously."

The story, which was written by a student in the class, is a 17-page fictional narrative about an English student who convinces a vampire lover to kill the student's "unethical, wicked" professor.

Berman said in the e-mail that he asked the class to be moved online if a substitute teacher could not be hired, but students in the class urged the department administration to appoint a substitute teacher after only a few online classes were held. The department obliged, and a substitute lecturer is handling the remaining classes.

The chair of the English department, Scott Rice, as well as the student who wrote the story declined to provide any detail regarding this situation.

Gyasi Woods, a senior majoring in advertising, said she is a student in Berman's class, and that certain quotes from the story match what Berman had said to the student during a classroom critique of one of the student's stories submitted earlier in the semester.

Although the fictional story never references Berman by name, one of the fictional professor's quotes reads, "You don't know jack-s--t about movies if you don't know Kurosawa."

Another student in the class, who wished to remain unidentified, said the fictionalized professor's quote in the story is nearly verbatim to what Berman said to the student during the critique. The student also said other quotes in the story were nearly identical to things Berman said in the classroom.

"He's blunt, so I guess this (student) in our class took it harshly," Woods said.

She said she didn't think the student was a danger to the class or the professor.

"I think (the student) was angry at the teacher," she said. "(The student) used the story to say something."

The fictional story contains details regarding the unusual manner in which a vampire takes its victims' lives. The student wrote, "Immediate death comes to the creatures or humans whose recent feces were consumed by these vampires."

The story ends when the vampire reveals, "I killed him," referring to the fictionalized English professor.

Gyasi said she and the student were still attending the class.

"(The student) is a regular kid. (The student) sits in the front," she said. " … If I felt a danger, then I wouldn't come to class."

Adam Goldstein, attorney advocate for the Student Press Law Center in Arlington, Va., said the First Amendment protects the student's writing of the story as long as the professor did not have a reasonable fear for the safety of his life.

"There is no real connection between writing violence, even first-person violence, and committing acts of violence," Goldstein said.

Berman said in an e-mail that in his 10 years of teaching, many of his students had written "gory" stories or have satirized or "lampooned (him) in a witty way."

However, he wrote, "… I've never been handed a story that created a character recognizably based on me, and seen any harm come to that character. The story in question was therefore the most inappropriate story ever submitted to any of my classes."

Berman said in a telephone interview that he cancelled the class in which the student's story, along with other students' stories, were to be discussed. He said he sent an e-mail to his entire class and posted a note on the classroom door notifying cancellation of the day's class.

Two students, who wished to remain unidentified, and Woods said they felt Berman failed to effectively communicate his cancellation of any classes or his plans regarding the movement of the class online or to be taught by a substitute.

Berman said that some classes following the story were previously cancelled as mentioned on the course syllabus.

The students said Berman never disclosed the circumstances regarding the immediate cancellation of any classes or the circumstances leading to his absence from his classroom.

"We'd sit in class and nobody knew why class was cancelled," said one anonymous student. "Everybody assumed it was because of the student's story."

The student said the writer of the story apologized to the class for the trouble the story had caused, adding that the writer of the story regretted writing it at all.
Monday, May 14, 2007
Perpetual Students
'College campuses, including Notre Dame and Chapman University in Orange, Calif., are offering burial plots for alumni and faculty.

Chapman opened a honeycomb structure designed to hold the cremated remains of alumni and faculty and Notre Dame announced plans to unveil a pair of limestone and brick mausoleums designed to hold full-body crypts, The Los Angeles Times reported Monday.

The Notre Dame crypts are expected to sell for as much as $11,000 apiece.

"People look back on their college years and say, 'Those were the best days of my life,'" cemetery consultant Mel Malkoff, who oversees Chapman's columbarium, told the Times. "Why not spend eternity there?" '
Usually, the Designation...

..."Number One Party School" refers to students.

At the University of Texas, it's the grownups in the loan office:




[The] financial aid office ... was oblivious to conflicts of interest but ... kept meticulous track of "lender treats" like ice cream, happy hours and birthday cakes that apparently were considered in deciding whether to put loan companies on lists recommended to students.

... [Investigators] found documents showing how lenders sought access to students through gifts to university officials. Just last February, Tom Ramaeker of Access Group, another lender, sent an e-mail message to a financial aid officer to find out whether his company "made the cut" for the 2007-08 preferred lender list. He went on to offer to take [the now-fired director of financial aid] and a subordinate to play golf.

... [Investigators also] found that [the university's financial aid director] sent an e-mail message to a company representative telling him how he wore a loan company shirt while giving an interview with Fox News. "I did a billboard for you," [he] wrote. The loan company official responded by asking about football tickets to a coming university game. He added that he was willing to pay for [the administrator's] football tickets to a game and that [he] could stay at his house.
---new york times---
Update, Duke Grading Business

You never know what settlements really mean, but Duke University has settled with a lacrosse player (he wasn't involved in The Incident) who claimed that a professor prejudiced against lacrosse players unfairly failed him in her course.

From the Chronicle of Higher Education:




[The student,] who graduated from Duke last year, has received a grade of P on his transcript for the "Politics and Literature" course he took last spring, indicating that he had passed the course.

No other terms of the agreement were made public....

In January, [the student] and his parents sued Duke and [the instructor], a visiting assistant professor of political science. She taught the "Politics and Literature" class to about 40 students, including [the student] and one other player on the men's lacrosse team.

According to the lawsuit, the two lacrosse players were the only two who received failing grades in the course. ...

The professor had told Mr. Dowd that he had failed the course because of a poor final paper and multiple absences from class.
Breaking
'About 20 years ago, the Wilmington News-Journal in Delaware ran a brief story about the arrest of 33-year-old William J. Frawley.

He was wielding a large knife and threatening to kill a passer-by, the newspaper reported. He was charged with carrying a concealed deadly weapon.

The charge was dropped shortly after the incident, according to court records in Delaware. That's why it didn't show up on the background check, a search expert said.'


The expensive recruitment firm hired by the university didn't discover this arrest. The local newspaper in Fredericksburg, however, recently managed to do it in this clever way:


'A Google search done by The Free Lance-Star shortly after Frawley's local arrests turned up a reference to the charge against him in Delaware.'



Refund time.
Sunday, May 13, 2007
Professor Parish Update

Ralph Luker sends UD this article from today's Atlanta Journal-Constitution, which adds some local color to the amnesiac professor/investment advisor story (background here).




He rolled up to the convention center [in Charleston] a little more than a month ago in his signature purple Jaguar with the custom cat-print top. Dressed in a yellow suit, he then gave his annual economic forecast for the chamber of commerce. [UD considers this whole thing a north/south story. If a guy like this got near UD, a typical northerner, she'd reel back in horror, the way Gregor Samsa's mother did when she realized she'd spawned a dung beetle. Down south, they look at a guy like this and say Let me entrust you with all my money.]

Afterward, the area's most prominent economic guru drove back to Charleston Southern University, where he was a respected professor, and began to melt down. He complained of blurred vision and became incoherent. By day's end, he had checked into a hospital, claiming amnesia.

This week Al Parish, 49, was indicted on 10 counts of mail fraud and wire fraud in what federal investigators allege, and he says he can't remember, was one of the biggest and most bizarre scams the region has ever seen —- so big and bizarre that the court has called in experts from Atlanta to sort it all out.

About 600 investors from around the country signed over what investigators believe was more than $100 million to investment funds that Parish told them had grown to $524 million, according to a report filed by a court-appointed receiver.

Almost all of it appears to be gone.

Much of it disappeared in random spending sprees on a motley array of items, much of which filled his suburban home nearly to overflowing: Red Skelton clown art, a $2.2 million teapot, an ancient Chinese chess set (stashed among his four children's board games) estimated to be worth $500,000, a $590,000 watch (still boxed in bubble wrap), diamond-encrusted pens sealed in plastic bags. Not to mention the Jag.

"You could hardly move through the house," said Andrew Savage, Parish's defense lawyer.

Savage said he could not comment on his client's alleged misconduct because Parish "can't remember it."

Staid old Charleston has been aghast —- and enthralled —- by the story, an outsized blend of Southern Gothic and Sun Belt sharpie.

"It's a combination of 'Midnight in the Garden of Good and Evil' and 'A Man in Full,' " said David Dantzler, a lawyer at Atlanta's Troutman Sanders working with Hays Financial Consulting, also based in Atlanta, to unearth assets. They include more than $10 million invested by the Baptist college where Parish taught.

"I've never seen anything like it," Dantzler said.

Two kinds of people

There are two kinds of people in Charleston: those who acknowledge they invested with Parish, and those who can't believe anybody did.

A paunchy circus bear of a man from the Lowcountry's deep woods, Parish could be spotted in red suits, in pastel outfits that invited comparisons to the Easter bunny, in ensembles that combined florals, stripes and cartoon characters. [The compleat investment advisor, eh? I guess if you're from the south...]

"Charleston seems to embrace eccentricity from time to time," allowed Alex Sanders, president emeritus of the College of Charleston.

"But the thing that's startling to me is that, even though we embrace eccentricity, he could talk people out of that much money. It's not exactly confidence-inspiring to wear purple clothes and drive a purple car."

Yet Parish won over almost everyone he worked with. He sat on boards for organizations ranging from the Charleston Regional Development Alliance to the Charleston Symphony Orchestra.

He wrote a financial advice column in the newspaper —- for free. He started a course at his church on investing from a Christian perspective.

"He's right up there with the best I've worked with," said Martin Regalia, chief economist for the U.S. Chamber of Commerce.

Raised beside a saltwater creek near Hollywood, S.C., about 20 miles from Charleston, he was the local boy made good who promised annual returns of 30 percent or more. One columnist dubbed him a "Bubba-turned-economics professor-turned-financial guru."

"We grew up in the middle of a cow pasture, where everybody worked and went to church," said Johnny Parish, Al Parish's younger brother and supervisor of a road crew who still lives next to the house where he grew up. "Al was always smart. He could do math problems in his head." [Hell, UD can do math problems in her head. Simple ones.]

Al Parish earned a doctorate in mathematical economics from the University of North Carolina and in 1990 got a teaching job at Charleston Southern.

He had already started to invest other people's money, putting their investments in "pools" of different funds, such as futures or bonds.

He wasn't licensed by the state or the Securities and Exchange Commission, but Parish's clients often knew him or had heard about his investment company from those who did. Recommendations came from some of the area's most respected accountants.

Investigators say it isn't yet clear whether Parish defrauded investors prior to the last few years, when his spending spiraled. But what they call a "classic Ponzi scheme" began to unravel early this year.

Charleston Southern needed to pull $1.5 million of its $10.6 million investment.

Despite a balance on his books of more than a half-billion dollars, Parish couldn't come up with it, investigators say.

Colleague fooled

"If you asked me a month ago if I was a good judge of character, I would've said, 'Yes,' " said Arnold Hite, an economics professor at Charleston Southern whose office was down the hall from Parish's. "Now? I must not be."

Hite said he and his wife put money into one of Parish's most conservative funds. They thought it had grown into a six-figure nest egg. Then Hite learned the fund didn't exist.

"I just wanted to vomit," he said. "I've been beating myself up with, 'Why didn't I see it?' I guess I had too much faith in him. He had such deep roots here, it seemed too fantastic that he'd defraud me." [Up here we don't do deep roots. Deep roots are for shit up here.]

Walking across the North Charleston campus where building projects have stopped because of the school's losses, Hite said, "Multiply my story by 600."

Parish remains in the Charleston County jail, where he has been held since shortly after his breakdown. Still claiming to suffer from amnesia, he has been sued in civil court by Charleston Southern, other investors, and the SEC, which accuses him of five counts of civil fraud.

He is scheduled for arraignment in federal court May 23. If convicted on the criminal charges, he faces a fine of up to $250,000 and up to 20 years in prison for each count of mail and wire fraud. He faces up to five years for a false statement charge.

Locals are still shocked. Executives at the Charleston Metro Chamber of Commerce, where Parish was considered its flamboyantly wonky face, say they didn't even know he ran an investment firm.

Few knew that, outside of his purple Jag, he had an other-life lifestyle that included five residences, six cars and art that ranged from an original Norman Rockwell painting to a Picasso drawing found among some computer manuals and a Degas that's likely a fake.

"He's an example of how people can have different aspects of their life going on simultaneously," said chamber President Charles Van Rysselberge. [Actually, Parish seems to have led a very consistent life.]

Investigators continue, as Dantzler puts it, to "open up closets and find stuff." But they haven't found money stashed in shell corporations or overseas accounts.

Parish's hard assets are being catalogued for auction. The purple Jag was shipped to Atlanta because, as Dantzler told a district court judge, "We think a purple Jaguar will sell better in Atlanta than in Charleston." ...
No Longer the Athletic Department's Whore,
Auburn's Department of Whatever
Wanders Lonely as a Cloud
'Almost a year after a grading controversy was discovered, turmoil still plagues the department of sociology, anthropology, social work, criminology and criminal justice at Auburn University.

Administrators says strides have been made in a year, and they continue to investigate options to redeem the department. [It looks to UD as if administrators are trying to shut the department down. But Auburn's an ill-run, interim-personnel-riddled sort of place, and they're dithering. Maybe there's pressure from the sports guys who run the university for Auburn to find them a new honey before dumping the old one.]

Professors in the department think otherwise. A sinking ship can't be saved, they say.

It all started last summer when Dr. Tom Petee was accused of issuing high grades to students in directed reading courses for little or no work. Petee, a tenured professor of criminology, stepped down as department head in August after an internal investigation found that he and adult education professor James Witte exercised poor judgment when it came to grades earned in those courses. Witte also stepped down as program chair of adult education. The university report claimed mistakes were made by both men due to lack of sufficient oversight and poor record-keeping.

Petee kept teaching until the fall semester ended, but then was suspended after a complaint was lodged alleging that in 2003 a student-athlete's grade was changed from an "incomplete" to an "A" without the knowledge of sociology professor Paul Starr, the professor listed next to the grade. Starr said he had no knowledge of the student. Dr. Paula Bobrowski has been serving as acting chair of the department.

Petee has been participating in the university's dismissal procedures since January. Per university policy, Auburn officials will not discuss personnel matters. Petee's attorney Davis Whittelsey had no comment on the matter at this time.



AU Provost John Heilman appeared before department members April 11 with Associate Provost Sharon Gaber, College of Liberal Arts Dean Anna Gramberg and Associate Dean Constance Relihan. He would not disclose specific content, but said it was an opportunity "to talk with faculty about working with each other and working with the dean's and provost's offices on improving the department." Two professors say the interaction was brief and left them feeling uneasy. Other professors contacted by the Opelika-Auburn News declined the opportunity to talk over fear of retribution.

Sociology Professor James Gundlach, who blew the whistle on Petee, said Heilman came into the room, read a statement and left. There was no opportunity for response. Gundlach said it said was "one of the most juvenile things I've seen an upper level administrator do in a long time." By chastising the faculty for not working together or with administration to solve problems with department heads, directed reading courses and budget problems, he said Heilman was "out of touch" with what is really going on in the department. [It is a bit rich: Having pimped the department to university sports for years, the administration now decides it was all the faculty's fault... ]

"We all sat there stunned," said Mark Konty, an assistant professor of criminology and criminal justice. He got the feeling Heilman was trying to convince them to shut up and stop complaining. Heilman didn't actually say those words, "but everybody in that room took it that way," Konty said. "Everybody in that room was scared and intimidated."

Heilman declined the opportunity to present his side.

Consequences

Konty has only been at Auburn for two years and does not have tenure. He was willing to speak to the newspaper because he thought his job in jeopardy anyway.

"I don't want to be at place that would fire me for doing what I think is right," he said.

Konty received a letter of non-continuation Thursday. His employment is terminated effective May 15, 2008.

Based on Heilman's statement, Konty said there are changes coming, like reassigning faculty to teach more undergraduate courses, which means no recruiting for next year's graduate program. Also, the travel funds promised by Petee are no longer there. They were told a "bunch" of summer classes will be canceled, according to Konty, because there aren't enough people to teach based on a formula administrators use to determine its economically feasible.



... In an April 5 letter from Gramberg to Heilman, she states she is "considering structural and curricular changes to the department" and requests ... an "immediate moratorium" on the sociology and criminology majors. Heilman hasn't acted on her suggestion, but is reviewing it along with recommendations from other sources. [Heilman may be hesitating because of pressure from Athletics. Where are they going to dump their guys now?]

Inherent problems

Even though Petee has been gone from the office for several months, Gundlach says nothing has been done to fix the problems that led to this fallout. The department is still comprised of four disciplines, creating a hierarchy and an unequal distribution of funds. Gundlach says criminology was and still is the top dog. Petee is a criminology professor.

Heilman disagrees. Not only has Auburn implemented new campus-wide policies in the wake of the grading issue, but he said the in-depth review provided through the new Academic Program Review process would provide a basis for what steps should be implemented next.

Konty and Gundlach said Heilman encouraged cooperation between the disciplines, but every time they have worked together, both professors say they were stymied by the administration. With APR, for instance, Konty said each discipline was "forced" to work separately for a portion of it, but then were berated on April 11 for not working together. The new review system was piloted this year as a means of determining the quality and relevance of all AU programs.

"Every time we've worked together on something we think is important, they say no," Konty said.

Heilman says the April 11 meeting had nothing to do with APR.

"There's a lot of people here who hate coming to work right now," Konty added.

Under review

APR was tested this school year in four departments, one being sociology, anthropology, social work, criminology and criminal justice. Each program underwent a self-study, site visit and an external review.

Heilman said the department took part in the pilot because he and Gramberg wanted a comprehensive review "to help the university better understand its strengths and needs." He admitted the controversy with Petee, as related to directed reading courses and grade changes, was a factor in the decision, but not the only one. They also found it necessary because the department is comprised of four distinct disciplines and has had much interim leadership in recent years.

The external review team agreed the multi-disciplinary department might not be the best idea. The department is "badly in need of additional resources," but until the university has a better hand on its weaknesses and strengths, they say it's too early to decide whether "to invest substantial additional resources or to make major structural changes."

They recommended a complete review of departmental policies and procedures to be completed by May 15, a strategic plan to be finalized by Dec. 15, a review and revision of the department's undergraduate curricula by May 15, 2008 and a review of the department's overall progress by Feb. 1, 2010.

The administration has yet to decide whether to follow such recommendations, but the provost's office is working on how to implement them.

Gundlach, who is retiring this year, doesn't think he'll be around to see any changes that will make the department what it once was. Although Konty is appealing his termination, he knows he won't be around for it either.'
Saturday, May 12, 2007
I've Bolded the Bullshit
'Of the three editors of the University of Florida's new literary journal, two have been accused of borrowing from other writers' works without crediting them.

Indiana University Press has recently withdrawn a biography written by Mark Mitchell , managing editor of Subtropics, citing failures to acknowledge another writer's contribution to his work. David Leavitt, a respected author and fellow editor of Subtropics, faced a similar situation in 1994 when he was accused of using information from a British author's memoir for his novel.


... Sidney Wade, Subtropics' poetry editor, said she did not think the allegations against Mitchell and Leavitt raise any concern about whether they're suitable editors of the journal. Mitchell is primarily responsible for finance and administration, and Leavitt is responsible for selecting the works of other authors for publication in Subtropics, she said. Neither task concerns the content of their own work, Wade said.

"I just think they are completely different baskets of eggs," she said. "A journal is not dedicated to bringing out their work; it's dedicated to bringing out someone else's work."

IU Press withdrew Mitchell's biography from circulation in October. Leavitt, who has won acclaim for his writings on gay themes, was accused in 1994 of borrowing material from British writer Stephen Spender's memoir "World Within World" for his novel "While England Sleeps."


... Jill Ciment, a UF English professor and friend of Leavitt's, said it's unfortunate that people can make allegations and create an environment where legitimate writers can be painted as unethical.

"We're going to lose people like David and Mark," she said. "It's going to make people not want to work in universities or start magazines."


... Pamela Gilbert, chairwoman of the English department, said both Mitchell and Leavitt have solid reputations that are not eclipsed by questionable charges.

"The whole question (of whether they're fit to edit the journal) starts to seem a little bit silly," she said.'


--------------------------------------------------------

Some background:

A comment from the wronged party:


"He took maybe 40 to 50 percent of the material for his book from my manuscript."

A comment from the book's editor:

"We declared it out of print and withdrew it, destroyed all the copies we had, and put the word out to our vendors that the books were not to be sold."

A comment from one of the readers for the press that eventually withdrew the book:

"If the Pachmann biography, as Indiana University Press published it, had been submitted as a doctoral dissertation in the Hugh Hodgson School of Music at the University of Georgia, it would have never received approval from the dissertation reading committee... It was deficient in fact checking and loaded with enough padding to keep the reader warm above the Arctic Circle."
Doug Lederman of Inside Higher Education...

...is, as I blog, being interviewed on CSPAN about the student loan scandal.

This reminds UD to mention that she's been talking with IHE about making her warm relationship with that wonderful publication even warmer. Stay tuned.
Friday, May 11, 2007
"What most professors want
is for students to validate
their pathetic life experience."


This comment, which got a good audience response, came from Michael Munger, a political science professor at Duke, in the film UD saw at the National Press Building last night, Indoctrinate U. What he means is that you can explain coercive political correctness on American campuses if you understand that American university professors as a class are politically confused and socially isolated people, desperate to bolster their shaky sense of the world by seeing it reflected back at them by their students.

And by their colleagues. Recall University of Chicago professor Cass Sunstein's law of group polarization, which "predicts that when like-minded people deliberate as an organized group, the general opinion shifts toward extreme versions of their common beliefs." Recall the extreme uniformity of many law school faculties, for instance.

The ideological blandness of the academy is an old and scandalous story; but it matters how you go about describing and responding to it. The phenomenon certainly makes intellectual life less lively and dialectical than it could be; but does it make students the victims of indoctrination?



Indoctrinate U. doesn't do a very good job of making that case. It's a callow, Michael Mooreish venture into academic rather than corporate offices. But its sneak attacks on paranoid staff assistants and pissed associate deans don't come off. And that's because the reactions the filmmaker gets from these people aren't about politics. They're about anxiety over unstable and/or obnoxious students generally. Recent events confirm that these people are right to get upset when intense young men asking weird questions come at them with a camera crew.

There were powerful moments in this film, though. When the all-female, highly articulate staff of a conservative paper at Yale described their publication constantly getting trashed -- stolen, shredded -- you could see their shock at the extremism of their environment. Similarly, footage of assholes at Santa Cruz and elsewhere shrieking at ROTC people was effective in making the film's point. Robert KC Johnson was very good on the anti-American bias of some history and political science departments.

But you don't want to mix up with this critique a floating hostility against professors altogether, and there was plenty of evidence, in the film, and in the comments of the filmmakers before and after the showing, that a lot of these people just hate professors. One of its sponsors gleefully quoted from a movie-inspired rock song titled "Shut Up and Teach."
Goering, Goebbels, Card

From the University of Massachusetts student newspaper (with UD's parenthetical commentary):




Students and staff at the University of Massachusetts made their stance clear yesterday afternoon, as dozens of people gathered on the ramp outside of the Whitmore administration building to protest the administration's decision to present Andrew Card with an honorary degree at this May's commencement. [

Dozens means... 24? 50?]



Graduate students led the march into the administration building and into Chancellor John V. Lombardi's office, blocking the hallways with bodies and chants.

Graduate student Justin Jackson, who will be receiving his Master's degree in history this month, helped to organize the demonstration. He also attended the Faculty Senate meeting last week, where Chairman Stephen Tocco spoke in favor of Card [

comma needed here

] saying the claims by the students of his so-called [

drop so-called

] war criminal status, [

drop comma

] were untrue and unfair as an opposition to Card's speech last month [

the last part of this sentence is confusing

].

Students from the Graduate Student Senate were joined by faculty members and large undergraduate support [

What does large undergraduate support mean? Numbers would be useful here too.

]. Protestors held signs and loudspeakers from which several professors and graduate students spoke from their perch on a bench.

Jackson said there won't be any physical violence at the graduate commencement, but that they will work to disrupt the ceremony if Card is given his degree.

"We are not going to lie down while [

they?]

impose this on us," Jackson said.

Former Student Government Association president Elvis Mendez also spoke about the administration's "disregard for the people" [People is an interesting choice. Are university students the people?] and failure to follow its own logic and the requirements for an individual to receive an honorary degree from the University.

"We are not in the business of giving degrees to war criminals," Mendez said.

Counter protestors were also present, holding Bush/Cheney signs, though they did not go inside the building. Graduate student Ed Cutting believes the protest would better serve the removal of Robert Mugabe's honorary degree instead of placing the blame of [should be for] the war on the shoulders of a former Chief of Staff. [

He's got an excellent point there

.]

"Everyone knows honorary degrees are given to someone with a fancy name so they will come speak at graduation and the media will cover it. They give them to people that can personally give money to the University or raise it," Cutting said. [

I'm not sure what the significance of this comment is.]



Sociology professor Gianpaolo Baiocchi likened the administration's actions to the fast-food chain Wendy's, saying the CEO of UMass was putting a human finger in the chili of this May's commencement. [

This might be a good opportunity to point out the difference between similes that are nice and fresh and similes that are

DOCTOR DEMENTO

.]

"We are a public University. We belong to Massachusetts [

comma needed here

] not political agendas," Baiocchi said. "The world community thinks this war is a disaster so why are we honoring it?"

After the speeches that drew attention from several classrooms in Herter, which also held a banner from its second floor balcony testifying to Card's war criminal status, Jackson read the petition that would later be hand delivered by dozens of students to Chancellor Lombardi.

The petition contained over a thousand signatures from students and faculty seeking to appeal to Lombardi's "sensibilities." The paperwork also stated the administration has 96 hours from yesterday to release a public statement to the press and UMass students retracting Card's honorary degree. [Not sure how clever it is to give the administration a deadline.]

Chancellor Lombardi has yet to comment on behalf of the administration on this matter. Chancellor Lombardi did not speak to students yesterday but sent out a representative.

Protestors are planning to convene outside Whitmore next Tuesday at 12:30 p.m. once more if the administration does not give in to their demands.
Thursday, May 10, 2007
UD on the Receiving End...

...of some extremely kind words from Erin O'Connor of Critical Mass, the great blog that made me want to be a blogger too:


A winning and uncompromising critic of the academy, Soltan has managed to combine harsh criticism of some of academe's worst excesses and hypocrisies with a charismatic ability to avoid being condemned for being an academic herself. That's a tough balancing act, and I admire her for it.


Those words mean a lot to me, and I'm thankful for them.

Now, off to see the film Indoctrinate U.

Must say, though, that I don't feel very charismatic right now. I just fell asleep on the Metro, and dropped the pen I'd been clutching. It was returned to me as I left the car by a woman who'd been sitting nearby and no doubt watching the comedy of UD trying to write while sleeping...
You Know All About this Routine…

…if you routinely read University Diaries. Some professors can't resist shaking down their students.




HUNTSVILLE, Ala. -- Disciplinary action has been taken against an Alabama A and M University professor who offered to raise students' grades for donations to a fund for victims of the recent Virginia Tech shootings, a university official said.

Alabama A and M Provost Beverly Edmond said in a statement that an investigation concluded the unidentified professor "used very poor judgment."

Edmond said the investigation found that the professor made the offer to students who made $3 contributions.

About nine students donated a total of $32, which was returned to the students.

Edmond said the professor's final grades were reviewed to ensure they were based solely on the students' classroom performance.

"The investigation determined that this was an unfortunate but isolated incident," she said.

The investigation didn't prevent any of the students from taking part in commencement exercises.
UD's Been Invited...

...to a screening, tonight, of the film Indoctrinate U, at the National Press Club building. Although she suspects it's not going to be very good, she will go. Because the event has bloggable written all over it.
Tuesday, May 08, 2007
We raced through...

...the gorgeous early evening, early spring streets of Washington, and got to the Warner Theater just in time to stand and sing the National Anthem. The chair of the NEH introduced the event, heaping praise on Harvey Mansfield and saluting Lynn Cheney, who sat a few rows in front of us.

The Warner Theater is a dark dusty DC space with brooding ceilings and heavy curtains along its walls. You feel, at the Warner, as if you're sitting inside a low-wattage Tiffany lamp. I surveyed the crowd, which seemed mainly young people outfitted in the dull suits they wore to their federal government day jobs, and I tried not to hear the chair's litany of cliches... meaningful dialogue... civic health...

He reminded us that the Jefferson Lecture is the "highest honor the federal government bestows in the humanities," and called Mansfield a worthy recipient, with his extensive scholarship, his "outspoken defense of standards in higher education," and his "eloquent criticism of faddishness and triviality in our schools." When he mentioned Mansfield's well-known attacks on grade inflation, the audience burst into applause.


Mansfield, rather like last year's lecturer, Tom Wolfe, is a natty and extremely well-preserved old guy with a mellifluous voice and an ingratiating manner. A full head of hair past seventy appears to be one of the selection requirements, as both Mansfield and Wolfe have this remarkable attribute. Both men, too, are adorably vain, aware of their charm, good looks, and mild roguishness.

Indeed both men chose the same subject: the human quest for status. [See UD's remarks on Wolfe's discussion of the subject here.] Wolfe's speech was a mess, but Mansfield's had a clarity and a structural integrity that allowed his argument to emerge clearly. What fiction offers, Wolfe and Mansfield suggest, is what science lacks: the particularity of individual human beings as they go about asserting their importance in the world. The hard and social sciences offer us universal propositions based on survey research about us in the aggregate. But "we don't live in abstraction," said Mansfield. "All human life takes place in an atmosphere of proper nouns."

Psychology - another social science - has reduced the soul to the self: "The self is a simplification of the notion of soul. The self is meant to be used by psychology, which wants you simply to be happy." But you, with a sense of your self-importance, want a good deal more than that -- you want honor, respect, equal rights. You want the freedom to pursue grand worldly and personal ambitions.

You enter the political fray, perhaps, because you've been angered by some felt absence of those goods in your life. (Or the life of others? Mansfield said nothing about altruism - One's desire to be politically or socially active not on behalf of one's own sense of self-importance, but on behalf of others whose importance is denied.) The ideal life dedicates itself to the assertion of this sense of the self's importance: "It is up to you to improve your life by insisting that it is important, by having an ambition toward greatness."

Most people, though, prefer to rest in "safe niches." They are like "tenured professors, willing to settle for less." Full expression of your self-importance calls for "nerve, which is not often found at universities." [UD enjoyed these digs at professors and universities.]



My problem with Mansfield's talk is that it reiterated an important and well-known truth -- fictive truths are as crucial to our self-understanding as empirical truths -- without doing anything new with it. The speech was a kind of "two cultures" soft shoe, reminding us for the hundredth time that the hard sciences cannot do without the soft.
Les UDs...


...are heading downtown in a half hour to hear Harvey Mansfield give this year's Jefferson Lecture.

Title: "How to Understand Politics: What the Humanities Can Say to Science." UD will blog the event...
Tales of the Tenurati
'A year after he was demoted for misspending, a former University of Wisconsin-Whitewater dean has kept a job as a professor but still owes the university $117,000, the school said Monday.

UW-Whitewater recently renewed its order that Howard Ross

[Wow! He's

still Dean

on his university web page!

] reimburse the school for money misspent on travel, technology, personal cell phone use and other items over several years, according to a letter released Monday.


... Ross was stripped of his duties as dean of the College of Letters and Sciences in April 2006 after an audit questioned $310,000 he spent on his university credit cards since 2000. The audit said the purchases were inappropriate or lacked documentation.

Ross has remained a tenured professor of philosophy and religious studies. His salary increased last month to $71,365 per year.

In September, the university ordered Ross to pay back $113,000 after he justified some of the expenses questioned in the audit. The university said at the time it would further reduce the amount owed if he found additional documentation.

But Ross failed to do so, according to the letter vice chancellor Randy Marnocha and Provost Richard Telfer sent him April 6. In fact, the officials said they discovered additional misspending that increased the total he owed by about $4,000.

The university released the letter Monday in response to an open records request. Ross owes money for travel, technology purchases, personal cell phone charges and even a subscription to an Internet dating site, the letter said.

University spokeswoman Sara Kuhl acknowledged the case has slowly unfolded to give Ross time to justify his spending.

"We're trying to be as fair as possible and these things take time," she said. "We would certainly hope that Dr. Ross would make arrangements to pay the money back."

The university may take additional legal steps, including garnisheeing his paycheck, if he refuses, she said.

Meanwhile, Kuhl said a campuswide audit of credit card use ordered by Chancellor Martha Saunders after the demotions of Ross and another former dean, Lee Jones, was still not finished.

She cited staff turnover as the reason for the delay of the report, which Saunders had hoped to finish last summer.

Ross declined comment but [Ross's lawyer] said his client did not owe the university a dime.'
Roadthrill
'For the past several weeks, drivers near Southern Illinois University-Edwardsville have been noticing odd things about some of the roadkill on the sides of the area's highways.

Some of the dead possums and raccoons have been dressed in pet or human baby clothes and have had their claws painted with nail polish. The carcass of a deer has been adorned with gold paint.

The culprit is SIU-Edwardsville graduate art student Jessica May, 24, of West Lafayette, Ind.

In an interview with the Belleville News-Democrat, May said she is not an animal rights activist; she is just interested in seeing if people would give more thought to the animals if they were somehow given human attributes.

"I think this is my way of slowing down and paying homage to these animals," she explained. "I don't particularly find it offensive, but I understand why some people who don't understand what I'm doing could find it that way."

May, a 2006 graduate of Purdue University, said she takes precautions in dealing with the carcasses.

"I wear gloves," she said. "I don't know that I could touch it with my bare hands, because by the time I find them, they're pretty far gone."'
--boston.com--
Let's See If We Can Follow This.

From the Daily Lobo, student newspaper of the University of New Mexico:




A [

University of New Mexico

] professor received a promotion despite submitting a resume with an inflated account of research and publication, according to a letter from a former member of the Academic Freedom and Tenure Committee.

The letter does not identify the professor.

The April 19 letter stated that the member resigned from the committee in protest of the professor's promotion and the lack of consequences after problems with the resume were discovered. [How did the student newspaper get the letter? From the letter writer?]

Don Coes, the professor who wrote the letter, declined to comment. [Gave it to the paper but wouldn't comment?]

The investigation of the resume began in 2005 after another professor filed a complaint with the committee about not being promoted, despite having the same qualifications as the professor who was, according to the letter.

[2005. This has been kicking around for two years. What investigation? Has anything been done? So a professor resigned from the committee in protest, and another professor filed a complaint because his or her uninflated qualifications - equivalent to the uninflated qualifications of the inflator - kept him or her from promotion

.]

The letter was addressed to Virginia Shipman, president of the Faculty Senate, and John Geissman, chairman of the Committee on Governance. [Which letter? The letter of complaint from the unpromoted faculty member?]

Shipman declined to comment. Geissman could not be reached for comment Friday. [

No one seems willing to comment on anything

.]

Coes was the chairman of the subcommittee that investigated the professor's résumé, according to his letter.

[Okay. So there was the committee that promoted the inflator, and there was the subcommittee that investigated the inflator. The guy who wrote letter #1 was on the promotion committee -- but not, we assume, chair -- and was chair of the investigation subcommittee.]



The Faculty Handbook does not outline a policy for dealing with false statements on applications for promotion. [

So I guess that makes the statement by the president of the Board of Regents with which this article closes -- "It's not something that the regents have any control over... It's all bound by the Faculty Handbook." -- incorrect. Why doesn't the article note that it's incorrect?]



"This omission creates perverse incentives," Coes stated in the letter. "An accurate statement of one's accomplishments may result in denial of promotion, while significant distortions of one's record may succeed." [At the University of New Mexico, nice guys finish last. This at least is clear.]

Marilee Jones, former dean of admissions at MIT, resigned April 26 after admitting that she lied on her resume, according to The Associated Press. [The writer just drops this in... a teeny little hint about the sorts of things that happen at real schools when faculty... well, read on. It's going to turn out that this faculty member didn't merely inflate...]

Tim Lowrey, chairman of the Academic Freedom and Tenure Committee, said he would not comment on the letter because the issues discussed in it were confidential. [

Ah yes, academic confidentiality rears its head again. Note that absolutely no one is willing to say anything. It's amazing the student reporters were able to stretch this event, composed of Total Silence + One Letter, into something resembling a news story.]



According to Coes' letter:

The resume stated that the professor had published a book through a university press.

However, the book had been published at a company requiring authors to pay to print their books. [Vanity press versus university press. That ain't inflation. It's a lie.]

At least three publications mentioned in the professor's resume could not be found with interlibrary loan searches of about 38,000 libraries. [These were probably made up.]

The professor claimed to be the sole author of several publications that had been co-authored.

[Not the worst sin in the world, but in context it's another indication that we've got a liar on our hands

.]

The resume listed two articles - published seven years apart in different journals - that were almost the same, except for the title. [You can list both of these, but you have to write "Reprinted in ___________" or something like that.]

In April 2006, the committee told UNM's administration about the problems on the resume. [

Okay, so it's been over a year since the lies were discovered and the administration informed

.]

The administration said the case would be referred to the University's Ethics Committee.

The letter does not identify which administrators were involved.

In July, the Academic Freedom and Tenure Committee found that the case had not gone to the Ethics Committee. [

Hey. Where'd that case get to?]



"A letter of apology for our investigation was sent to the successful candidate, stating that the matter had been completely laid to rest," the letter stated. "We were told that UNM's response to the matter was 'confidential.'" [Which letter are we quoting from here? The letter from Coes? And the case was resolved by handing an apology to the professor who lied? Why? Oh yeah. Confidential.]

After the case was dismissed, the professor who filed the complaint appealed to the Board of Regents, according to the letter. [

Incredulous unsuccessful candidate reasonably enough figures he or she needs to kick this upstairs, to the Regents.]



The letter stated that the regents returned the case to the Academic Freedom and Tenure Committee. [Er, back to the... What happened to the Ethics Committee?]

The professor was not called to the committee's hearing, according to the letter. [

So they had a hearing but didn't even talk to the complaining professor.... Or wait. Are we talking about the liar?]



The letter stated that the hearing did not include the information about the professor's resume and research record. [Must have been an interesting hearing. Hey, how are you? How's the wife? Adjourned!]

As of April 19, no changes had been made to the professors' promotions, according to the letter. [Right, so two years have passed since a professor at the University of New Mexico was promoted on the basis of a series of lies about his or her work. The only thing that's been done about it is that the university has issued an apology to the professor because.... Because the professor didn't lie? On what basis are they claiming he or she didn't lie? Oh yeah. Confidential.]

In his letter, Coes stated he was unhappy that the confidentiality written into the committee's rules was used "to shield this case from the scrutiny of the Regents and the faculty at large." [Duh. The main reason UD's futzing with this thing is that it's all about what's wrong with the way confidentiality is used at universities.]

Jamie Koch, president of the Board of Regents, said any problems with the promotion process at UNM have to be addressed by the faculty.

"That's really an issue that the faculty leadership has to deal with," he said. "That's not something that the regents have any control over, or should have any control over. It's all bound by the Faculty Handbook."

[You've gotta pity the professor who made the mistake of telling the truth about his or her record. Talk about a runaround. UNM looks truly, truly pathetic.]
Monday, May 07, 2007
The Trumpet Will Sound


Charming little dialogue between two writers at the University of Texas newspaper, in which they argue that Professor Iverson, a great lecturer, should give mandated teacher training sessions to all new UT faculty:




'R: Professor Brent Iverson is the best lecturer I've ever had.

E: The best ever?

R: Yeah, he uses special techniques to trick your brain into remembering everything.

E: What's [his] trumpet have to do with this?

R: That's one of his tricks. Whenever we learned about a new carbon-carbon bond, he would bugle a fanfare on the trumpet. It gave us a laugh but also made us remember the concept. Everyone enjoys the class, so attendance rates are much higher than average. He even rewards us for finishing a textbook chapter by showing us slideshows of his scuba-diving adventures.

E: I wish other professors were like him. I remember my freshman-year calculus teacher could barely speak English, much less communicate multivariable differentiation.

R: Yeah, that sucked. The problem is that professors don't have any incentive to be engaging lecturers.

E: I don't think that changes after you get hired, either. I for one have never heard of a professor getting fired for being a poor lecturer.

R: And PickAProf doesn't help. Even if the online service rated professors' lecturing skills, students would still use it to choose courses with generous grade ratios rather than fulfilling learning experiences.

E: Any steps professors take to improve lecturing effectiveness come out of their own good will. My economics professor remarked last week that his Ph.D. qualifies him to write academic articles about economics, not to teach it.

R: That's a big part of the problem - the University doesn't train professors how to teach.

E: Our tuition payments make up the largest single source of UT's revenue, but the school doesn't do us the courtesy of promoting good lecturers for undergraduates.

R: Hey, UT should hire Iverson to teach other professors how to lecture.

E: Good idea. I expect, though, that some of the current faculty would be too prideful to submit to teaching lessons...

R: But professors new to UT would have to take the training program with Iverson before teaching classes. UT could solidify its reputation as a premier undergraduate program by making this professor training initiative a flagship program.'




Here's a comment about Iverson from Rate My Professors:

"He sings for us on the last class day!"




UD - a singer - occasionally sings in class. When she's talking about leit motifs that recur in certain stories and novels, she sings some famous musical leit motifs... DeLillo's Underworld makes much of a famous tune from Prokofiev's Love for Three Oranges, and UD sings this for her students... She doesn't sing, though, a semester finale... Nor does she blast a trumpet when students correctly define 'Joycean epiphany' ...

As for rewarding students by showing them slides of my travel adventures (and since when would this be a reward?), UD's not at all sure this represents a terrific use of class time... I mean, you could turn around what these guys say up there, and you could say Our tuition payments make up the largest single source of UT's revenue, and our chemistry teachers show us their scuba slides...

Still, if you insist, UD has some real cute shots of her falling off Sumatran elephants in the rice fields of Bali...
Exit Massey
'[Walter] Massey, who turned 69 in April, steps down [after twelve years] as president [of Morehouse College] on June 30. Robert Franklin -- an Emory University professor, former president of the Interdenominational Theological Center in Atlanta and a 1975 Morehouse graduate -- has been named Morehouse's 10th president.'


Massey has been an inspirational and effective president. UD wonders, though, whether the timing here has anything to do with the ongoing student loan scandal. In an earlier UD post, she quoted from a Bloomberg.com story:



Walter Massey, president of Morehouse College, got $649,692 in pay and stock in 2006 for serving on Bank of America Corp.'s board. ... Massey has been a director of the Charlotte, North Carolina- based bank since 1998. His pay from Morehouse in fiscal 2005, the most recent information available, was less than his Bank of America compensation last year. Massey received $382,895 from the school, consisting of $278,847 in "compensation," $60,848 in contributions to employee benefit plans and $43,200 in expense account and other allowances, according to Morehouse's Internal Revenue Service filing.



Massey is one of several university administrators across the country who, according to Bloomberg.com, "serve on boards at nine of the largest publicly traded student-loan companies." Quite a few of these people, like Massey, are so fond of the banks that pay them that they recommend their banks to their students. At Morehouse, Bank of America "was chosen as an approved lender in a new ... loan program... [It] has since been dropped." Like a hot potato. Now that the SEC is watching.



The paid positions were disclosed in filings with the Securities and Exchange Commission. The documents show that college officials hold board seats at financial institutions in an industry that lends $85 billion a year to students and parents.
-- thanks, bill, for sending this along --
Saturday, May 05, 2007
Discovering Ulysses

End of semester business has kept me from responding to comment threads and from posting much lately. Apologies. Meanwhile, here's an excerpt from a nice take on Don DeLillo (whose 9/11 novel, Falling Man, will soon appear) in The Guardian:


Discovering Ulysses as a teenager made him want to be a writer, but his influences and references have always been as much from film and painting and music (European movies, Abstract Expressionism and the jazz of Parker and Mingus) as from novels. He went to a Jesuit college where he majored in 'communication arts'. He had a job as a copywriter at Ogilvy and Mather and freelance jobs writing for furniture catalogues before giving up and following his vocation.
Friday, May 04, 2007
Naturally, UD Could Do...


...without the cliche sweeping change, but otherwise, there's some powerful language in a recent letter from the faculty of Ohio University to its board of trustees (as reported in the Chronicle of Higher Education):




Senior faculty members at Ohio University have presented administrators with a laundry list of complaints about declining academic standards at the university, the administration's handling of the budget, and negative publicity arising out of a series of computer-security breaches, a plagiarism scandal at the engineering school, and recent arrests of student athletes and coaches.

"The handling of these incidents by the administration has been inadequate and/or incompetent and has contributed to the decline in the university's reputation," says the letter, which calls for "sweeping change."


UD's particularly interested in the faculty's frustration with its much-arrested athletes and coaches (it's a bonding thing ... athletes and coaches get arrested at Ohio University), but as the faculty point out, a coach convicted of drunk driving, plus his bandit players, are trifles here... There's more mayhem where that came from ...

Yet UD wonders why the faculty thinks OU's no doubt hapless trustees (Why haven't they done anything about any of this? If they're like many boards of trustees, they're helping it along.) will be of any use. UD suspects that this gesture is more of a snarl in the direction of the university's yet more hapless president.
Nicely Written Review...

...by Adam Kirsch, of Don DeLillo's new novel about 9/11, Falling Man.

Excerpts:





... [The stark] style serves Mr. DeLillo's purpose, which is to write about a world reduced by horror to a kind of elective mutism. It is the prose equivalent of Keith's [the main character's] state of mind: "He used to want to fly out of self-awareness, day and night, a body in raw motion. Now he finds himself drifting into spells of reflection, thinking not in clear units, hard and linked, but only absorbing what comes, drawing things out of time and memory and into some dim space that bears his collected experience."

... Mr. DeLillo confronts [the event] head-on, with graphic realism. The novel begins with a prose transcription of the video images we all know so well: "It was not a street anymore but a world, and space of falling ash and near night. He was walking north through rubble and mud and there were people running past holding towels to their faces or jackets over their heads."

... Mr. DeLillo's aim in "Falling Man" is almost that of a lyric poet — not so much to tell a story as to evoke a state of mind. What we learn about Keith and Lianne [his ex-wife], and their families, friends, and neighbors, is kept to a deliberate minimum. We know them less as people with histories than as psychic litmus strips, dipped into the poison of September 11 and brought out blanched with dread. When we first glimpse Keith, he is literally drained of color, covered in ash from the collapsing towers. He managed to escape after the first plane hit, but his friend and poker buddy Rumsey died in his arms, and he can't stop reliving the Dantesque procession down the stairwell — thousands of office workers who know they might already be dead.


... Keith, an inveterate adulterer, starts a new kind of affair, with Florence, a woman whose briefcase he accidentally carried home on September 11. But sex with Florence means less to him than their sessions of storytelling, in which they endlessly relive the trek down the stairs. These passages are some of the best in the novel, showing that Mr. DeLillo has absorbed the survivors' accounts and raised them to the universality of myth, or nightmare: "They were moving out of the worst of the smoke now and this is when she saw a dog, a blind man and a guide dog, not far ahead, and it was like something out of the Bible, she thought." ...
Thursday, May 03, 2007
This Economist Piece Confirms...

... that the Greek government has given up, for now, on private universities. Three months of violent street protest wore it down. Sad.

The piece looks at European universities generally. Excerpts:



... [I]f you wanted to examine parts of European life that yearn to be world class, but are determined to hold out against market forces and the laws of competition, the continent's universities would be a good place to start. They are cherished national champions, often funded and usually controlled by the state, and sometimes crammed with political appointees. In much of "old Europe", universities give a valuable product—degrees—away more or less for free. That is a pretty effective way of avoiding consumer pressure. They are further shielded from competition by such things as tradition, national pride and language.

[The] EU (quite properly) has no powers to regulate education policy. Alas, in much of Europe, that means subsidies, micro-management and legally backed monopolies that govern the way universities are run. Small wonder that many famous names are shadows of their former selves.

... In Sweden ... academics are squabbling over calls to match their marking schemes with standardised Euro-grades, from A (excellent) to F for Fail. Students risk psychological harm, they fret, if visibly labelled successes and failures. Much better to stick with a two-level system of pass and fail, or (if you will insist on such elitism) one extra level of "pass with distinction" for the top quartile. Jacob Christensen, a political scientist at a Swedish university, Umea, suggested recently that Swedes "are expected to descend into deep psychological disorder as soon as they encounter disappointments in everyday life".

... In Finland, Karl-Erik Michelsen of Lappeenranta University complains of a "big social-democratic project to create a massive number of people with master's degrees." The result, he says, is that "quantity overrides quality." ...
More Amazing Shit Out of
Florida International University
'The top two directors of Florida International University's online course department have resigned while the school investigates a private company they started that was charging hundreds of students $60 each to buy required electronic textbooks.

The men were drawing six-figure salaries from FIU, while controlling a business that benefited from links with three FIU online courses.


... FIU began its investigation, which it expects to complete in the next two weeks, after a detailed Feb. 28 complaint made by a whistle-blower who works in the online department.

Marcos Perez, FIU executive vice president, said school administrators were unaware of the apparent conflict before then.

But a Sept. 26 e-mail from Izadpanah to his supervisor lays out his plan to start a private business that would create online content for professors at FIU and other schools. His note said his company "would be treated the same" as other publishers who do business with faculty.

"I feel confident that as long as we keep it low key that everything should be approved just fine," Izadpanah wrote in the e-mail to business school dean Joyce Elam. "Hence, as long as someone doesn't go poking around, we should be just fine."

Elam did not return five phone messages left at her office since Friday. Perez said he cannot speculate why the e-mail did not raise a red flag. He said Elam, a well-respected dean, trusted Izadpanah when he signed an "outside activity" form that listed his second job as "consultant" and certified that his private work did not present a conflict of interest with his FIU activities.

Online education is one of the fastest-growing areas at FIU, expanding from a handful of classes offered in 2000, when the program began, to 200 this year. Though FIU is a public university, the online department is run like a business, under the authority of business school dean Elam, with five-figure bonuses granted to employees who meet revenue goals. Students enrolled in online classes pay $299 online support fees that nearly double their tuition, even though the courses require no classroom space. FIU generated $11 million from the fees this year.

Izadpanah resigned effective this week. In less than six years at FIU, his income rose from $45,000 to $169,000 -- through promotions and a 10 percent lump-sum bonus he earned in November after the online department reached a $2 million revenue goal for the business school.

Morejon resigned as associate director of FIU online effective April 13. He was hired in 2003 at $45,000 a year. He made $107,000 last year, including a 10 percent bonus.

FIU Online employees work with professors to convert curriculum into online classes and electronic textbooks. This semester, FIU Online began routing more than 900 students enrolled in a music appreciation class, a finance class and a communications class to a website run by a company called HigherL that registered students for a required online textbook at a cost of $60.

Previously, FIU produced the electronic textbooks internally. In December, Izadpanah wrote in an e-mail to several FIU Online employees that the department would begin outsourcing the electronic textbooks and focus more of its efforts on growth.

Perez said FIU lawyers believe the school, not HigherL, owns the rights to the electronic textbooks.

Morejon is listed on corporate documents as HigherL's only manager. But in e-mail exchanges with Elam, Izadpanah did not dispute having control of the company. Perez said FIU believes both men have a financial interest in HigherL, but an April 3 e-mail from Elam indicates Izadpanah had left the company by then.


... Perez said: "The most important discovery for us is that somebody that had an active [business] interest ... was doing business with the university. That's a clear conflict of interest."

Before Izadpanah submitted his resignation, FIU's audit department received a complaint that he questioned employees in an effort to find out who lodged the complaint against him and Morejon. Izadpanah wrote in an April 5 e-mail that his comments were misconstrued...'
As Ever, Florida International
'The N.C.A.A. announced that 63 teams would be subject to immediate penalties [based on lack of academic progress], 31 received public notice letters that they would be subject to more significant penalties next year, and 18 would be subject to both. Teams receiving warning letters are on notice to improve immediately. If not, they could eventually be subject to penalties as serious as postseason ineligibility.

Of the 11 Division I-A football programs assessed scholarship losses, only Arizona, which will lose four scholarships, plays in a Bowl Championship Series conference. The rest of the Division I-A programs come from small conferences and traditionally have smaller budgets to spend on academic support: Florida International (nine), San Jose State (seven), Buffalo (four), Toledo (four), Middle Tennessee State (four), Nevada-Las Vegas (three), Louisiana-Lafayette (two), Western Michigan (two), Alabama at Birmingham (one) and Hawaii (one).'


Full story here.
Wednesday, May 02, 2007
UD Quoted on
Diploma Mills
in a Mexican
Newspaper
'Clases de periodismo por La Catarina

Un apartado sobre la última edición del semestre del órgano de difusión interno de la UDLA, La Catarina, tendremos que hacer aquí.

Resulta que en su último número del 25 de abril pasado, como nota tercera se da a conocer un verdadero escándalo en esa institución, pues resulta que el director de Finanzas y Administración de la casa de estudios cuenta con un certificado apócrifo.
¿Apócrifo?

Sí, tan falso como los billetes de 20 pesos que comúnmente recibimos de cambio en las gasolineras poblanas.

Según la información publicada por Sergio Zepeda: "El sexto comunicado de Rectoría señaló a Marco Antonio Cerón como encargado de la Dirección General de Administración y Finanzas el 26 de marzo del 2007. Según el currículo que incluía el comunicado, Cerón obtuvo el Doctorado en Administración de Negocios de la Pacific Western University (PWU), universidad no acreditada y señalada como fábrica de diplomas (diploma mil) en un reporte de la General Accounting Office del senado estadounidense (…)

"Margaret Soltan, profesora del Departamento de Inglés en The George Washington University, señaló en entrevista vía correo electrónico que la PWU es una evidente fábrica de diplomas y que un título de esa universidad carece de valor".

En la nota citan a la profesora de la Universidad George Washington: "También es una mancha moral sobre la persona que ostenta ese título, ya que la persona debe haber sabido que la escuela es una farsa. Presentar un título de la PWU es revelarse como un cínico e indiferente a los valores educativos".

Como diría el clásico muchacho ante la gresca estudiantil: "¡Moles!".

Es decir, los estudiantes de la institución develaron la corrupción que existe en la institución y que su rector Pedro Ángel Palou se sacó un diez pirata, es decir, contrató a una versión poblana del Fausto Alzati de Ernesto Zedillo.

En ese mismo número de La Catarina nos enteramos de que salmonella y coliformes fueron encontrados en la cafetería de la institución, según un estudio que hicieron estudiantes de la Ingeniería en Alimentos.

Para finalizar, detallan cómo el negocio del autolavado, propiedad de un tal Jesús Morales y su empresa JM Wash, ha hecho que un lavador de coches de nombre Luis Cerezo sea explotado a sus 56 años de edad, pues aunque le pagan 100 pesos al día, cuando él llega a faltar la empresa JM Wash le descuenta hasta 200 pesos, porque le decían que "no podían perder". Ah, pero si un estudiante se va sin pagar, le descuentan también de su nómina. Y recientemente le bajaron el sueldo, pues ahora le pagan 400 pesos a la semana.

Es decir, el órgano de información interno de la Universidad de las Américas verdaderamente ha destapado tres cloacas a las cuales ningún medio de comunicación poblano pone atención: el primero es que su director de Administración y Finanzas es un personaje con un título apócrifo; el segundo, que la cafetería está infectada de salmonella, coliformes y quién sabe cuánto bicho raro más hayan encontrado en las verduras y comida; y la tercera, en el caso del periodismo social, cómo es que la empresa autorizada por Rectoría para lavar explota de forma inhumana a un pobre trabajador de más de 50 años quien debe —como diría ese "gran" líder obrero René Sánchez Juárez— "perseguir la chuleta".

Por cierto, ahora que vayan a la UDLA, se les recomienda comprarse mejor unas sabritas y un gansito, pues quién sabe cuánta chingadera más se haya descubierto.'
---la quinta columna---
Snapshots from Home

'FIFTY YEARS OF
WALTER JOHNSON
HIGH SCHOOL:
1958 - 2007'

UD thinks she graduated from this place in 1971, but of course she's not sure. Dates are numbers, and she's weak on numbers.

There's also the business of wanting to soft-pedal, psychologically speaking, precisely how many years have passed since UD was part of Walter Johnson's hippie cohort.

It's certainly been a spell: The new auditorium we're celebrating tonight is named after a long-dead worthy who seems to have been the principal when UD attended.

UD's here because her kid (currently a WJ student) is performing in tonight's nostalgia-fest. UD hates nostalgia. She dreads schoolmate hugs. She dreads tearing up as her trembly Rapid Learner English teacher is wheeled out onto the stage.

It's not that such things fail to move UD. The problem is that they move her all too easily. Like a lot of smart-asses, UD is, under the surface, a huge crybaby. Put her in any sentimental setting and she will wail and gnash and rend her garments.




Okay, I'm now in the spiffy auditorium. A tiger and a bull mascot cavort among the crowd, whipping up school spirit. They're pretty amusing. They've taken to their ridiculous task with a load of irony.

Now two identical screens appear on opposite walls of the room, both showing a tiger face and a Spartan warrior. If you think I have any idea what the symbolic value of these symbols is, think again.

The school's current principal descends, Peter Pan-style, to the stage; when he's finished talking, he flies back up. He's showing off some of the auditorium's new technology.

Next there's a video montage, with thundering rock music, of the decades of fun fun fun at Walter Johnson. Famous alumni (Nils Lofgren, frinstance) are featured. I search the screen in vain for another notable, Sonny Bono's second ex-wife.

Nothing much is stirring in UD, I'm afraid, although the many shots of fields full of cows do bring back memories of her days, when the area adjacent to the school - now endless corporate headquarters - was a farm.
Tuesday, May 01, 2007
"I have no choice but to wonder
whether he actually does care
whether students graduate from
his university in a timely manner."


The president of Florida Atlantic University, as the editor of its student newspaper suspects, doesn't seem to care very much about the whole educating students thing of his university. He cares about trading the good name of the university for big money donations (scroll down); he cares about enriching his friends (see below); but he doesn't seem to care about graduation rates:



As an FAU student, I'll be the first to tell you that I am not happy about the generous severance package given to former Vice President of University Advancement Lawrence Davenport.

But being the editor of FAU's student newspaper, The University Press, means that I truly am in the middle of FAU's equivalent to the front lines of a battle between students and President Frank Brogan over this matter. I have experienced first-hand the campus-wide protests and have fielded phone calls and e-mails from students who range from enraged to outright confused (though mostly the former). In fact, those of us at the paper thought this was such a big deal that we dedicated a whole issue to showing students what Dr. Davenport's $577,950 payment could have done for them.

Sure, in the grand scheme of gigantic state budgets and complex university financial allocations, $577,950 doesn't seem like all that much. In fact, it's peanuts when you consider that FAU operates on an annual budget of $239,949,841, as reported by its Web site. But when you're a student who needs to graduate and can't, because of a lack of teachers and a supposed lack of money to hire them, $577,950 doesn't sound so minuscule.

I recall sitting in the office of the No. 2 man in the communications department and asking him why they couldn't open more classes. More important, I remember believing him when he told me, "We just don't have the funds to hire extra teachers." After I heard about the Davenport payout, though, all I could think was, "Man, you've been duped." And I'm not the only one who feels this way.


Many of my contemporaries from a range of majors - such as business, criminology and sociology - have come to me with the same question: How can President Brogan give away so much money when there's not even enough in the budget to allow us to graduate in four years?

The fact is that more than half of FAU's students don't even graduate in six years. According to the university's latest "enrollment and persistence" report on graduation rates, 14 percent of full-time students graduate in "four years or less," while only 37 percent graduate in six. Keep in mind, the latter figure includes the 14 percent of students already accounted for, so this leaves one to wonder what happened to the other 63 percent of students.

Naturally, the report doesn't include statistics on the high number of students who take longer than six years to graduate, but it doesn't take a whiz to figure out that this is the obvious scenario.

With this in mind, these figures bring me back to my original question: What exactly could the $577,950 that Mr. Brogan gave to Dr. Davenport have done for students like me?

According to FAU statistics, the average full-time professor makes about $89,000 per year. With this in mind, the money given to Dr. Davenport could have financed the hiring of six full-time professors and presumably helped raise FAU's clearly lackluster graduation rates.

According to Palm Beach Post reporter Kimberly Miller's story on April 17, the state auditor general's office has stepped in to see whether the money used to finance Dr. Davenport's severance - money that supposedly will come from campus vending machine proceeds - is working in the best interest of the public. As far as I can see, the "public" in this case refers to the students who are supposed to benefit from the vending machine money. After all, under state law, FAU, being a public university, is under the same guidelines as all public institutions - to serve those who generate its revenues.

Whether Mr. Brogan disregarded his responsibility to act in the best interest of those he serves - in this instance, the students who use the vending machines - is unclear to me. But based on his actions, I have no choice but to wonder whether he actually does care whether students graduate from his university in a timely manner and, even further, did he take this into account before he offered Dr. Davenport such a large severance package?

You have the figures. You decide. I can tell you that from an insider's perspective, it's very hard to believe that President Brogan cares the least bit about the students he's paid to represent.


This guy's an excellent writer.



By the way, there's a wonderful blog written by a professor at FAU. It's called Culture Industry.

Culture Industry's author calls University Diaries "splendidly splenetic."
SOS

Excellent Writer.
Bad Logician.

Barbara Ehrenreich argues here that the Marilee Jones story (she's the longstanding admissions person at MIT who was just fired for having lied about all of her higher education credentials) proves that most people probably don't need a college degree, and that their expensive BA's are really about making them poor and desperate (all those student loans to repay) and therefore meek employees. Since meek employees are exactly what corporate overlords are looking for, college grads will be hired before non-college grads.

SOS usually features crappy writers making crappy arguments. Here, for a bit of a change, we have a fine writer making a crappy argument. Let's take a look.


Can you be fired for doing a great job, year after year, and in fact becoming nationally known for your insight and performance? Yes, as in the case of Marilee Jones, who was the dean of admissions at MIT until her dismissal last week, when it was discovered that she had lied about her academic credentials twenty-eight years ago.

[Cast your eye to the end of the piece. She begins and she ends with Marilee Jones -- an elegant way to structure your essay.]

She had claimed three degrees, although she had none. If she had done a miserable job as dean, MIT might have been more forgiving, but her very success has to be threatening to an institution of higher learning: What good are educational credentials anyway? [Already we're getting a little funky. If she hadn't been good at what she did, MIT might not have fired her? Ehrenreich wrongly assumes MIT had something in mind about the inherent worth of a college degree when it dismissed Jones. There's no reason to assume this. MIT had the trustworthiness of highly responsible administrators in mind.]

Jones is hardly the only academic fraud. The outplacement firm Challenger, Gray and Christmas estimates that 10-30 percent of resumes include distortions if not outright lies. [

There's a huge difference between the mild fudging most of this represents and lying about your entire educational history.]

In the last couple of weeks, for example, "Dr. Denis Waitley Ph.D." --as he is redundantly listed in the bestselling self-help book The Secret, where he appears as a spiritual teacher--has confessed to not having his claimed master's degree, and the multi-level vitamin marketing firm he worked for admits that it can't confirm the PhD either. [

Ehrenreich does herself no favors by hauling into this argument an obvious conman

.]

All right, lying is a grievous sin, as everyone outside of 1600 Pennsylvania Avenue knows. And we wouldn't want a lot of fake MIT engineering graduates designing our bridges. But there are ways in which the higher education industry is becoming a racket: Buy our product or be condemned to life of penury, and our product can easily cost well over $100,000.

The pundits keep chanting that we need a more highly skilled workforce, by which they mean more college graduates, although the connection between college and skills is not always crystal clear. [

College isn't about workplace skills. It's about general cultural acquisition, becoming an educated person.]

Jones, for example, was performing a complex job requiring considerable judgment, experience and sensitivity without the benefit of any college degree. And how about all those business majors--business being the most popular undergraduate major in America? It seems to me that a two-year course in math and writing skills should be more than sufficient to prepare someone for a career in banking, marketing, or management. Most of what you need to know you're going to learn on the job anyway. [

Why doesn't Ehrenreich take this opportunity to express opposition to bogus undergraduate majors like business?]



But in the last three decades the percentage of jobs requiring at least some college has doubled, which means that employers are going along with the college racket. A resume without a college degree is never going to get past the computer programs that screen applications. Why? Certainly it's not because most corporate employers possess a deep affinity for the life of the mind.

[No one claims corporate settings want intellectuals. But they do want people with certain mental and cultural attributes, and one of the best places to get those attributes is a good college

.] In fact in his book Executive Blues, G. J. Meyers warned of the "academic stench" that can sink a career: That master's degree in English? Better not mention it.

My theory is that employers prefer college grads because they see a college degree chiefly as mark of one's ability to obey and conform. Whatever else you learn in college, you learn to sit still for long periods while appearing to be awake. [

This is funny. Her claim that America's go-go corporate sector wants somnambulists is dumb, but the way she puts it is funny

.] And whatever else you do in a white-collar job, most of the time you'll be sitting and feigning attention. Sitting still for hours on end--whether in library carrels or office cubicles--does not come naturally to humans. It must be learned--although no college has yet been honest enough to offer a degree in seat-warming. [There's a charming nonchalance of tone and confidence of manner in this writing. Unfortunately, it's not describing American corporate life very well.]

Or maybe what attracts employers to college grads is the scent of desperation. Unless your parents are rich and doting, you will walk away from commencement with a debt averaging $20,000 and no health insurance. Employers can safely bet that you will not be a trouble-maker, a whistle-blower or any other form of non-"team-player." You will do anything. You will grovel. [I think we're talking Japan here.]

College can be the most amazingly enlightening experience of a lifetime. I loved almost every minute of it, from St. Augustine to organic chemistry, from Chaucer to electricity and magnetism. [

Touch of snobbery here.]

But we need a distinguished blue ribbon commission to investigate its role as a toll booth on the road to employment, and the obvious person to head up this commission is Marilee Jones. [

Why is a cynical liar the best person for the job?]



I actually agree with Ehrenreich that too many Americans feel compelled to go to college. But I think she's got the reasons all wrong.

Labels: SOS
Florida Atlantic University:
Whorehouse
'[Barry] Kaye has donated more than $20 million to FAU. The business college bears his name, and he is a guest lecturer there. His business is a new industry in which investors buy life insurance policies of senior citizens in hopes that they will die sooner rather than later. He is known by the ads that use the title of his latest book: You Buy You Die It Pays!

[T]he business symposia the self-made millionaire conducts at FAU ... are marketed in full-page newspaper ads designed by FAU, carrying FAU's logo and Web address. He is not an FAU professor and holds no traditional Ph.D. Yet his brochures list him as an FAU professor and refer to him as "Dr. Barry Kaye."'



---palm beach post---
A Washington Post Writer...

... with help from his comment thread, touches on the important aspects of the William Frawley case:





Mary Washington College [

that should be the University of Mary Washington

] in Fredericksburg was embarrassed by its president last month, when William Frawley was arrested on drunken driving charges -- twice in three days, in Fairfax and in Fredericksburg. Yesterday, the college's board sacked Frawley.


Just like that, with cause, without a golden parachute, without any compensation. Frawley, a former top administrator at George Washington University, was told to just get out. The decision, the board announced, was in the best interests of the college.

This is called "doing the right thing." It is a concept that never quite got through to the Alexandria [

Virginia

] school board, which in 2004 decided that a DUI charge against its superintendent, Rebecca Perry, was occasion to extend her contract, give her some paid time off, and raise her salary.

Pretty much everyone else on the planet saw not only that Perry had done wrong, but that her continued employment - let alone the various special gifts she then received - was an awful message to send to high school kids, parents and just about anyone. Ethicists even used the coddling of Perry as a case study in what not to do.

Like Perry, Frawley is by all accounts a smart and accomplished administrator. Like Perry, he has defenders who believe that he merely made a mistake, or that he has a problem that needs addressing, but doesn't necessarily detract from his ability to do his job. And perhaps if he were an accountant, lawyer, mail clerk, or janitor, it wouldn't matter so much. But as leaders of educational institutions, Frawley and Perry were obliged not only to balance the books and set good policies, but to serve as a moral and intellectual beacon, calling on young people to commit themselves to the service of knowledge and the betterment of self.

Their irresponsible actions disqualified them from those missions. Mary Washington College's board saw that plainly. The Alexandria schools still suffer from the devastating loss of credibility that Perry visited upon them and that the school board decided to pretend never happened.


A commenter:


38,000 killed on the roads every year, with over half of those involving drivers impaired by alcohol and/or drugs. ... It's time to shut down the good-ol'-boy, nod-nod, wink-wink approach to impaired drivers. First offenders need extended jail time with long-term loss of their driving privileges. If they truly have an addiction to alcohol and/or drugs, the jail sentence should be open ended (as long as possible) for the criminal to complete rehab and counseling before they are released. After they are let out - any further offenses would be felonies with mandatory state prison time. Also, change the law so driving without a license after it has been revoked is more than a lousy ticket.
Because I Like the Story.
And It is University-Related.
'A man in southwest Portland is stirring up controversy with a public protest over the Oregon Health & Science University aerial tram and his lack of privacy.

If you ride the Portland Tram, you've probably seen the bird's eye view of the F-word. Every few minutes, one of the bubble-esque Tram cars sails through the sky over Justin Auld's home.

Auld said strangers look down into his back yard, a place he used to call peaceful and private.

Auld told FOX 12 that Oregon Health & Science University promised him the tram would not be invasive.

He now swears that his sign, which reads "(expletive) The Tram," is the best way to fight for his privacy.

OHSU officials said the sign was particularly disappointing to employees riding their Tram with their children.

According to Portland city code, the sign may be against the rules.

AIR 12 flew over the home Friday morning and the sign has been moved from the roof to a fence. The offensive word was also covered up.'



---fox 12 oregon---