Thursday, November 30, 2006
And Speaking of Fired Coaches:
Huggins Brings His Brand of Magic to Kansas State!


From Inside Bay Area:



There are things about Bob Huggins that are not open to debate:


-His college basketball teams win games. In his 16 seasons at the University of Cincinnati, the Bearcats were 399-127, won 10 regular-season conference championships, appeared in the postseason every year and reached the Final Four in 1992.

-The man is one heck of a defensive coach. No one enjoys playing against a team coached by Huggins. His 2000 Cincinnati team blocked 223 shots and his'98 squad held Conference USA opponents to barely 59 points per game.

-The fans at Kansas State, where he is beginning his first season, already are in love with the guy. K-State set a season-ticket sales record this year, has sold all 25 new courtside seats, priced at $4,400 each for the season, and plans to construct 14 or 15 luxury suites at the top of Bramlage Coliseum before next season.

The Wildcats' arena is being referred to as "Huggieville."

"We've had an unbelieveable response," said athletic department spokesman Tom Gilbert.




There is one more piece of Huggins' complex job resume that is not debatable: Trouble and controversy have been part of the package.

Huggins, whose K-State team visits Cal on Wednesday night, was fired by Cincinnati in August 2005, given a $3 million buyout and asked to leave the premises by university president Nancy Zimpher.

Her explanation for the largely unpopular decision: "character counts."

Huggins' response skirts the issue a bit. "When they do pretty much an impromptu roast and 7,000 people show up and you have ongoing, continuous support," he said, "would you think there are character issues there?

"Those people who are casting stones, I doubt very seriously they would be greeted by that reaction when they leave. What does that say about my character?"

Perhaps not as much as it says about the priorities of fans who want to hitch their wagon to a winner, and may be willing to dismiss the rest.


Player troubles


In Huggins' case, his body of work suggests a fairly forgiving bunch.

Juxtaposed against all the success his teams had on the court is an exhausting litany of off-court issues. Four times in nine years the NCAA reported his team had a graduation rate of zero percent. According to university figures, 21 of his players at Cincinnati had "significant encounters with law enforcement," including arrests for domestic violence, rape and DUI.

Huggins, 53, had his own DUI arrest and conviction in 2004, which he has acknowledged probably led to his ouster.

Kansas State, which has not appeared in the NCAA tournament the past 10 years, hired Huggins after checking with NCAA enforcement officials and getting a recommendation from Bob Knight. Cincinnati was cited for "lack of institutional control" after an NCAA investigation of the basketball program in 1998, but NCAA officials told K-State athletic director Tim Weiser that the coach never was found to have committed a major violation.

"They did their homework," Huggins said. "They knew some people's perception is certainly not reality."

Weiser, in an interview with the Kansas City Star, said he expects Huggins to perform well in all areas. "A lot of our supporters think it has to be one or the other — win or do things right," he said. "But I don't see why it has to be that way. We can do both. We will do both."

Just in a case, there is a clause in Huggins' contract guaranteeing him at least $800,000 per year, unless his actions cause "material injury to the reputation of the school."

That was at the crux of Zimpher's decision to cut him loose from Cincinnati. Asked if Zimpher's charges related to character had merit, Huggins said his personality didn't need reshaping.

"I would think those around me would say I'm probably the same guy," he said. "We all get older. We all, hopefully, get a little smarter."

Likewise, Huggins defended his former players, noting, "I recruited wonderful guys."

That would include former center Art Long, who was arrested in 1995 for punching a police horse four times after a traffic stop.

"In the Cincinnati media, and hence the national media, the word 'acquittal' doesn't mean anything," Huggins said. "Nobody wants to talk about how many guys actually were convicted."

Long was acquitted after his attorney successfully argued Long and teammate Danny Fortson were petting the horse, not punching it.

But another former Cincinnati player, Donald Little, was charged — and convicted — in 2003 of assault charges against roommate Justin Hodge, whom he believed had stolen money from him. Little was sentenced to 30 days in jail and five years probation after taping Hodge to a lawn chair, punching him hard enough to knock out a permanent bridge and stabbing him with a hot wire coat hanger.

Should the coach take the blame for incidents such as these? Is he responsible for the student-athletes he brings onto a campus?

"Of course, we have responsibility," Huggins said. "I don't know that we have 24-hour responsibility. That's awful hard. The reality is I was there for 16 years. If I had been like most guys and moved every five years, none of that stuff would ever be brought up."

Even after he left Cincinnati — while sitting out the 2005-06 season and after being hired by K-State — Huggins continued to court Tyree Evans, a guard from Richmond, Va. Evans was indicted in September 2005 on charges of rape of a child and indecent assault and battery on a child.

In July, athletic director Weiser announced the university would no longer recruit Evans.

Weiser has said he expects Huggins to pursue players who will represent themselves well in the classroom and community, not just on the basketball court. Kansas State president Jon Wefald told the Manhattan Capital-Journal he wants the program to achieve a 55-percent graduation rate. Using the NCAA's formula, where players have six years to complete their degree, just 28 percent of Huggins' Cincinnati players graduated.


On honor roll


To Huggins' credit, his players' academic performance at Cincinnati did improve some in his final years. In 2001-02, the team's collective grade-point average of 2.57 was best among basketball teams in Conference USA. A year later, six Bearcat players were named to the C-USA Commissioner's Honor Roll.

On the other hand, according to University of Cincinnati officials, one player on the Bearcats' roster had a 0.0 GPA at the time Huggins was forced out.

Bottom line: Coaching basketball is Huggins' primary assignment — that's why Kansas State hired him. Already he has begun to build his program.

Forward Bill Walker, a top-10 recruit from Cincinnati who had exhausted his high school eligibility, signed with the school in early November, and becomes eligible to join the team on Dec. 16.

Then, two weeks ago, Huggins signed a four-man recruiting class ranked by at least one scouting expert as the nation's best. The headliner is Michael Beasley, a 6-8 forward who is considered among the top five high school players in the country and the most celebrated recruit in school history.

Huggins expects the Wildcats to be competitive this season, but it's just a beginning.

"I don't know anything other than how to win," he said. "When you get good enough that you're (in the chase) to win the Big 12, certainly you're good enough to compete nationally.

"That's what we want to do."
Scathing Online Schoolmarm

A Regular University Diaries Feature


Mike Lopresti, sports writer for USA Today, is pissed. Disgusted.

SOS reminds you that when you write from strong emotions, you want to control your tone. No one's interested in your particular tantrum on any particular day.

Moreover, some issues are worthier of intense feeling than others. Most people would agree that victims of genocide, let's say, are more important than spectacularly compensated American university football coaches who have recently been dismissed from their jobs. When you reserve your righteousness for soon-to-be-rehired coaches, readers wonder about your priorities.

You don't want people wondering about your priorities. You want them focused on your argument.




No more college football coaches sacked since sundown, but the day is young. We can use this temporary ceasefire to count the bodies being carried away, in a landscape where patience is spent even quicker than money. [

We know that sportswriters as a group are metaphor-mad, with the metaphors changing from paragraph to paragraph, and Mike is no different. The scene of battlefield carnage with which he's begun, where multiple million dollar a year coaches with massive buyouts are compared to dead soldiers, will shift in the next paragraph

.]

There goes Alabama's Mike Shula. He went 10-2 in 2005, nursing a sick program back from NCAA probation. That spared him the pain about as long as two Tylenol. The Tide went 6-6 this season. Goodbye.

[Coach Schweitzer cures the team of probation only to be struck down himself.]



There's Miami's Larry Coker. His record is 59-15 with a national championship. And while it was easy to dump on his program after the brawl with Florida International, here's a tidbit that rarely gets included in the portrayal of the Hurricanes as Animal House: He graduated 100% of his class last year and played eight graduate students this season, with nine more to get their degrees next month. A lot of good that did him when Miami lost to Virginia. [

No one besides Lopresti has portrayed the Hurricanes as Animal House, because everyone knows the Hurricanes are far worse than Animal House. There's a credibility problem here, deepened by Lopresti's faux-naivete about the nature of the degrees the players have earned.

]

There's Arizona State's Dirk Koetter. This will be the third straight year the Sun Devils are in a bowl and he is 4-2 against state rival Arizona. The last guy to coach Arizona State to three straight bowls was John Cooper, and Ohio State came knocking at the door. This time, Koetter was shown the door.

There's Darrell Dickey of North Texas. His team won four straight Sun Belt titles from 2001-2004. Then the Mean Green turned meek. Gone.

There's Chris Scelfo. He might have had the toughest coaching job in college football in 2005, trying to regroup a Tulane team made homeless by Hurricane Katrina, playing 11 games in 11 cities. The administration was very understanding when the Green Wave went 2-9. This season, Tulane went 4-8. No more sympathy. [

Good move rhetorically to leave the homeless group for last. You want the biggest sob story at the end of the list, for maximum impact.]





The heads are rolling so frequently, this is starting to look like a bowling alley. [

At least he's shifted from metaphor to simile. But the simile's a lame one -- heads rolling is a cliche; and drawing your metaphor from another sport has a muddying effect.

] The regular season is not completed, and already 10 coaches — more than eight percent of the head-coaching workforce in Division I-A — have been fired. And the motives are nearly always the same.

The administration and the boosters want to be like Ohio State and USC. They want big bowls, big exposure, big dollars. Lusting for something many of them will never have.

"He has put us on a wonderful stage and has done some wonderful work," the Arizona State athletic director said of Koetter as she canned him. "But we're looking for a higher platform."

"He personally has displayed impeccable character," the Alabama athletic director said of Shula. But what is character when you go 0-4 against Auburn? So Alabama, poster child for the frantically unstable, looks for its fifth football coach in seven years. [

Lopresti's writing is frantically unstable, staggering from lust to the theater to poster children.]



It is absurd to hear presidents talk of integrity when they swiftly pull the trigger if they are not in the Fiesta Bowl. [

Back to the battlefield... or the firing squad...]

It is laughable to hear voices in the media decry the hypocrisy of college athletics, and then eagerly rip into an honest man because he only goes 7-5. [

Rip into an honest man is John Wayne talk. "Hell, Judge, I don't know much about the law, but I know when someone's rippin' into an honest man..." And "eagerly" does Lopresti no good at all. Instead of the awkwardness of "eagerly rip," you're supposed to come up with one word that captures the idea. It's the same problem Lopresti had above, with "frantically unstable." In this case, "savage" would do

.]

But there are seats to fill and bills to pay, boosters to seduce and talk shows to placate. In some ways, college coaches have it even worse than their cousins in the NFL, who are not held accountable for graduation rates, or if the quarterback ends up in a bar fight. [Again, note Lopresti's example of violence -- the relatively innocuous bar fight, rather than the actual shit everyone's been reading about. And of course NFL coaches are held accountable for the disgusting things their players sometimes do.]

"I realize now this is a business," Alabama center Antoine Caldwell of Shula's fate. "A dirty business, unfortunately."

It is a sport drenched with inflated expectation [This is Lopresti's first mixed metaphor, and it's a stinker. Remember another SOS rule: The more metaphors you use, the more you risk producing mixed ones.], which will be the ugly side of any playoff. That'd bring one champion, but even more hysteria from those left out. Show me an eight-team playoff, and I'll show you a world where only eight jobs are safe. [

Lopresti's pretty much off the rails here

.]

The BCS comes with high casualties. With a playoff system, it'd be a bloodbath. [

Structurally, it's nice that Lopresti returns in this conclusion to his original battlefield metaphor. But polemically it makes zero sense for him to scream bloody murder about cash-happy coaches.]



Grade: D+. The plus is for the homeless bit.

Labels: SOS
Conflict of Interest Tickertape

Faithful readers recall that UD has asked them to imagine a busy tickertape running through University Diaries with constantly updated stories about academic conflicts of interest. Conflict of interest is so rife at universities that any serious effort to cover it would take up most of my time.

My editorial policy is to interrupt the tickertape on occasion with stories like this one:



A survey of hospital review boards that watchdog experiments on patients shows that one in three members takes money from companies that make drugs and medical devices that come under study.

What's more, many of those with conflicts rarely or never disclose their financial ties, according to the study led by Eric Campbell of Massachusetts General Hospital and Harvard Medical School.

The study of 100 university medical centers is said to be the first to look at financial conflicts of interest on hospitals' institutional review boards. The review boards are little-known committees responsible for protecting patients in research experiments.

The study's findings are alarming, said some patient advocates.

If the review board "is riddled with financial conflicts of interest, it's not going to be as protective as it should be," said Dr. Sidney Wolfe, director of Public Citizen's Health Research Group.

The study was published in this week's issue of the New England Journal of Medicine.

In the study, 575 members of review boards at 100 universities were surveyed; they were promised anonymity.

About 36 percent -- or more than 200 respondents -- reported at least one form of industry financial ties in the previous year.

Roughly 15 percent -- or about 80 respondents -- said that in the previous year, they were asked to review at least one research study that was sponsored by a company with which they had a relationship or by a competitor of that company.

Federal regulations bar institutional review board members from voting in a review of a study in which they have a conflict of interest. "This [the study's results] reflect a significant lack of law enforcement," Wolfe said.




---boston globe---
Snapshots from Home:
Adjuncts and Unions


Scott Jaschik at Inside Higher Ed reports:


A federal appeals court on Wednesday upheld the legitimacy of a vote by adjuncts at George Washington University to unionize.

In a brief ruling, a three-judge panel of the U.S. Court of Appeals for the District of Columbia unanimously rejected the university's attempt to raise questions about who was permitted and not permitted to vote in the election. The court found that the university did not raise these issues earlier in the legal process, when they could have been considered, and that the university could not do so now.



Part-time faculty members voted last year — 341 to 331 — to be represented by the Service Employees International Union, and the National Labor Relations Board certified the election as valid. The university has said that the election was so close that disputes over another 30 people potentially eligible to vote need to be resolved. While the university has characterized the issue as one of "disenfranchisement" of employees, the union has accused GW of dragging its feet on negotiating.

While the appeals court did not consider the substance of the university's objections, the NLRB previously found it to be "without merit."

"GW's case was shameless stalling and the court has now affirmed that the university had no legal justification whatsoever," said Sean P. Carr, a spokesman for the SEIU.



Union officials have argued that collective bargaining will improve the wages and benefits of the some 1,200 part-time faculty members who work at the university. But GW officials have said that a union is not necessary and could create needless bureaucracy. A spokeswoman for the university said Wednesday evening that officials were "disappointed in the decision because we would prefer that all affected faculty members have had a full and fair opportunity to cast ballots in the election." She added that the university was still studying the decision so it would be "premature" to discuss what might happen next.

While court rulings have made it extremely difficult for unions to organize tenure-track faculty members at private institutions, adjuncts are not covered by those rulings and have attracted increased union attention — and some notable contract breakthroughs.
Wednesday, November 29, 2006
A Mere Lad...


...has won this year's Bad Sex in Fiction award. Twenty-something Ian Hollingshead, author of a first novel called Twenty Something, wrote of "a commotion of grunts and squeaks, flashing unconnected images and explosions of a million little particles."



'This year's runner-up was Tim Willcocks' medieval action novel, "The Religion," for a scene in which characters grapple passionately in a forge "across the cold steel face of the anvil."

"In the pit of his stomach a cauldron boiled and some seething and nameless brew rose up through his spine and filled his brain with the Devil's Fire," Willcocks writes.


...Other finalists included [a] 1980s coming-of-age story, "Black Swan Green," for a passage in which one character's breasts are compared to "a pair of Danishes."'


--thanks to Fred--
The Failed Presidential Search
at the University of Iowa
Gets More and More Interesting

Background here. The plot thickens.



Some University of Iowa faculty say they're concerned about potential conflicts of interests resulting from ties between Iowa Board of Regents members and the state's largest health insurance company.

Four current or former regents have served on the board of directors of Wellmark Blue Cross/Blue Shield, which pays millions in benefits yearly to University Hospitals, the 762-bed hospital that is part of the U of I. Regents professionally linked to the insurance industry seem to have heightened interest in the hospital, faculty members said.

"I don't think it's wise to have such great representation of the insurance industry on the board," said Katherine Tachau, a U of I history professor. "That tends to make situations of the academic hospital loom larger than they would otherwise."

The regents voted Nov. 17 to reject four finalists for the U of I presidency, saying the candidates did not have enough health science experience. The move shocked the U of I community and spurred widespread speculation that Iowa's powerful insurance industry is exerting influence over the presidential search as a way to better control University Hospitals.
The University Football Fan's Creed
After all, what is progress? Is progress making the team better academically? Is progress having closer connections to the surrounding community? Is progress selling more jerseys and being fashion-forward?

Of course not. Progress, plain and simple, means winning games, and winning as many of them as possible.



---sports illustrated---
Blogoscopy:
Woe Be Unto
The Solipsists

The blogosphere has provoked quite a lot of what UD calls particularity panic among established print writers who don't like to share the limelight.

First there was Robert Samuelson ridiculing, in the Washington Post, the egotism of web writers who actually have a great deal less egotism than he.

Now there's Michael Kinsley, also in the Post, saying exactly -- but exactly -- the same thing.



Can't the Post think of new subjects to write about? Or is the Post -- struggling, like so many newspapers, with online competition -- overfond of this sort of thing?



Kinsley repeatedly condemns Web writers as "solipsistic."


[E]ven in their quieter modes, denizens of the Web seem to lug around huge egos and deeply questionable assumptions about how interesting they and their lives might be to others.


Kinsley himself not long ago luxuriated at a series of spas, and then wrote a lengthy article about where he was squeezed and how his toesies felt and shit.


I am strapped to a table in a semi-darkened room. Lush, vapid New Age music plays in the background. Two women enter carrying jars of warm peanut butter, one creamy and one crunchy (the peanut butter, that is—don't be vulgar). The women begin slathering the peanut butter on me. ... I have been slathered with [other] unguent[s] [besides] peanut butter, been submerged and sprayed...

Is going to spas on a magazine's dime and telling everybody what they did to your body there what Kinsley has in mind by non-solipsistic writing?
"We Are Out of Control."
Controversy surrounding UNC's new football coach. Butch Davis has signed on to make nearly two-million dollars a year.

Now, one of the most notable names associated with the University of North Carolina wants to know if education is being sacrificed for entertainment. Today UNC's rams club took out a full-page ad in the News and Observer to sell football tickets for next season.

The new coach will make an average of $1.8 million a year and Bill Friday who was president of the University for 30-years is calling a foul. "Any time an institution pays a coach tens more than a distinguished professorship, it's making a statement." Friday add, "We are out of control. We aren't running our own destiny."

Friday also served 15-years as co-chair of the Knight Commission on Intercollegiate Sports which pressed for reforms inside the big business of college sports. Friday says UNC is taking a step back by throwing big money for an entertainment enterprise. "We teach, we carry forward research, we serve the public. That's the public trust we hold. We are not an entertainment industry."


New coach Butch Davis is also pushing tickets on e-mail messages. Carolina's athletic director Dick Baddour says the school is only trying to keep up with other universities. "If we're going to excel in football as we have in other areas, then we need to be competitive in the market place. And that's what we're trying to do."

Baddour says state tax-payers are not picking up the extra bill on a football salary which is twice as big as the last coach's. "This doesn't have anything to do with the tax-payer. It has everything to do with people who love this program." But Friday says the money is sending the wrong message on campus "When you put the dollar sign on it, that means that's your priority."


---abctv11.com---
Pied Beauty
Each college contains the teacher, the student, the old, the young, the poetic, the prosaic, the bold, the shy, the clever, the plodding, the careless, the careful, the wealthy, the poor, the cold, the compassionate, the indolent, the industrious, the neurotic, the peaceful, the refined, the vulgar, the emotional, the analytical, the earnest, the satirical — and by bringing all this pied beauty together into the small, stable, academically rich setting of a residential college, week after week, year after year after year, the true promise of educational diversity is realized.




Robert J. O'Hara, an evolutionary biologist and an old blogfriend of UD's, writes in eloquent advocacy of small, decentralized residential colleges at Inside Higher Education.
Tuesday, November 28, 2006
What I Did Today



When house and garden chez Soltan get so degraded that UD begins to feel like Little Edie Beale of Grey Gardens, she calls in her cleaning crew and joins them as they work around the house. That's what I did today.
Monday, November 27, 2006
Miami football is a biohazard that has spewed poison for too long. It is overseen by a grim-faced little blood sausage of an athletics director named Paul Dee, who answers to a two-faced politician of a school president named Donna Shalala. It is a place where players pack heat in the street and get in brawls on the field, where there is always pretty talk about the team's new image followed by ugly headlines about the same old Miami....[A good new coach] wouldn't fool around with the kind of cretins Miami has pursued over the years. Larry Coker is said to be, and seems to be, a prince of a guy. But he once signed stud linebacker Willie Williams knowing full well that Williams had an 11-arrest rap sheet.


---sportsline.com---
Thanks, Mike.
Tantalizing Tidbits
From the World of
University Football!
I
Pathetic
Despite the resources of the university and the football team's boosters, the reward for information leading to an arrest [in the Bryan Pata murder] is $

1,000

, the minimum amount offered in all homicides. ... [The head of the local Crime Stoppers said] he had not yet been contacted by the university or by any of Miami's famous alumni, like former Dallas Cowboys receiver Michael Irvin, who attended the campus memorial last week.

... After eating a catered meal [on the last day of his life], Pata left practice in his

black 2005 Infiniti QX56

with personalized license plates, driving down U.S. 1 to Colony Apartments in suburban Kendall....At the University of Miami, he lived a lifestyle

more associated with professional athletics

than with the academic world. Most conspicuously, he drove that Infiniti with customized rims and an on-board navigation system. On his MySpace Web page, which was still active Wednesday afternoon, Pata referred to the Infinity as "the Big Boy truck."

The Palm Beach Post reported that the Infiniti had been a gift to Pata from his sister's husband, Kahane Andrew Lynes, according to a family member. Yet when Lynes unsuccessfully appealed a trespassing conviction in Miami-Dade County last year, he employed a public defender. Lynes declared himself indigent upon his arrest on trespassing and battery charges in 2003, and again in 2004 as his case worked through the system, according to court records.

Pata arrived at the university in

2003 driving a customized "candy" blue Chevy Tahoe with 24-inch spinners and an on-board television monitor. The truck was a gift,

he said, from his mother and his sister. Driving either of the cars, he racked up close to $1,000 in parking tickets and traffic citations, records show.

Although several of the tickets were for speeding, Pata told The Miami Herald that he had yet another car he drove for speed. Customizing cars and selling them on eBay was a hobby, he said.

Another of his hobbies was guns. The

police confiscated at least two guns

from Pata's apartment after the shooting. ...The culture of gun violence even made its way into the Pata memorial. After speeches by friends and coaches, including Coker, an audience of about 500 students, teammates and family members was presented a video reflection. A song by

Tupac Shakur

played over photographs of Pata on the field for the Hurricanes. There were images of Pata standing in the water off South Beach with his girlfriend, then a shot of them posing, with wide smiles, on the steps where the fashion designer Gianni Versace was killed.


...After the memorial, members of Pata's large family stood outside speculating about who had killed him. A family friend,

wearing a helmet because he had been shot in the head,

railed against the Florida International team. His theory was that the shooting was related to the on-field brawl.
II
Beyond Pathetic
Following nearly eight months of scrambling, Eastern Michigan University officials on Monday announced what they believe will be at least a temporary solution to a football attendance problem that, if not dealt with, may have affected the school's standing with the NCAA.

The EMU Foundation, a not-for-profit corporation that oversees the university's $145 million endowment and fundraising efforts,

allocated $116,000 of its $2.9 million budget to purchase enough football tickets to ensure Eastern Michigan's football program will meet an NCAA minimum attendance mandate

.

The announcement comes less than a year after Eastern ranked last among the country's 117 Division I-A programs in per-game attendance, averaging just 5,219 fans - well short of a standard that requires schools to average 15,000 per home game.

"We could not allow an attendance issue to jeopardize our good standing in the NCAA,'' said Darryl Sczepanski, vice president for advancement and executive director of the EMU Foundation. "We saw a major need, and we felt like if (money) needed to come from somewhere, there was no better option than the foundation.''

The $116,000 will be used to purchase 23,000 tickets for Eastern Michigan home games as a way of helping the football program avoid NCAA consequences that could include being put on probation.

The tickets - 5,000 of which were used for Eastern Michigan's homecoming win over Toledo earlier this month - will be distributed to area students who excel in the classroom. Tickets will be given to students attending Ypsilanti, Willow Run, Lincoln and Canton, according to Eastern Michigan athletic director Derrick Gragg. All participate in the university's Football Community Outreach Program.

"For me, this is

definitely a win-win,

'' Gragg said Monday. "It gives the university affiliation with the community and provides a huge community service piece.''

Gragg, who was hired in April, said the attendance issue has been a top priority since his tenure began. Monday's action comes nearly two years after an internal university committee determined that former athletic director Dave Diles inflated attendance figures, nearly tripling the actual number of fans who were attending Eastern football games.

Last season, under interim athletic director Bob England, actual attendance figures demonstrated that the school was nowhere close to the figures it had reported. After turning in diminished numbers last season, Eastern became part of a list of 12 schools that must average at least 15,000 this season to avoid further NCAA action. Five of the schools on the list - Eastern Michigan, Ball State, Buffalo, Bowling Green and Akron - represent the Mid-American Conference.

The NCAA

provided its institutions the option to report either actual or paid attendance,

providing schools like Eastern Michigan with a loophole. Gragg said university officials have been searching for a solution for several months, leading to Monday's announcement. Gragg said Eastern Michigan is not alone in using administrative assistance to help boost football attendance.

Eastern Michigan, which has averaged 16,474 in paid attendance, hosts Ohio on Saturday before playing two of its remaining three games at home. The Eagles' Nov. 11 game with Navy will be played at Ford Field in Detroit, which has aided Eastern Michigan's overall attendance the last two years.

But to be safe, Gragg opted to take advantage of the foundation's gift.

"With this purchase, this should put us over the (15,000 per game) threshold,'' Gragg said. "That, in essence, gives me as a new leader here another couple of years to better plan for this going forward.''

Sczepanski said Monday night that no university funds were used for the ticket purchase. Instead, the tickets were purchased by using monies from investment income and Eagle Crest Management Corporation dividends.

In the past, those funds have been put toward a Foundation reserve or to help pay its operating costs. About 65 percent of the Foundation's budget comes from the university, while the remaining 35 percent come from rental income from space leased out in its building and from a for-profit organization.

Gragg said based on attendance projections and the addition of the foundation tickets, Eastern will meet the attendance requirement, taking it off the NCAA list for at least another year. Gragg said Eastern faces no danger of losing its Division I-A football status, which school officials agreed was too important to put into jeopardy.

"This isn't about saving one sport,'' Gragg said. "This is about preserving our entire athletic program and giving our student-athletes the best experience possible."
Thou Shalt Have Only One God,
And His Name Shall Be.......
GODZILLATRON


A recent NCAA report about college athletics "has 13 glossy, full-page photographs of athlete-students either competing in sports events or studying among Greek columns, library stacks, laboratory flasks or computer terminals. Four pages give a photographic rogues' gallery of smiling presidents and chancellors," writes Tom Palaima of the University of Texas, who has the stomach to analyze this sort of thing closely.

The buoyant nothingness of the report sinks a bit when its authors mark the American university professor's non-sporting ways. Year after year faculty are invited to share a world of high definition cretinism and corruption, and the fuckers just won't play along.

Details from Palaima's own UT:



...The head football coach at UT now makes a base salary of $2.55 million per year. By comparison, the entire instructional budget (faculty salaries and other teaching-related expenses) of UT's number-one ranked petroleum engineering department is only $2 million. The average salaries of the 11 assistant football coaches last year easily outstripped the average salaries of full professors in our law school, the highest paid full professors at our institution.

Faculty did not have the authority to stop the recruitment of a men's basketball team whose average SAT score is 370 points below the current student body average. No faculty committee at UT Austin proposed constructing an academic environment for football players that sequesters them in their own high-tech study facility with their own tutors and advisers and supervisors, and still leaves them, year in and year out, trailing the entire Big 12 Conference and most of the nation in six-year graduation rates — 40 percent is the official NCAA calculation.

In 1996-98, at a time when the Texas Legislature was sharply curtailing its yearly appropriations to the UT system, UT embarked on a $100 million stadium expansion project that expended lots of valuable political capital.


...UT [needs to deal with] its extremely high student/faculty ratio. To do this, we need more office space, classrooms and laboratories on the central campus, where space was already at a premium in the mid-'90s.

Disregarding the academic side of institutional planning, the $100 million expansion project authorized by Cunningham and the Board of Regents in 1996-98 converted a multi-use stadium (football, track and field, high school athletics events) into a football-only facility. Precious space was then used to build an outdoor football practice field, an air-conditioned indoor football practice field, a track-and-field stadium, and a deluxe athletics center.

Faculty were not consulted about this questionable use of resources, especially scientists who have to commute from central campus to laboratories at a distant satellite facility. Nor were UT's approximately 35,000 undergraduates. Faculty would love to accommodate their pressing need for more courses offered during prime time. But existing classrooms are booked solid even during non-peak hours.



The NCAA report says that part of the reason faculty members are "uninformed" and "biased, ... attack[ing] athletics unfairly," is that they don't understand the "hierarchical, top-down nature of campus administrations."

Faculty need to look at the campus salary pyramid and show a little respect.



UD read somewhere of a monastic order whose members, while laboring in the vineyards, repeatedly shout: "All for Jesus! All for Jesus!"

UD proposes that faculty put themselves in a more reverent mood by shouting, through their campus hours, "All for Coaches! All for Coaches!"
Sunday, November 26, 2006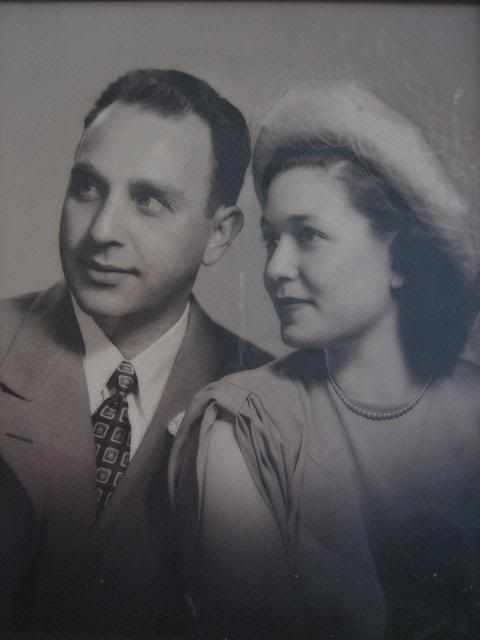 Snapshots from Home

Wedding Picture,
Parents of UD

He was a penniless graduate student at Johns Hopkins, studying immunology (here's a book he and a colleague at the National Institutes of Health wrote). She was attending the now-defunct Mount Saint Agnes College in Baltimore -- she was one of two Jewish students at the Catholic women's school.


---UD thanks her technically proficient sister---
Once Again, America's
Worst University
Shows You How It's Done



A former athletic director at the University of Georgia lays it out:


When I picked up the Nov. 19 edition of the Athens Banner-Herald and read that

members of the University of Georgia faculty have met once again to nitpick what's going on in athletics

regarding student-athletes, their majors and their course selections, I shuddered at what we may do next to shoot ourselves in the foot.

The headline, "On lookout for Mickey and cupcakes," is enough to make a grown man weep at its repercussions. The first question is how "Mickey Mouse majors" and "cupcake classes" are determined.

Who decides - the czar of "Mickey Mouse Majors" and "cupcake classes?"

Who is that "czar" to be? As a former major in physical education, I can think of a lot of people I wouldn't want to hold that position.

If they chose PE as a "Mickey Mouse major," does that mean my degree would be worth nothing? Frankly, it served me well in doing what I had dreamed of doing all my life - being a coach and physical education teacher. And although I made A's in the anatomy, physiology and kinesiology courses, I thought those were the most useless courses I took. I would much rather have had another psychology course, a course in management, or something in sociology in order to have a chance to better learn of the differences in the various socioeconomic groups I would be working with in coaching. That would have enhanced my work as a mentor and counselor for hundreds of young men over the years.

But back to home base. It looks like we still have our knickers in a knot about the low graduation rates for student-athletes, particularly the

9 percent rate of the men's basketball team for student-athletes who were freshmen in 1999 and who graduated within six years.

It's strange I haven't seen an explanation for at least part of that poor rate, which would probably be because we had three coaching changes during that period.

Anyone even vaguely familiar with college athletics, at any level, would expect graduation rates to plummet in such a circumstance. Many players choose a college because of its coaches, and when there are changes in the coaching staff, you can count on players transferring. They may graduate later, but once they left under the old NCAA rules, they counted against your graduation rates. With such small numbers involved, there is little wonder the graduation rates would be low in that environment.

In addition, I'm familiar with several of the players in that group who were within easy reach of graduating, but who opted to play pro ball around the world, gaining an education they could never have gotten in college. Hopefully, they'll take advantage of a program instituted at UGA in the 1990s to give former players a chance to come back and get their degrees. Basketball player Robb Dryden, an engineering major at UGA, did just that when he found time during his tenure as a foreign pro player to complete his work. Unfortunately, his graduation put him one year away from counting in the graduation rate. However, I doubt that was on his mind as he traveled the world, chasing one of his two dreams.

If I were UGA head football coach Mark Richt or head basketball coach Dennis Felton - coaches of the

only two revenue-producing sports at the university

- I'd get very nervous reading stories about a faculty committee discussing "Mickey Mouse majors" and "cupcake classes."

As one of the finest athletic programs in the country, UGA had a

profit of $23.9 million this past year

. That made it possible to

support all the Title IX and men's non-revenue sports to the tune of $13.9 million, as well as making a gift of $2 million to the university.

One would think that at some point in time, the powers-that-be at UGA might ask themselves: "What can we do to make certain we are able to assist this program?" That's a particularly apt question when you realize there are very few student-athletes who present problems in admissions and academics as they pursue their degrees. Surely we have the resources to provide the support and assistance these few young people need to earn a degree in an appropriate major, and a legitimate education in something that will bring them success after college.

One way to do that would be to

provide some major or majors relevant to what many student-athletes will be doing after earning their degrees. There is a multibillion-dollar sports industry in this country, and Atlanta is one of its hubs. But UGA doesn't really have many majors that address that area. For instance, UGA doesn't have a coaching major

set up to provide the type of training coaches should have today. A coach today has to be a father figure, pastor, counselor, strength coach, trainer, primary disciplinarian and much more. The university certainly could develop an appropriate curriculum for that major, and if they need help, I know a volunteer ready to give it.

The one reality that any faculty committee looking into athletics needs to keep in mind is that, whether they like it or not, this is a state university. As such, we will continue to try to have athletic programs

similar to those in surrounding states

. We are similar to those other state institutions academically, and, hopefully, we can continue to compete with them athletically. I see no reason we can't, as long as we don't destroy ourselves by having too many committees and task forces designed to make life tougher for a very small group of young people, the vast majority of whom will make us proud they are Bulldogs - for both their play on fields and courts, and as graduates.



Let's review the elements of the argument.

1.) Michel Foucault. The content of university curricula is radically subjective.

2.) Come Back Little Sheba. If we wait long enough our players will surely come back and graduate after they've chased their dreams of playing for money.

3.) Greed is Good. Games make us mucho money.

4.) The Coach Bag. Offer a major in coaching.

5.) Everybody's Doing It. Hell, we're just another shitty state school.
Saturday, November 25, 2006
Hitler Watch


An English professor at a university in Missouri (On his website, he tells his students that he wants to help them write about their "ideas, observations, fellings.") describes seeing a "glaze in the eyes" of students attending a campus Republican rally that reminded him of "the faces of those who attended the mass, fascist rallies in Germany before World War II."
Friday, November 24, 2006
Roger Ailes Lifts UD's Post Title

Twenty-four hours after seeing a clever post title of mine -- "Fumento Mori" -- Roger Ailes tears over to his own blog and uses it, without attribution.
Coker
The University of Miami fired football coach Larry Coker, who won a national championship in 2001, after a season marked by an on-field brawl and the shooting death of a player.

Coker, 58, compiled a 59-15 record in his six seasons at the school after going 6-6 this year. Some 13 players were suspended for fighting during a game against Florida International University in October.

One of his players, defensive end Bryan Pata, was shot and killed off campus on Nov. 7.

Coker will coach the team if it gets invited to a bowl game, Athletic Director Paul Dee said in a televised news conference.



---bloomberg---
People Are Dying to Get In...

...to the most mobbed-up alma mater this side of Morristown!



[I]t seems a little extreme to compare a leading institution of higher learning to a Mafia family, but that is exactly what the University of Medicine and Dentistry of New Jersey has become.

While no one was looking, New Jersey wrested the Most Corrupt State title from Louisiana. Its love affair with bribes, kickbacks and influence peddling can be attested to by all of the politicians – from lowly municipal burghers to state senators and political party leaders – who are doing time in federal prisons.

These public officials are not to be confused with all of the mafiosi doing time in federal prisons for the same things. It's not for nuttin' that "The Sopranos," the hit HBO television show, is based on a lovably lethal North Jersey crime family that traffics in bribes, kickbacks and influence peddling.

This brings us to the reason for why UMDNJ, New Jersey's largest and supposedly most prestigious health-care institution, is doing a pretty good imitation of being a mob family.

UMDNJ has been so adept at bribing, kickbacks and influence peddling that it has been honored as the first university in the entire U.S. of A. to be overseen by a court-ordered federal monitor. Not even the Soprano family or the Corleone family of "The Godfather" fame had federal monitors.

The federal monitor was invited to the UMDNJ party because:

* Its politically-wired administrators have let an astonishing $700 million in no-bid contracts, some of which also included kickbacks. Kind of like only doing business with merchants who pay you homage, better known as the Mafia street tax.

* Administrators have hired employees based not on their qualifications, but through use of a secret code identifying an applicant's political patron. The more powerful the patron, the lower the secret code number. Kind of like speaking Sicilian so that no one knows what you're up to.

* They schemed to bilk the federal and state governments out of millions in illegal Medicaid payments. Kind of like scamming old ladies of their inheritances.

Let's remember that UMDNJ is not a trash-hauling business or labor union, two enterprises that are no strangers to mob influence. UMDNJ is a major teaching hospital. We're talking brain surgery and root canals, not landfills and construction jobs.

It is that context that makes the federal monitor's most recent discovery about this mobbed-up institution so mind blowing, even for New Jersey:

For several years, UMDNJ has paid 18 doctors — including some of its most prominent — up to $150,000 a year each in kickbacks to refer patients to its struggling cardiac surgery program at University Hospital in Newark.

That's right, these doctors sent patients to UMDNJ based on lining their own pockets, not what was best — let alone what the best hospital was — for the patients.

It gets worse:

The University Hospital cardiac surgery program has death rates triple to the state average.


Time to haul this trash. Shut down the school.
Thursday, November 23, 2006
Dadaism, Florida Style
'Many Florida State University football fans were relieved when it was announced that the coach in charge of the team's offense had resigned. It looked like the assistant coach had taken one for the team after an embarrassing shutout loss to Wake Forest.

A day later, though, anger kicked in when it was learned that the coach's apparent selflessness was not that at all. He left with a severance payout of $537,000.

Nice payout for a guy who wasn't cutting it.

It would have been bad enough if this was just any assistant coach. But it wasn't. The assistant was Jeff Bowden, son of iconic head coach Bobby Bowden.

Bowden had been criticized for a feckless offense in recent years, but his dad — whose contract is up for renewal in 2008 — defended him.

"It's just amazing," Bobby Bowden said the day after his son's resignation. "When things go wrong the first thing they blame is the offensive coordinator. That's kind of the game we Americans play."

The nepotism here is tragic. What kind of position is the elder Bowden in? The whole world seems to see his son's flaws, but he doesn't. Then the son gets paid to take a hike.

The only good news here is that the funds are not, directly, paid by the taxpayers. The Florida football boosters will pay Bowden with funds they generate from concession sales. Why the state-funded university doesn't use the money for itself, as opposed to paying coaches like this, is another issue.

The Bowden story broke the same day USA Today wrote about the outrageous salaries and perks Division I coaches receive. It revealed Bobby Bowden's annual compensation at about $1.6 million, including a salary of $352,000.

Bowden is one of eight coaches in the Atlantic Coast Conference making about seven figures. Oklahoma's Bob Stoops leads coaches with annual compensation of $3.45 million.

And this is collegiate athletics?

As for the Bowdens' windfall, all Floridians are victims of this conflict of interest. The collaboration of FSU President T.K. Wetherell, who signed the severance agreement with FSU Athletic Director Dave Hart, makes this even worse.

Is this the kind of lesson FSU hopes to teach its students? Get a job with dad, perform poorly, then get big bucks to leave?'



---tcpalm---
Duke, Alcohol, Athletics:
Another Triple Play
The son of Duke University's athletics director will not face jail time in a boating accident that injured his father.

Joseph David "J.D." Alleva, 28, pleaded guilty Tuesday in a Person County court to operating a boat in a reckless manner in exchange for having an alcohol-related charge dropped. He paid a $90 fine and $110 in court costs.

The charges stemmed from a June 23 incident on Hyco Lake in Person County when the Cobalt boat the younger Alleva was operating ran onto a rocky embankment.

The elder Alleva suffered a deep gash to his head that required 42 stitches.

After the 9 p.m. accident, J.D. Alleva swam nearly a half mile to shore for help. It was more than an hour before he called 911.

Though N.C. Wildlife Resources Commission officers reported smelling alcohol on his breath, J.D. Alleva refused a blood or breath test.

Joel Brewer, Person County district attorney, said he wouldn't have agreed to the plea deal if the charge had been a standard driving while impaired.

He said state law allows for the same punishment for operating a boat while intoxicated and operating a boat recklessly. Neither punishment prescribes jail, even considering a DWI charge J.D. Alleva was convicted of in 2001, Brewer said. J.D. Alleva was sentenced to a year's probation and ordered to undergo a substance abuse evaluation for the incident that occurred while he was a Duke baseball player.

Brewer said comparing DWI on the roads and the waterways is "like comparing apples and oranges."

"We think drinking and boating are very dangerous," Brewer said.

"But in terms of active time, the only mandatory sentences are for [standard] DWI."

Neither J.D. nor Joe Alleva could be reached for comment Wednesday afternoon.
More Bad News
'Every year around this time, Wheaties boxes featuring logos from the University of Oklahoma and Oklahoma State University hit store shelves just in time for the annual Oklahoma Bedlam football game.

But this year, the Texas rivalry between the University of Texas and Texas A&M University is on the cereal box.

Oklahoma fans are furious and some are refusing to buy Wheaties because of the covers.'




---nbc, dallas---
RENO 911!
LAS VEGAS (AP) - University Chancellor Jim Rogers has asked regents to investigate the viability of the system's football and basketball programs.

In a five-page memo to the Board of Regents, Rogers requested an audit of both sports programs at the University of Nevada, Las Vegas, and the University of Nevada, Reno, and pushed for the schools to play in the same conference.

UNLV was a member of the Western Athletic Conference, but left in 1999 to play in the Mountain West Conference. UNR joined the WAC in 2000.

Rogers said Tuesday he was frustrated with UNLV's losing football season. The team is 1-10 and has been ranked near the bottom of all Division I-A football teams.

"Why the hell would you have a football team when nobody goes to the games?" Rogers told the Las Vegas Review-Journal.

UNR's football and basketball teams have fared better than UNLV's in recent years. The university's football team has an 8-3 record this season.

Although regents have not typically managed athletic programs, Rogers said he wanted the board to monitor the programs and determine ways to make the programs self-sufficient.

Since it last appeared in the NCAA Final Four in 1991, the UNLV men's basketball team has "become stuck far below mediocrity," Rogers said in the memo.

Regent Steve Sisolak said he welcomed the opportunity to provide better financial oversight.

He said regents receive general budgets for the athletic departments, but

do not have detailed reports about how much money each sport collects and spends.



Gerry Bomotti, UNLV vice president for finance, said the school's entire athletic program earned $1.2 million last year, excluding revenue and expenses from the Thomas & Mack Center.

But the program last year received from taxpayers $4.8 million toward operating expenses and tuition and fee waivers.



---las vegas sun---


update... sigh...
Love for Four Beavers
'Nearly 100 people gathered near Laurel Creek yesterday to remember four beavers trapped and killed last week by the University of Waterloo.

The memorial service and demonstration was held near the stump of a tree beavers had gnawed on and which was subsequently cut down by university maintenance crews in the interest of safety. "We wanted the administration to know we care about this issue, that we want a better wildlife policy . . . that's pro-wildlife," said Asha Philar, a first-year environmental studies student. She said she got involved in organizing the rally because she and others wanted to send the university a clear message.

... Many students at yesterday's rally carried signs reading "Shame on you UW." Others wore beaver pins made by gluing backings onto ordinary Canadian nickels.'



---the record.com---
Wednesday, November 22, 2006
From The Arizona Republic
[A] lot of [Arizona State University] students ...can't figure out why the [tuition] bill has risen 81 percent in five years (84 percent at UA, 76 percent at NAU). Can't fathom how this year's proposed increases will push the tab nearly 98 percent higher than it was in 2002-03, when [President] Crow arrived at ASU.

Oh sure, Arizona's Constitution may say that college "shall be as nearly free as possible," but think [...] of all the benefits from boosting the bill. [Students will get] . . . well, I don't know what [they'll] get. I couldn't find any students who knew, either.

Maybe the chance to buy out the $950,000-a-year football coach, who was given a contract extension last December? Or the chance to push Crow back into the ranks of the top 10 in presidential pay? [He dropped a few places in the latest survey.]


He has a base salary of only $490,000, after all. Throw in a car allowance ($8,394), a housing allowance ($50,000), deferred compensation ($30,000) and retirement pay ($30,800), and really, how's a guy supposed to live?
UD Gives Thanks

Google Images has two photos of him, neither of which seems right. In this one, he's far more amiable than I remember him, back in the 'seventies at Northwestern University, when for three years I took every course Erich Heller offered in the comp lit department. He was a forbidding and formal man, always in a suit, a Central European intellectual of a certain age. My age was what, nineteen, and I was your basic American barbarian. I'd never encountered anyone like him before.

In this one he's too grandfatherly looking. He was irritable; he conveyed right away his firm conviction that his undergraduate students knew shit and weren't about to do any of the heavy lifting that his lectures on Kafka, Mann, Kleist, and Rilke demanded. Although it was pointless to try with us, try he did -- his presentations in class were always passionate, intense, profoundly focused on a Duino Elegy or on a paragraph in The Trial.

I'd heard that he was a Jew who'd had to leave Europe; that he'd taught in Wales for awhile, and that he'd ended up here in Chicago, where he had a brother. His preoccupation with the fragmentation of Western culture prefigured by Kafka and then narrated by Thomas Mann was immediate, emotional, personal. Although his lectures never hinted at his own experience, it seemed to me he'd suffered some of the catastrophes this literature attempted to convey. I was thrilled by the force of his intellect and by the force of his pessimism. Also by the private suffering I, rightly or wrongly, intuited. This was teaching that mattered; this was a man who embodied the things he talked about.

Although he was in a way everything to me, I was nothing to him. Almost nothing. We had one brief conversation, after class one day. We must have found ourselves walking in the same direction. He asked how I was, and I said I was rather unhappy, because I was still in the school of journalism even though I disliked all of my journalism courses and loved all of my literature courses. "If you're unhappy there, why don't you leave?" he asked.

"Right," I replied, and walked over to the Medill School of Journalism, where I dropped out and then declared an English major.

Of course I'd been thinking about doing this for some time, but had dithered and dithered, worrying about the bad job market for English majors. It took Heller's simple statement to make me do it. For that, along with all that I learned from him, I'm grateful.

Heller made me a serious person. He gave me a focus and he offered a worldview. He was a wastelander; he surveyed ruins and wondered, without much hope, how poets might reconstitute them as buildings. His sensibility, utterly at odds with the pragmatic, optimistic American sensibility, was new and wonderful to me. He was not polite and cheery; he was evasive and aggrieved. This too was wonderful to me. I was at best a grotesque to him: a woman (he preferred men); an American; a teenager; a Jew who'd been tutored in Holocaust sentimentality rather than seriousness. It never did and now never will matter to him -- he died fifteen years ago -- how deep an impact he made on the dark-haired girl, third row back. Nonetheless, a good day to give thanks.
Pauvre Ivan Tribble.

Not only does Prince Charles have a blog (plus video diary); "about a dozen or so [university] presidents, like Dr. McGuire [president of Washington DC's Trinity College], are vaulting the digital and generational divide and starting their own blogs."


Bob Johnson, a consultant to many universities on marketing, said he was mystified that university officials had not generally embraced blogs. Mr. Johnson said student blogs, for example, could be a "hugely effective" recruitment tool, even if they carried the implicit promise — or threat — of uncensored truth, however unflattering.

Mr. Johnson encourages presidents to be bold.

"Just because you can't beat them," he said, "doesn't mean you shouldn't do it yourself."
Many thanks to my student, Rachael, for forwarding this to me.
Tuesday, November 21, 2006
UD's Deep Into Guy Territory Here...

...thanks to her blogpal, Chris Lawrence. He led her to a conversation between Orson Swindle, from the sports blog Every Day Should be Saturday, and Michael Lewis, who has a book out called The Blind Side: Evolution of a Game. Some excerpts:




ML: All these [big sports] schools have the smooth [academic] track for the football players–

OS: Sociology at Auburn, Criminal Justice…

ML: It's funny. You watch the Saturday football games, and if it's West Virginia playing, all the football players are "sports management" majors, but if it's Ole Miss playing, all the football players are "criminal justice" majors. So you get the sense that every school has its major for the football team, and it's different from school to school. All the Ole Miss football players aren't majoring in criminal justice because they have a deep and sincere interest in criminal justice. It's that that's where you go to get the grades.



... It's not an amateur sport. College football is a professional sport for everyone except the people who play it. The coaches make lots of money. The colleges make pots of money. They charge lots of money for their tickets and fancy skyboxes and they can't get money for their school but for their football team in a lot of these places. And yet the players are by rule–by fiat–amateurs who can't accept a nickel except for the college scholarships most don't place any real value on anyway.

If the NCAA really wants college football to be an amateur sport, let's make admission to the games free. Let's say that coaches shouldn't be paid more than the average teacher at the school. Lets cleanse this of money and let the television networks run the games for free. No ones going to do that, of course they're not going to do that.

They should acknowledge that they have a huge commercial success on their hands, and as a result this is a professional enterprise, and that these kids who have big economic value to these schools should be paid. In addition to being paid, they should be allowed/encouraged as a matter of social policy to form meaningful relationships with people outside the football field.

OS: Okay, so while we're getting you to talk crazy by telling the truth, let me go ahead and ask you…a central issue for the NCAA this year has been the lingering fear that they are going to have their tax-exempt status revoked by Congress.

ML: HA!

OS: It was mentioned by the outgoing vice-chair of the House Ways and Means Committee that he saw no reason for the NCAA to be a tax-exempt organization because their mission is unclear–and if you read Myles Brand's answer to our email on this, his answer is elliptical, to say the least–what's your take on the NCAA, whatever it does, being a tax-exempt organization?

ML: I don't see why it should be. I agree: why should it be a tax-exempt organization? I think that what's happened is that universities cleverly use the quarry anti-market status of universities to cloak essentially a big business. I think it all needs to be demythologized.

I think the players remind me of where baseball players were in the 40s, 50s, and 60s where people said, They shouldn't be paid for playing a game anyway, and that they should be paid a market wage for their labor is crazy. The fact that the university is an institution that has existed outside of the market for so long enables really a corrupt arrangement. And they are–the NCAA–a big business. I don't know why they aren't treated as a big business.

OS: Okay. Good. (laughs.) It's just music to my ears.

ML: I wouldn't be so upset about it if it was just hypocrisy. But lives are at stake here. The NCAA, in their sweaty desire to preserve the illusion that this is amateur athletics, and that it's not only amateur but also related to scholarly endeavor, they keep these kids who are going to school to play for their football team out of school altogether.

There's a little two-line bit toward the end of [my] book that mentions that Memphis high school coaches had done a little study showing that out of every six high schoolers talented enough to earn a D-1 scholarship, only one had made the grades required by the NCAA. I think that if there is a market for these kids' services and getting them out of the inner city, the NCAA should not be in the business of sending them back into it. And we already know that the academic experience of most big-time football players is a sham–not all of them, but…

Why not just say it? That the criminal justice major at Ole Miss or the sports management major at West Virginia is a front for the football program.

OS: Oh, now, you know that "Growing Fruit for Fun and Profit" was a rigorous class at the University of Florida when I was there.

ML: (laughs) It comes at a huge cost, though; not only are kids prevented from getting out and getting to a better life, but what really should be going on is an open acknowlegement that many of these kids are coming in not only unprepared for college, but unprepared for the sixth grade. What they should be getting is the medicine along with their football experience. They should be taught to read and write. They should be taught the things that public schools fail to teach them how to do, so that they actually get something out of the experience rather than this sort of sham education that they get.

It would be reeeeeeal interesting–you're never going to get to do this–to go around to big-time college football programs, strip out the seniors, take them individually into rooms and test their reading comprehension, test their ability to do simple mathematics, test them on the things a twelve-year old in a good school system would know how to do. Test them and see how many of them pass. I bet it would be shocking how few of them would.

The whole point of sports management or criminal justice is that you really don't have to be able to read to do it. And so the NCAA fighting to preserve hypocrisy creates a lot of bad, a lot of evil. It is a dark institution.
More From Mike Holder!
Mike Holder has a message for University of Oklahoma fans balking at paying top-dollar for Saturday's Bedlam matchup at Boone Pickens Stadium.

If you don't like it ...

"Good, stay home. Don't come," the Oklahoma State University athletic director said Monday. "I don't care if any of them show up. Just bring that football team out here."

This week, the Sooner Nation is finding out why some of the Cowboy faithful have begrudged Holder this season.

Unashamedly increased ticket prices.

As is typically the case with Bedlam in Stillwater, OSU has sold all but a handful of the seats in the stadium's lower bowl, including the entire allotment of opponent seats reserved for Sooner fans. Come Saturday, that portion of the stadium likely will be packed and rocking.

The club-level seating, however, is a different story.

There still are more than 1,000 seats available on the stadium's north side — 47 at the $250 level, 126 at the $300 level and about 1,000 at the $600 level.

If OSU doesn't sell the tickets within the next five days, that will make it a clean sweep for nonsellouts at Boone Pickens Stadium this season — and the first true Bedlam bust in the past several years.

"We're not going to discount any prices to try to fill (the stadium) up," Holder said. "If it doesn't sell out, it doesn't sell out. It's not the end of the world. We haven't sold out one all year.

"We don't rely on them for anything. Are you kidding me? Rely on OU?" [Your problem is you can't rely on OSU.]

Tom Johnson, who manages the OSU ticket office, said comparing previous Bedlam games to this weekend's in terms of attendance is like comparing apples to oranges. The last time the Sooners and Cowboys met in Stillwater, there weren't club seats on the stadium's north side — OSU fell less than 50 shy of selling out the south side club — and four years ago, there wasn't any club seating at all.

Back then, not selling out the club level was not a possibility.

"People are buying them now; they're just not selling at a real high rate because the tickets are more expensive," Johnson said. "But the thing is, the club area is a different animal than the lower bowl. It's not like to like." [Hope you followed that explanation.]

OSU usually packages a lower-bowl OU ticket with a couple of seats for games against weak or nonconference opponents. This year, the three-game mini-pack included tickets to Missouri State, Baylor and Oklahoma for $160. On Sept. 18, tickets to Bedlam were released for single-game sale at $100.

OSU and OU fans alike gobbled up those remaining tickets, leaving the expensive club level to latecomers, not all of which seem eager to pay the markup.

"They're fairly priced," Holder said. "All they are is one-sixth of the donor seating cost, plus the cost of one-sixth of the season ticket price. We're not going to discount those seats. How would you feel if you were a loyal Cowboy supporter who bought the season tickets and then for one game you allowed somebody to come in there and sit for half price? [You'd feel like an idiot. But then you'd feel like an idiot anyway, for paying what you did.]

"That's just not right in my world."

Club seats aren't the only thing adding stress to the tenuous Bedlam atmosphere this week. [Not sure what the writer means here, but "tenuous" isn't the right word. ]

Visiting student tickets are more expensive, too.

OU student John Portman paid $88 for a student seat at the Red River Shootout in October. He thought that was the steepest ticket price he'd have to pay all season. He was wrong.

Oklahoma State is asking $100 for visiting students this weekend. And Portman, for one, is miffed.

"Bedlam's a big deal, but asking $20 more than an OU-Texas ticket is ridiculous," he said. "I don't know why they would raise prices like that. No one wants to give that much money to a school that can't fill its own stadium." [Ouch. Truth hurts.]

Not that Holder is concerned with pleasing OU fans. In fact, he'd rather sell tickets to those decked in orange and black.

"It's a different world up here now," Holder said. "This isn't the same old Oklahoma State. Look in that (west) endzone. My gosh. Our tickets are less expensive than the ones at OU. They sell 84,000 of them. We should be able to sell 44,000. [

Yeah, but you can't. 'Cause you live in 'your world,' and everybody else lives in this world.]



"We're not going to cut ticket prices. If we want to compete with the best teams in this conference, we've got to increase our ticket prices. If we start winning, (fans) will come out."


---NewsOK.com---
Then There's the
Michigan-Ohio State Game
Despite the game's billing as one of the most important college football showdowns in recent memory, the demand for high-priced tickets may no longer be greater than the supply.

A month ago, there were almost no ticket auctions on eBay that ended without a bid. Now there are tickets - mostly with opening bids of more than $1,000 per ticket - that go unsold.

This may be partly the result of concerns about safety in Columbus. Horror stories about the treatment of Michigan fans have stopped some fans from pursuing tickets.

[One student] said one of his roommates had planned on joining him but decided to stay home to avoid what [the student] called the "danger aspect" for Michigan fans.


---the michigan daily---
Eleven Players in Search of an Audience



Yessiree, time to drop in on ol' T. Boone and his boys -- his Cowboys -- at his beloved Oklahoma State University, where they do football fever like NOWHERE else!



STILLWATER -- Oklahoma State University graduate Bill Bearden has been a regular at Bedlam football games since the mid-1970's, but will not attend Saturday's OU-OSU clash at Boone Pickens Stadium.

While describing himself as an "avid fan" of Cowboy football, basketball and wrestling, Bearden says economic issues have sidelined him and his family during the 2006 football season.

After having held four season tickets during most of the last 25 seasons, Bearden says he did not purchase 2006 tickets because of OSU's price increase.

"I decided it was time for me to stop going to the football and basketball games," said the 52-year-old Bearden, owner of a convenience store in Morris. "The pricing is definitely too much for a lot of people.

"I'm glad Boone Pickens is supporting the university, and I understand what the university is doing with facilities, but I don't think the average OSU alumni are cut out for that level. It has become a corporate deal, sort of like the NFL."

[Can you hear the resignation in Bill's voice? Twenty-five years of loyalty and now he's just had it. But how expensive can these tickets be? Hold on to your hat.]



Saturday's 1:30 p.m. contest matches 13th-ranked Oklahoma (9-2) with a 6-5 Cowboy squad that ranks seventh nationally in rushing offense and scoring.

It's an attractive matchup, replete with Bedlam rivalry emotions, but the game is not expected to draw a sellout crowd.

[Whoa. You mean after all this shit about football country, football this and football that you can't even fill a real small stadium for one of your biggest games?? Just what sort of price are we talking about?]



The Cowboys have not had a sellout crowd for any of their five previous home dates. [Them's home games. ] The season-ticket sales total crested at 33,000, down from last year's figure of 37,500. The current attendance average is 40,581, down from last year's figure of 44,860. [They're dropping like flies.]

"We've all noticed the (empty) seats this year," Cowboy offensive tackle Corey Hilliard said. "It's kind of disheartening, but at the same time, all you can do is just go out there and play. I wish there were a way for our fans to be there without the high prices."

[I'll say it's disheartening. It's not like this is some pansy school like the University of Chicago. This is fuckin' Oklahoma! ]



Said OSU linebacker Jeremy Nethon: "It's not about the fans that aren't there. It's about the fans that are there. We're playing for them and for our team." [Glass half full kinda thing. Whatever gets you through the night. ]

With a seating capacity of 43,500, Boone Pickens Stadium is the Big 12's smallest football venue. [

Don't even need many people to buy tickets, in other words. I smell a rebellion.]

As of 5 p.m. Monday, remaining tickets were priced at $250, $350 and $600. There were 43 of the $250 seats (located between the 25- and 35-yard lines on the south side) and 114 of the $300 tickets (at midfield on the south side). [Finally we get to the hard numbers. My oh my.]

Each of the 1,426 remaining club seats goes for $600. A donation is built into the price of those tickets. As the countdown to Bedlam kickoff has begun, OSU officials acknowledge that there probably will not be a huge rush for the $600 tickets.

Before this season, the most expensive single-game ticket in OSU football history went for $75 (for the 2004 Bedlam game). This season, the Texas A&M single-game ticket was priced at $75 and Nebraska at $85. OU-OSU single-game tickets, priced at $100, have been sold out since September.

OSU's basic season tickets increased from the 2005 price of $231 to $295 this year. Club-level tickets rose from $231 to $395. Attached to the purchase of a club seat is a required donation of $1,500 to the Posse Club. [Known 'round Stillwater as the Your Ass in A Sling Club.]

Ticket revenue is poured into the athletic department's operating budget. Pickens' $165 million donation, along with the money generated from the investment of that donation, is committed to the stadium renovation and development of the Athletic Village.

"If anything, I underpriced the tickets," OSU athletic director Mike Holder said. "We're still seventh in the league in pricing, relative to our competitors. And we're in a stadium that in some cases seats half as many people.

"I wouldn't be satisfied with finishing in seventh place in the league. If we want to play with the elite football programs in the Big 12 Conference, then we need to price our product accordingly." [

Got some big ol' Cowboy fans tellin' you what you can do with your product.]



OU sold 71,000 season tickets this season. Its most expensive single-game ticket was $85 for the Texas contest in Dallas. OU's other single-game ticket prices were $57 (for the UAB and Middle Tennessee games) and $67 (for the Washington, Iowa State, Colorado and Texas Tech games).

During his press conference on Monday, Cowboy coach Mike Gundy said he was not aware that OSU was offering Bedlam tickets priced at $250, $300 and $600.

[Sound like a big ol' piece o' cow patty to me.]



"There are a lot of things that I have to worry about, and that's not one of them," he said. "That's somebody else's job. What we do is try to put a team on the field so that the six times we play (at Boone Pickens Stadium), people leave here and felt like they enjoyed the game and it's been worth coming to."

[Sound like you better ratchet up that worrying... Maybe you can make up some of the difference outta your salary?]
Andrew Sullivan on Slasher Slashed
What matters is merely the sell, which increasingly means the hype. The actual product comes last in priority. With free markets comes great freedom but also some responsibility: to publish books worth publishing, to air TV shows actually worth airing, to care about content as well as ratings and sales. Those criteria are distinguishable from what the market will reward. That distinction has been lost in many places. It is not a criticism of the market; it is merely a reminder that markets also require integrity among those who work in them. That point deserves recovering.


Add to his list universities and their many overcompensated presidents.
Monday, November 20, 2006
In the Middle...

...is a fine young blog, featuring a group of medievalists, among them UD's colleague, Jeffrey Cohen. Well worth a visit. I'll be adding it to my bloglist soon -- and when I do, I'll tidy up the whole list, deleting inactive blogs, adding a couple of other interesting blogs, etc.
Shut Up and Eat Your Cotton
Cotton, for thousands of years one of the most important crops for clothing and shelter, might also become a source of food.

A chemical called gossypol makes cottonseed inedible for humans, though some of it is used in feed for cattle, which are less affected by the toxin.

Now, researchers at Texas A&M University have genetically modified cotton to produce seeds with little or no gossypol.

It's a step they say could help provide valuable protein to millions of people.



---houston chronicle---
Slasher Slashed
News Corp. says it has canceled publication of the O.J. Simpson book and television special "If I Did It."

In a two-part special scheduled for next week, Simpson discusses the murders of his ex-wife Nicole and Ron Goldman.

Fox quotes News Corp. chairman Rupert Murdoch as saying he decided that the project was "ill-considered."

Several Fox affiliates had chosen not to broadcast the special, in which Simpson talks in hypothetical terms about his role in the killings.



--breitbart.com--
European Universities:
Rhetoric Heating Up

UD's written quite a lot about Europe's medieval universities, mired in the past and in no mood to change. Lately, a few people have been willing to express their anger about this.




Lecture halls at Europe's oldest university, the University of Bologna in Italy, are crumbling. French university libraries are outdated, poorly accessible and increasingly ignored.

Students receive little guidance. European college dropout rates average 40 percent. One survey found that more than a third of adults in the EU cannot perform basic computer tasks such as using a mouse to access an Internet site or working with a word-processing program.

"Many go to university because they think it's prestigious. But most of us know that we may still be working at the sandwich shop" after graduation, Fatima Bouziane, a sociology student at the University of Saint-Denis, said as she headed to a part-time cafe job in a bleak neighborhood north of Paris.

The head of France's main employers union, Laurence Parisot, says French universities are "the shame of our nation."

Their dire state is becoming a campaign issue in next spring's election. Presidential hopeful Dominique Strauss-Kahn, a Socialist, says the university system should be "dynamited."


---cnn---
More on the Latest Survey
of University Presidents'
Pay, from Richard Vedder
Higher education professes to be a higher calling. We subsidize it rather than tax it. The public sacrifices to allow it to exist and flourish beyond what strictly market forces would dictate.

University presidents are perceived by the public that subsidizes schools to be more akin to governors of states or ministers or priests -- performing public services, for which they can expect to be comfortably paid, but not opulently so. I suspect most people believe a good university president of a fairly large institution should have the income of a highly successful doctor or lawyer, perhaps a $250,000 to $300,000 salary, a nice car, and maybe a stately presidential home for use while in office. If the president wants to earn perhaps another $50,000 to $100,000 a year serving on a corporate board, that is okay too.

We want to reward our university presidents reasonably well, but not at the level of corporate executives. When salaries get over, say, $500,000 a year, and, in some cases, over $1 million annually, we have every right to wonder: are the public subsidies we give universities increasingly ending up as "economic rent," payments beyond what is necessary to have the service performed? Are university presidents selfless servants of the public trust, or money-hungry entrepreneurs? Why are we dropping money out of airplanes over college campuses, if the keepers of the purse are increasingly giving the money to themselves?

... The new congressional leadership may ask: why do we keep giving tax subsidies and grants to institutions that seem intent on allocating funds to bigger and bigger rates of compensation increase, even while universities operate in a stealth and inefficient fashion, raising tuition fees double the rate of inflation?
Don DeLillo,
Whose Birthday is Today,
On the Writer's Counternarrative
After September 11, 2001
"The event itself has no purchase on the mercies of analogy or simile. We have to take the shock and horror as it is. But living language is not diminished. The writer wants to understand what this day has done to us. Is it too soon? We seem pressed for time, all of us. Time is scarcer now. There is a sense of compression, plans made hurriedly, time forced and distorted.




But language is inseparable from the world that provokes it. The writer begins in the towers, trying to imagine the moment, desperately. Before politics, before history and religion, there is the primal terror. People falling from the towers hand in hand. This is part of the counternarrative, hands and spirits joining, human beauty in the crush of meshed steel.

In its desertion of every basis for comparison, the event asserts its singularity. There is something empty in the sky. The writer tries to give memory, tenderness and meaning to all that howling space."


---thanks, A.G.---
The Clueless Man...

...whose bizarre and insulting behavior (background here) drove a brilliant woman recruit to MIT to reject MIT's job offer, has resigned his administrative position:



The famed neuroscientist at the center of a hiring controversy at the Massachusetts Institute of Technology is resigning as director of the research institute he created. Susumu Tonegawa, a Nobel laureate, will stay on the faculty but will focus entirely on his research.

Two weeks ago, a university investigation found that Mr. Tonegawa had behaved inappropriately when he tried to discourage a young female scholar from accepting a job offer from MIT. But university administrators said that no one would be disciplined in the matter, asserting that the real problem was the competitive relationship between different research centers at MIT. An MIT spokeswoman said the decision to resign was Mr. Tonegawa's.

According to The Boston Globe, some people at MIT have criticized the investigative report as inaccurate. The report has since been removed from the university's Web site. But Mr. Tonegawa's resignation may now help ease tensions, the Globe said.


--chronicle of higher ed--
Just Because They Can

Why, according to the latest, much-discussed survey, are many university presidents getting compensation more and more obscene?

Because they can.

Because they don't care how much damage it does to their institution's intellectual integrity that it has a leader more interested in personal aggrandizement than the reputation of the campus. If money's being passed around, they'll take as much of it as they possibly can.


Presidents of some of the nation's biggest public universities are closing the salary gap with their rivals at private institutions, with the number of top executives earning more than $500,000 nearly doubling, according to an annual survey of compensation by The Chronicle of Higher Education. The survey also found that seven presidents of private colleges, universities and medical schools currently receive more than $1 million in compensation.
The latest survey of 853 colleges, universities and specialized schools for subjects like medicine found that 112 paid their presidents at least $500,000. And it showed the upward spiral of compensation occurring in public institutions as well as private ones, with 42 presidents of public colleges earning $500,000 or more compared with the 23 reported in last year's survey. The Chronicle is scheduled to make the survey public today.

Audrey K. Doberstein, who stepped down in June as president of Wilmington College in Delaware, ranked first in total compensation, receiving $2.7 million in the 2004-5 academic year. That broke down into about $705,000 in salary, $798,615 in deferred compensation and $1.2 million in benefits. [Way to go Audrey!]

... Other presidents in the million-dollar bracket were Peter G. Traber from Baylor College of Medicine (more than $1.3 million), E. Gordon Gee of Vanderbilt University (nearly $1.2 million) and Karen L. Pletz of Kansas City University of Medicine and Biosciences (more than $1 million).

Three other presidents who stepped down recently also earned more than $1 million: Jeffrey S. Lehman of Cornell University, Roger H. Hull of Union College and Donald E. Ross of Lynn University.

The most highly paid public university president, David P. Roselle of the University of Delaware, neared the $1 million mark: he earned $729,054 in salary and $250,517 in benefits. A university spokesman declined to comment. [What is it about Delaware? And yeah - declining comment ... understandable...]

The climb in the college chiefs' income is driven largely by the greater competition for experienced university executives as the baby boom generation retires and by institutions' increasing willingness to poach, said Raymond D. Cotton, a lawyer who specializes in academic presidents' contracts and compensation.

"The absolute number of people available who can do these jobs well is shrinking," Mr. Cotton said. "When demand increases and supply is shrinking, price goes up."

Roger Bowen, general secretary of the American Association of University Professors, said academic institutions were coming to resemble corporations.

"Presidents now are C.E.O.'s," Mr. Bowen said. "You no longer have treasurers, you have chief financial officers; you no longer have deans, you have chief academic officers. Faculty play the role of labor, students play the role of customer."

Critical of the change, Mr. Bowen said that presidential pay increases had outstripped faculty raises and that the widening gap could signal a shift in emphasis from educational achievement to financial management.

"It's the faculty member sitting on a log with a student talking about the meaning of life, for God's sake," Mr. Bowen said. "It should not be about money."

A good example of how and why top leaders' compensation at public colleges is gaining on that of private colleges can be seen in the case of Mark A. Emmert, president of the University of Washington. His $752,700 in total compensation makes him the third highest paid among public university presidents, according to The Chronicle.

To persuade Mr. Emmert to give up his job as chancellor of Louisiana State University in 2004, the University of Washington offered Mr. Emmert $470,000, which was $175,000 more than it had paid to his predecessor, said Norman G. Arkans, executive director for media relations and communications at the University of Washington.

This year, Mr. Emmert's former employer called. The board of regents for the University of Washington was not about to risk losing Mr. Emmert. So last month, it gave him a 5 percent raise and increased the amount paid to him each year in deferred compensation to $200,000 a year from $120,000.

"It's a form of golden handcuffs," Mr. Arkans said, because Mr. Emmert must be president five years to receive the deferred compensation.

James A. Boyle, president of College Parents of America, a nonprofit association whose membership comprises about 108,000 parents of current and prospective college students, voiced concern about so many presidents getting such high pay.

"I don't begrudge a university president being well paid," Mr. Boyle said, "but I think the problem is, compensation is being used as a lure to attract presidents to jobs as opposed to an incentive for them to perform well once in their position."
Bravo, Rutgers
At a time when New Jersey is awash in Rutgers football fever, William Dowling would appear to be fighting a lonely, Quixotic battle.

But the Rutgers English professor and a small core of ardent critics of the university's quest to be a football powerhouse are regrouping as the team has vaulted from perennial loser to being ranked as the sixth-best team in the nation.

"It's a dramatic rise in football fortunes and a dramatic decline in academic and intellectual values," Dowling says of Scarlet Knights mania.

Dowling is a founder of Rutgers 1000, a group of students and professors who tried for a decade to get Rutgers out of big-time athletics.

While the group may have officially disbanded four years ago, many members, as well as alumni, still want to see the Rutgers sports programs reduced in size and influence, and the football team's ascent onto the national stage hasn't changed their attitude.

"The old network is spontaneously coming back to life," Dowling said. "We're examining the remote possibility of saving Rutgers from the Division 1A sports monster."

The once-vocal organization -- named for its alleged membership -- unsuccessfully lobbied the university to drop down to the Division 1-AA Patriot League. One of its most influential supporters was the late Milton Friedman, a Nobel prize winner in economics and a Rutgers alumnus.

"The football buildup sends a symbolic message," Dowling said. "What this tells the state and students is that the only thing Rutgers cares about is having a semi-professional football franchise and attracting academically substandard students who don't like being in school but do like having a football team to cheer for."

Rutgers officials disagree. They contend the university is not sacrificing academics for the football team. In fact, they argue, pride and national attention generated by the team can help attract more applications, corporate sponsorships and alumni donations.

And while admitting that most universities rarely turn a profit on a football team, officials said increased ticket sales and a trip to a postseason Bowl Championship Series game could help defray the $13 million it costs to run the team, perhaps even help fund other programs.

To earn a trip to a BCS game, Rutgers will likely have to win the Big East Conference title. The Scarlet Knights are in first place heading into tonight's game against Cincinnati.

"Rutgers success on the football field has prompted many people to take a closer look at the university," Rutgers President Richard McCormick said. "We are confident that they will learn what we have known for a long time, that the research achievements of Rutgers faculty are recognized worldwide, and that Rutgers provides excellent educational opportunities for more than 50,000 students each year."

The university has stepped up efforts to publicize its academic achievements, noting in a news release this week that touted the high ranking of several departments: "Rutgers football is hardly the first of the university's programs to earn national and worldwide distinction."

Still, critics dispute the notion by university officials that a postseason bowl appearance will boost Rutgers' reputation and attract quality students. While some top-tier universities have great teams, they argue, a university's prestige is not a product of its athletics.

Rutgers alumnus Mark Mattia, a 1975 graduate, said athletic director Bob Mulcahy has somehow sold the idea that a great football team makes a university great.

"That's nonsense," Mattia said. "Michigan, Berkeley, they are not great because they have great football teams. They are great universities."

Mattia, a Rutgers 1000 member who lives in Tewksbury, said Rutgers is sending the wrong message by increasing football spending at a time when every department has suffered cuts. That includes funds for tutors for the team, which hasn't lost a player for weak academic performance in six years.



Coping with a $66 million shortfall in state aid this year due to budget cuts, Rutgers cut six Olympic sports, eliminated 800 course sections, cut 189 jobs and 374 lecture positions.





So it irks Mattia that football coach Greg Schiano is expected to earn $1 million this year.



"Frankly, I'm not proud that the highest-paid public employee in the state of New Jersey is a football coach," Mattia said.

Howard Sands, a 1964 Rutgers graduate who lives in Delaware, is so angry about his alma mater's push for NCAA Division I glory, he stopped donating money to the university two years ago and asked that his name be removed from alumni lists.

In a letter to McCormick last month, Sands wrote, "I am still hoping that some time in the near future you and your athletic staff will see the light and return the focus of Rutgers to education and research, and that Rutgers will follow the path of academic excellence of universities like NYU and Chicago, which have survived financially without selling out to the demands of the small-minded Rah-Rah crowd."



---the star-ledger---
Sunday, November 19, 2006
Warfare at Washington State...

...between a couple of College Republicans and a couple of Ethnic Studies professors.

The College Republicans seem to be winning.




Professor David Leonard apologized last week for demanding that College Republicans member Daniel Schanze stop filming him during [an on-campus political] demonstration.

When Schanze didn't stop, Leonard demanded to see his student identification card.

"This situation is unfortunate for all involved, and I regret that it happened," Leonard wrote in a letter that appeared on www.cougster.com.

"At the time, my request was based on my understanding of the student code of conduct, the faculty manual, and my job description, and not an attempt to intimidate or stifle discussion," he wrote. "Regardless, my actions have added fuel to the fire. For this, I apologize."

...[T]he political action chairman for the WSU College Republicans said he considered Leonard's actions a "gross display of power" in an attempt to stifle his opinions.

"I had every right to film and document what was going on," he said.

Another College Republicans member, Dan Ryder, said he was called a "white (expletive)" by professor John Streamas.

Streamas admitted to using the phrase but said it wasn't directed at any individual student. [

Was it said in the singular or plural? The quotation suggests singular, as in white shit or white fuck. That would be one person.]



Streamas and Leonard are both professors in the Department of Comparative Ethnic Studies.

Both Schanze and Ryder have said they planned to file formal complaints against the professors through WSU's Center for Human Rights.



Richard King, interim chairman of Comparative Ethnic Studies, has spoken with Streamas and Leonard about the incidents.

King has watched video clips and talked to people who were at the demonstration.

"I don't want my faculty going around calling people names," he said.

In his letter, Leonard wrote that he went to the demonstration after speaking to several upset students. He hoped to engage the protesters in a dialogue, but the protester he talked to seemed more interested in "playing to the camera" than having a discussion, he wrote.

WSU Provost Robert Bates said it's clear that the language professors used during the demonstration was regrettable but it didn't necessarily break any laws.

The university will investigate to determine whether the conduct crossed the line or was simply an argument, he said.

"Everybody has a right to free speech," Ryder said. "But when a professor of a university, a paid state employee, while he's on the clock, comes out and intimidates students and tries to use their power to impose their beliefs on students -- when that happens, that is unacceptable."

Streamas said he didn't want to do an interview but wrote in an e-mail message that the use of the fence was a provocative symbol.

"It is a violently racist symbol, no different from Nazis carrying a swastika through a Jewish neighborhood or the KKK rallying around a Confederate flag in a black neighborhood," he wrote.



Voici les combattants:

Professor Leonard comes to us from Don DeLillo's White Noise.

Professor Streamas says one of his turn-ons is "world peace."
A Slow-Burning Scandal


Compare the public university systems of our two populous, well-off, sunny states on either coast - California and Florida - and your eyes pop out of your head. One, the pride of a nation; the other, a national laughingstock.

The reason is simple: Florida's residents don't give a shit, and the legislature couldn't agree more.

UD has followed each twist of this remarkable story, including the latest one, about which a Florida newspaper columnist writes:




The board of governors of the state's university system last week approved a $1,000-a-year increase for all but the poorest UF students. The idea must still get the OK of the state Legislature if it's to go into effect next fall.

The hike would apply only to the flagship, 50,000-student UF. If it's deemed a success, Florida's other 10 public universities might follow suit.

There's no question the money is needed. Florida's universities are perennial top-10 schools in the national football rankings, but when it comes to academics, this state is unimpressive.

We boast only one university in the top 50, according to the U.S. News & World Report. That's the University of Florida, Proud No. 47.

That same magazine does rank UF as the 13th-best public university in the country. It's getting increasingly competitive to get in.

But without an influx of dough, the Gators will never crack the echelon inhabited by great public universities like the University of Michigan, Cal-Berkeley or the University of North Carolina at Chapel Hill. [Awkward sentence. Dough influx cracking an echelon sounds like a description of Salvador Dali's worst canvas.]

No question, UF's a bargain. Tuition and fees are about as cheap as it gets: $3,206 this year. UF's tuition is the lowest of 75 public universities surveyed by USA Today. It's the lowest of any of the 60 U.S. institutions in the Association of American Universities.

The University of Michigan, to take one example, costs three times as much.

We're getting what we pay for. The student-faculty ratio at UF is 21-1, compared with 15-1 at Michigan and 14-1 at North Carolina.

UF is an especially good bargain for in-state students. Almost 95 percent of them get Bright Futures scholarships, funded by the state lottery. The program covers either 75 percent or 100 percent of tuition and most fees.

So what's the problem, you wonder? If UF needs another $35 million a year to hire more professors and reduce class sizes and thus improve its national ranking, why not just go ahead and do it?

The problem is -- guess what? -- the Legislature. The politicians control tuition. And the pols don't want tuition to go much higher because that would weaken Bright Futures. There isn't enough lottery money to cover the needed increases, and the pols don't want to appear to be reneging on the program's promise to parents.

The university, faced with this impasse, has come up with the very clever idea of adding $500-a-semester fees for an "Academic Enhancement Program."

Tuition, in other words; raising tuition in all but the name.

Geez, is it too much to expect intellectual honesty out of a university?

The losers in this case are the thousands of people who participate in the Florida Prepaid College Plan. They'll find their forethought and financial discipline devalued, because the plan won't apply to the "Academic Enhancement Program."

The plan's pitch is, "Lock in the cost of college today."

But that claim is obviously less true the more the university shifts its pricing to special fees and "enhancement programs."

Florida deserves a top-flight public university, and the University of Florida won't get there without more money.

If it takes a two-tier pricing system -- with UF charging more than the other state schools -- so be it.

Prestige universities do not lack for top students when they raise their prices. Just the opposite, in fact.

The Legislature ought to do the forthright thing, and simply raise the flagship school's tuition.


Some of this may remind you of the New York state university system's problem. There aren't any truly great SUNY campuses because the state has always refused to name a flagship and be more generous with it than with the other campuses.
When Your University Stinks to High Heaven...

...of corruption, you should expect this sort of problem to rise from the dumpster.


A former project coordinator at the University of Medicine and Dentistry of New Jersey has sued the embattled medical school over her termination this year.

The former employee, Carol Caprarola, claims that she was fired in May after warning university officials that they were engaged in illegal conduct involving political contributions. The termination occurred after she testified before a federal grand jury and after a critical memo she wrote was published in The Star-Ledger of Newark.

"U.M.D.N.J. hired political hacks who viewed the public's resources as a political slush fund," Ms. Caprarola's attorney, Charles Sciarra, told The Star-Ledger for Saturday's editions. "Carol wrote an unambiguous memorandum warning against funding political campaigns with U.M.D.N.J. money. She later assisted the federal government's probe. For her efforts, she was terminated."

According to documents obtained by The Star-Ledger through the Open Public Records Act, the university contributed nearly $60,000 to state and local political officials from a "community events fund." The largest checks went to the Democratic Senate Majority, the political action committee that funds Democratic campaigns in the state.

Ms. Caprarola, a former assistant to Acting Gov. Donald DiFrancesco, was hired by the university in 2002 as a government affairs project coordinator, a position that paid $74,641 a year, to act as a liaison with elected officials in Trenton and Washington.

In early May, university officials said they were laying off 14 people to cut back some administration staff.

Ms. Caprarola's lawsuit contends she was fired only after she warned officials that they were engaging in illegal conduct. The suit also claims that she was asked to develop a plan to finance political donations, and that she did so but advised caution.

In the published memo, she wrote that the law "certainly supports the consideration of removing ourselves now from the business of political contributions. The climate is perfect for us to just say 'no.' "
Raro and Beautiful...

...thoughts on academic blogging from Oso, an English professor who (rare bear!) writes with elegance.
Saturday, November 18, 2006

Apologies for Light Posting...

...the last few days. It's been busy -- semester's winding down; I've been attending a number of student plays (including a terrific production of Othello put on by two students of UD's, Michael Finnerty and Annie Gilsdorf, at GW's Lisner Theater); and there's also been one daughter play -- The Crucible, in which UD's Joyce-themed spawn plays mad insane demented Mercy in Walter Johnson High School's production. Here's the little Puritan now, pretending to be all godly.
Regular as Clockwork
BOBBY KNIGHT may be the poster boy for obnoxious conduct among college coaches, but he's hardly alone. Flip the channels on most weekends and there will be a parade of red-faced coaches ranting, raving and storming at referees or somebody else.

And that doesn't take into account the behavior that goes on when the cameras are somewhere else; the regular-as-clockwork recruiting scandals; the law-breaking incidents involving pampered, can-do-no-wrong athlete-thugs; or embarrassing facts like the abysmal graduation rates for players at some high-profile college sports factories.

... More than two dozen college football head coaches collect $1 million or more in guaranteed salaries. It is rare for a coach to have any academic responsibilities whatsoever at the institutions.


It is estimated that the NCAA Division 1-A men's basketball tournament - "March Madness" - carries a market value in excess of $500 million a year.


Even women's sports are getting into the act, with the University of Tennessee breaking the $1 million barrier for a basketball coach.


These days, it is unusual for a blue-chip college athlete to stay in school and graduate before turning professional, suggesting college sports is basically a farm league for the pros.


Billionaire businessman T. Boone Pickens donated a record-setting $165 million to the Oklahoma State University athletic program, vowing to build winners. Then those winners can occupy Boone Pickens Stadium, which already had been named for the billionaire for his past generosity to the program.

THE BIG BUSINESS of college sports has caught the attention of the federal government. Some members of Congress have wondered, with considerable justification, why the multi-billion dollar college sports business enjoys tax-exempt status. Bill Thomas, the chairman of the powerful House Ways and Means Committee, sent a letter to the NCAA asking pointed questions, such as:


"Beyond rules prohibiting compensation for college athletes, what action has the NCAA taken to 'retain a clear line of demarcation (as stated in NCAA rules)' between major college sports and professional sports?"


"What additional educational value is received by participation in Division 1-A athletics beyond that which is received by participation in other division or intramural athletics?"


"At D-1A schools, only 55 percent of football players and 38 percent of basketball players graduate ... Are the NCAA's member institutions accepting athletes who would not otherwise be admitted but for their athletic prowess?"


"The defending D-1A national champion in football graduated 29 percent of its players compared to 74 percent of the university's student body ... How well is the NCAA accomplishing its tax-exempt purpose of maintaining 'the athlete as an integral part of the student body'?"


"How many of your member institutions generate a net profit on the operations of their athletic programs ... how many use the profit for purposes unrelated to the athletic department?"


AND SO ON. Congress has threatened to strip big-time college sports programs of the tax-exempt status, and it is obvious that a good case could be made for that change.

So give poor Bobby Knight a break. He is not the problem. He is merely a symptom, a creation of an environment which bears scant connection to any real academic purpose.





---beloit daily news---
Thursday, November 16, 2006
University of Texas Pays
An Extra Hundred Thousand to Cover
Its Godzillatron's Ass
'The Godzillatron is turning out to be more expensive than expected. The same goes for the cost of relocating live oaks, installing fire-protection sprinklers and other work at Royal-Memorial Stadium.

As a result, the price tag for expanding and remodeling the stadium has risen about 18 percent, to $176.5 million. It had previously been budgeted for $149.9 million.

University of Texas System regents are expected to authorize the additional spending today. The project, scheduled for completion in August 2008, will change the configuration of the north end zone, add an upper deck and expand seating capacity to more than 90,000.

UT System records say the additional $26.6 million is needed to finish athletics academic rooms, build temporary bleachers in the south end zone, add a hydrotherapy area, repair guardrails at the east grandstand, relocate utilities, add restrooms to comply with codes, relocate 16 oaks, cover a cost increase for the base north end zone structure and make various safety and environmental improvements. About $100,000 is for a cover for the back of the new high-definition scoreboard.

The regents are also expected to approve a budget increase for renovating UFCU Disch-Falk Field, from $23.1 million to $25.8 million.

No tax dollars are being used for the stadium projects, UT-Austin President William Powers Jr. said Wednesday. Funding comes from bond proceeds, gifts and interest from money set aside for construction work.'
Self-Promotion

Yes, yes, I don't seem to have gotten the graphics up there about Jenny's and my forthcoming book to look very pretty. I'm working on it.


-------------

Update: That's better.
More on the NCAA Tax Exemption
[T]he NCAA budget for a recent fiscal year was just north of $520M and close to $500M of that money came from TV rights to March Madness.

...So, the NCAA disagrees with the fundamental assertion that athletics is not part of the educational experience; good for them. Do not let them define the debate that way because it is a bogus argument.

...[S]ome big time college coaches in football and basketball are making about $2M a year and Dr. Myles Brand as the NCAA maven makes dangerously close to $1M a year Faculty members who have won Nobel Prizes don't make that much. And where does the money come from to pay those coaches and Dr. Brand more than the Nobel Laureates - who are clearly at the university for academic prowess and not jock abilities. It comes from those TV revenues which become distributed NCAA revenues, folks. Maybe the NCAA thinks everyone within a university environment is equal but like the pigs in Orwell's Animal House maybe some are more equal than others...

...[The NCAA] has become bloated, pompous and feckless.

...[I]f the citizenry is truly concerned about rich people and rich corporations not paying their fair share of the tax burden, then they ought to be concerned that this entity doesn't pay a dime in taxes.


---sports fan magazine---
As Long As We're
On the Subject
Of Academic Heroes...

...there's Tom Palaima.



The University of Texas at Austin NCAA sports programs have been in the national spotlight. In early October, the chairman of the U.S. House Ways and Means Committee sent the president of the NCAA a letter containing 25 detailed questions about funding practices and educational values in big-time college athletics.

UT was singled out for its low six-year graduation rate in football. It is 29 percent or 40 percent, depending on whether the federal government or the NCAA is doing the calculating.

Even figured generously, three out of five football players who play in Royal-Memorial Stadium do not receive a degree from any institution of higher education within six years. But statistics, even casualty figures from Iraq, mean little to most of us, unless they are personalized.

A recent sad case of this use-them-and-lose-them practice is Ramonce Taylor. Right before the Rose Bowl last year, in a Daily Texan story titled "Ramonce Taylor is Texas' Reggie Bush," head coach Mack Brown heaped praise on Taylor: "Ramonce has steadily become our Reggie Bush. He is a guy who every time he touches it, he has a chance to score." Imagine the effect on an impressionable football-focused sophomore to be compared by his coach to an eventual Heisman trophy winner.

Taylor scored a touchdown in the Rose Bowl. It turned out to be his last one as a Longhorn. In early March, before the start of spring practice, coaches announced that he had academic problems he needed to work on. Last year, we witnessed the miraculous transformation of junior basketball star P.J. Tucker. In a widely publicized story, Tucker, with the help of a battery of tutors and advisers, went from academic ineligibility and a self-admitted lifelong disregard for academics to a 3.3 fall-semester GPA. That one semester earned him UT's Academic Services Student-Athlete Award. During spring semester, he left UT for the NBA.

There was no such good-PR happy ending for Taylor. The next time he made the headlines, he had been arrested in May in connection with a large quantity of marijuana. No matter. Coach Brown declared that Texas was clean. Taylor had already been excused from the team for academic reasons and would not be reinstated.

I have taught at universities for 30 years, including another top sports school, the University of Wisconsin. Academic problems do not only become apparent weeks after an athlete-student has scored 15 touchdowns in his sophomore season. In the old days, it was possible to look at what classes athlete-students were taking and what grades they were making. No more. The Family Educational Rights and Privacy Act furnishes college sports programs with a protective shield.

You and I will never know what Taylor's transcript looked like. But the demands of BCS-level competition and his coach's lavish praise of his athleticism did not help him stay on track toward a degree.

Is anyone looking out for the academic well-being of young athlete-students? The NBA and NCAA would like us to think they are. The NBA recently introduced a rule prohibiting talented young players, such as LeBron James, from going professional right out of high school. Now, they have to be mature 19-year-olds, and their graduating classes have to have been out of high school for a year.

However, sportswriters and sports Web sites have unmasked this fraud. The NBA rule is a bonanza for NCAA sports. The Denver Post on Saturday identified the UT Longhorns basketball team as big winners: "Texas hit the jackpot with 6-9 swingman Kevin Durant, who has skills from the paint to the 3-point line. He is so good a Texas newspaper boasted 'the next time they redecorate the Erwin Center, University of Texas officials might want to display prominently a portrait of [NBA Commissioner] David Stern.' "

Two days earlier in the American-Statesman, Durant declared that his being barred from the NBA was "a blessing in disguise." He was enthusiastic about how much he could learn, about basketball, "in four more months" before turning pro. When pressed, he said, "Maybe I'll leave this year; maybe I'll leave next year."

It would be nice if the NCAA were to give coaches in its bent-on-winning programs instruction manuals on how to maintain the pretense that these rent-a-players are focusing on their intellectual and cultural improvement in the 1 1/2 to 3 1/2 semesters they spend on college campuses.

The NBA rule is designed to protect the quality-of-play of NCAA teams and thereby their television-broadcast revenues. It also saves NBA teams millions of dollars in salaries rising stars would receive while they are being developed. College athletes work for scholarship stipend money.

But it violates the economic rights of 18-year-old athletes. Why force them to spend parts of one or two years on college campuses masquerading as students?

My own vain hope is that some enterprising law professor here at UT, let's call him or her the anti-Joe-Jamail, will step forward and file a class-action suit against the NBA and the NCAA — and maybe even against UT athletics as accessories after the fact.

Palaima is Dickson Centennial Professor of Classics at the University of Texas at Austin.
Abusing a Few Hundred Young Men

From the Washington Times:


If Charlie Rangel and his Democratic tax men are seriously looking for someone to squeeze, they might consider the NCAA.

Myles Brand, the president of the National Collegiate Athletic Association, has been invited to appear to answer questions by the House Ways and Means Committee about graduation rates of athletes, but the actual point of the invitation is to see how the college presidents justify not paying taxes on the $545 million the colleges and universities collect from CBS to broadcast the national basketball tournament. Right now, they don't pay a penny. Talk about your March madness.

... In [Brand's] tenure as head of the NCAA, 99 "athlete scholars" (do not laugh) on 65 campuses lost scholarships because the schools did not meet the minimalist standards imposed earlier. What breaks the hearts of the coaches is not that the athletes lost their scholarships, but the football and basketball factories were deprived of the right to award the scholarships to someone else.

But it's the unmilked cash cows roaming the campus that has Congress salivating. Until now, everyone has solemnly played under the fiction that big-time sports is part of getting an education, much in the way the courts abide by the fiction that Organized Baseball is a sport, and not a business, and therefore exempt from antitrust law. If the NCAA can show Congress what a great job the colleges are doing stuffing a little learning into certain bulletheads, Congress might be reluctant to squeeze popular entertainers.

Some congressmen -- and not all Democrats -- are

finally coming to see the nation's football and basketball factories as in the entertainment business

, just like Disneyland, Warner Bros., NASCAR and World Wrestling Entertainment. The

colleges put on a good show and get paid handsomely for it

, so why should the genius work of Urban Meyer at the University of Florida or Pete Carroll at Southern Cal -- to name two of the most successful football coaches -- be treated any differently than the high art of Madonna or Britney Spears?

Fewer than half of male basketball players graduate; the rate for black players is just 42 percent. A little more than 60 percent of white football players earn a diploma, but only 49 percent of the black players do. The coaches and college presidents have come up with ingenious ways to appear to improve the graduation rates of their athletes, if not necessarily to improve their educations. To disguise these dismal figures, many athletes now get tutoring not available to an engineering major or an aspiring chemist, and scholarship athletes can earn degrees in such fuzzy majors as something called "sports management." Scholars at the University of Georgia, for example, could puzzle over such final-exam brain-twisters as "how many halves are there in a game?" and "how many points do you get for a 3-point shot?"

If that doesn't do it, the university presidents have exploited an earlier congressional mandate that women be treated numerically equal in the awarding of scholarships by adding fringe sports attractive to brainier athletes. More than 90 percent of female scholarship rowers, field hockey players and fencers earn diplomas.

A few lady rowers and fencers can carry a lot of linebackers, offensive guards and point guards.

[Which reminds UD of one of her daughter's favorite rhymes when she was younger: "Girls go to college to get more knowledge;/ Boys go to Jupiter to get more stupider."]

The athletes, deprived of a real education, usually cheerfully submit to the shortchanging because they think bigger bucks are coming when they graduate to the professionals. But of course only a tiny, tiny fraction of them make it to Sunday afternoon. "The vast majority, almost all of our 360,000 student athletes in the NCAA are going to become professionals in fields other than sports," Erik Christianson of the NCAA recently tells USA Today. "And so it's vitally important for them to do well in the classroom, stay on track and earn that degree."

Actually making all this come true, by applying pressure in the right places, will require far more courage than we can expect from Congress. Big-time sports is too popular, too celebrated, too addictive to the masses.

Abusing a few hundred young men

is a small price to pay for a good show.
Congressional Hearings
Sen. Charles E. Grassley, the Iowa Republican and chairman of the Senate Finance Committee, along with Max S. Baucus, the Montana Democrat who will become the committee's new chairman in January, announced plans to hold a hearing on December 5 on potential tax abuses by colleges and universities. According to committee staff members, the hearing will not focus on problems with big-time sports programs, but will likely touch on them.


UD is going to try to attend. She doesn't teach that day. Instablogging, if she gets in, would be nice, but she doesn't know whether congressional rules will allow her to...
Wednesday, November 15, 2006
Brown
'Paris [Hilton's] presumption comes off as especially obnoxious in this hard-nosed, meritocratic age. Who is she to flaunt her easy privilege, her mindless entitlement, her careless idleness? One reason her "celebutard" IQ grates on us so much—"Could anyone be this stupid?" Newsweek asked in its review of The Simple Life—is that it comes at a time when we believe brains, or at least Ivy League degrees, are a necessary precondition for legitimate success. The panic over fancy diplomas dominates domestic life for many Americans and seems to spare almost no one, even the sons and daughters of the very rich. Evidently Paris didn't have the gray matter to do what so many of our country's young heiresses do these days: that is, go to Brown.'



---city journal---
Scenes from the Upcoming
NCAA/Congressional Hearings
'Mr. Brand, let us know here today
Why you lie for the NCAA.'
'Hey, don't have a cow.
I make 800 thou.
There is no shit that I wouldn't say.'
NCAA: Nobody Does it Better


From Slam Online:


Chappelle's Show made me chuckle. Borat made titter. But no one knows funny quite like the NCAA. Here's the latest proof…

Among the highlights:

"NCAA president Myles Brand aggressively defended the organization's tax-exempt status in a 25-page letter to Congress, arguing the primary goal of the NCAA is education."

Of course. In other news, Bill Gates argues the primary goal of Microsoft is cuddling with puppies. You know what sort of organizations are supposed to be "tax-exempt"? They're called NON-PROFITS. And here's another one…

"Brand argued that coaches' pay is commensurate with other highly recruited faculty members."

Yeah. Worth noting that Rutgers football coach Greg Schiano, in the midst of his FIRST WINNING SEASON, is the highest-paid public employee in the entire STATE of New Jersey, and I'm guessing that Coach K, Roy Williams, Bill Self, Rick Pitino and the rest of their top-level peers earn a whole lot more than the head of the chemistry department. I have no problem with this — we live in a capitalist democracy, and if the market will bear it, why not? — but it's really rich when the NCAA tries to defend itself as being anything other than an excuse to print cash.

Regular SLAM readers are probably familiar with the fact that we tend to give the sneaker companies a little bit of a break when it comes to their allegedly evil role in basketball, especially at the grassroots and college level. Hopefully sh*t like this will serve as a reminder that we give the sneaker companies the benefit of the doubt because, if nothing else, at least they're honest — they admit they're in it to make money. If only Mr. Brand and his crew would do the same.
Western Kentucky University:
Woebegone Cupcake


Emery Boyle-Scott, a student journalist at Youngstown State, explains why Western Kentucky's decision to go Division 1-A was really stupid:


The Hilltoppers had no idea just how good they had it.

By approving the upgrade of Western Kentucky University's football program to I-A status, the board of regents may believe they have created progress. In reality, they cemented the Hilltoppers' fate as a I-A doormat for the next three years. [Yes, yes, mixed metaphor, keep moving, keep moving...]

After this season, WKU will trade in their membership with the always competitive Gateway Conference for a slot in the Sun Belt, a conference that houses former I-AA squads still riding with their I-A training wheels.

The Hilltoppers will also wave good-bye to the only level in Div. I football that believes in a playoff system. The 2002 I-AA champions will now be at the mercy of the not-so-user-friendly Bowl Championship Series.



The opportunity for good programs to climb to the next level of competition is tempting, but rarely does it reap benefits.

Too often these top ranked I-AA teams end up fading as I-A squads.

Few programs have found success in the upper tier.

However, there are exceptions to every rule.

Marshall University and Boise State University have combined for 11 conference titles and 15 bowl appearances.

The Broncos and Thundering Herd are the only squads - out of the 18 that have made the switch since 1987 - to flourishing in the I-A ranks.

That's good for an 11 percent success rate.




Despite how "awesome" it would be to follow Western Kentucky to the top of the college football hill, it would be in the best interest of Youngstown State University to remain in I-AA.

Just as the Hilltoppers will find themselves stuck in the Sun Belt, the Penguins would more than likely fall into the "Rust Belt," which is officially known as the Mid-American Conference.

The MAC is one book that deserves to be judged by its cover. Marshall, the only bright spot in recent years, has moved on to greener pasture.

Not only is the MAC filled with underachieving mid-major squads, the conference is no direct ticket to a national title, or anything remotely close to it.

The Penguins staying in I-AA allows every year to be another opportunity to compete for the national championship.

Every new season as a MAC member would mean competing for a bowl game bid.

The best obtainable bowl for MAC constituents is the second-rate Motor City Bowl.

The Penguins would have to rule with an iron fist for years before they could crack into the national title scene.

The BCS ranking system, which is too ridiculous to describe, rarely helps mid-majors climb to the top. [

This says it better than I've ever seen it said; and everyone says it. BCS is too ridiculous to bother describing.]






Aside from the anguish that is competing in I-A, there is also the issue of funding the changeover.

Where would all that money come from?

Western Kentucky will take it from the students by increasing their tuition to the tune of $70 a semester.

Most likely, YSU would have to impose the same tactic.

Simply put, upgrading to I-A means downgrading from a respectable program to a woebegone cupcake.

Universities should remember there is no shame in playing under the I-AA banner. This season saw six I-A teams fall to I-AA squads.

And, the I-AA level may not be as competitive in the eyes of the fans, but it has something the I-A rank can only hope for.

An undisputed champion.


Not that I understand one tenth of what Emery's saying here (don't explain it to me!), but it's clear he understands some of the deeper reasons why WKU is being dumb.
Tuesday, November 14, 2006
A Grim Town

Longtime readers know that UD grew up in Garrett Park, Maryland. She went to college and graduate school in Chicago, then lived on Capitol Hill in DC for many years. But eventually she returned to Garrett Park, and has now lived there for ten years. She covers Town Council meetings for the local newspaper, the Garrett Park Bugle.

Last night's monthly Town Council meeting was grim. Only a couple of hours before the meeting, a Garrett Park boy was killed, hit by a car on the town's only thoroughfare, Strathmore Avenue. Here's the Washington Post article about it.


Shortly after nightfall Monday, Luke Carter-Schelp and two friends set out to cross a crowded Montgomery County road. He made it halfway across Strathmore Avenue, then slipped on leaves, falling into oncoming commuter traffic.

Luke, 12, died after being hit by a van driven by the father of one of the friends, said family friend Deb Felix.

"This whole town is mourning, this entire town," Felix said yesterday. "This could have been any kid."

News travels quickly in Garrett Park, a town with roughly 360 homes between Rock Creek Park and Route 355. So within minutes of the incident, word spread among friends and neighbors: Something horrible had happened to Luke.

"Everyone knows everyone in Garrett Park," said Joe Gott, 14, a close friend of Luke's, who stopped by the scene of the accident yesterday after school. "If someone gets hurt, within an hour and a half, everyone will know."

Luke's death has devastated a tight community and left town officials asking whether enough has been done to ensure the safety of children who live near the increasingly busy road. The town's mayor, Carolyn Shawaker, wondered yesterday whether a series of newly installed streetlights that have remained without power for months could have made a difference.

"We've tried to do something about it for years, and people kept saying it's going to take someone getting killed," the mayor said. "And by God, it's happened. I can't tell you the pain we're all feeling here."

The 78 13-foot light poles were among the features of a $4.6 million project funded by the Maryland State Highway Administration to give Garrett Park an old-fashioned Main Street U.S.A. flavor. But nearly two years after they were supposed to be functional, the lights remain off because PEPCO, which wired them, hasn't been paid, a spokesman for the utility company said. The reason is a financial dispute between the town and the state.

Shawaker said the town agreed to pay for maintenance of and electricity for the light poles after the state agency had made sure they were hooked up and ready to operate.

"I can say this has been extraordinarily frustrating for the residents of town and elected officials," she said.

Kellie Boulware, a spokeswoman for the highway administration, said town officials requested that PEPCO wire the poles, which drove up the cost beyond the initial estimate. State officials felt the town should have paid the extra amount, the spokeswoman said.

"I can tell you [state] engineers have been in contact with the mayor and will be looking to meet with her to bring some resolution to this issue," she said.

Friends of the boy's family said they're not sure lighting played a role in the accident -- the street remains illuminated by regular light poles -- and attributed the crash to a series of innocent mistakes.

"This was a confluence of horrible events," Felix said. "Everything went wrong at once."

Felix and three other friends of the family stopped by the driver's house last night. Efstathios K. Mexas, 43, who also lives in Garrett Park, was devastated, Felix said. She said they assured him that no one was holding him responsible.

"It's one of those things where no one did anything wrong," Felix said.

Montgomery County police said Mexas remained at the scene last night and had not been charged. Fatal pedestrian collision investigations can take several weeks. Luke crossed the street outside of the crosswalk.
A Diplomatic, Well-Bred
Brown University Student...

...begs to ask, in the campus newspaper, fundamental questions about that school's ripoff curriculum:


"At present, courses in many departments appear to be based merely on the preferences of the faculty...Brown faculty members like to hug the shorelines of their specialties... [M]ost fundamentally, is maximizing students' choices the only criterion for the curriculum's success?"


This student is beginning to grasp the dimensions of the scam. Throw infinite disconnected numbers and types of courses at students in order to make it look as though you're responding to consumer desire for variety ("maximizing students' choices"). If students fuss, toss yet more courses in. Whatever. What the hell. More choice.

Slowly it dawns on some of the students that they're leaving school with bits and pieces of exotica (often corresponding to professors' specializations) and no real education ("I've been able to become an expert on many subfields, but it has been difficult to find broad classes that cut across the curriculum."). It's a scandal that'll go on and on, though, for the institution is powerful fond of it ...
The Good Ship Scholarship

Stick a bunch of moneyed kids from all over the world on a cruise ship. Do not have a curriculum. Assess their work in terms of how much more culturally sensitive they've become after a $20,000 semester on a luxury cruise.

Get the sort of faculty who enjoy the idea of not having to teach (they'll just be around... facilitating experiential whatever...) while getting paid to cruise to Tahiti. Put it all together, and you get...

The Scholar Ship!


So far, this new venture has produced,
in the Miami Herald, one of
the worst graphics UD's ever seen.
















It's also produced some mighty fancy descriptive prose from one journalist, who calls it a "floating beacon of erudition."

And it might turn out to be all rigorous and serious and all. The organizers insist that "they plan to offer serious educational programs -- not a booze cruise."
WRITE IN UD

The Washington Post education columnist announces a blog-judging contest:


I hope readers will e-mail me at [email protected] and Gardner at [email protected] the links to their favorite education blogs -- no more than five per reader, please, and I would love you to rank them in your order of preference. Gardner and I will look them over and reveal our favorites in a future column. He and I have different views on some key issues and different tastes in writing styles, so entries should not be at any disadvantage no matter what their slant or tone.
New Jersey's University of Medicine and Dentistry:


INCREDIBLY Corrupt.
And getting stronger by the day.




Today's New York Times:




Nearly a year after avoiding prosecution for Medicaid fraud by consenting to have a federal monitor investigate its finances, the University of Medicine and Dentistry of New Jersey is engaging in "illegal activity" that "persists to this day," according to a report from the monitor released on Monday.

The report also accused the university's interim president, Bruce C. Vladeck, who was appointed by Gov. Jon S. Corzine in the spring to restore credibility, of "trying to refute, rebut and bury" information about violations of anti-kickback laws. It was the first time that the federal monitor, Herbert J. Stern, had directly criticized Mr. Vladeck.

The report charged that university officials at "all levels" were "complicit" in concocting an illegal plan to pay 18 cardiologists nearly $6 million, starting in 2002, to refer their patients to the university's hospital, in violation of federal law. Though school officials were warned on Sept. 25 by their own consultant that such practices could be illegal, they did not report it to Mr. Stern, as required under the deferred-prosecution agreement that they signed in December 2005 to avoid criminal charges, according to the report.

The cardiology kickback scheme led to $36 million in illegal Medicare and Medicaid payments that the school may have to repay, along with $43 million in potential fines and penalties, the report said. The doctors who participated in the plan could face lawsuits, the loss of their medical licenses and even federal criminal charges, though one interviewed on Monday denied all the allegations in the report and said he had fulfilled his responsibilities at the university.

For more than a year, the university, which is the state's medical school, has been battered by an onslaught of bad news, both in print and in official investigations, suggesting that it was home to tens of millions of dollars of Medicaid fraud, wasteful spending and no-bid contracts awarded to vendors with ties to elected officials or former university trustees. The United States attorney, Christopher J. Christie, also threatened to prosecute the school.

In his report on Monday, Mr. Stern, a former judge and United States attorney, focused on how the university had been anxious in 2002 and 2003 about the prospect of losing its license to perform heart operations at University Hospital unless its cardiac surgeons conducted such procedures with more regularity.

In the report, Mr. Stern said he was particularly disturbing that Dr. Vladeck, an experienced health administrator, appeared to have misled investigators and downplayed allegations of wrongdoing found in the university consultant's report in September. Rather than being told of the consultant's report, Mr. Stern said, he learned of the cardiology scheme by reading about it in a legal publication about a settlement in a related whistleblower's lawsuit.


... In the report on Monday, Mr. Stern wrote that school officials, "feverishly bent" on increasing the number of procedures, came up with a plan to hire cardiologists for no-show jobs as clinical associate professors, paying them $150,000 a year or more to do nothing but refer their own patients to the hospital. Many of the cardiologists either had never used the hospital before, the report said, or had complained about its facilities and staff.

Some of these allegations first came to light in an article in The New Jersey Law Journal about a settlement in June between the university and Dr. Rohit Arora, the former chief of the school's cardiology division. In all, the cardiologists were reported to have received $5.7 million.



What will it take for the state to shut down this organized criminal activity?
Monday, November 13, 2006
Chattanooga Poopoo


Not only is University of Tennessee Chattanooga Professor Fred Ruhlman about to be shocked to find that he unconsciously plagiarized from a book about the Civil War; he's also about to be shocked to find that he was the innocent victim of a diploma mill.



First, the plagiarism, as reported in a local paper:



A New Hampshire author is alleging a University of Tennessee at Chattanooga adjunct instructor used plagiarized material in his recently published book.

William Marvel, an author of several Civil War books, said Fred Ruhlman's book, "Captain Henry Wirz and Andersonville Prison," contains several instances of unattributed material from his 1994 book, "Andersonville: The Last Depot."

The University of Tennessee Press has suspended all sales of Dr. Ruhlman's book because of the allegations, according to a statement issued by the press.

Dr. Ruhlman could not be reached for comment this afternoon.

According to UTC's Web site, Dr. Ruhlman teaches world civilizations and received his doctoral degree in American history from the American University of London. The site also said he is a former Federal Bureau of Investigation special agent.

Interim UTC Provost Herb Burhenn said university officials are looking into what action, if any, will be taken.


Here's Fred's university page, on which he tells us he graduated from a school whose unusual name should have caused his colleagues to do a little checking. UD did the checking for them.
Another Reason Government Control
of Universities is a Terrible Idea


From the International Herald Tribune:


Vienna University Seeks to Expel Pro-Nazi Board Member

The supervisory board of Vienna's Medical University announced Monday that it wants to expel one of its members for a speech honoring a Nazi air force officer.

The board announced its decision after University Council Member Gerhard Pendl gave a eulogy for Nazi flying-ace Walter Nowotny on Sunday, a day roughly corresponding to his death. Nowotny, who shot down more than 250 planes in World War II, was killed by American pilots on November 8, 1944.

In his speech, Pendl said that it is "our duty to point out the mental scars (inflicted by) the do-gooders, who will also not leave the dead alone ... so that our innocent soldiers and their horrible deaths are not forgotten or even vilified," Austria Press Agency reported.

Pendl also called political opponents Red Army Faction sympathizers. The Red Army Faction was a radical left West German terrorist organization that abducted and killed several political and business figures.

The university said it would ask Education Minister Elisabeth Gehrer to fire Pendl within the next few days.

Pendl was installed as board member by Gehrer in 2003, despite the University's protests at the time that his glorification of National Socialism was widely known.


Who knows why the Education Minister insisted on a Nazi? But isn't the real problem the university's absolute lack of autonomy?


***************************************

Update:

Fine, fine! All you had to do was ask!




'Austria's education minister said Tuesday she planned to dismiss a supervisory board member at Vienna's Medical University for a speech honoring a Nazi air force officer.'
UD Very Seldom Singles Out...

...university heroes. She is doing so today.

His name is Professor Robert L. Dietle,
and he teaches history
at Western Kentucky University.

























A chronicler of modern European thought, Professor Dietle has fought and fought to keep his benighted school from throwing much of its money, and its students' money, into football, rather than into desperately needed academics.

Dietle and most of the rest of the faculty voted against taking one of the most impoverished and academically backward schools in the state to expensive, corrupt, and often disastrous Division I-A status; but pretty much everyone else on campus thought it was a hell of an idea, so it's going to happen.

It's bad enough that WKU has done this surpassingly stupid thing to itself. Far worse is the way its trustees told dissenting voices at the discussion before the vote on the issue to shut up, and then indeed simply shut them up, arbitrarily closing off debate. The same trustees are now attacking Dietle in the press as the devil incarnate.

And of course I guess he would be, devoted as he is to intellect rather than games... UD is always a little shocked -- even though she knows how anti-intellectual this country is -- when violent anti-intellectuality breaks out among university presidents and trustees. She's seen it at the University of Colorado and she's seen it at the University of Nevada, Las Vegas... she's seen it at lots of universities. But she's still amazed. These are our universities.



Few faculty have the heart to sit in the same room as campus fuckwits and watch them destroy the life of the mind. Dietle was willing to do so, even though he must have known it was a lost cause. For this, UD salutes him most admiringly.
Long Article in New York Magazine...

...on America's happiness hustlers, quite a number of them university professors. The author quotes Adam Phillips saying what must be said:



"Happiness is fine as a side effect," says Adam Phillips, the British psychoanalyst and lay philosopher whose latest work, Going Sane, examines functionality and well-being, but from a much more literary and ruminative perspective. "It's something you may or may not acquire, in terms of luck. But I think it's a cruel demand. It may even be a covert form of sadism. Everyone feels themselves prone to feelings and desires and thoughts that disturb them. And we're being persuaded that by acts of choice, we can dispense with these thoughts. It's a version of fundamentalism.

... Phillips declares happiness "the most conformist of moral aims." "For me," he continues, "there's a simple test here. Read a really good book on positive psychology, and read a great European novel. And the difference is evident in one thing—the complexity and subtlety of the moral and emotional life of the characters in the European novel are incomparable. Read a positive-psychology book, and what would a happy person look like? He'd look like a Moonie. He'd be empty of idiosyncrasy and the difficult passions.


Some readers may be reminded, along these lines, of Robert Nozick's famous "experience machine" argument.

If you're after a more serious consideration of happiness, check out this just-released book:

Life, Liberty and the Pursuit of Utility: Happiness in Philosophical and Economic Thought by Charles and Anthony Kenny.

Excerpts here.
Sunday, November 12, 2006
Yet Another
Switch-to-Division-I
Success Story
Four years ago, the University of Northern Colorado upgraded its NCAA sports affiliations to Division I.

It meant prestige and, if things went well, attention.

Now, it has the attention:

A well-publicized player knifing, a bar fight, an illegal practice, another assault.

Not exactly what school officials had in mind.

``We wanted our athletics to mirror our academics,'' university President Kay Norton said. ``Top of the line.''

Instead, the football team has been atop the police blotter.

In September, Northern Colorado made national news when its punter, Rafael Mendoza, was stabbed and police announced days later that they believed his assailant was teammate Mitch Cozad.

It was Tonya Harding-Nancy Kerrigan all over again, with investigators surmising that Cozad, the backup punter, had attacked Mendoza seeking his place on the team.

Then, just in the last 10 days, three more revelations made headlines:

On Oct. 8, Jacob Carlson, a senior defensive tackle and team co-captain, was arrested and cited for disorderly conduct for his part in a bar fight. It was the type of incident that might have happened around any college town in the country on a given night, except for the part when Carlson told police that the fight started when he told a Latino man at the bar, ``I don't like Mexicans.''

Then, last Wednesday, the school announced it had reported to the NCAA that three assistant football coaches had been suspended for their involvement in at least one illegal practice in March.

That was followed on Sunday by reserve fullback Garrett Bliss' arrest on suspicion of third-degree assault after allegedly getting into a fight with a man over text messages sent to Bliss' girlfriend.

All of which has led to quite a buzz around this campus of 13,000 students that had hopes of being recognized academically and athletically alongside the University of Colorado at Boulder and Colorado State in Fort Collins. The three schools are located within 70 miles of each other.

``We've always been sort of the little-known stepchild. But we feel as if our academics don't take a backseat and neither should our sports teams,'' Norton said, adding, ``It's sports that makes people notice.''

This kind of notice is not what Coach Scott Downing anticipated when he left an assistant's post at Nebraska last spring to take over the Northern Colorado program.

Downing says he had no knowledge of the rule-breaking March workout and that he is ``perplexed'' by the recent developments. ``I've only been here eight months,'' he said Monday. ``To have all this happen, it's a little tough to take.''

The coach is quick to point out that he didn't recruit any of the players who have been in trouble. He wouldn't speak specifically about any of the incidents, but said he wouldn't tolerate bad behavior by any member of his team.

``We've spoken to them already about what has happened recently,'' Downing said.

Mendoza, the victim in the stabbing, was never in any trouble with the team.

His teammates, Mendoza said, ``stood with me through this all.''

But even Mendoza, a soft-spoken junior, has not escaped notice in connection with one of the most recent arrests.

Carlson was born and raised in Greeley and his alleged ``I don't like Mexicans'' remark touched a nerve among many in this city of 92,000 located about 50 miles northeast of Denver. According to the 2000 census, Greeley was about 30 percent Latino. And according to residents, there is simmering racial tension.

Being that Mendoza is Mexican-American, his support of teammate Carlson drew attention.

``I know the character of Jake,'' Mendoza said. ``I think Jake is a good person.''

Priscilla Falcon, a professor of Mexican-American studies at the university, said, ``I wish Mr. Mendoza would have at least said he was disappointed in the words of his teammate.''

``This incident is just a symptom of the way the university has stayed insulated from the issues in the city,'' she said.

Horatio Soto, a junior sociology major who works at the Cesar Chavez Cultural Center on campus, described the university as ``a little island in the community, and when you're on the island you forget about what some people think of you.

''When you get in the community, when you go to restaurants or clubs and you're wearing baggy jeans and have dark skin, people look at you and make assumptions about you,`` the Mexican immigrant added. ''Sometimes I'm too shy to speak up and say, `Hey, I go to college and I work two jobs to pay for it.'

``So it makes a lot of us angry when a football player, who is representing my university in public, who wears a jersey representing my school, says such a thing in public. He's not too shy to say, `I hate Mexicans.' ''

There is no indication that the attack on Mendoza was at all racially motivated. Police say it was simply a case of a backup player going overboard to eliminate the person in front of him.

Mendoza didn't see his attacker, so for days he believed he was a victim of random violence. He was home in Denver, recuperating with his family, when his mother spoke to police investigators.

``I was standing with my crutches, eating some dinner when my mom answered the phone,'' Mendoza said. ``She got a funny look on her face and when she hung up she told me it was the police. She told me the police told her they were sure Mitch had something to do with my stabbing.

''My own teammate. I had taken him to dinner a couple of weeks before. I had paid for it myself. I was physically sick to my stomach.``

But he says he holds no bitterness toward Cozad.

''My parents stressed to me from almost the moment I was stabbed that I needed to forgive whoever did it,`` Mendoza said. ''Even when we found out it was my teammate they told me I needed to forgive.``

Prosecutors dropped a second-degree assault charge against Cozad, saying they are still investigating and are looking for an accomplice. But Cozad has left school and reportedly gone home to Wheatland, Wyo.

Cozad's attorney, Joseph Gavaldon, did not return a phone message for this story but told the Associated Press last weekend, ''It's an uncomfortable state for Mr. Cozad. He's in limbo. The waiting has had an effect on him. He's trying to get his life together.``

Mendoza said he's moved on. He missed only one game after the stabbing, although two days after the Bears' last game he was limping and wearing an ice pack around the wound on his leg.

''I just want to get better as a kicker and keep playing football,`` Mendoza said.

Downing said Mendoza is ''a great example of a college student and athlete.`` A success story.

Norton said she is disappointed by the negative publicity sports has brought the school but is unwavering of her support in athletics.

''We have to get better and we will,`` she said. ''I want the headlines to be about something else.``





Note to Kay Norton: Time to do lunch with Donna Shalala.




Meanwhile, here's a letter from a UNC grad to the local newspaper:






Someone needs to take control of University of Northern Colorado

I attended the University of Northern Colorado in the mid 1970s. During my tenure, I worked at the Tribune and the UNC campus police. I also supported some of my education with athletic scholarships. None of the student athletes pulled this kind of behavior. No one would have tolerated it. The education and training I received did not prepare me for athletics, it prepared me for citizenship and life. UNC is an embarrassment to me because of all of the crimes being committed by athletes. It doesn't help that no one has held the president or the school responsible. I live in Washington, and you have become a national laughing stock. The president needs to do something now to restore the values to athletics or stop the programs. Gov. Owens needs to take control of this institution if President Norton, the athletic director or the coaches cannot get it under control. Maybe running a college is different than running a feed lot. Wake up.

Bill Brack lives in Washington, D.C. He is a graduate of the University of Northern Colorado.
Up Close and Personal With
Two Fine Academic Officers


Selena Roberts, New York Times:


"Hotheads on Parade" begins this weekend when teams from college basketball's repository for bullies — the Big 12 Conference, or the Notorious B.I.G. 12 — tip off with the habitually ticked off.

You will see endless footage of Texas Tech Coach Bob Knight in pursuit of Dean Smith's career victory record (879) for men's basketball. Knight was perched at 869 victories, 869 tantrums — and counting — before last night's opener.

You will see lots of Kansas State's new hire, Bob Huggins, as a transplanted bad boy in pursuit of career validation, a journey that will include a drive down the New Jersey Turnpike to play Rutgers on Wednesday. You will see the coaches rant and intimidate. The camera loves a creep. But amid the crass montages from the vaults of Huggins and Knight are abrupt breaks in the film clips. Wardrobe changes.

Knight, forever in a Hoosiers sweater. Huggins, forever a fixture in Cincinnati. Then forever ended for both. The legacies of Knight and Huggins have been perpetuated by university presidents at Texas Tech and Kansas State who knuckled under when seduced by brute-force winning, as did many enablers before them. [

So much for Myles Brand's admiration for campus "decision-making" in the post below.]






Who had the might to push back? A Cincinnati president named Nancy Zimpher and a pacifist freshman named Kent Harvey. Zimpher and Harvey are as important to the history lesson of Huggins and Knight as any victory because they represent two people with the courage to say enough is enough. It can be done. It can be survived.

Zimpher endured a backlash last year from the Bearcats' faithful when she bought out the contract of Huggins, a coach defined as a renegade. She was done with his combative sideline presence, low graduation rates and an arrest on a charge of driving under the influence in 2004.

"She took an unmerciful beating, and I understood why," Big East Commissioner Mike Tranghese said at a news media day two weeks ago. "I'm one of her big fans because she's tough and she stands up to people, and if people don't like it, that's O.K."

Zimpher still has her job and her dignity. [And, remarkably, her life.]




Harvey outlasted the scrutiny, too. In his case, it actually led to a spiritual liberation that has changed his life — for the better.

In September 2000, Harvey, a 19-year-old whistleblower, was introduced to Jesus after greeting Knight.

Near a doorway at Assembly Hall, on the campus of Indiana University, Knight crossed paths with Harvey on a random Thursday. Somewhat startled by the big star on campus, Harvey simply uttered a teenage salutation: "Hey, what's up, Knight?"

By Sunday, Knight was fired for his compilation of tyranny, of chair throwing and name calling, of allegations that he had choked a player and had thrown a vase at a secretary. He had broken a zero-tolerance policy because Harvey reported his reply — an angry grab of his arm, a profane demand to be referred to respectfully as Coach or Mr. Knight — to officials.

By Monday night, Harvey was sitting alone in his father's bedroom in Indianapolis — emotionally spent, forced to flee campus because of death threats — when he turned on the news.

A campus riot was raging in the name of Kent Harvey. An effigy with his name on it was hanged from a tree. A flag with his name on it was burned on the ground. T-shirts printed with "Wanted: Dead or Alive" also bore his face and name.



"I was in tears," Harvey said Friday. "I was beside myself. I couldn't think. For the first time in my life, I got on my knees and said, 'God help me; save me from this mess.' "

He felt peace. In that instant, Harvey was saved from bitterness, from living his life as a victim of Knight's volatility. Imagine that: Knight emerged as the accidental broker of Harvey's faith.

Harvey transferred colleges and completed a business degree. He lives in Indiana. He is happy, eager to start a new job, better from the perspective of his unforgettable brush with Knight.

"I think it was good for me," Harvey said. "I felt what I did was the right thing to do and the right choice, even though it was hard for me at first because of the consequences. With that said, I have nothing bad to say about him.

"Obviously, his track record is amazing; he's a great coach. I'd have to say there are different managing styles and different coaching styles. His way is his choice."

This is not diplomacy as much as reflection. Harvey isn't afraid of honest introspection, even in parsing his greeting to Knight that day at Assembly Hall.

"It's an informal greeting that kids use, but it wasn't very discerning on my part," Harvey said. "And I'd be the first person to say that." [Yeah. Once, at the bookstore, a student greeted me with "Soltan! Wazzup?" and I gouged his eyes out.]




Career bullies are not so self-aware. It is difficult to experience an epiphany when it is considered a threat. Changing may mean losing — and that is intolerable.

Huggins is the same. So is Knight. He had no use for David Smith, the Texas Tech chancellor, after they had a confrontation at a salad bar in 2004. Knight never let it go. Two weeks ago, Knight took a jab at Smith — who exited to oversee the State University of New York Upstate Medical University — when he reportedly said that the incoming president, Kent Hance, "replaces a chancellor that had only one thing on his mind, and that was self-promotion."

Nothing says self-promotion like a reality show. In February, "Knight School," starring Bob Knight, had its premiere on ESPN.

Infamy gets plenty of air time. You'll see tons of Knight and Huggins this season as they stomp, and, very likely, win in the Big 12.




Out of camera range, two people exist as proof that not everyone has enabled their notorious streaks. Amid the montage odes to Knight and Huggins, there are wardrobe changes — and this is the reminder of those who stood up under intimidating circumstances.

Neither Zimpher nor Harvey would be bullied.
Not-for-Profit Watch


Congress is making noise about taking away bigtime college football and basketball's not-for-profit status, a status which rewards fat and corrupt programs with government subsidies.

I'd be surprised if anything happens along these lines anytime soon; but the congressional noise itself may draw people's attention to the ever-viler world of the major university teams.

Meanwhile, in an article pondering the subsidy, a money columnist at CNN notes a looming fiasco in university sports that'll have them taking even more than they already do from academics in order to stay in the game:


... [T]he current college football season will see an extra game, and for the major college programs, an extra 100,000 tickets being sold. [C]ollege basketball is squeezing in extra games as well. [C]onferences like the Big Ten [are] starting [their] own cable network.

But even with those efforts to grab more revenue, the pace of revenue growth has begun to slow.

Dan Fulks, an accounting professor for Translyvania University who is working as a consultant for the NCAA in its response to Ways & Means, said preliminary figures show that ticket sales and other revenue generated directly by Division 1-A football and basketball programs grew only 6 percent between 2003 and 2005, compared with 18.5 percent growth between 2001 and 2003.

Brand acknowledged in a speech at the National Press Club last week that partly due to slowing growth of ticket sales and other revenue, college sports is causing a greater financial drain on school budgets.

"As outside revenue growth for athletics begins to moderate at most institutions, the rate of budget growth has not always followed," he said. "In many instances, the result has been a need for increased support of athletics through institutional funds."

But Brand said the NCAA would face anti-trust problems if it tried to mandate spending limits on programs.

"And even if it were possible, universities and their boards would not be willing to have the NCAA dictate their expenditures; and they would be correct in doing so," he said. "Budgetary decisions properly belong at the campus level." [I'm afraid Mr. Brand is a little out of date. Schools are way past "decisions." They're at Shit we gotta do x y and z or we're dead.]

So with Congress and the NCAA both unlikely and/or unwilling to put any kind of serious curbs on spending, the arms race in college sports is likely to continue.

And the $3.6 billion a year that schools are estimated to be pouring into athletics to cover losses, even at many Division 1-A schools, is only going to grow, even as millions upon millions of dollars more are generated through ticket sales and television deals.
Saturday, November 11, 2006
Snapshots from Home:
Apostles of O'Neill
[ud 's comments in green]

'... They live on quiet 35th Street NW, in a stately section of Georgetown, where [Georgetown University student] Brian O'Neill Jr., 20, and his roommates moved in August and promptly held pool parties so loud the university and police were called.

This is where your classic town-gown dispute gets weird. The $2.4 million house that J. Brian O'Neill Sr. bought for his son

[Roll that one around on your tongue for awhile. Junior's off-campus housing is quite the thing.]

is allowed only six unrelated residents under zoning laws. But if it's a residence for a "religious community," the number jumps to 15.

The solution? The Apostles of O'Neill. That's the name the young men used Oct. 2 when they filed paperwork to incorporate as a nonprofit religious organization.

[Have to admit it's clever. Too clever. I sense Senior's hand in this.]

In an e-mail statement, the group says that it has donated to charities and that its mission is "to be active and positive members of our community."

The neighbors call it blasphemy and

[far more importantly]

a possible precedent-setting threat to property values. It has impressed some of the young men's parents, including one who called it "ingenious" and another who said they were defending American property rights in the face of fuddy-duddy Georgetowners. And it has registered little reaction from the Catholic university, which says it doesn't consider the Apostles its business.

"It's between the owners of the property and the city," university spokesman Erik M. Smulson said.

Even as e-mails have been flying for a month between city officials and residents' groups over what O'Neill's friends on his Facebook.com Web site tease is his "fake religion," the students may in fact have found a legitimate legal loophole that gets at a core question: What is a religion?

There is no definition of "a religious community" in city regulations, said Karyn-Siobhan Robinson, spokeswoman for the Department of Consumer and Regulatory Affairs, which interprets and enforces the city's zoning rules. Agency officials visited the 3,600-square-foot, five-bedroom home in September and issued a warning about crowding after neighbors complained.

But because of the Apostles' filing, she said, the agency is looking at the case anew. Among the things the city can consider is the IRS definition of a religious organization: "one whose principle purpose is the study or advancement of religion."

Meanwhile, many neighbors living in the large, attached rowhouses are livid at the notion of landlords using the idea to pack homes with up to 15 high-paying students. Concerns about safety in off-campus homes increased after a 2004 fire killed a Georgetown student and news reports revealed that many houses were unsafe and had landlords without the required basic business license.

"This shameless proposal makes a mockery of the Zoning Ordinance (not to mention religion) and could have potentially devastating effect on the quality of life in our neighborhood," Georgetown architect Outerbridge Horsey

[oh come now]

wrote in an e-mail to the Citizens Association of Georgetown.

Neighbors said they will take the case to court if the city grants the group religious status.

Robinson said the city is taking the Apostles seriously. "We have this under investigation," she said. "In recent memory, based on what we know, no one can remember anything like this."

J. Brian O'Neill Sr., chairman of O'Neill Properties Group in King of Prussia, Pa., bought the house for his son in August. He has told the Philadelphia Inquirer that his company's real estate holdings are worth $4 billion. The father did not return calls seeking comment, and his son and the other eight Apostles declined to answer questions [

one of their 'vow of silence' days

].

On his Facebook site, the younger O'Neill describes himself as a politically moderate graduate of an Episcopal prep school in suburban Philadelphia who "doesn't really read much."

[Platonic essence of the Georgetown student.]

Photos and other references to drinking and partying are plastered across the site.

Some neighbors and community representatives who have spoken with the men say that the students feel they have been good neighbors and that they are being hassled by older residents who simply don't want to live near young people. Some of their parents agree.

"This is America. If someone decides to buy a house and people who move in are not the people [the neighbors] expected, that doesn't give them the right to harass the kids," said Dennis Ianovale of Chester Springs, Pa., whose son, Christopher, lives in the house.

Asked whether he was bothered by his son being in a group accused of pretending to be a religion, Ianovale's tone became more annoyed. "Who says they aren't a religion?" he asked. "If the law says you can form a religious organization, they have that right."

The Rev. Thomas J. Reese, a senior fellow at Georgetown's Woodstock Theological Center, said, "A lot of these kids are quite spoiled. They're paying $35,000 [in tuition], and they can do whatever they damn well please. But that's a small percentage."

William Skelsey, an advisory neighborhood commissioner in Georgetown who says he has 1,000 students in his district, said O'Neill told him explicitly that the Apostles were formed to deal with the zoning restrictions and keep together a group of friends who have lived together since freshman year.

"He considers himself fairly clever in having figured out how to evade the restrictions that are in place for the rest of us," he said.

Meanwhile, the students are trying to spiff up. On Oct. 16, they amended their name to Apostles of Peace and Unity. A U.S. flag has replaced the skull-and-crossbones banner, and there has been complete quiet since parents' weekend last month, when the students, some of their parents, neighborhood representatives, top city police officials and representatives of Georgetown met. With a poster of porn star Jenna Jameson as a backdrop during the meeting, everyone avoided the subject of the Apostles and stuck to polite talk about such things as proper landscaping and noise, people who attended said.

"It wouldn't have made any difference" to have tried to push the issue of the Apostles during the meeting, said Stefanie L. Bachhuber, a neighbor. "They know they're doing something wrong, but they want this house and they want nine people to be in there."'


---washington post---
MORE FROM UD'S STUDENT
ABOUT JULES HILBERT,
POPULAR CULTURE'S CURRENT
REPRESENTATION OF THE
ENGLISH PROFESSOR
'The English professor (Dustin Hoffman, known in the movie Stranger Than Fiction as Jules Hilbert) is actually very WHITE NOISE-esque. [Note to UD's readers: This is a reference to Don DeLillo's novel, White Noise, virtually all of whose professor characters are popular culture specialists.] We never see him teaching a class, he has a television in his office that is always on, and the only time we ever see him read, he has Sue Grafton in his hands.

When Harold Crick (Will Ferrell) comes to visit him for initial guidance, he asks Crick a series of questions in order to find out "what kind of character" Crick is supposed to be. However, each question points to a specific literary character that, aside from the Greek tragedies, is in books generally only read in pop culture (Golom from the LORD OF THE RINGS series and Miss Marple from Agatha Christie's mysteries are two that I remember).

Near the end of the movie, Crick gets a copy of the manuscript of his "life" so he can find out the end. Because he's afraid to read it, he gives it to Prof. Hilbert to analyze and then report back. Prof. Hilbert's reaction to Crick, after reading it, is that the story is the best one Karen Eiffel (the author) has ever written; Crick must die so she can publish it. He treats Crick as if his life really is a novel, which reminded me of the post-modern American tendency to approach life like a simulacrum of "real" existence, as we've been discussing in class.

The last noteworthy thing that I noticed about the professor reminded me a lot of Murray's "car crash" class [This refers to a character in White Noise who teaches an entire seminar on car crash scenes in movies.] He elatedly described a class he once taught completely about the phrase "Little did he know..." -- its appearances in various genres and periods of literature.'
Three Postcards from Florida

I

UD has often wondered whether the students in Florida's shameful public university system know how ill-served they are. Here's a strong-minded and extremely well-written answer to that question, from the University of Florida student newspaper:




Don't trust [President] Machen
with more student money

Oh, Bernie. He's tried so hard to bring sense to Florida's State University System. UF should be the flagship, he said, a great university that gets national attention. A semiprivate school where students shoulder more tuition because their degree is worth the investment.

That went over great with the state Legislature, huh?

In a system declared a "banana republic" by The Chronicle of Higher Education, UF President Bernie Machen should have known better than to propose a logical solution. When it comes to higher education, most legislators are only interested in putting pet projects at their alma maters and making sure those liberal professors don't corrupt young minds.

Thanks to them, UF has failed to get control of its own tuition in two consecutive legislative sessions. Lawmakers are loath to hand over the power to charge students because high tuition threatens two immensely popular programs - the Florida Bright Futures Scholarship and Florida Prepaid Tuition.

So this session, Bernie's got a new plan.

He wants to charge your little brother or sister an extra $500 a semester - that's $1,000 a year, or a roughly 30 percent increase in cost - to go to UF. It won't be "tuition." It won't be a "fee." It'll just be a charge. That way, Bright Futures and Prepaid don't have to cover it, and legislators can breathe easy about passing it.

Clever, isn't it? Or deceitful, depending on your point of view.

Here at the Alligator, we think the Legislature sucks. We understand why Bernie is flouting the system to get his plan passed. And we want to support him. We really do. Our advisers are nonexistent, our classes are too big, and we'd be willing to shell out a bit more to improve things.

But sadly, the administration has lost our trust.

Our favorite college - Liberal Arts and Sciences - is ripping itself apart over its deficit. Professors are looking for new jobs, and faculty positions in the humanities won't be filled - even as science departments grow. Worst of all, the administration is to blame.

In a Tuesday interview, Machen said he knew about CLAS' overspending before he even became president. But he didn't take action then, and - surprise, surprise - the problem didn't just vanish. Now Machen refuses to get involved. He claims CLAS is an issue separate from his plan to raise tuition. But it's not, and he's losing it if he thinks he can pull that one over on us.

UF's basic problem is one of resources - faculty, more than anything. CLAS' five-year plan calls for cuts to faculty as the primary method of saving money. Tell us, how will this reduce our teacher-student ratio? How will this raise UF's prestige among its peers? We're facing a damn diaspora.

Machen has his head in the sand if he thinks the CLAS issue will go away. He's at fault for not getting to the bottom of it. For not having a dean who could recognize a disaster when he sees one. For not hiring a provost in less than two years, for God's sake.

We wish we could tell you that Machen's plan for the university will be a good one in the end. That he's the right person to bring sanity to Florida's higher education, to save us from being the laughingstock of the nation.

But we can't. We can't get over his basic managerial incompetence. Until he does something about CLAS - gets involved, saves it from doom - we can't support his Orwellian "academic enhancement" plan. You shouldn't either.



II


'Time for a vote of no confidence from the Board of Trustees. FIU's President for Life [Mitch] Maidique's incompetence makes the International Herald Tribune.

Another open letter to Mitch, this time about the ridiculous football team and its scholar/athletes [see Postcard #3, below]. Mitch has a base salary of $462, 608. He received a bonus of $80,000 this fall for his splendid work. He gets a $9000 car stipend, a $5000 medical checkup stipend, a $10,000 legal stipend, and so on. His one-year sabbatical clause lets him take off work while receiving the same salary--faculty can't do that. He lives in a free Presidential McMansion on campus. His first-class junkets to Paris, his limos to Vero Beach, are well-documented. He purchased 2000 shares of Carnival stock, an insider transaction, last month for $97, 260. On the same day he acquired 36, 024 shares of National Semiconductor. He had a good month evidently. In 2003, before the latest acquisitions, he owned over $5 million in securities. He won't starve. Cut him loose.'



III


'Dear Mitch, I wanted you to know why I won't be in the stadium Nov. 11 when Florida International University plays its next home football game.
It's not that I'm busy. Nor do I fear for my safety — the stadium will be well-policed, and players seldom enter the stands.
But though I've been active in FIU support groups and still am, I've long believed that a fine urban university is stepping out of its league by trying to be a football powerhouse, a concern heightened by mayhem with the University of Miami.
Miami long has been criticized for the thuggery of players who are students in name only. President Donna Shalala may be powerless to put her program into perspective although Dean Colson, chairman of the UM trustees, wrote last week, "I am convinced that the benefits of a strong Division 1 athletic program outweigh the negatives, but I am probably not as sure of that conviction today as I was just a little over a week ago."
But Mitch, unlike the University of Miami, FIU is a newcomer to football and can still shift course.
In 2003, when FIU decided to dump a successful soccer program to help fund big-time football, I quoted your then-athletic director, Rick Mello: "We, as a university, have decided to use athletics as a vehicle to enhance campus life, draw alumni back, guarantee outside revenue and increase media exposure, and football gives us the best opportunity to do those things."
Football did in fact get FIU increased media exposure, Mitch, though not what you wanted.
I'm not big on combat movies, so I haven't watched the numerous television replays of the fighting between the teams two weeks ago. But I seem to be in the minority. They made national headlines. Take this start of a San Diego sports column:
"Florida International University? Never heard of it. The University of Miami? Definitely heard of its TV show — "CSI: UMiami.'"
Do a Google search for "Florida International University football fighting," and you'll find 35,200 references — almost exactly one per student. Our report on repairing images after the mayhem was the top-read story last week at miamitodaynews.com, where users aren't looking for sports scores.
So football has put FIU on the radar — for violence.
It's a hot topic locally, too. I had lunch Friday with three of the four county officers who run the Police Athletic League. Embarrassingly, they had a group of youngsters at the FIU-UM game. They used the fighting to teach the kids, who come from underprivileged homes, about inappropriate behavior.'



---from miami today ---
The Importance of
Reading in Context
'There cannot be many Americans who are unaware that Jim Webb's novels include steamy sex scenes. During what was one of the most bitter Senate races in recent history, the campaign team of George Allen, the Republican senator running for re-election, attempted to tarnish Mr Webb's reputation by flooding the internet with salacious passages from his books. ... [Mr Allen], ... whose presidential ambitions are in tatters, now has enough time on his hands to read Mr Webb's novels in context.'



---msnbc---
UD Is Aware...

...that the new film, Stranger than Fiction, features an English professor -- described by many reviewers as "eccentric," natch -- but hasn't pulled herself together to go to the thing yet.

Already, however, more than one student in her Contemporary American Literature course this semester has emailed her, urging her to see it, because she'll be reminded of the class (and of her eccentric self?).

UD enjoys watching the pathetic English professor character as it appears in popular film. She'll blog about this latest representative of the breed as soon as she sees the thing.
Friday, November 10, 2006
Cool.

The President's helicopter just flew right by my office window.

Or was it Nancy Pelosi's?
Ole Miss

Sad ongoing story at the University of Mississippi, where a drunk and drugged student killed a campus police officer. The officer was trying to get the guy to stop driving, so he could arrest him. The guy kept driving, dragging the officer to his death.

When lurid, high-profile things of this sort happen, university leaders decide they'd better do something. Ole Miss has arrested a bunch of underage drinkers, and it has announced a new, nastier alcohol policy.


The university and Oxford have come under fire in recent weeks for alcohol use by students, particularly during football weekends. The issue came to a head Oct. 21 when University officer Robert Langley died after an encounter with a student during a traffic stop.

In response, Chancellor Robert Khayat instituted a two–strike suspension policy for students who break the law in alcohol- and behavior-related incidents on or off campus. A first offense will result in probation for the student; if a second offense occurs while on probation, the student will be suspended.
Thursday, November 09, 2006
Scathing Online Schoolmarm

[A Regular

University Diaries

Feature]




Two Formulaic Writers:
Which is Better?


I









[thanks to whitehouse.org]






Here we have a passage from a Wild West romance novel.

When judging prose that means to be formulaic, prose that wants to follow the conventions of an established and popular genre, we need to ask about its adequacy to our generic expectations.

The writing, judged in this way, has certain strengths. The antediluvial cliche, "wave of revulsion," is excellent, as is the Snidely Whiplash dialogue: "feisty, ain't she... that kind's the most fun..." We get our money's worth here.



But there are problems, in particular with the scab.

The convention, in scenes like this one, is that the woman is repelled not really by the grossness of the man, but by his overpowering masculinity, with which, as a mincing little belle, she's unfamiliar (see Rhett, Scarlet). Thus she initially, defensively, proudly, hypocritically, reads this authentic rough maleness as grossness and pushes it away; but the man's insistence that she take sex on his terms changes her from Miss Prissy to Natural Woman.

The scab, however, really is gross, so none of this works.

It can only work if this novel means truly to depart from romance conventions and be, as Lynne Cheney's novel, Sisters, seems to want to be, a lesbian Wild West romance. Then it makes sense to make men scab-ridden dogs who deserve to be dumped for women.

Yet in making its case for homoeroticism, the novel shifts genres, from bodice-ripper to Louisa May Alcott. Here, it evokes the utopia that awaits:



"Let us go away together, away from the anger and the imperatives of men. We shall find ourselves a secluded bower where they dare not venture. There will be only the two of us, and we shall linger through long afternoons of sweet retirement. In the evenings I shall read to you while you do your cross-stitch in the firelight. And then we shall go to bed, our bed, my dearest girl. . . ."


This formulaic novel fails not only because it wavers between formulae, but because it fails to make lesbianism competitive even with scabby heterosexuality. Cross-stitching in retirement is an unattractive option for someone who has bought a book that presents itself -- as Cheney's does -- as a hard-breathing romance novel.


II


"[He] could see Jawbone and Ashley Asthmatic [two guards at a Vietnamese prison camp] napping together in the grass. They faced inward, their arms entwined. It looked like they were masturbating each other. It didn't surprise him. … It was common to see men holding hands, embracing, playing with each other. Some of them [the guards] had wanted him. He could tell in those evanescent moments between his bao cao bow, the obligatory deference when a guard entered his cell, and the first word or blow that followed it… Quick, grinding voices, turgid with repressed passion. An exploratory reaching of the hand near his groin…"


This second formulaic novel lies squarely in the rigors-of-war genre. Its rough, tell-all disposition is directly opposed to the oblique and sweet romance. We expect -- I think the cliche is "searing honesty" -- as such novels place young men in bloody and bizarre settings and follow them as they survive, changed forever.

In the scene above, we have, instead of female eroticism, male, in the context of a Vietnamese prison. In order to fulfill our expectations, this scene must ring true; it must feature exoticism; and it must convey a lack of fear on the part of our hero. And this it all does, quite nicely.

My only complaint is the use of the word "turgid." Turgid, an absurd-sounding word, is used to name the insane superstud in Dr. Strangelove (General Buck Turgidson). Along with satire, pornography is turgid's natural habitat, and it is best to leave it there.


"[Fogarty] has been thinking of the firm, springy skin and the sweet smells of a young Filipina woman named Maria in whose bed he had spent three nights almost twenty years ago. . . . She was a deliciously bad young woman. . . . On the second night, he had brought her a box of Godiva chocolates . . . . he had awakened to find her in the bathroom, sitting on the toilet with her knees underneath her chin, eating chocolates and counting her rosary beads as she prayed."


This is actually quite good, although "deliciously bad" sounds suspiciously like G.B. Shaw's "deliciously low" in Pygmalion. Again, it's got what we went to the book for: exoticism, reality... And even a little bit more, for that final image of the girl on the toilet eating chocolates is spectacular. I've never imagined a scene like that before, so it's got a provocative freshness about it... the sort of thing we go to far more ambitious novels for. I'd rewrite the last sentence, though, by taking out "as she prayed." We know that's what the beads are for, and the sentence is punchier without those final words -- ending on "rosary beads" is stronger.

These, of course, are among the scenes from James Webb's novels that George Allen revealed to Virginians, in order to prompt their moral disgust and get them to vote for him. Now that that shabby trick has failed, UD considers the passages as writing, pure and simple, and finds them really not bad. Not good... But as formulaic fiction goes, better than respectable.


In the contest, then, between the Vice-President's wife and Senator Webb, it's Webb by a longshot.

Labels: SOS
Careful What You Wish For

The victory of Gallaudet University's students in forcing an incoming president they didn't like to leave has brought serious scrutiny to the school.


Faculty vice chair Lois Bragg said the administration has been spinning bad news for years, "trying to hide from the public evidence of low academic standards and absolutely risible admissions policies. . . . The administration has lost all credibility in the campus community."


Graduation rates are terrible:


[Gallaudet's own] 42 percent [figure] is an estimate meant to include any student who graduates, regardless of how long it takes. Graduation rates are more commonly based on the number of students who graduate within six years. By that measure, Gallaudet says it averages a 28 percent rate.


With medical advances, fewer and fewer students want or need to go to a school for the deaf:


Gallaudet has been recruiting more aggressively to keep enrollment up, Kimmel said. Beyond medical advances, federal laws now enable more deaf students to attend mainstream schools. Those laws have been "a double-edged sword," she said.

Several faculty members said they suspect that the shrinking pool of potential students has resulted in the school admitting some applicants who previously would not have met standards.
Wednesday, November 08, 2006
Webb : 1,170,564 50%

Allen : 1,162,717 49%



"Can there be any doubt," said Mr. UD to UD this morning, "that your silly comment about Churchill made all the difference?"
Tuesday, November 07, 2006
Miami Football
'MIAMI FOOTBALL PLAYER
SHOT, KILLED

University of Miami defensive end Bryan Pata was shot and killed Tuesday night, shortly after leaving the practice field, school officials said.

The circumstances around Pata's death were not immediately clear, and Miami-Dade police refused to release specific information about what happened. A formal announcement was expected from the university later Tuesday.

"Right now, we're just gathering ourselves and just trying to pull ourselves together," Miami athletic director Paul Dee said.

Pata, a graduate of Miami Central, was in his fourth year with the Hurricanes. He appeared in 41 games, making 23 starts, and was expected to be selected in next spring's NFL draft.

It was at least the fourth time that tragedy involving a player has struck the Hurricanes in recent years.

In April 1996, reserve linebacker and Miami native Marlin Barnes was murdered in a campus apartment. In 2003, former Miami safety Al Blades was killed in a car accident, about a year after former Miami linebacker Chris Campbell _ who just had completed his eligibility with the Hurricanes _ also died in a crash.

Pata's death was the second incident involving guns this season for the Hurricanes.

In July, reserve safety Willie Cooper was shot in the buttocks when confronted in his yard before an early morning workout. Cooper was not seriously injured. Brandon Meriweather, one of Cooper's teammates and roommates, returned fire at Cooper's assailant, taking three shots that apparently missed, police said.

Several Miami players, including Pata, said that incident was a robbery attempt and cautioned other teammates to always be aware of their surroundings.

"We're targets because we play for the University of Miami. ... These guys, they know who we are," Miami linebacker Jon Beason said shortly after the Cooper shooting.

That incident prompted Miami coach Larry Coker to say he did not want his players to have guns, even if they possessed them legally.'




---washington post---
All Manner of Venality
College sports are so scandal rife, herculean muscle must be applied just to compile a list of recent NCAA scandals. Merely listing all categories of college sports scandals is exhausting. NCAA athletes and coaches, even professors who cater to college athletes, have industriously devised all manner of venality to further the cause of victory for home teams. There are all sorts of scandals: hazing, sex scandals, grades, recruitment, point shaving, and game fixing. Throw in gambling and rape, and you haven't even begun to list them all.

No wonder, then, that Congress should start thinking about pulling this multibillion-dollar business's inappropriate tax-exempt status. Outgoing House Ways and Means Committee Chair Bill Thomas, a California Republican, did something last month he should have done much earlier. He queried the NCAA in letter form about how executives justify nonprofit status while raking in billions of dollars in TV revenue for game broadcasts, paying coaches exorbitant salaries, negotiating massive corporate sponsorships, and maintaining straight-facedly that they are "further[ing] the educational purpose of Division I-A schools."

"Educational purpose" is the bootstrap NCAA football and basketball teams use to share in their colleges' and universities' nonprofit status. But it's one that has vastly outlived its original purpose and is hollering to be yanked. Thomas mustered the courage to take on the NCAA only under cover of leaving office. Nonetheless, his legacy, no matter which party ends up controlling Congress after Tuesday's elections, will be requiring an answer to the question he posed before leaving public life: Why in this day and age do American taxpayers continue to subsidize a mammoth, profit-rich industry? Let's hope Thomas's successor agrees that there's no valid reason any longer.


---bonnie erbe, us news and world report---
Blogoscopy
"The blogosphere really has the potential, when it works, to completely decentralize the conversation," says John Odum, a former Democratic political operative who pens Green Mountain Daily. "Who has the clout and who has the power and all of those types of perceptions are usually channeled through the traditional media and then to the public. Blogs break that out. They allow an avenue into that flow of perception and information."
---times argus, vermont---
Too Eager to Post This
To Come Up With a Title
'When Charlotte Catholic's boys' soccer team got to Forestview High School in Gastonia on Saturday night for an N.C. 3A playoff game, the Cougars heard something over the public address system they never would've expected:

A 90-second portion of a speech from Adolf Hitler.

"We were warming up," said Catholic coach Gary Hoilett, "and all of us stopped and looked up at the booth. We were just real shocked. It was obviously a Hitler speech. The voice was coming across clearly. Everybody knew."

Forestview's players took the field after the speech ended.

But before the game, Hoilett said, some Forestview players were chanting something in German that means "On to victory," according to one of his players who speaks German. Hoilett, who is black, said that during the game some Forestview players directed racial epithets at his two black players.

"It was one of the worst things I've seen," Hoilett said of the speech and the racial epithets.

Monday, Forestview Principal Robert Carpenter met with Gaston County Schools Superintendent Reeves McGlohon, Gaston County athletics director Butch Adams and Forestview soccer coach David Shearer. After that 40-minute meeting, Carpenter faxed a letter of apology to Charlotte Catholic officials.

In the letter, Carpenter confirmed that a CD containing a Hitler speech was played over the PA system. He called it inappropriate. He said he was at the game but did not hear the clip. Carpenter said that it was the first time it had been played and that Shearer was not aware of it.

"Sometime back, coach Shearer and the team started using `On to victory' as a slogan," Carpenter wrote. "We have a German exchange student on our team. He taught our students to say it in German. Some of our more zealous students sought to capture this slogan in German and to play it on the PA. They copied it from a speech by Hitler but could not just copy the `On to victory' and got too much of the speech."

Carpenter's letter did not address the alleged racial epithets, and he did not return calls left by the Observer. Efforts to reach Shearer were not successful. Forestview athletics director Alan Stewart also attended the game but said he didn't hear the speech or any racial remarks.

"It's totally shocking to me," Stewart said.

He said the school had started an investigation but did not expect to take any disciplinary action.

N.C. High School Athletic Association spokesperson Rick Strunk said his office was investigating the incident.

"It's one thing if someone uses the N-word on the field," he said. "It's terrible, but it's a private matter. To use the PA (to play a Hitler speech) is another thing entirely. It's really hard to fathom in this day and time."

Strunk said such action falls under the NCHSAA's rules of conduct inconsistent with a wholesome athletic program. There's not a specific fine for such behavior, but Strunk said a school could be placed on probation, fined or have home games taken away by the NCHSAA board.

Forestview beat Charlotte Catholic 1-0 Saturday and will play Skyland Roberson in the third round Wednesday at Forestview.

Catholic's Hoilett doesn't think enough has been done since Saturday's incidents.

"The letter was lame," Hoilett said. "I get the feeling like, `OK, we messed up and we'll talk about it,' and that's it. You don't toss something like that to the corner. I can't tell them what kind of punitive measures to take, but it doesn't look like there'll be any. But hopefully we can all learn from this and some good can come from it."

Paige Laurie, whose son Blake Laurie plays midfield for Charlotte Catholic, heard the pregame speech from the parking lot, where some of the team parents were tailgating.

"We basically heard Hitler over the intercom and couldn't believe it," she said. "You know when you hear something and aren't sure what you heard? It's like, `Is that what I really heard?' Our boys (on the team) knew something was extremely wrong."

Like Catholic's coach, Laurie doesn't think the letter of apology was enough.

"Absolutely not. Personally, what I'd like to see is them forfeit their game on Wednesday to TC Roberson because they weren't following the (NCHSAA) code of conduct. And at the beginning of each game, you have to read the high school code of conduct. That was not read over the PA system. If it were me and I was principal, that would be the end of the soccer season."





Text of Forestview Principal Robert Carpenter's apology:

On behalf of the Forestview soccer team, Coach Shearer, Forestview High

School, and myself I want to apologize for the playing of the cd during

Saturday night's soccer game. It was inappropriate and should not have

been played.

Sometime back Coach Shearer and the team started using "On to victory"

as a slogan. We have a German exchange student on our team. He taught

our students to say it in German. Some of our more zealous students

sought to capture this slogan in German and to play it on the PA. They

copied it from a speech by Hitler but could not just copy the "on to

victory" and got too much of the speech. Student intent was to only

play the "on to victory" clip. Unfortunately at one time a good bit of

the speech was played on the PA during the pre-game.

Coach Shearer was not aware that they had made this clip and that they

intended to play it. I was at the ballgame Saturday night but did not

hear it. I also was not aware of the clip. This is the first time the

clip was ever used. It certainly is an error in judgement on the part

of some of our students. They indicated to me that they had no malice

and no intent to hurt others. They were using the slogan to motivate

themselves.

We have conducted a full investigation and will continue to do so. We

are not taking this lightly and already have in place some precautions

for our next game.

I apologize for the cd playing. It should never have been played. I

will meet with the team to make sure they understand the seriousness of

this action. I will further work with our team and fans to emphasize

proper game behavior.

I appreciate your bringing this to my attention.

Robert C. Carpenter

Principal

Forestview High School'
UD in This Morning's
Palm Beach Post
...'Empty seats have outnumbered spectators at every home game this season at [Florida Atlantic University's] 20,000-seat Lockhart Stadium in Fort Lauderdale.

...One

national critic

of athletic spending calls FAU's proposed [new] 40,000-seat stadium a looming "train wreck." The school's president and athletic leaders say an on-campus dome would mesh perfectly with plans to enhance the school's image, academics and atmosphere.

FAU trustees are scheduled to meet today to discuss stadium options, including a plan to pay for a $146.9 million dome partly with revenue from new student housing and retail shops in an "Innovation Village." An outside developer would build it and keep a guaranteed share of the profits.

The total price tag for the stadium would be $181.6 million including "soft costs" for items such as design, permits and insurance.

The question is whether FAU can justify a 40,000-seat stadium when it cannot fill half of Lockhart. FAU's football attendance this season is 8,129, a decline of 29 percent from last year, when the Owls ranked 113th out of 119 NCAA Division I-A schools.

"I don't think when you build a stadium, you should say, 'Can I fill it up now or next year?''" FAU Athletic Director Craig Angelos said. "I think you want to build for success."

Success has been elusive on the field after a murderer's row of four away games to start the season.

FAU (3-6) was outscored 193-20 in losses at Clemson, Kansas State, Oklahoma State and South Carolina, but took home $1.8 million in guaranteed money to help balance the athletic budget.

Dramatic increase in ticket sales needed

Developers are counting on dramatically greater success at the turnstiles for the stadium plan to make financial sense.

To pay for stadium debt - forecast at $11 million annually when the hard costs of the stadium were estimated at $124 million - FAU would draw on a projected 800 percent increase in ticket revenues, premium seating and corporate sponsorships to reach an average annual level of $9.8 million.

The figures come from a June presentation by the company that would oversee the project, KUD International, a subsidiary of Japanese-based Kajima Corp. In addition, FAU would pay $1.5 million per year directly toward stadium debt.

The $9.8 million projection is nine times greater than the $1.06 million FAU's athletic department took in from ticket sales, corporate sales, and corporate partners for the year that ended June 30.

FAU students already pay the highest athletic fees in the state to help cover the costs of the school's move to the NCAA's highest level, Division I-A.



Margaret Soltan, an English professor at George Washington University and vocal critic of the money poured into athletic programs at U.S. universities, believes FAU is making a mistake.

"If a commuter school wants to establish an identity and a sense of tradition, there are less expensive, academic ways to do it," Soltan said.

Given what she calls "the rah-rah cluelessness of FAU's administration," she said, "there's probably no way to avoid the train wreck. The students will suffer the most."

FAU faces competition for fans and corporate sponsors from the University of Miami, Florida International University and four professional franchises - most of whom suffer chronic attendance problems of their own.

"It's a risk because you hope people will respond and turn out and support the program, but there's no guarantee that's going to happen," said Peter Roby, director of the Center for the Study of Sport in Society at Northeastern University in Boston. "There's so much to overcome with regard to other teams in Florida."

Will stadium unite students or drain resources?

Another kind of competition helps make the case for a stadium, FAU President Frank Brogan believes: the competition for students.

Brogan pictures a more vibrant campus life and additional reasons for prospective students to attend. Enrollment at FAU campuses unexpectedly declined by 345 students this year to 25,759.

"We want to become more by way of a traditional and first-choice university," Brogan said. "Academics will always come first, but we want to provide those amenities that students are looking for - not looking for, they demand."

For FAU political science major Stephen Skeels, the football team is worth the investment.

"You know, it's great seeing my school on SportsCenter, even if the FAU player is the one chasing the other guy running for a touchdown," said Skeels, a junior. "FAU is spread over seven campuses and we need a place to rally school spirit."

FAU music major Zachary Brown disagrees. He objects to student fees of $13.75 per credit hour, or $330 a year for a full-time student, tops among the state's 11 public universities.

"I think it's unfair," said Brown, a junior. "A lot of clubs on campus had their budgets cut this year. I think it would be better to have a championship I-AA team than a bad I-A team."

Student-government leaders have come under criticism of their own for the way they approve and manage fees. But the bottom line remains: Student fees account for 69 percent of the school's $11.4 million athletic budget, or 16 times the revenue that ticket sales produced last year.

To coach Schnellenberger, lagging attendance at Lockhart is all the more reason FAU should build a dome on campus. That's where the students are. In the home opener, for example, rainy weather helped limit the crowd to 6,431.

"I had hoped we would have a lot more," Schnellenberger said. "Maybe having a smaller crowd in inclement weather is worthwhile to think about when they decide whether to build an open-air stadium or a dome."

Stadium backers say sports help academics

If you're going to focus on the costs of a big-time football program, look at the benefits, too, FAU officials say.

One is TV exposure. Each appearance on ESPN2, such as FAU's second home game this season, "is like a three-hour infomercial for Florida Atlantic University broadcast to 88 million homes," Angelos said.

Certainly, winning can help attendance, even at commuter schools where fan support typically lags in the nation's bottom 10. California's San Jose State, for example, started 3-1 this season and averaged 19,000 fans, a boost of about 50 percent, according to school officials.

Florida Atlantic has won before. The 2003 team finished with an 11-3 record and a No. 4 national ranking in Division I-AA.

"I hope you all can see the potential of what we've got going here," Schnellenberger said.

But will all this effort for athletics help academics? Brogan thinks so.

"I can tell you the University of Florida probably upgraded its applicant pool because they were national champions in Division I basketball," Brogan said. "It is common knowledge that when a school wins a national championship, not only the quantity of the applications goes up but so does quality of the applications."

It is too soon to know the effect of UF's basketball title because most applications for this fall were submitted before basketball season ended. After Florida's 1996 national football title, SAT scores from applicants dropped slightly from 1,243 to 1,241, before climbing to 1,268 in 1998. The number of applications rose to 31,089 in 1997, up from 30,492 the previous year.

A 2003 report commissioned by the NCAA concluded "neither changes in football spending nor changes in football success have a significant impact on average incoming SAT scores." The report by researcher Robert Litan and two colleagues studied 17 Division I-A schools from 1993 to 2001.



A final decision on a stadium is not necessarily expected at today's FAU trustees meeting. When trustees are ready, Brogan seeks "conceptual approval." In one option, a separate open-air football stadium and basketball arena would cost about $125 million, Angelos estimated.

The option athletic officials prefer calls for an outside developer to build a 40,000-seat dome for football, basketball, entertainment and other campus functions. The "Innovation Village" would include a dome, student housing, parking and retail shops. The developer would keep a guaranteed portion of the revenues from the housing and retail, and another portion would help pay for the stadium.

Administrators, trustees weigh options

For the plan to work as advertised, though, FAU's football box office would have to become considerably busier.

In June, KUD International representative Dennis Biggs forecast "event revenues" including ticket sales of $5.7 million per year, plus "contractual revenues" (suites, club seats, sponsorships) of $4.1 million.

Biggs did not return phone calls for this story to say how many people he assumed would go to the games. FAU's Angelos said he did not know, but cautioned that the forecast numbers are continually being refined.

At a June meeting, trustee Norman Tripp called for FAU to slow down.

"I want to back off a minute and decide what we, as the board of trustees, wants to do, not what administration wants to do, not what athletics wants to do," Tripp said. "I'm frustrated that this has been presented as a fait accompli."

Some trustees also objected to a proposal to include condos for retirees and faculty housing in the project, saying that was outside its proper scope.

By telephone this month, Tripp said he wanted to let trustee chairwoman Sherry Plymale speak for the board.

"Concern is way too strong a word," Plymale said of trustees' questions. "The thing people want is the information they'll need to make decisions."

For her part, Plymale said she believes the project can help attract more students to live on campus and "make a significant change in the atmosphere."

Players just want a place to call home

One spur for a stadium project is news that Lockhart could be closed for renovation as early as 2008 under a plan by baseball's Baltimore Orioles to upgrade its spring training facilities. Under one proposal, it could reopen as a multiuse facility to accommodate football as well, but it remains unclear how long it might push FAU off the field. In the past, using Dolphin Stadium as FAU's regular home proved costly at $100,000 per game.

Whatever it takes to build an on-campus stadium, FAU's players say they just want what most of their competitors already have.

"Every major university and team, they all have a stadium to call home themselves," running back Charles Pierre said. "I think it would bring a lot of pride and tradition to the campus."

Those traditions have developed over a century or more at schools like the University of Florida.

FAU, whose campus was built on the site of an airfield, wants to shorten the takeoff.

"There's a lot of obstacles to making that leap," said Northeastern's Roby. "Unfortunately, a lot of people are focused on the upside in terms of prestige and notoriety and they don't always see the costs."

For loyal fan Mensch, the Owls already have proved they are worth his time and money.

"We've already done better than we did last year," Mensch said. "I enjoy watching the team get better and better and the excitement of the players. I like being part of this from the beginning. I think a stadium will not only help the team, but FAU as a whole."'




Innovation Village, Ho!
Monday, November 06, 2006
Another UD INSIDE HIGHER EDUCATION Piece

Y'all know how much UD likes bigtime university sports programs. She's written a love letter to them for Inside Higher Ed. It'll appear this Wednesday.
America's Worst University
Deals with Loss
"I knew right when we lost (to Tennessee) I was going to have to deal with a fight," said Jamon Kessler, a University senior and a doorman downtown. "And sure enough, an hour later, I had to kick somebody out," he said.

Capt. Clarence Holeman, an Athens-Clarke County duty officer for Friday and Saturday nights, said he didn't think the football team's performance plays a role in the number of fights downtown.

Instead, he blamed another culprit: alcohol.

"People drink all day, even if we win, so we make sure to have more staff downtown on the nights of gamedays," he said.

But some students said they are more likely to vent their anger after a loss.

"When we lost (to Vanderbilt), there was a greater chance of me fighting that night," said Corey Turner, a sophomore from Atlanta.

"After we lose, a lot of drunk people let their emotions get the best of them."

After this year's loss to Tennessee on Oct. 7, Craig Giliam, a visitor from Nashville, said he had a bad experience with a Georgia fan feeling the effects of defeat — and alcohol.

Giliam and his girlfriend, Jean Barnwell, were walking out of a student section tunnel when Giliam heard rude comments from a crowd of Georgia fans behind him trying to hustle Giliam and Barnwell out of Sanford Stadium.

"I turned around and said, 'You guys need to calm down.'"

In response, the group of fans pushed Giliam, pulled his hair and forced him to the ground.

"I wasn't that hurt, but I'm just mad that my girlfriend got hurt in the process," he said. "She got a concussion."

Giliam believes that the fact that he was a Tennessee fan contributed to the incident. "I was wearing a Tennessee shirt," Giliam said. "And it definitely had something to do with all of this."



--red and black--
Two Articles of Interest in Today's
George Washington University
Hatchet

The ego being what it is, let's start with this one, which talks about GW professors who blog:




"I was struck by things at universities that seemed to be operating wrong," said Soltan, who receives about 700 visitors a day to her blog. "And I wanted to think of ways that I could contribute to make American universities better."

Since creating her blog, Soltan said she has received increased attention from media outlets such as The Washington Post, the Chronicle of Higher Education and Inside Higher Ed. Soltan was recently quoted on the front page of The Post in an article about sexuality in U.S. Senate candidate Jim Webb's novels.

"These things would simply not have happened without the blog," said Soltan, referring to her appearances in the media. "And I think starting a blog was one of the best decisions I've ever made."

Assistant Director of Media Relations Matt Lindsay, who is often called by news organizations looking to speak with GW professors, said that blogs sometimes help him isolate professors who are comfortable voicing their opinions with large audiences.

"Faculty members who think they have an opinion that's worthy and valid that they want to share with the outside world ... are more likely to have a blog," Lindsay said.

Scott Jaschik, editor of the online magazine Inside Higher Ed, said that academic bloggers often receive a lot of attention because they naturally prompt discussion.

"In higher education and politics and law, part of what you're trying to do is attract attention, shape debate and make a name for yourself," Jaschik said. "These are fields where debate is part of the action, so (blogs) allow people who might not otherwise be having a national audience to have one."

Several professors said that students read their blogs, and this promotes insightful discussion outside of class.

"I've gotten to know my students much better just by seeing their comments on my blog," Soltan said.


The article features a couple of other GW edubloggers, and has sensible things to say.





Then there's this headline:


OFFICIALS SAY CNN RANKING




OF GW'S TUITION AS HIGHEST




IN COUNTRY IS MISLEADING






The article goes on to note that GW's fixed-tuition approach means that over four years GW students may pay less than others who will deal with yearly rises in tuition. Even granting this, however, GW's tuition is extremely high relative to almost all other colleges and universities. The real question involves quality; and as long as GW is over-dependent on part-timers, for instance, that question remains somewhat open. I've watched GW's general quality rise dramatically over a couple of decades; but when you charge that much, it makes you vulnerable to the very highest expectations.
Sunday, November 05, 2006
Richard Gilman, 1923 - 2006
from the nytimes obit:
"I don't think of myself as a critic or teacher either, but simply — and at the obvious risk of disingenuousness — as someone who teaches, writes drama criticism (and other things) and feels that the American compulsion to take your identity from your profession, with its corollary of only one trade to a practitioner, may be a convenience to society but is burdensome and constricting to yourself."

..."People still go to the theater to identify with characters, not having been apprised of their death," he once wrote, with sardonic wonder, of mainstream theater audiences. Plays, he said in "The Making of Modern Drama" (1974), his most ambitious and arguably his finest work, should be "enactments of consciousness" that free the mind from traditional perceptions. What he opposed, he said, was "the turning of dramatic art into culture — something to use as a storehouse of 'higher' feelings and recognitions."
What's Some
University Professor
Doing Here?
What a disgusting way for a university to make a major decision -- by closing off debate… by stopping the exchange of ideas.

Western Kentucky University's board ran roughshod over faculty regent Robert Dietel last week, as it rushed to embrace Division I-A football. With Louisvillian Larry Zielke proposing the put-down, WKU's board told Dietel to shut up.

Contempt dripped from Zielke's explanation: "People on this board dedicate their time for free. They have better things to do than let

some university professor

just keep talking about the same things…. He wasn't cut off. He had time to speak."

In other words, crawl back into the library stacks, Prof. We're running this place.

Regent Tamela Smith got the back of her colleagues' hand, too. "I'm greatly disappointed that the board shut down the discussion," she said. "I'm a staff regent, and the staff brought concerns to me to be addressed. I just had a few questions, a few comments."



Indeed, she had intended to vote for the move from I-AA and Gateway Conference football to I-A and Sun Belt competition in that sport. But, put out over being put down, she abstained. Good for her.

This move to I-A football is

going to cost millions, and it will be financed on the backs of students,

as if they don't have enough trouble these days shouldering all the increased costs of a college education.

WKU students will be paying an

additional $70 per semester

, starting next fall.

Campus vanity doesn't come cheap. And it can't stand real scrutiny.

Athletics director Wood Selig claims the move to Division I-A will put the Hilltoppers in the company of such schools as Michigan and Stanford.

How soon does he expect either of them to schedule WKU?

Potential Sun Belt opponents include such powerhouses as Middle Tennessee, Troy, Arkansas State, Florida Atlantic, Louisiana-Lafayette, North Texas, Florida International and Louisiana-Monroe.

Think of all the TV exposure. The big night for conference competition on the tube this year was Oct. 18 -- a matchup between Florida Atlantic and Louisiana-Lafayette on ESPN2.

Did you catch that one?

To stay in Division I-A, WKU will have to

average 15,000 fans at its home games. But it hasn't even been filling L. T. Smith Stadium, where attendance has been 10,279 so far this year and was 12,795 last year -- despite all the interest built up as the school won the 2002 NCAA Division I-AA national championship and went on to complete 10 consecutive winning seasons.



Never mind. Spend

$37 million enlarging the stadium from 17,500 to 24,000

. Build it and they will come. Let the faculty stay home and read Chaucer if they don't like it.

Faculty members who voted on the move to Division I-A were opposed, almost two to one. When the school's 19,000 students were polled, 1,095 were for it and 600 were against. Maybe the rest went home early for the weekend.

Selig and WKU president Gary Ransdell are looking forward to the possibility of a Bowl Championship Series appearance. Maybe that would produce some dough, but there are so many bowls these days that a bid to most of them carries about as much prestige as an invitation to a Tupperware party.

Dietel is right. He knows his intercollegiate athletics history. When you commit to big-time competition, and especially to the lavishly expensive business of fielding a winning football team, the push to spend what's necessary to buy a winner is almost irresistible. And the price just keeps going up. Meanwhile, a long list of academic needs and educational opportunities goes unmet.


A columnist in a Kentucky newspaper marks the first steps of Western Kentucky University's ascension to one of the country's great universities.
BORAT


The New York Times on Borat:


'Whether you rush for the exits or laugh until your lungs ache will depend both on your appreciation for sight gags, eyebrow gymnastics, sustained slapstick and vulgar malapropisms, and on whether you can stomach the shock of smashed frat boys, apparently sober rodeo attendees and one exceedingly creepy gun-store clerk, all taking the toxic bait offered to them by their grinning interlocutor.'


UD's Sixteen Year Old Daughter on Borat:


"There was a man in the row in front of us who laughed so hard he jumped out of his seat and had to stand in the aisle for a couple of minutes."
Blogoscopy
"The Web is far and away the most important development in journalism — and almost every other aspect of life — since I finished school and started working," he went on. "When Microsoft hired me to put out what became Slate, the economy and the immediacy were what appealed to me about the Internet. Imagine: there were tiny businesses in suburban shopping malls that could 'publish' the equivalent of The New Republic (where I then worked) and it would cost less than $10,000 a year."

Since those days, the Web has become an even more wide-open frontier. "Politically, 2006 is definitely the Year of the Blogs," in Kinsley's view. "Many if not most political candidates have their own (in most cases written by an aide, no doubt). And independent bloggers are now standing by 24/7 to catch a politician out."


--michael kinsley, new york times--
Saturday, November 04, 2006
Ohio State Gears Up
For Showdown with
Arch Rival
COLUMBUS, Ohio (AP) - Three convenience stores near the Ohio State campus have stopped selling glass bottles of domestic beer at the university's request.


Glass bottles are dangerous in the hands of revelers that may have had one too many.

And broken glass in the streets of campus neighborhoods is a hazard.


The university official that has led the effort says the request focuses on domestic brands because students drink cheap beer.


The chairman of the Board of Trustees' academic and student affairs committee says the move could help as the university prepares for the much-anticipated showdown against arch-rival Michigan in two weeks.


The United Dairy Farmers stores are all located on High Street.
Friday, November 03, 2006
Academic Evasion Centers
'At the University of Tennessee in the late 1990s, a tenured English professor, Linda Bensel-Meyers, found that athletic tutors were doing too much of the work themselves and that the athletic department had the influence to change grades. Bensel-Meyers was ostracized for bringing her findings public, and she later left for the University of Denver.

"Based on my experiences, I would have to say that athletic academic assistance centers serve more as academic evasion centers," Ms. Bensel-Meyers said.'


--new york times--
Denice Denton: The Medical Examiner's Report

UD's guess last June that Denton was suffering from paranoia seems to have been correct. From yesterday's Mercury News:


Former University of California-Santa Cruz Chancellor Denice Denton was suffering from severe depression and was in the care of a psychiatrist last June when she plunged 33 stories to her death from a San Francisco high-rise, according to the San Francisco medical examiner's report released today.

Her June 24th death was ruled a suicide. The cause of death was multiple blunt trauma injuries as a result of the fall.

Denton had been discharged the day before her death from UC-San Francisco's Langley Porter Psychiatric Institute, where she had spent six days, according to the report. She had been prescribed the antidepressant Zoloft and sleeping aid Ambien. An autopsy found antidepressants in her system.

The report said Denton's mother, Carolyn Mabee, told investigators that ever since she picked her daughter up from the institute, Denton had been ``acting completely irrationally and told her mother that the police had been chasing her.''

Denton, 46, was suffering from depression, Mabee told medical examiner investigators, as a result of ``severe stress related directly from her job and her personal relationship with her partner.''

Denton was in a long-term relationship with Gretchen Kalonji, then Director of International Program Development in UC's office of the president.

After Mabee picked her daughter up from the psychiatric facility, Denton drove her around San Francisco, finally arriving back at Kalonji's Mission Street apartment about 2 a.m on June 24. But Denton ran off, according to the report, and Mabee spent several hours looking for her.

An Argent Hotel guest called police to report a body a top of a parking garage across the street shortly after 8 a.m.

M.R.C. Greenwood, who knew Denton and was former provost of the University of California and former chancellor of UC-Santa Cruz, said today after learning of the autopsy report details, ``We never really are going to know what happened.''

Liz Irwin, a UC-Santa Cruz spokeswoman, said in an e-mail that the campus is still trying to ``understand this terrible loss'' and is ``intent on moving past the tragic circumstances of her death.''

Friends had said that in the weeks before her death, Denton had been under extreme stress and had taken a medical leave on the advice of her doctor.

When she arrived at UC-Santa Cruz in 2005, she was a rising star in the academic world -- a forceful personality who had been dean of engineering at the University of Washington, with engineering degrees from the Massachusetts Institute of Technology.

But controversy erupted even before she was formally sworn in.

At a time when the UC system was under attack for overspending on top officials' salaries, the San Francisco Chronicle reported that Denton's hiring package included a newly created $192,000 job for her partner, Kalonji, who had developed international strategies at the University of Washington. University officials defended the move as common in the academic world, where job offers are often extended to qualified spouses.

The university spent more than $600,000 to renovate Denton's official campus residence, angering faculty who had been fighting for affordable housing.

Weeks later, Denton drew fire for authorizing the arrest of student protesters who had put up a ``Tent University'' to protest fee increases and workers' low pay.

Someone threw a parking barricade through a window of her home. Denton asked campus police to guard her house and had an elaborate security system installed.

Then it was reported that a $30,000 dog run had been built at the chancellor's home for her two border collies. The news caused an uproar.

Denton became the target of sarcastic columns and cartoons, targeting everything from her sexual orientation to the clothes she wore and her social skills.

And just before she requested a medical leave, more than 100 students barricaded her car when she tried to leave the university parking lot, insisting that she watch a skit.


Denton was clearly mad when the psychiatric institute released her. Did she insist on being released? Was the hospital obliged to release her if she insisted? Or did someone at the hospital think she was well enough to go home?
Eydie, A GW Friend of UD's...

...tells her that Eydie's mother enjoyed watching UD interviewed on Fox News the other night. So I guess that happened too.
Thursday, November 02, 2006
Rewards of Teaching



UD's students understand her
enthusiasms. They send her photos
of themselves in front of old buildings
on Great Jones Street. And they send
her, as Jason just did, photos of
themselves with James Joyce.


Bad Jokes Travel Fast
---ny post---
William Styron
1925 - 2006


'[I]t was an unconventional routine he stuck to: sleep until noon; read and think in bed for another hour or so; lunch with Rose around 1:30; run errands, deal with the mail, listen to music, daydream and generally ease into work until 4. Then up to the workroom to write for four hours, perfecting each paragraph until 200 or 300 words are completed; have cocktails and dinner with the family and friends at 8 or 9; and stay up until 2 or 3 in the morning, drinking and reading and smoking and listening to music.'
Von Hoffman Vents...

...on the subject of overpaid university presidents. But all he does is vent.

If you're after more than hot air, there's always UD. Type university president in the search engine up there, and breathe deep.
Fond Memories of Last Weekend...

...at America's worst university.





This may be as good a time as any to rethink big-time college sports. The University of Georgia could begin the process of a new look and possible overhaul. As football season winds down, the Dawgs are ripe for change.

Their rah-rah enthusiasm has been chilled. The current team is mediocre. Unless they improve substantially, our beloved Dawgs could replace the Commodores as perennial patsies in the SEC. As you may remember, Vanderbilt beat us on Homecoming Day. Some glum boosters said it was like getting trounced by Emory.

Georgia's graduation rate for so-called student athletes is among the lowest in the nation.

Higher-education bigwigs may pretend otherwise, but college athletics, mainly football and basketball, are out of hand. Games and game-day activities have become orgies of excess and meanness. Georgia fans are getting a national reputation for coarseness and incivility. The kids are OK; their parents are the problem. Whatever happened to Southern hospitality and common courtesy?

Trying to change the name of the tailgating parties won't solve the problem. UGA President Mike Adams banned use of "The World's Greatest Outdoor Cocktail Party" to describe the Georgia-Florida football outing. The Adams crowd said they preferred something like "Florida Family Fun Fest and Dawg Day."

My spies in Jacksonville tell me that censoring the name had no effect. In fact, they say fans set a new record at the Oct. 28 fiasco for guzzling and passing out.






If President Mike really wants to stop drinking before, during and after ballgames, he should try banning booze. Terming a binge a family picnic doesn't change a thing. It's still a binge.

Come to think of it, prohibiting liquor won't work either. That has been tried. We didn't get sobriety. We got Al Capone.

Let's face facts about the football culture. That's where the change is needed.





Fact one: Too many college players are thugs, plain and simple. Their off-field and sometimes on-field behavior show it. So why should we expect fans to behave better than players?

How can college presidents and their athletic directors lament misbehavior on the field when stadiums have laser messages calling for noise, noise, noise and an announcer yelling "Louder! Louder! Louder!" so the visiting quarterback and players can't hear? That used to be a crowd penalty against the home team. Now trying to deafen the other side is considered routine fun. Next thing you know we'll be water-boarding the opposing coach.

Fact two: While President Mike and Company are cracking down on drinking, legendary Larry Munson, a hero of young fans, is on game-day radio plugging beer.

Fact three: Money madness rules. Head coaches make $2 million to $3 million a year. Assistant coaches rake in a half-million and up. And that may not count the cash they receive for endorsements from Nike and similar brands. Take a tour of the multimillion-dollar Butts-Mehre jock temple on the Athens campus. It is little more than an elaborate stage set advertising a gateway to the NFL — the ultimate goal of many so-called student athletes, most of whom will never get close to either the NFL or graduation. They're being conned.




Don't get me wrong. The football experience can and ought to be great. Nothing is quite as delightful as an autumn Saturday in Athens and a wildly cheering crowd in Sanford Stadium.

Let's enjoy the happening without guilt, and stop kidding ourselves. College football has little to do with college. It is the circus come to town. Even staid corporate CEOs can make asses of themselves on college football Saturday — and nobody on their board cares. It is an occasion for screaming your lungs out and weeping for joy or sadness — over nothing. After all, football was meant to be a game to provide diversion from hard study for physically fit young men. Didn't quite work that way in the long run, but it is still simply a game.

Football ought to be fun for everybody. If it must be cutthroat professional-level competition, don't play games with scholarships. Use salary caps. Pay the players. Let them attend real classes, if they desire and can really pass credit courses.

Stop pretending. Euphemisms won't help. Making believe that a scholarship football player is first and foremost a student seeking a degree is akin to claiming a trial lawyer is seeking truth more than victory. It just ain't so.
As Long as We're on the Subject...

... of horrible European universities...

Longtime readers will recall UD's description of her semester teaching at the University of Toulouse - Le Mirail. Now the latest Economist compares Le Mirail to the other Toulouse university, where UD's husband had an appointment, Toulouse I Sciences Sociales.

The Chronicle of Higher Ed summarizes the article nicely:



For years, none of France's public universities has numbered among the world's top 40 in rankings conducted by Shanghai Jiaotong University, and the reason for that poor showing is the system's overcentralized, bureaucratic model, writes Sophie Pedder, the magazine's Paris bureau chief.

In contrast with the country's selective grandes écoles, France's public universities have open-admissions policies and serve 1.5 million students, who are taught in mass classes and have a high dropout rate. Faculty hiring is left up to the central Ministry of National Education, and financing is skimpy.

Ms. Pedder sums up her advice for the public universities in three words: autonomy, competition, and selection. Some of the universities attempt those things, she says, but "the struggle to stay competitive internationally, and to get round the system requires heroic efforts -- a huge waste of time and energy."

The University of Toulouse I-Social Sciences is one institution making such efforts, she writes. Unlike most universities in France, which concentrate on teaching, Toulouse I centers on research and uses private sponsorship to finance projects at external research centers. It also works around the centralized staff-placement system by using a transfer procedure to pull in professors already posted at other universities, and has thus made its economics department the fifth best in the world, according to one global ranking.

Such efforts make a difference, she writes: Eighty-two percent of Toulouse I's third-year undergraduates get their degree on the first try, as opposed to 58 percent at the nearby University of Toulouse II-Le Mirail.

But efforts to improve the system should not be so few and far between, Ms. Pedder writes. Greater autonomy would allow universities to recruit their own faculties, control and expand their research efforts, and increase enrollment fees. Raising the bar also would require a cultural shift, she says, to an understanding that students should not enroll in crowded, "dead-end" courses of study like psychology, and that research and publication are critical to prestige.



The Chronicle diplomatically omits a comment that the shit who runs the Toulouse II show makes to the Economist:



Daniel Filatre, Toulouse II - Le Mirail's president, does not consider [all of] this to be his problem: "This is a left-wing university which has a social project," he explains. "It is not an institution designed for professional training."
NEVER FORGET...


...as UD told a George Washington University newspaper reporter this afternoon, when he interviewed her about blogging, never forget that with all of their flaws, American universities are far, far better than what most of the rest of the world has to offer.

Recall, for instance, UD's recent series of posts about the pathetic European university system. The worst of the worst was Greece (with Italy a close second). Here's an update:




The head of a panel of academics that put together proposals on tertiary sector reforms earlier this year criticized the government yesterday for pushing back a draft bill introducing changes to universities.

Professor Thanos Veremis, who led the eight-member team, told Kathimerini that he is even considering resigning if a meeting with Education Minister Marietta Giannakou indicates that the reforms agenda is likely to be canceled.

"I don't know if I have a reason to exist in this position; it has become a joke," Veremis said. "A large portion of the university community is in favor of the necessary reforms," he added.

A draft bill introducing university reforms was scheduled to have been introduced to Parliament last week but has been pushed back to June. Sources said that the delay was the result of politically damaging unrest in the sector after primary and preschool teachers stayed off the job for six weeks over pay disputes. There are also concerns among government officials that sit-in protests by secondary school students will spread to their university peers as a result of the bill.

Veremis described the government's call for talks over the introduction of private universities as the nail in the coffin of the reforms program. "Talks on non-government universities will create general commotion even though it is a pseudo-issue," he added. Tertiary student groups were split yesterday as to whether they should shut down universities in protest at the proposed changes.



Got that? Introduction of private universities.
Ever Since UD's Notorious Washington Post Comment...


...appeared ("Webb's novels [should not be seen] as indicative of his views, any more than voters in England should have been deterred by some of Winston Churchill's more shocking writing."), she has been overwhelmed with requests from people who want to know precisely what shocking writing she has in mind.

She was thinking not of Churchill's fiction, but some passages from his journals.

For instance:



August 12, 1951

I was profoundly reluctant to leave Boodles last evening (Johnnie Walker Red Night), but Clemmie insisted I come with her to attend a rally by a peculiar American politician... Last name Allan or Allen, I can't remember... The toast of London -- more amusing than Oscar Wilde -- absolutely must see him...

It was chilly, and I was uncomfortable as we stood waiting with the assembled multitude for the great man. I enjoyed the friendly greetings I got from some in the audience, and was beginning to think this business of being out and about among the people had something to be said for it, when a bombastic voice sounded from the microphone.

The first thing he said was, "Hey! My caca!"

Everyone dissolved into giggles at this cowboy and his caca, though it struck me as vulgar rather than funny.

"What the fuck are we doing here, Clemmie?" I asked, perturbed, and not a little vulgar myself, at the thought of what I was missing at the club.

"Shh," she replied. "He's about to read from the book."

Indeed he now took from under his arm a racy novel and, after a few introductory words -- "Can you believe the filth my opponent writes? Listen!" -- he began ---- haltingly, in the manner of one unaccustomed to reading ---- to delectate some lengthy passages involving women accomplishing strange feats with bananas, and parents greeting their children in ways grotesque and obscene...

I was, frankly, quite put off by it, but Clemmie, I noticed, became more and more aroused. "Take me home this instant, Winnie," she suddenly said. I bundled her into a cab and that evening we had the best sex of our lives...



Despite this satisfactory outcome, I have turned down Clemmie's invitation to accompany her to next week's rally, in which a female American politician will read from her book about lesbians.
Wednesday, November 01, 2006
As James Webb Overtakes George Allen...

... the Independent Women's Forum adds to the mystique of female mathematical illiteracy:



"Ah, I fear that Margaret R. Soltan, English professor, has just won Allen a few more votes."



********************************

Update: Shut your ears, girls, it's another smut peddler!



The charge by assorted gentry that James Webb is not qualified to serve as a U.S. senator from Virginia because there are lewdnesses in his published fiction rattles one's faith in democracy. A few questions need to be examined, beginning with the primary charge: smutty passages in Webb's fiction.

I have no plans to run for senator from Connecticut, but if I did I suppose my opponent could make such charges as James Webb is confronting, citing passages from my 18 novels. Both of us dwell in high church elevation: Webb, because he wishes a seat in the Senate; I, because I have been the editor of a conservative journal of opinion that speaks out on moral questions.

James Webb's principal defense -- made on his behalf by independent observers -- has been that in his novels he writes about war and the military. And he saw these at first hand. One former naval officer wrote in to say: "Anyone who writes sex-free military fiction either doesn't know what he's talking about or doesn't have the guts to write the truth. These passages prove nothing except that Webb writes the military as he knew it, warts and all. It doesn't mean he approves of all the things he writes about (whether or not he ever did); he's certainly not the same guy now that he was when a midshipman or a second lieutenant."

Another commentator wrote: "I hate to break it to you folks, but the military -- especially the Marine Corps, the service that Webb knows best -- is largely composed of macho young men with foul mouths and an unhealthy obsession with all things sexual. It's a giant locker room. No one who's been in the naval service beyond boot camp ... hasn't heard a story or two about a Filipino stripper dicing a banana with her vagina. ... If I wrote a book that involved some junior Marine officers deployed to Spain, and if I were as brutally honest as Webb is, I might write a scene in which the characters watch a live sex show. More than once. Because that's what my fellow lieutenants and I did when we were deployed to Spain. Am I proud of it? Not especially. But it happened -- and it was by no means unusual."

More generally, the novelist writes to explore the human being. One did not need to await Freud to discern that the sexual drive is, if not the dominant impulse in human nature, at least a subdominant, making way for love, family, political allegiances, vocations, patriotism and treachery. In order to illustrate these human drives it is required that authors explore manifestations of sexual interest, and these involve scenes and thoughts that inform us, whether we are reading "Romeo and Juliet" or "The Merchant of Venice."

Now these disclaimers do not excuse violations of taste. But critics are there as full-time posses to hunt down aggressors in fiction. In politics, aggression at every conceivable level is positively workaday. No sex scene begins to rival dank exposes of human behavior when tempted to debauch not at brothels, but at polling places.

Sen. George Allen, who has subscribed to the criticism of the fiction of his opponent, Mr. Webb, has to know these truths. To begin with, he knows that to have written a sex scene in a piece of fiction is not as dangerous to a person's character as is competing for public office. A month ago John Grisham co-hosted, along with Stephen King, a fund-raiser for Webb in Charlottesville. Last Friday Grisham said, on the question of Webb's fiction, "This is a clear sign of a desperate campaign, if they plow through novels trying to find evidence of character."

At a practical level, Sen. John McCain, than whom no one is better qualified to judge war and writers who describe war, commented about one of Webb's novels: "It captures well the lingering scars of the war. A novel of revenge and redemption that tells us much about both where Vietnam is headed and where it has been."

Some say that the mere publication of smutty, erotic, realistic passages from Webb's fiction will undermine his claim to credentials to serve in the Senate. There are many reasons to vote for the Republican incumbent, but anyone who votes for him in protest against Webb's fiction needs to -- grow up.
William F. Buckley

"All I know is that, up until just a few years ago, I blithely, and perhaps a bit fatuously, used to tell students and younger colleagues who asked how to get ahead in our odd occupation that they should stay loose, take risks, resist the cleared path, avoid careerism, go their own way, and that if they did so, if they kept at it and remained alert, optimistic, and loyal to the truth, my experience was that they could ... have a valuable life, and nonetheless prosper. I don't do that any more."






Clifford Geertz
1926 - 2006
A Maryland Rough Rider...

... on the beach for Delaware's Sea Witch
Festival, October 2006.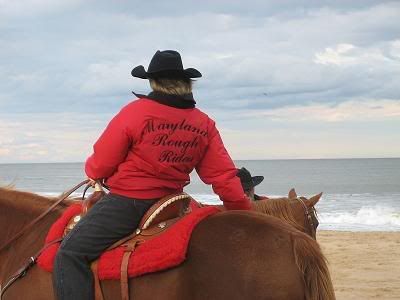 rehoboth beach
Sea, Sky, More Sky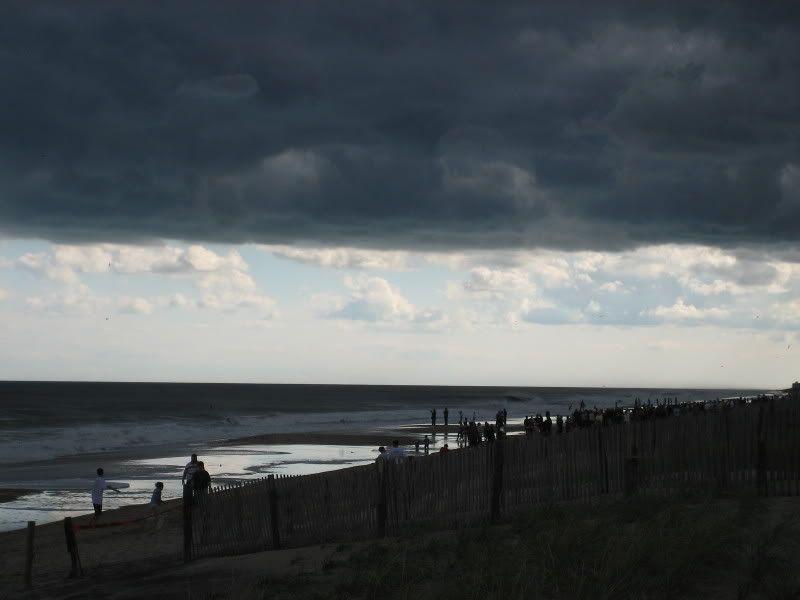 --- rehoboth, october 06 ---
Fellini on the Beach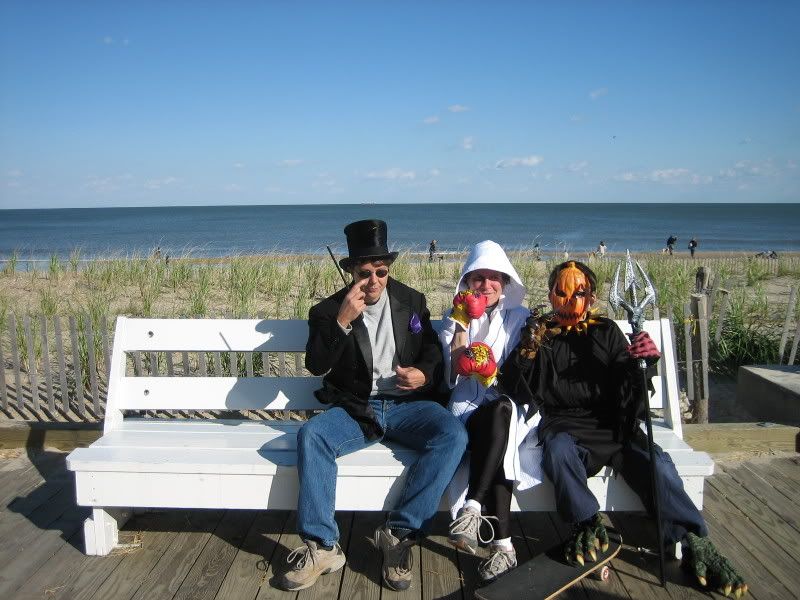 -- sea witch festival
rehoboth beach, delaware
october 2006 --