Monday, October 30, 2006
Now that UD's ...


... a major media figure, it's time to get to know her a bit better. She and her sister have prepared a little film of her chatting, up close and personal, with her blog readers as she sits by the ocean at Rehoboth. We'll put this up (and so much more) when Blogger's no longer out of sorts.

And here's a little blast from UD's past -- a photo taken in 1960, in Mill Hill, England, of UD (far right) with her sister and brother, in front of Lincoln House, the place they all lived for a year while their father took a fellowship there.


UD's Posted...

... a number of photos from Rehoboth's Sea Witch Festival, but Blogger's been in all sorts of trouble this weekend, so getting them on the site may take some time.

When I finally get them posted, note the brilliant blue skies, and the way everyone's a bit wind-tossed. The weather's been exhilarating. When the weather's like this, you fall back on the trusty cliches -- majestic, glorious, a vision of splendor.
Sunday, October 29, 2006
Sea Witch Festival, Rehoboth.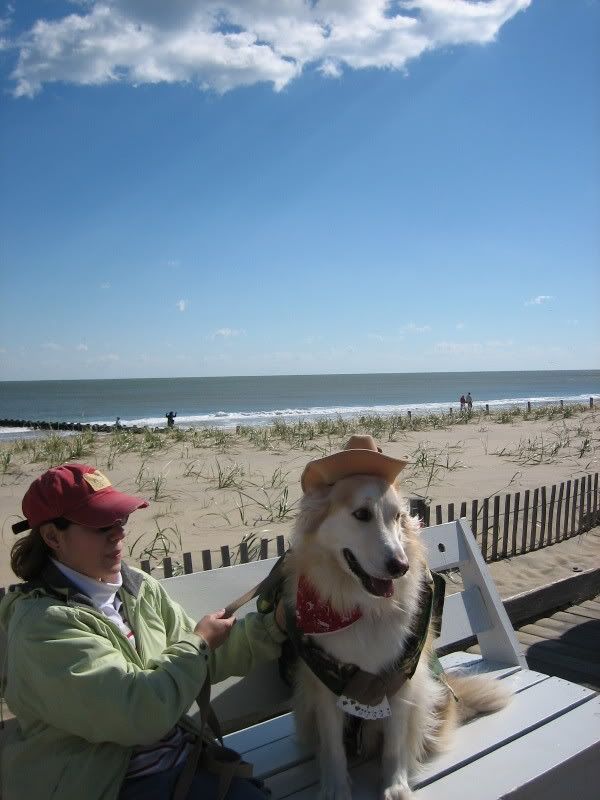 Saturday, October 28, 2006
UD and her sister...

...seem to have blundered into the Sea Witch Festival here. We've taken a number of pictures of some surreal Sea Witch activities on the beach -- in particular, the Maryland Rough Riders on their horsies -- but we'll have to wait until we get a proper computer to load them onto the site. It's a spectularly beautiful day at the beach -- high wind, mixed charcoal and azure skies, picture-book clouds.
UD Fleeing Hordes of Reporters...

...in brilliantly sunny and warm Rehoboth Beach, Delaware.
UD's Off...

..for another long weekend at
Rehoboth Beach.




















She'll be blogging from there.


photo gregory garecki
They Ain't Got No Culture



Read to the end of this Washington Post story -- through Lynne Cheney's curious alienation from her own naughty literary efforts -- for UD's pithy contribution to the Webb/Allen literary dustup.
Friday, October 27, 2006
Just Got Off the Phone...

...with a reporter from the Washington Post, too. We'll see if anything comes of this sudden media assault upon UD.
Fox News is on its way over...

...to UD's office, to interview her about naughty James Webb and his perverto books. Ne quittez pas.
Innocents; A Broad
'New York University's golf coach said he was forced to resign Oct. 12 after university officials learned that he accompanied players to a strip club while the team was competing in Florida in March.

Jay Donovan, the coach since September 2005, told a student newspaper, The Washington Square News, in an article published Wednesday that he and six of the eight players on the trip went to a strip club they passed when they were lost in the Fort Lauderdale area. The team was competing in a tournament in Weston, about 20 miles to the west.

Donovan told the newspaper that the visit to the strip club was revealed after several players quit the team Oct. 12. The newspaper reported that a player younger than 20 consumed at least one alcoholic beverage.

Donovan said the players acted after John Pharr, the team captain, was criticized by Chris Bledsoe, the athletic director, for skipping a practice two days before. When the players' parents found out they had quit, they called Bledsoe and told him of the visit, Donovan said.

Donovan, 43, said that he only smoked a cigar in the club and that no money of his or the university's was spent. In such a case, no N.C.A.A. rule would appear to have been violated.'
Thursday, October 26, 2006
Nathan Lane Not Miserable
Enough to Impersonate an English Professor
'[Lane's line readings fail to be] vapors in a toxic fog given off by a soul rotting in its own unhappiness. ...[He fails to be the] slow-leaking human dirty bomb
[the role demands]...

..."Butley" portrays a few hours of the destructive games that its title character plays in his office (designed with appropriately oppressive squalor by Alexander Dodge), dodging tutorials with eager students; baiting friends, enemies, lovers and colleagues, and hiding from hurtful facts. A once promising scholar of T. S. Eliot, whose large photograph hovers reproachfully over his desk, Butley has become a heavy-drinking, work-shirking, barb-wielding mess who could step without missing a beat into the nasty late-night rituals of another play set in academe, Edward Albee's "Who's Afraid of Virginia Woolf?"

...Mr. Martin's production feels too visibly articulated; you can see the joints that move the action. Ideally, Butley's sustained rant about his life — a rant compounded of bright remarks, vicious digs and recitations whose sources run from Shakespeare to Beatrix Potter — should shape the play into a sort of acrid miasma, only occasionally pierced by light.'
SNAPSHOTS FROM HOME
Handling a Deer
in the Water

"SOLOMONS, Md. (AP) -- Don Fitzhugh was fishing with his wife Gloria and three others on the Chesapeake last Thursday when they came upon a buck swimming near Solomons Island. [I am so not surprised by this. Longtime readers know that UD's wooded suburban half acre is deer-infested. She expects to find deer in the shower.]

''This deer had no business being out there; he was very disoriented,'' said Fitzhugh, of Churchton. ''Frankly, he was really down for the count. This deer was just desperately trying to stay afloat.''

Only the deer's head was above water and his nose was shaking from the cold, said Bob Smith, of Severna Park, who was also on the boat. [Or would a deer's nose just naturally shake in the Chesapeake?]

Smith used a fishing net to hold one antler and Ken Moser, of Severna Park, grabbed another. The two held on while the boat's captain, Dan Rickwood, drove slowly toward shore.

[I hope they took pictures, because I'm a little skeptical of some of these details.]

''You could tell he was so relieved not to have to paddle any further,'' Fitzhugh said.

Half an hour later, they released the deer near shore. The buck stumbled when he first tried to stand up, but regained his footing and walked toward land.

''As he stood there, he turned sideways and looked at us. As he turned around, he started to bark at us. He barked three times. We all looked at each other and said, 'I swear this deer is saying thank you,''' Fitzhugh said. [

I'm afraid a deer barking three times means "Fuck you." It sounds very similar to thank you.]



The rescue occurred on the first day of the muzzleloader and the buck may have been fleeing a hunter, said Katrina Blizzard, associate director of wildlife and heritage at the Department of Natural Resources. [Muzzleloader's a new one on me. Nice.]

Blizzard said people should not attempt to handle a deer in the water because the animals are good swimmers and can injure people. [

FORGET THIS AT YOUR PERIL]"
Miami: This Just In




'CORAL GABLES, FL— University of Miami head football coach Larry Coker, afraid of being scapegoated and fired in the wake of Saturday's brawl involving Hurricanes players and those from Florida International University, defended himself by suspending 13 players, taking full responsibility for disciplining his team, and swinging a Hurricanes football helmet at the heads of athletic director Paul Dee and chancellor Donna Shalala during a press conference Wednesday. "What happened was unfortunate and does not reflect our character as a team or my philosophy as a coach," said Coker, grasping the helmet by the faceguard and delivering repeated blows to Shalala's face and neck. "However, I believe that dismissing me at this time would in fact send the wrong message about discipline to our players and the wrong message about the University of Miami to the public." Dee was physically unable to comment or breathe after the press conference, but Shalala seemed to indicate that she would handle the matter internally as soon as she stopped bleeding internally.'
--the onion--
ud thanks mike for the link
Wednesday, October 25, 2006
Miami: In Comparative Terms,
A Model Football Program
'Miami has not had 20-plus incidents involving shoplifting, assault, gun charges and failed drug tests over the past two years, as Tennessee has. Miami has not had to dismiss a star player for earning money through a phony job, as Oklahoma has. Miami has not had a star linebacker accused of sexual assault on the eve of its bowl game as Florida State did last year.'


--si.com--
Over at Harvard,
Kaavya Viswanathan
and Andrei Shleifer
Are Selling Well
'...[W]ith Halloween less than a week away, some Yalies in need of an outfit may have found inspiration of their own in the Vayner scandal: some students said that "Aleksey Vayner" will likely be a popular costume on campus this year.'



--yale daily news--
Snapshots from Home



Jerry Seinfeld
or 'Tolstoy's Emblematic Death':
Your Choice


Today's New York Times:



Forget the traditional football game, the dry lectures and the meet-and-greet with professors and administrators. At some colleges, parents' weekend has expanded into a far more elaborate ritual.

Take last weekend's big-name entertainment and parental pampering at George Washington University.

As many as 5,000 parents descended on the campus in downtown Washington not far from the White House, where they could take an organized tour of city sites, attend a jazz brunch or a silent auction, get massages — and take in a show by Jerry Seinfeld, who performed twice at the university's athletic stadium. Tickets ranged from $57 to $125; the 4,200 seats for each show sold out.

"This is the most elaborate, and nicest, parents' weekend," said Stephen Andolino of Whippany, N.J., outside the parents' weekend registration area, which was loaded with giveaways, including T-shirts and stress balls.

Mr. Andolino and his wife, Rosalie, have put one child through college and have two others enrolled — one is at Georgetown — so they have a basis for comparison. The couple attended one of the Seinfeld shows with their son, Philip, 20.

Many universities do stick to the traditional template of football game and faculty lecture. Last weekend at Yale, for instance, in addition to the big game — Yale beat Penn by 17-14 in overtime — and performances of the Yale Glee Club, parents could attend faculty lectures on "Tolstoy's Emblematic Death," "Plagues and Pleasures" and "The Teaching of Theater in the Language Classroom."
Tuesday, October 24, 2006
It's This Saturday!


This day is called the World's Largest Outdoor Cocktail Party:
He that outlives this day, and comes safe home,
Will stand a tip-toe when the World's Largest Outdoor Cocktail Party is named,
And rouse him at the name of Gator.
He that shall live this day, and see old age,
Will yearly on the vigil feast his neighbours,
And say 'To-morrow is the World's Largest Outdoor Cocktail Party:'
Then will he strip his sleeve and show his scars
And say 'These wounds I had at the World's Largest Outdoor Cocktail Party.'
Old men forget: yet all shall be forgot,
But he'll remember with advantages
What feats he did that day: blacked out neath a Buick
After Beer Pong; flattened as his mouth ran with
Budweiser, Miller, Michelob,
Liberty Ale, High Rollers Wheat Beer, Bud Ice, Bud Light;
Be in their flowing cups freshly remember'd.
This story shall the good man teach his son;
And Bulldog fan shall ne'er go by,
From this day to the ending of the world,
But we in it shall be remember'd;
We few, we happy few, we band of brothers;
For he to-day that sheds his blood with me
Shall be my brother; be he ne'er so vile,
This day shall gentle his condition:
And gentlemen in Georgia now a-bed
Shall think themselves accursed they were not here,
And hold their manhoods cheap whiles any speaks
That lay with us on the World's Largest Outdoor Cocktail Party day.
Factory Jobs At Risk


The column below, by George F. Will, is a nice companion piece to this post:




...[How do] big-time college sports programs, which generate billions of tax-exempt dollars -- CBS pays the NCAA an annual average of $545 million mainly for rights to televise the March Madness basketball tournament -- further the purposes for which educational institutions are granted tax-exempt status[?]

...How does the NCAA fulfill its proclaimed purpose of maintaining ``the athlete as an integral part of the student body''? Only 55 percent of football players and 38 percent of basketball players at Division I-A schools graduate. The New York Times has reported that at Auburn, a perennial football power, many athletes have received ``high grades from the same professor for sociology and criminology courses that required no attendance and little work.'' Eighteen members of the undefeated 2004 team took a combined 97 hours of those courses while at Auburn. Who believes such behavior is confined to Auburn?

In recent decades the NCAA has increased the number of games that football and men's basketball teams are allowed to play. [In a letter to the NCAA, the chair of the Ways and Means Committee] wonders how these changes help athletes improve their academic performances? Perhaps these changes have pecuniary purposes?

The NCAA aims to ``retain a clear line of demarcation between intercollegiate athletics and professional sports.'' But aside from not compensating the athletes in a way commensurate with the money they generate for the universities, how is that line clear?




Some say the tax-exempt status of college sports is justified by the fact -- and it is a fact -- that successful sports teams often trigger increased applications for admission, and largess from alumni and legislatures. But, [the chair] notes, ``federal taxpayers have no interest in increasing applicant pools at one school opposed to another.'' Furthermore, athletic success that causes a surge of giving to universities may decrease giving to worthy charities.

Also, tax exemption is financing an escalation of coaches' salaries. More than 35 college football coaches are paid more than $1 million annually. The University of Colorado athletic department has borrowed $8 million, much of which will be used to buy out the contract of a fired football coach. Noting that several universities pay their men's basketball coaches four to five times more than their women's basketball coaches, Thomas wonders: ``What additional educational benefit do men's basketball coaches provide beyond that which is provided by women's basketball coaches?'' If the disparity has a commercial rather than an educational rationale, why should the commerce be tax-free?

Tax exemption also is a federal subsidy for ever-more lavish facilities: Oklahoma State University, which is receiving $165 million from T. Boone Pickens to improve its athletic facilities, was already planning a $102 million upgrade of its football stadium. OSU charges fans a $2,500 ``annual donation'' just to become eligible to buy tickets for the best seats. The University of Michigan, which has had 198 consecutive sellouts at its stadium that now seats 107,501, is spending $226 million to add 3,200 luxury seats and 83 suites. The University of Texas-Austin is spending $150 million to add 10,000 seats to its current 85,123 capacity. These may be sound commercial decisions, but why should this commerce be tax-exempt?

Thomas wants to know how many NCAA members ``generate a net profit on the operations of their athletic departments (excluding university subsidies such as student fees or general school funds and services)? Of the institutions that generate a net profit, how many use the profit for purposes unrelated to the athletic department?''

Thomas is retiring, but if Democrats capture control of the House, the new chairman of Ways and Means, Charles Rangel, may hold hearings into the NCAA's tax-free lifestyle. Such hearings will be embarrassing, if people who operate football and basketball factories are capable of embarrassment.
Teaching to the Veil



A thick veil of commentary lies over the full burqa question, both here and abroad. I freely admit to having a powerful visceral reaction against fully veiled women (I've written about that here), and I've certainly done my best to understand the causes of my repulsion. Anne Applebaum, in the Washington Post, says some of what I feel:













...[T]he veil, as a political issue, won't go away. The French have banned not only the full veil but head scarves in state schools. Some German regions have banned the head scarf for civil servants too, and they are not permitted in Turkish universities at all. Slowly, the issue is coming to the United States: Just this month a Michigan judge dismissed a small-claims court case filed by a Muslim woman because she refused to remove her full-face veil while testifying.

Critics call the veil a symbol of female oppression or rejection of Western values. Defenders say that it is a symbol of religious faith and that it allows women to be "free" in a different sense -- free from cosmetics, from fashion and from unwanted male attention. Debate about the veil inevitably leads to discussions of female emancipation, religious freedom and the assimilation, or lack thereof, of Muslim communities in the West.

And yet, at a much simpler level, surely it is also true that the full-faced veil -- the niqab, burqa or chador -- causes such deep reactions in the West not so much because of its political or religious symbolism but because it is extremely impolite. Just as it is considered rude to enter a Balinese temple wearing shorts, so, too, is it considered rude, in a Western country, to hide one's face. We wear masks when we want to frighten, when we are in mourning or when we want to conceal our identities. To a Western child -- or even an adult -- a woman clad from head to toe in black looks like a ghost. Thieves and actors hide their faces in the West; honest people look you straight in the eye.


In Don DeLillo's great novel, Mao II, the fearless photographer, Brita, repelled by the face masks worn by the self-abnegating followers of a personality- cult leader, suddenly pulls one off of one of his fanatics and almost gets herself killed for her trouble. In a novel about the flight from freedom, about the psychological and ideological appeal of self-annihilation, this gesture expresses the sense shared by people committed to personal freedom that willful demolition of one's individuality, willful evisceration of one's ability to engage in civic life, is a kiss-off aimed at all democratic values.



The prospect of teaching someone unwilling to share with me the world of embodied humanity is chilling.




--- my thanks to grammarpolice.net for the image --
Monday, October 23, 2006
Now That He's Got
A Wikipedia Page...

...it seems a good time to remind longtime UD readers, and to tell new ones, that UD lives in Munro Leaf's house in Garrett Park, Maryland.



Munro Leaf (December 4, 1905 – December 21, 1976), was an American author of children's literature. He's best known for his 1936 book The Story of Ferdinand, a story about a bull who preferred smelling flowers to bullfighting. The book sparked considerable controversy, as it was seen by some as pacifist; it was consequently banned in Nazi Germany.

Born in Hamilton, Maryland, he graduated from the University of Maryland in 1927, and from Harvard University with a master's degree in English literature in 1931. During the Second World War, he and Ted Geisel (a.k.a. Dr. Seuss) created the pamphlet, This Is Ann, about a mosquito who spread malaria to men who failed to take precautions.


UD knew Munro's widow, Margaret, slightly. Munro died in the room just behind the one UD's typing this in. In honor of him, UD has two topiary bulls in her front garden, relaxing under a tree. There's also a little plaque next to her front door. It says FERDINAND HOUSE.
Harvard: Just Too Creepy.


Two articles, one in the Harvard Crimson, and one in Inside Higher Ed, note that, as the Crimson headline has it:

Female Tenure Rate Crashes [the authors really mean female tenure-track job offer acceptance rate crashes]:


Women comprised only 21 percent of the academics who accepted tenure-track offers to join the Faculty of Arts and Sciences (FAS) last year, a startling reversal of a three-year trend that saw that figure rise to 40 percent in 2004-2005.

It's too soon to tell whether the sheer one-year drop, identified in the first annual FAS report on diversity, represents an anomaly or the start of a new trend. But the finding raises a flag for FAS as it works to increase gender diversity in a faculty where less than 19 percent of 478 tenured professors are women.

The report by Lisa L. Martin, the FAS senior adviser on diversity, called the drop a "troubling reversal." The dramatic fall in women's acceptances came even though the fraction of tenure-track offers to women rose slightly, to 39 percent, last academic year.

"It's hard to know whether this is just a one-year blip or whatever," Martin, the Dillon professor of international affairs, said in a phone interview. "All this shows is that of the offers made last year to men and women, women accepted at a much lower rate than the men."




It is interesting - Harvard's so spoiled by its yield rate in admissions of students (virtually everyone admitted to Harvard goes), it perhaps overlooks its very poor yield rate among young women professors, especially in the humanities. You'd think they'd all jump at the chance to go to Harvard; yet look at how many go elsewhere! Why?

The Crimson article mentions some of the usual suspects - Cambridge is insanely expensive (the well-located house on Shady Hill Square where Mr. UD grew up is now on the market for an enormous price); it's hard to get tenure at Harvard; women faculty aren't mentored as well as they might be...

But you don't have to live in Cambridge (and Harvard has been known to subsidize housing for young faculty); it's reportedly getting easier to get tenure; and the mentoring can't be that bad. Here's what IHE says:



Women Turning Down Harvard's Offers


While the proportion of women receiving tenure-track offers to join Harvard University's Faculty of Arts and Sciences rose for the third straight year in 2005-6, the share of women who accepted positions declined dramatically, according to an internal report.

In what the report's author calls a "troubling reversal," slightly more than 20 percent of those who accepted tenure-track offers in Harvard's main undergraduate college last year were women, down from 40 percent in 2004-5. Thirty-nine percent of tenure-track offers were to women last year.

Women have tended to accept Harvard's offers at a higher rate than men over the past few years, according to the report, but not so last year.

"It's surprising that at the tenure-track level, we had a hard time recruiting women last year," said Lisa L. Martin, the report's author and a professor of international affairs.

A year ago, Martin was named senior adviser to the arts and sciences dean on diversity issues. The findings on women's offers and acceptances come from her first annual report, delivered to the college's faculty last week.

The report does not specify exactly how many women accepted Harvard's offers last year but sheds light on a university that has publicly dealt with the issue of female faculty. Early last year, then-president Lawrence H. Summers suggested in a speech that one reason there are relatively few women in top positions in science may be "issues of intrinsic aptitude." The comments created considerable controversy that many say contributed to Summers's downfall.

Martin said it is hard to say what kind of effect the Summers controversy had on the recruitment of women at Harvard. [I doubt the Summers comment had much of an effect, though the bloodshed surrounding his resignation might have.]

The report shows that Harvard continues to have trouble recruiting female faculty members in the humanities. Roughly 35 percent of humanities tenure-track faculty are women, even though the proportion of Ph.D. earners in those fields who are women is well over 50 percent.

Since female faculty recruitment at Harvard generally improved in the 1990s, Martin said complacency has probably been a factor. "A lot of people thought there wasn't a problem anymore," she said. "What this report drives home is that the hiring of women is an issue that requires constant attention."

Regular factors such as cost of living and family obligations might have deterred some women from accepting tenure-track offers last year, Martin said. The report shows that a growing number of faculty members live outside of Cambridge, and that women said having to leave early from faculty meetings to commute home was an issue. Martin said it is unlikely that faculty members decided to accept jobs at other Ivy League universities en masse, because the competitors see similar numbers.

She added that the data are from early summer, meaning that some female faculty members were still making up their minds. "It's just one year, and it's too early to call it a trend, but this is something I want to flag," Martin said.

Added Jane Mansbridge, a professor at the Kennedy School of Government: "It's too early to tell if the failure of more women than usual to agree to come to Harvard last year was the result of specific historical circumstances, continuing problems (e.g., finding jobs for spouses), or a statistical random blip in the data. If the trend continues, we will have fairly good evidence that the cause is some combination of continuing structural problems. But at the same time the faculty and deans of the schools will be taking steps to try to resolve those continuing problems. So we may never have a precise analysis of the cause."

Harvard has already announced efforts designed to turn around the female acceptance numbers. Among them is a new policy that allows mothers in the arts and sciences college an eight-week maternity leave coincident with giving birth — which exceeds the guidelines for maternity-parental leave announced by the senior vice provost this year. Academic departments are also taking part in a mentorship program that pairs tenured female faculty with women in tenure-track positions.



I'm pretty stumped, too. But I wonder if there's just been a critical mass of creepy stories about Harvard in the last couple of years... A kind of piling on of nastiness and creepiness... not just all the Summers stuff, but the money manager controversy, the Shleifer business, the low levels of happiness Harvard undergrads report, the Kremlin-like hyperauthority of the mysterious Harvard Corporation... Add to this the undeniable fact that for all its charisma Harvard sits in a dark, cold, and, yes, extremely expensive city...

I mean, it ends up falling rather short of the Welcome Wagon... If you had a competing offer from San Diego or Emory, you might just take it...
Katha Pollitt Goes After
The Trouble With Diversity
in The Nation
'Maybe economic reality doesn't get much airtime in the University of Illinois-Chicago's English department, which [Walter Benn] Michaels chairs (he gleefully bemoans his $175,000 annual salary), but poverty, inequality and class are major objects of attention in sociology, economics, public policy, ed schools and investigative journalism -- to say nothing of the pages of The Nation. Michaels isn't the loner he pretends to be.

...[Michaels] complains about being one of the highest-paid English professors in the country and ... goes on at some length about his envy of the fabulously wealthy.'
Jonathan Miller
Interviewed in
The New York Times
One thing [opera director Jonathan Miller] has certainly not abandoned is the Interview as Performance Art.

Amid bomblets tossed at traditional opera audiences, the Metropolitan Opera, religious Jews (he is Jewish), American political culture, Belgian colonialists and German conceptualist directors, Mr. Miller weaves a narrative of his directing method: a focus on the ''negligible detail'' and ''subintentional actions.'' He cited Flaubert, Chomsky, the James-Lange theory of emotion, the sociologist Erving Goffman, the Viennese satirist Karl Kraus, the writer Joseph Roth. He quoted Wordsworth and Auden.

Never far from his demeanor is the loony Cambridge University graduate who helped create ''Beyond the Fringe,'' the satirical revue with Dudley Moore, Peter Cook and Alan Bennett in the 1960's. A brilliant mimic, Mr. Miller slid into profanity-laced routines: of an Irish Republican Army terrorist accidentally blowing off his hand or of a Jamaican immigrant returning to Kingston for terror training or of Pakistani immigrants plotting in Cockney accents, making serious points about the nature of Muslim suicide bombers.

He wriggled from behind the table to show the pantomimes people adopt in public situations: the exaggerated, apologetic tiptoe, for example, to compensate for a late arrival at a seminar.

Whatever Mr. Miller's plans, a return to the Metropolitan Opera does not look imminent. He called the company ''unbelievably conservative'' and said, ''The infantilism of that audience is well, it's very depressing.''

He was already persona non grata at the Met after a dust-up with Joseph Volpe, the former general manager, over a 1998 ''Nozze di Figaro.'' Though Mr. Miller said he had not closely examined the strategy of the new general manager, Peter Gelb, he did not think that much had changed.

''They mostly seem to be to me show-biz plans,'' he said. ''They're getting more and more movie directors to do things.''

He called the current ''Zauberflöte,'' directed by Julie Taymor, an ''abomination'' marked by ''silly, glamorous, folkloric nonsense.'' Anthony Minghella's ''Madama Butterfly,'' which opened the season, was a ''Japanese fashion show,'' and he ridiculed the bunraku puppet that portrays Butterfly's child.

"Why didn't the obstetrician tell her, 'We've done a scan, and I'm afraid you're about to have a puppet,'" he intoned in an officious American accent. "'We had thought of terminating, but it was too late.'"
Pleasure of
Intellectual
Inquiry
'[Y]our college's mission statement ...will lead you to think that your job is to cure every ill the world has ever known – not only illiteracy, bad writing and cultural ignorance, which are at least in the ballpark, but poverty, racism, ageism, sexism, war, exploitation, colonialism, discrimination, intolerance, pollution and bad character.

... I call this the save-the-world theory of academic performance and you can see it on display in a recent book by Derek Bok, the former and now once-again president of Harvard. Bok's book is titled "Our Underachieving Colleges," and here are some of the things he thinks colleges should be trying to achieve: "[H]elp develop such virtues as racial tolerance, honesty and social responsibility"; "prepare … students to be active, knowledgeable citizens in a democracy"; and "nurture such behavioral traits as good moral character."

I can't speak for every college teacher, but I'm neither trained nor paid to do any of those things, although I am aware of people who are: ministers, therapists, social workers, political activists, gurus, inspirational speakers and diversity consultants. I am trained and paid to do two things (although, needless to say, I don't always succeed in my attempts to do them): 1) to introduce students to materials they didn't know a whole lot about, and 2) to equip them with the skills that will enable them, first, to analyze and evaluate those materials and, second, to perform independent research, should they choose to do so, after the semester is over.

That's it. That's the job. There's nothing more, and the moment an instructor tries to do something more – tries to do some of the things urged by Derek Bok or tries to redress the injustices of the world – he or she will have crossed a line and will be practicing without a license. In response to this trespass someone will protest the politicization of the classroom, after which a debate will break out about the scope and limits of academic freedom, with all parties hurling pieties at one another and claiming to be the only defenders of academic integrity.

But the whole dreary sequence can be avoided if everyone lets go of outsized ambitions and pledges to just teach the materials and confer the skills, for then no one will be tempted to take on the job of moralist or reformer or political agent, and there will be no more outcries about professors who overstep their bounds. The New York Post would have nothing to write about, and organizations like Campus Watch could just disband.

There is an obvious objection to what I have just said. Any course of instruction, especially in the social sciences and humanities, will touch on deep moral and political issues. The materials students are asked to read will be fraught with them. Wouldn't it be impossible to avoid discussing these issues without trivializing and impoverishing the classroom experience? No, it's easy. You don't have to ignore or ban moral and political questions. What you have to do is regard them as objects of study rather than as alternatives you and your students might take a stand on.

That is, instead of asking questions like "What should be done?" or "Who is in the right?" you ask, "What are the origins of this controversy?" or "What relationship does it have to controversies taking place in other areas of inquiry?" or "What is the structure of argument on both sides?" ...[You must] detach [a topic] from the context of its real-world urgency, where there is a decision to be made, and re-insert it into a context of an academic urgency, where there is an analysis to be performed.


.. [The problem lies with] those who believe that the purpose of higher education is to transform students into exemplary moral and political people (as opposed to people who simply know more). That goal is both unworkable and misguided; unworkable because it is impossible to control what students will do with the instruction they receive, and misguided because it forsakes the genuine pleasure of intellectual inquiry – the pleasure of trying to figure something out – for the hallucinogenic pleasure of trying to improve the world.'


--stanley fish--
Sunday, October 22, 2006
The River That Eats
College Students



Here's an AP story about the many drowning deaths of Wisconsin college students in the Mississippi. See this recent post for background. UD's comments are in brackets.



Searchers combing the Mississippi River this month pulled out the body of basketball player Luke Homan — the eighth college-age man in nine years to disappear from a city tavern and turn up dead in a river.

La Crosse officials have debated for years how to keep drunken students safe, but some say there may be no answer for a town with three colleges, three rivers and $3 pitchers of beer. [Doesn't say how many bars there are, but let's assume wall to wall.]

"I'm not sure anything we do can prevent a future tragedy," Mayor Mark Johnsrud said.

[There's a good deal the city can do, but as the rest of the article will explain, it doesn't want to do anything.]



Some officials want to rein in the binge drinking culture.

[Too vague. What does this mean?]

Others have proposed fencing off the scenic waterfront. [This would discourage tourism and be ugly.]

But solutions have so far eluded this community where drownings and drinking have claimed lives for years. The city's first recorded alcohol-related drowning was in 1867, according to the mayor.

[Quite a tradition.]



The more recent string of deaths began in July 1997, when searchers pulled 19-year-old Richard Hlavaty's body from the Mississippi River near a park. College wrestler Jared Dion became the seventh drowning in 2004 when his body turned up in the same park.

The community is saturated with thousands of students attending the University of Wisconsin's Lacrosse campus, as well as Viterbo University and Western Wisconsin Technical College. Downtown bars cater to young drinkers, offering booze at dirt-cheap prices.

The Vibe, where Homan was last seen alive, offers an all-you-can-drink special for $5. Shots are just $1. A sign in the bar's window proclaims: "You're not drunk if you can lie on the floor without holding on." [Good journalism. Excellent details.]

Down the street, Brothers offers bottles of beer for a buck on Wednesdays. The Helm boasts 50-cent schnapps and $3 pitchers from midnight to 1:30 a.m.

The community has a long tradition of drinking. Thousands of people converge on La Crosse every fall for its Oktoberfest, a dayslong party with abundant beer. And on days when the wind blows just right, the smells of City Brewery waft through downtown. [Parents might want to keep these elements of the city scene in mind when considering where they want their little ones to go to school.]

"The problem is the culture is already up on a pedestal in this town," said University of Wisconsin senior Cathy Long. [Note: Up on a pedestal. Not tolerated. Not ignored. Worshipped.]

The city also lies where the Black and La Crosse rivers empty into the Mississippi. Hemmed in by rugged bluffs, LaCrosse is well-known for its scenery.

But the waterfront can be deadly. Investigators believe Dion fell off a levee that doubles as a pedestrian walkway and a dock for visiting paddlewheel boats. The levee had no railing, allowing him to tumble 10 feet into the frigid Mississippi.

His death brought to a head years of fears that a serial killer was stalking drunks. Police held a town meeting to reassure people, explaining that none of the victims was attacked. Investigators said the students had been drinking heavily and noted that Riverside Park is just two blocks from downtown bars. [Are you getting this picture? The place is a controlled experiment in drunk drowning.]

A task force appointed to investigate the drownings made 19 recommendations ranging from building gates to the levee to creating alternative forms of entertainment and limiting Oktoberfest to one weekend.

But only a handful of those suggestions were adopted, including police patrols of house parties and an extra police shift to patrol bars.

Over time, the focus on drownings faded, Alderwoman Andrea Richmond said.

"Everybody kind of let it drop," she said. "We've done nothing."

Searchers found Homan's body Oct. 2, not far from where Dion was discovered. Preliminary toxicology reports put Homan's blood-alcohol level at 0.32 percent, four times the legal limit in Wisconsin.

Joe Werner, 22, a senior on the University of Wisconsin-Lacrosse basketball team, compared Homan's death to losing a brother.

"They need to do something more down by the river," Werner said. "If enough would have been done, it wouldn't have happened again." [The town must provide a risk-free world for its drunks, says Werner. And in a way he has a point. This town obviously owes its existence, its traditions, its sense of self-worth to alcoholism. Its merchants depend upon revenue from bingers of a certain age. The town government has decided that there's an acceptable level of mortality within its sodden boundaries -- one death a year seems about right. But it risks both peasant revolts and lawsuits as its inebriates begin to understand what's happening.]

Students have taken it upon themselves to patrol the park since Homan's death, but residents are calling for some kind of barrier.

But the mayor does not want fences or gates to mar Riverside Park's natural beauty or send a message that La Crosse is a "playground" for binge drinkers. [Bit late to worry about that message.]

His solution: Spend $60,000 on motion-activated lights in the park to startle drunks and alert them they are close to the water. The City Council is set to consider the lights in November. [That might work. Or you could have something like what pilots have in the cockpit -- Instead of shouting "PULL UP PULL UP" it'd shout "GET AWAY FROM THE WATER DUMBSHIT."]

Meanwhile, the mayor said, community groups need to keep warning students about the dangers of binge drinking, he said.

"It's a behavior issue," he said. "People are going to do what they want to do."

Mary Torstveit, assistant director of prevention services at the University of Wisconsin, said students living off-campus are largely on their own.

Drinking "just seems to be such a standard part of Wisconsin culture and La Crosse culture. We'll always be fighting that," she said. "At some point, we have to start working on personal responsibility. That's probably the biggest thing. You can't have somebody looking out for you your whole life."
Saturday, October 21, 2006
Morning Eye-Opener
'A former dean of a University of Medicine and Dentistry of New Jersey school remains on the payroll as a highly paid professor.

Dr. R. Michael Gallagher, the former dean of the School of Osteopathic Medicine in Stratford, is being paid $128,695 a year nearly six months after resigning his administrative post.

Gallagher resigned amid allegations that he improperly billed UMDNJ for more than $200,000 in questionable expenses, including expensive liquor, restaurant meals and hotel stays.

According to a report issued in the spring by a federal monitor overseeing UMDNJ, Gallagher also directed subordinates to doctor financial records so he could qualify for bonuses.

Gallagher and his attorney, Jeremy Frey, have declined comment on the allegations.

UMDNJ officials are moving to terminate Gallagher's tenure, spokeswoman Anna Farneski said, adding that he is a clinical professor who does not have classroom duties.

[$128,000 is a lot of salary for a disgraced professor whose university is trying to fire him. On the other hand, at least he doesn't work for it.]



Under the faculty contract, professors may appeal recommendations to terminate tenure through arbitration by the state Public Employment Relations Commission.

The timetable for termination cases varies wildly, said Debra Osofsky, executive director of the UMDNJ faculty union.

"It is very rare to have the administration try to terminate a tenured faculty member," Osofsky said. "We're assuming that this case is going to go all the way."

At Rutgers, only one professor has been stripped of tenure in the last few decades, and the process was extremely slow, said Robert Boikess, a former chairman of the union's negotiating committee.

"It's extremely lengthy," Boikess said, adding that the process entailed 35 meetings, followed by 10 years of litigation.'
Trump U.
'The[se] are ... very wealthy institutions, with endowments that in most cases run into the billions. Stanford, for instance, has an endowment of around $15 billion, making it the third largest among universities, behind only Yale and Harvard. (Harvard's astounding endowment is now nearly $30 billion.) And of course if you've ever visited Stanford — with its fantastic medical complex, its professional-quality athletic facilities, and its gorgeous campus — you know that what is most striking is not how much Stanford seems to need, but how much it already has.

All of which made me wonder: does Stanford — and Yale, and Brown and N.Y.U. — really need to raise ever more billions to add to the billions it already has? Or is this an example of fund-raising run amok, a case of the rich getting even richer — just because they can?

"I like to say that if this campaign ends up only being about $4.3 billion, we will have failed," said Martin W. Shell.

Mr. Shell is the vice president for development at Stanford — i.e. the chief fund-raiser — and he was making the case that the sum of money the university was trying to raise, eye-popping though it is, was far less important than the way the school planned to spend that money.

The list of goals for the Stanford Challenge is undeniably impressive. .... It is hard to criticize any effort to raise money that might help cure disease, and far be it from me to try. ... [But] at least some of these initiatives dovetailed with issues that were already on the minds of potential donors. For two years before the introduction of the capital campaign, Stanford was raising money during what's called the "silent phase," talking to donors, gauging the market and getting a sense of what alums and others might be willing to fund.


... These competitive pressures among the elite universities have led to an odd result — or at least odd when you think how competition normally works. Competition normally causes prices to go down. But ... in the case of the nation's most prestigious universities, competition actually causes prices and costs to rise because the ever-upward spiral of bigger salaries and better facilities and all the rest of it makes the running of the university that much more expensive.

One thing that surprised me was that so few people in the world of higher education seemed bothered by this. Whenever I asked about the high cost of tuition — and why these campaigns and huge endowments didn't stop the relentless annual tuition hikes — I was told that tuition only covers about 60 percent of the cost of education, and besides, a great deal of money raised in capital campaigns went to financial aid. (Stanford tuition is currently $32,994, with room and board adding another $4,796.) Those students who are paying full freight — and their parents — have certain expectations about the kind of facilities they will have access to, the professors who will teach them, the computers they will use, and the schools are raising money in order not to disappoint. "They are responding to market demand, in which parents and students select the fanciest, most luxurious, best-equipped schools — and everyone wants their tuition discounted," Mr. Lombardi said. The money raised in capital campaigns helps the elite institutions market themselves.

There is no question that the rise of the elite American university is one of the great success stories in modern life. In their own way, they are global leaders. The competition among them have made them all better. But it has also drained talent and money — and made life more difficult — for all the hundreds of universities that do not rank, in the public mind, with Harvard and Stanford and Yale. These other universities are the schools that educate the vast bulk of American college students. They can't conduct $1 billion fund drives. And so, ever so slowly, they are falling behind. That's not Stanford's fault, or even Stanford's problem, but it can't possibly be good for the country.

One other thing about capital campaigns. Whenever I asked anyone involved in one whether they were trying to trump someone else's campaign — whether, that is, the amount of money they were trying to raise was itself a form of competition — I was told that nothing could be further from the truth. Robert M. Berdahl, the president of the Association of American Universities, told me flatly: "You don't have a capital campaign because one of your peers is having one. It is about the university's need for resources."

But then, a few days ago, something happened that made me wonder about that claim. Cornell got wind of what I was reporting, and a public relations executive sent me a series of e-mail messages trumpeting its own capital campaign, hoping that I would mention it in this column.

So here goes. The campaign will be announced Thursday in New York, and though the executive wouldn't tell me its size, she strongly implied that it would be right up there with the big boys.

The Cornell campaign, she wrote me, would establish "a new Ivy lead in the 'race for the top dollars.' " Competition, indeed.'



--nytimes--
For Further Study:
Floyd is writing a short essay about his friend Richard, in which he calls Richard "proud." Could Floyd have found a better adjective? If so, what might it be?
'Richard Grasso should have taken John Reed's advice.

Mr. Reed was brought in as chairman of the New York Stock Exchange after Mr. Grasso was forced out in the wake of the disclosure of his $139.5 million in pay. He commissioned a report on Mr. Grasso's compensation that was scathing in its criticism of both Mr. Grasso and the Big Board's directors, most of whom seem to have had lttle understanding of just how much they were paying Mr. Grasso.

In talking to reporters, Mr. Reed said that "If I were" Mr. Grasso, "I'd call me up and say, 'John, let's talk.' " He suggested that Mr. Grasso should agree to "write a check for $150 million" to settle the affair.

Mr. Grasso, a proud man, would have none of that. He said he would settle only if he were paid more millions, and filed suit demanding that he be paid $48 million he had previously agreed to waive. He also sued Mr. Reed for defamation.

...I have known Mr. Grasso for two decades, and spent some time with him while this was blowing up.... '
floyd norris, nytimes
Friday, October 20, 2006
His Asso's Grasso

UD stumbled on the groovy Richard Grasso story while reading up on the university presidency of John Diamandopoulos (in making a case against Grasso, ex-chairman of the New York Stock Exchange, Eliot Spitzer cited the precedent of Diamandopoulous) -- but ever since she got hold of Grasso -- who looks a little like Mussolini after he was strung up --














she's held on for dear life, sensing that in his rags to riches to rags saga lay hours of reading pleasure...


And to be sure today's update in the New York Times brought a wee smile to her face... Here are some excerpts, with a little commentary...



A New York judge ruled yesterday that Richard A. Grasso, a former chairman of the New York Stock Exchange, would have to return as much as $100 million he received as part of a fiercely contested $139.5 million payout.

The judge ... said that Mr. Grasso did not disclose to his fellow directors on the board of the exchange the extent to which his soaring compensation had caused his pension and savings to balloon in size and that he violated his contract by withdrawing $87 million before his retirement. Interest and money from a separate retirement account would raise the total.

The ruling was not the judge's final word on the dispute — he did not directly address the central claim in the lawsuit brought by Eliot Spitzer, the New York attorney general, that Mr. Grasso's compensation was unreasonable under the state's not-for-profit law.

[This is where Papa Doc Diamandopoulous came in handy.]

But the ruling bolstered Mr. Spitzer's main argument in support of that claim — that the exchange directors were not fully informed about Mr. Grasso's compensation.

Whether his pay was reasonable or not is to be decided at a subsequent trial — one that would likely focus on the $80 million he was paid between 1999 and 2001.

[Sounds reasonable.]



Mr. Grasso said yesterday that he would appeal, which would further delay a nonjury trial that had been scheduled to start last month.



In September 2003, Mr. Grasso was forced to resign as chairman of the New York Stock Exchange, the world's largest stock market, amid an outcry over the disclosure of his $139.5 million compensation package, all of it tied to accrued pension and retirement savings.

[$139.5 million. An amount that might excite the eye even of a Harvard fund manager.]

John S. Reed, Mr. Grasso's temporary successor, commissioned an inquiry into Mr. Grasso's pay. That report was passed on to Mr. Spitzer, who sued in 2004. Since then the two sides have been embroiled in a drawn-out series of legal skirmishes.

The ruling is a major legal setback for Mr. Grasso, who for the last three years has battled to make the case that the exchange's board was well aware of all aspects of his pay and approved the package accordingly.

Justice Ramos also ruled yesterday against Mr. Grasso's claim that he was terminated and thus due an additional $95 million in severance pay. [Oh yeah, and I want an EXTRA $95 million.] And the judge dismissed a countersuit for disparagement that Mr. Grasso had filed against his temporary successor, Mr. Reed. [PLUS disparagement money from Reed.]



In his ruling, the judge was responding to several legal motions filed by Mr. Spitzer, claiming that Mr. Grasso violated his contract by withdrawing pension savings before his retirement and failed in his duty as chairman of the board by not keeping his fellow directors informed of his escalating pension.

Mr. Grasso said in a statement: "Today's ruling is riddled with errors. One month ago, the Appellate Division told Justice Ramos not to try this case himself until the Appellate Division had decided important legal questions before them. Today, Justice Ramos somehow rejected the testimony of dozens of directors that they approved every dime they paid me

[Dime. Quaint.],

and decided that these men and women did not know what they were doing."

Mr. Grasso said that he had instructed his lawyers to appeal and that he looked "forward to the jury trial that the state constitution promised me."

For Mr. Spitzer, who leads his Republican opponent in the race for New York governor by a wide margin, the ruling is a welcome riposte to the criticisms he has faced that in place of winning in the courtroom he has bullied companies and executives into reaching settlements.

"I have maintained since the beginning that the principles at stake in this issue were clear and the facts were egregious," Mr. Spitzer said in an interview yesterday. "At every turn the government perspective has been vindicated. The defendants have done nothing more than scream louder and louder and their arguments are vacuous and wrong."

In his ruling, Justice Ramos said he wanted to reach a payment solution within the next 30 days.

In the unlikely event that Mr. Grasso follows the court judgment and writes a $100 million check

[Oh all right I guess it's the decent thing... Here's a check for one hundred million dollars...],

Mr. Spitzer would be expected to drop the case, as he could claim that he had received the amount he had originally asked Mr. Grasso to return. Mr. Grasso would still be a wealthy man, getting to keep tens of millions of dollars in compensation from his more than three decades at the exchange. [This is the part of stories like this one that always gets to me. I think it's a guy thing because I really don't understand. Grasso's no spring chicken. He could pay up, take the tens of million of dollars he'd get to keep, and enjoy a lifestyle in his latter years that would be the envy of Walter Benn Michaels. Why doesn't he do that?]

While having to return a significant portion of his pay package carries its own financial punishment, it is the judge's sweeping rejection of Mr. Grasso's long-held contention that the exchange board had been aware of his growing pay that represents a more resonant defeat.

Justice Ramos said it was "shocking" that the board could have been "unaware of a liability of over $100 million," and he said that Mr. Grasso violated his fiduciary duty as a director to keep his board fully apprised of how quickly his pension benefits were accumulating. "Mr. Grasso's duty is to be fully informed and to see to it that the board was fully informed," he wrote. "He failed in this duty."

Between 1999 and 2002, as Mr. Grasso's annual pay soared to a high of $31 million, his pension plan, a supplemental executive retirement plan, or SERP, grew at an even faster clip, topping out at over $80 million in 2003, when Mr. Grasso made the decision to withdraw his funds. [Zoom zoom zoom zoom RUN]

That decision, which according to the depositions of several directors he made because he was fearful that another board would prevent such a withdrawal, set in motion the events that would lead to the public controversy over his pay and his eventual resignation. In the subsequent years, all the participants have been deposed over the matter, with many directors on the wider board claiming that they had no idea how fast Mr. Grasso's SERP had grown.

[What big SERPs you have! The better to eat you with, my dear...]



In his decision, Justice Ramos draws the crucial conclusion that Mr. Grasso did not inform members of his board about his escalating SERP. "Mr. Grasso's failure to disclose the amount of his SERP thwarted the compensation committee from performing its duty," he wrote. "Year after year, it made decisions to pay him without knowing his true compensation."

[Shades of Benjamin Ladner.]



At the crux of the judge's ruling is his decision that Mr. Grasso must return the $87 million in pension savings that he withdrew from the exchange before he retired. And it also supports a similar argument made by directors like Henry M. Paulson Jr., the former Goldman Sachs chief and current Treasury secretary who led the campaign for Mr. Grasso's ouster. In his decision, the judge said that the pension withdrawals that he made in 1995 and 1999, totaling $35 million, were unlawful transfers and should be recognized as loans.

Lawyers from Mr. Spitzer's office calculate that Mr. Grasso would owe interest of about $15 million on that sum. Mr. Grasso will also be required to return money from a separate retirement account that is not yet vested.

That brings the total to close to $100 million, representing a significant portion of the $185 million he was paid as head of the stock exchange from 1995 to 2003.
Telander: The Definitive Statement

Rick Telander, Chicago SunTimes:


The returns still are coming in from the Miami-Florida International football brawl Saturday, but for now the tally stands at a total of 31 players suspended or dismissed from both teams.


After watching the tape of the vicious brawl, again and again, I can't help wondering where the criminal charges are, why somebody from the thugfest -- maybe a bunch of somebodies -- isn't in jail.

After all, former Hurricanes player-turned-TV analyst Lamar Thomas was swiftly fired after he merely spoke about the mayhem as it was going on, saying a little too eagerly that he was almost ready to take the elevator down and join the brawl.

''You don't come into the OB [Orange Bowl] talkin' smack, not in our house,'' said Thomas, who offered this solution: ''Why don't they just meet outside in the tunnel after the ballgame and get it on some more?''

There's no doubt part of the soft landing for the players -- and their coaches -- can be blamed on Dallas Cowboys center Andre Gurode, who inexplicably refused to bring charges against Tennessee Titans defensive tackle Albert Haynesworth recently after Haynesworth danced with his cleats on Gurode's helmet-less face to the tune of 30 stitches.

Precedents matter.

When you see what some of the Miami players were doing in the brawl, the thing that comes to mind is not a sports fight, but a beatdown.

You think of a back-alley mugging.

You think of cowardice and rioting.

You think of mobs.

You think of the popular underground videos going around of authentic street beatings, of surveillance cameras catching thugs trying and sometimes succeeding in killing victims.

Miami safety Brandon Merriweather was very active in the brawl, stomping on downed FIU players with his cleats, among other things.

In old-time fights, men stood and fought each other one-on-one with their fists or wrestled one another to the ground. If it was wrong, there was still a certain code to the nastiness.

Merriweather's actions had no code except to maim or kill.

''As a team captain, I have come to expect more from myself,'' Merriweather wrote in an apology.

Team captain. Wow.


Blame starts at the top

And so we are left to wonder about the state of Miami football and the state of NCAA big-time revenue-producing football generally.


Yes, Florida International figures in here somehow, but, be honest: Had you ever heard of the school before this?

Miami has won more national titles in the last quarter-century (four) than any other university. It has won them under four different coaches, and current coach Larry Coker is the most clueless of them all.

''I think this will affect the image of our program,'' Coker said post-fight, ''but in a very positive way.''

What?

There is a wealth of football talent in the high schools of South Florida, and Coker has seen fit to ride that talent to his own national title in 2001. But his control of his charges -- like the control of former Miami national-championship coaches Howard Schnellenberger, Jimmy Johnson and Dennis Erickson -- seems at times nonexistent.

Just as the management of the school seems to have no control, or rather, to enjoy the fruits of victory that comes from an out-of-control program.

Maybe this is just thug life -- as tattooed on iconic and murdered rapper Tupac Shakur's belly -- infiltrating America's educational and entertainment system with the technical assistance of the computer era.

Maybe it had to happen, the gangster world and the sports world melding.

But it has been building, and see-no-evil apologists such as Miami president Donna Shalala -- formerly of the Clinton administration, formerly coach Barry Alvarez's landlord at the University of Wisconsin -- are part of the problem.


'Do that again and you're grounded'

''We will not throw any student under the bus for instant restoration of our image or reputation,'' Shalala said. ''I will not eliminate their participation at the university. I will not take away their scholarships.''


She added that Miami now has a ''new standard,'' that says, ''Do this again, and you're off the team.''

My goodness. Maybe Shalala will be giving all the fellows apples before bedtime, too.

Let me tell you about Miami's past.

In 1984, I wrote a story for Sports Illustrated about the Canes' stellar offensive line. In the accompanying photo, two of the five linemen are giving the the camera the finger.

In 1986 I wrote about star Miami linebacker George Mira Jr., not long after he had been arrested by campus police and charged with disorderly conduct, battery on a police officer, assault, fleeing a police officer and possession of steroids without a prescription.

In a 1995 cover story, after many more NCAA violations and legal offenses by players, Sports Illustrated blared in bold type, ''WHY THE UNIVERSITY OF MIAMI SHOULD DROP FOOTBALL.''

The Hurricanes got into a postgame fight with LSU last December at the Peach Bowl, and they started a near-brawl before this year's Louisville game by stomping on the Cardinals' midfield logo.

No, this is not new territory for Miami, nor for the NCAA football money machine that now gives us $3million coaches and games virtually every night of the week in lieu of integrity, education and honor.

Hell, there was even a brawl last week at the end of the delicate Dartmouth-Holy Cross game.

Thug life. Live it.
Thursday, October 19, 2006
A City Campus in the Evening

I'm rarely on campus after dark; I teach early, meet with students, and leave in the late afternoon. But last night I went to an early evening gathering of faculty involved in creating a new honors curriculum, and afterwards, as I walked through the quads to the Foggy Bottom metro, the place buzzed and glittered all around me.

It was a clear, mild autumn night,
and as I walked past this folly,


























which appeared out of the blue on the
main quad a few years ago, I watched a
group of students sitting in it sharing
a hookah. The smoky air they made
deepened the atmospherics.

The quad was like a dark walled garden
in which other students, beautiful in dark
clothes, revolved around the folly.
The women's faces were freshly painted.
UD Finds Nobility...


...in this professor's farewell gesture to his class.




A UC Berkeley physics professor and Lawrence Berkeley National Laboratory senior scientist was found dead at the lab Tuesday afternoon hours after telling his students he was suffering from depression.

Michael T. Ronan, 57, was discovered behind Building 50B after apparently suffering a fatal fall about 4:38 p.m. according to witnesses near the scene, a statement from the lab said.


...Ronan was the professor for a Physics 8A class on campus and during review of a midterm on Tuesday told his students he was suffering from depression and would not continue to teach the class.

Following his announcement to the class, Ronan spoke to The Daily Californian yesterday about 2:30 p.m.

"I wanted to say goodbye to the class," he said. "I had troubles and just couldn't handle it and just came to the point that I just had to give up. I'm just depressed."

... One student, UC Berkeley junior Rebecca Chien, described Ronan as a "normal person" who was down-to-earth. She said she did not recognize signs of his depression, but said Ronan had become more disorganized as the semester progressed.


... "It's very shocking and tragic to happen anywhere, but having it happen sort of 20 feet from where your office is, somehow makes it even more real," [a colleague] said.
Mr UD Likes to Say...

...that UD will endorse anything if it's well-written. This is not, strictly speaking, true, but it does get at UD's perhaps overfond love of good writing.

The dark side of this love is that UD has a disproportionate response also to bad writing (as you know if you read her Scathing Online Schoolmarm feature). Bad writing makes UD's skin scaly. With each bad phrase she draws a shallow breath, often to the point of hyperventilation. There's also a sensation in her chest as if someone's stabbing her with a Bic Blunt Tip.

Yet just as onlookers are loath to leave the scene of car wrecks, so UD admits to a morbid fascination with the very, very worst in prose and poetry.

Only this can explain her dalliance on this blog [search his name in the search feature at the top of this page] with our erstwhile poet laureate, the Dread Kooser.



In a recent meeting in Nantucket of rich lobbyists and rich Democrats, Ted Kennedy's writer put a limerick in his mouth that is the sort of thing UD's got in mind here.

First, recall UD's dismay, already expressed on this blog, at the propensity of a party which presents itself as the party of ordinary working Americans to meet all the time in Nantucket, currently this country's most powerful icon of obscene material excess and haughty anti-social behavior. Then put in this location precisely the malsain stew of corruption the Republicans and their lobbyists represent. The result is, IMHO, disastrous for the Democrats.

But it gets worse:



Senators Edward M. Kennedy and John F. Kerry are shown hobnobbing and sharing laughs with high-powered lobbyists at a Nantucket reception for top Democratic donors, in a film clip posted on the ABC News website yesterday.

In the clip, lobbyists who gave $25,000 each to the Democratic Senatorial Campaign Committee are shown enjoying special access to the Massachusetts Democrats and other Democratic senators at an open-air lobster dinner at the Harbor House Village hotel in July.

Kerry, a gray sweater tied around his neck, was filmed putting his arm around one attendee a few feet from where Senator Carl Levin , a Michigan Democrat, was talking with another donor. And Kennedy is shown at a podium delivering a limerick for attendees.

Kennedy told the audience: ``There once were Senate Democrats on Nantucket, Republican tide -- they all aimed to buck it. They fight hard to win, these women and men, and in November control they re took it."

The report, which also includes film of Republican senators at a golf retreat with donors, does not suggest that any senators broke ethics or fund-raising laws by attending the events or speaking with lobbyists.

But ABC quotes a government watchdog group as saying that the videos show that representatives of big companies and special interests continue to enjoy privileged access to lawmakers, despite the scandal involving disgraced Republican lobbyist Jack Abramoff .

``They talked the talk, but they didn't walk the walk," said Gerry Hebert, executive director of the Campaign Legal Center, referring to the failure of Congress to pass ethics and lobbying reforms this year.

ABC plans to air a report that includes the videos on its newscast tonight, according to a network spokeswoman.

She said the video was shot by ABC using a hand-held camera from a public sidewalk outside the Nantucket hotel.

ABC reported that 40 registered lobbyists were on the Democrats' guest list, with lobbyists' clients including drug companies, the telecommunications industry, Indian gambling interests, and labor unions.

Aides to Kennedy and Kerry bristled at any comparison between Democrats and Republicans when it comes to cozy relationships with lobbyists. One Republican House member -- Bob Ney of Ohio -- has pleaded guilty to corruption charges because of his ties to Abramoff, and several incumbents are in tight races in part because of their relationship with the former lobbyist, who has pleaded guilty to bilking clients.

A Kerry spokesman said there is nothing wrong with Democratic senators appearing at events with the goal of trying to elect more Democrats to Congress.



Put aside the obvious political idiocy of the event, though, and go back to that limerick for chrissake... You're in the audience... You can't believe it... Nantucket, pinnacle of your dreams of wealth and glory... And there's Ted Kennedy, last living symbol of Camelot, right up there ... He begins speaking in his slow, slow, slow voice... A child's singsong voice, though old in timbre... He's reading a poem! A funny poem! A limerick! You sit back and get ready to smile... Maybe it'll even be smutty ... Nantucket/fuck it being one of the classic English language end rhymes...


There once were Senate Democrats on Nantucket.
Republican tide -- they all aimed to buck it.
They fight hard to win,
These women and men,
And in November control they re-took it.

As Sister Mary Ignatius put it (you know, in that Christopher Durang play), "BLAH. YOU MAKE ME WANT TO BLAH. (making vomit noises)."

Instead of cursing the darkness, though, I shall write a limerick as a limerick should be written, hoping thereby to help the Senator's comedy team understand the nature of the genre:

Some lobbyists up in Nantucket
Took Kennedy's stiffy and sucked it.
His poem's not funny,
But they owe him money.
November election? Oh fuck it.
The Elephant Park

When UD lived on Bali, she used to go pretty frequently to the Elephant Park, where you could hop on a little Sumatran number and be escorted around the park's grounds by a guy who sat on its neck and guided it by tickling its ears. It's all lots of fun, especially the end of the trek, when you descend into a pond, and, if you're lucky, the animal playfully sprays you.

The one thing you can't know about the Elephant Park jaunt until you do it is that the grounds are rank with piles of elephant dung, so that even as you're gazing delightedly at eye-level palms and rice paddies, you're always aware of the nastiness underfoot.



University life can be like this -- It's a glorious, beautiful, even exciting adventure, but look out below. There's always someone under there, ready to be a bit of a shit. Here's a recent classic case:





Free-speech Group Decries
Marquette Removal of Quote

University official took humorist's gibe
from office door of assistants

Marquette University came under attack from a national free-speech organization on Wednesday after a university administrator refused to allow a quote from humorist Dave Barry to remain posted on the office door of four teaching assistants.

The quote: "As Americans we must always remember that we all have a common enemy, an enemy that is dangerous, powerful, and relentless. I refer, of course, to the federal government."

Stuart Ditsler, a teaching assistant and graduate student in the philosophy department, said he put it on the door of an office he shares with several other graduate students several weeks before classes started because, as a libertarian, he identified with the sentiment. He said that it's not uncommon for professors and teaching assistants to post cartoons or articles with political viewpoints on their doors.

But shortly after the quote went up, it was removed by the department's chairman, associate professor James South. In a Sept. 5 e-mail to Ditsler and the other teaching assistants, South called the quote "patently offensive." He said free-speech zones required him to take it down.

"I'm afraid that hallways and office doors are not 'free-speech zones,' " South wrote. "If material is patently offensive and has no obvious academic import or university sanction, I have little choice but to take note."

Ditsler said South's decision was made in conjunction with the department's executive committee, which is made up of faculty. Infuriated, Ditsler contacted the Foundation for Individual Rights in Education, or FIRE, a non-partisan organization that takes up free-speech battles on college campuses.

FIRE sent a letter of protest to Marquette President Father Robert A. Wild on Sept. 27. When the organization had not received a response by Wednesday, it decided to release a public statement lambasting the university.

Marquette's student handbook protects the "right of the members of the university community freely to communicate, by lawful demonstration and protest, the positions that they conscientiously espouse on vital issues of the day."

Greg Lukianoff, president of FIRE, said prohibiting Ditsler from posting the quote violated this policy. Lukianoff said "patently offensive" is a term used to describe unprotected speech in the context of obscenity law, and that it is applied only to hardcore, pornographic language.

"I thought it was hilarious to characterize a fairly benign quote by a humorist as offensive," said Lukianoff, who also took issue with the university's use of free-speech zones, which he said were becoming increasingly common on college campuses.

South [the author, by the way, of "The Dialectic of Self-Knowledge in Buffy the Vampire Slayer"] did not return a phone call or e-mail seeking comment Wednesday. The philosophy department referred questions to the university's press office.

Marquette spokeswoman Brigid O'Brien Miller said South's decision was primarily a workplace issue, not an issue of academic freedom, and that he was responding to complaints regarding what "some felt was offensive material."

She offered up a letter from Wild to FIRE dated Oct. 16, in which Wild said that because the quote was posted without attribution, "someone reading the quotation may not have understood the humor/satire of Dave Barry."

Miller said the posting might have been handled differently if it had included the attribution. She said there is no university policy dictating what can or cannot be posted on office doors.


Thank the Lord there are people like Father Wild to protect us from the wounding effects of our inability to understand satire... plus Chairman South (who seems to have gone south), patrolling the hallways and felling offensive material in a single bound... I sleep better knowing these men - and other men like them - are vigilant on my behalf...
Sharp are the
Wounds of Class

This Guardian writer's wounds distract him from the fact that fiction is fiction, comedy exaggeration, and audience response to comedy laughter.



Alan Bennett, commentators like to say, is heir to Betjeman as the nation's teddy bear. On the evidence of his all-conquering play (and now film) The History Boys he is also the outright winner of the Evelyn Waugh memorial "Brideshead" award for the nation's arch-educational snob.

I watched the film in the Odeon, Camden Town. As readers of Bennett's diaries will know, it's home ground - opposite Fresh and Wild, where the playwright likes to shop. To say the audience was friendly to their Parkway Laureate would be an understatement. There were anticipatory titters as the credits rolled round. The aisles, thereafter, were scarcely wide enough for all the rolling around in them.

The History Boys is a brilliant play, and a good film. It is also permeated with odious class prejudice. The tittering, at the Odeon, for example, reached gale force with every appearance of the headteacher, played in grotesque caricature by Clive Merrison - a portrayal which actor and dramatist seem mutually determined to steep in contempt.

An oaf, a bully (and, as we eventually discover, a groper of his secretary), the head stumbles hilariously when trying to join in suave French conversation that Hector is conducting with "his" boys. Ignorant buffoon. His English accent (scarcely better than his French) betrays vulgar origins. He believes in one thing only: "results". A philistine.

And then, the shameful confession. He "tried" for Oxford. But he has a geography degree from - wait for it - Hull. At this revelation, the audience exploded with mirth. Why? What's funny about that? Those who care to check will see the department which the headteacher attended was rated top in the official 2005 student satisfaction survey and, as its website proudly proclaims: "We are now ranked amongst the top 20 geography departments in the recent Guardian national league tables." Not Oxford, certainly, but neither the academic pits.

Is a geography degree from Hull an intellectually shameful thing? Should those who have earned one, and reached a top post in a grammar school, wear a scarlet "H" on their breasts, carry wooden clappers, and shout "Uneducated! Uneducated!" whenever Oxonians are sighted? It's not just Hull. The film is punctuated with sarcasms against municipal, provincial, and redbrick institutions. Loughborough (all those bone-headed rugby players) gets its sneer, as does Leeds (a scrap heap for those who fail Oxbridge)...



...Since graduating from Leicester (I have three degrees from the place, which makes me, in Bennett's terms, a triple-died loser) I have taught at Edinburgh, London, and Caltech, in Los Angeles. These metropolitan institutions have instilled in me the belief that when it comes to provincial, it doesn't get more so than Oxbridge.

I am clearly prejudiced. And bitter. And probably wrong. But I think it's a better class of prejudice than Bennett's, and my bitterness and wrongness are, I believe, honourably shared ones. Many more Guardian readers, for example, will have attended non-Oxbridge than Oxbridge institutions. A good many may have read geography at Hull. Must they go through life with an inferiority complex, and the sound of the Bennett sneer in their ears?...
Wednesday, October 18, 2006
Bravo, Brava...

...to the students at SUNY Binghamton, who, faced with a couple of philistine professors who demand that a campus art exhibit which includes photos (taken in the 1950's) of unclothed African women be shut down (it isn't a "positive representation" -- it "systemically devalues" Africa), have responded most forcefully indeed.


Here in America, we have what we at [this newspaper] like to refer to as 'freedoms.' You know, there are a whole bunch of them promised to us in that Constitution-thingy, like freedom of speech, freedom of expression and (our personal favorite) freedom of the press.... [I]t's doubly hypocritical that professors, the people who are supposed to be helping students grow as people and thinkers, are the ones leading the charge to censor the exhibit. In fact, you could almost call it betrayal.


No one should be surprised that, in these twisted times, students are lecturing professors on their business; but to send them packing in style like this ... It's an unexpected pleasure.
Bad Mommy


Like a lot of commentators, this one (a very good writer) picks up on the sick mommy aspect of Shalala's relationship with her football team:



The thing about Miami is it's not the heat -- it's the stupidity.

The football teams from Florida International and the University of Miami displayed ample doses of it during their televised third-quarter brawl last Saturday night.

There was holder-tackling. Helmet-swinging. Cleat-kicking. And even a medical breakthrough -- crutch-clubbing.

It was an ugly incident, even for a school that has a long police-blotter history of such incidents.

At the minimum, several lengthy suspensions appeared to be in order for the brawling Hurricanes. Some dismissals from the team, perhaps. And revoking of scholarships.

But no, not at Miami.

University president Donna Shalala said Tuesday that the wrist slaps already imposed on 13 Miami players were punishment enough.

"This university will be firm and punish people who do bad things," Shalala said. "But we will not throw any student under the bus for instant restoration of our image or our reputation.

"I will not hang them in a public square. I will not eliminate their participation at the university. I will not take away their scholarships."

Amazing.

Effective immediately, the school president added, Miami will institute a "zero tolerance" policy for football players who fight. From now on, it appears, swat somebody with your crutches during a midfield melee, and you're gone.

I get it. Rant and rescue. The mark of another bad parent.



Another reason people keep picking up on Shalala's infantilizing of her team has to do with her language: "People who do bad things" is out of a Barney the Dinosaur song, not a university president's news conference. There's something of Blanche Dubois to Shalala's blindspots about the boys.
SHALALA

I'm indebted to one of my readers, superdestroyer, for teaching me a lot about university sports programs. One of the things he often mentions is that in some cases the sports program is financially and in other important ways independent of its university. When people complain about how much bigtime sports teams cost universities, the universities will on occasion defend these costs by noting this relative independence.

Yet there's never an absolute independence from the university that shelters your program. In all sorts of ways, there are significant costs, both financial and reputational, in having a money and game losing, or behaviorally questionable, or -- in the case of the University of Miami -- criminally thuggish football program. (Football and basketball are almost always the games at issue in discussions of university sports, though lately lacrosse has to be added to the mix.)

And of course independence isn't in itself necessarily a good thing. T. Boone Pickens pretty much runs Oklahoma State University and its adjoining neighborhood -- not just its football team -- with his humongo money and his Citizen Kane ways. As it hands over major decisions to a major donor, OSU loses its integrity and looks like the plaything of a rich man.



When the shit hits the fan at big and lucrative university sports programs that are to some extent independent of a university's academic administration, the full reality of presidents who cannot or will not take responsibility presents itself:


... No one should be surprised by the lack of responsibility and propriety Shalala and Florida International president Mitch Maidique showed. That's what university presidents do. They hide behind their cherry wood desks and ivy-covered walls, cashing checks and wielding more power than any group of administrators in college sports, yet they leave accountability to others.

...In truth, Shalala's actions reflect the most disturbing thing of all in college sports. University presidents are responsible for everything affecting and financing the games we love. University presidents control the Bowl Championship Series, the NCAA Tournament, television deals, scheduling, hirings, firings, postseason playoff power, even rules.

Shalala brokered Miami's controversial move from the Big East Conference to the ACC in 2003, much like many school presidents have done to chase dollars and glory.

Presidents always show up to collect trophies, checks and ceremonial congratulations from politicians. Yet their public accountability has been virtually invisible, and most fans of Division I-A universities hardly see them or know their names.

Imagine Astros owner Drayton McLane never poking his head out of his Union Station office. Imagine Texans owner Bob McNair never having to stand under the glare of lights answering questions and addressing issues.

Drayton Who? Bob McWhat?

University presidents are every bit the proprietors of their programs as owners of professional franchises. Yes, they have an assortment of other university duties. But athletic programs, particularly football, are the most visible and often profitable parts of university systems.

Yet school presidents consistently get a free pass.

When issues come up — coaches in trouble, postseason playoff discussions, on-field brawls — and journalists try to arrange interviews, presidents always conveniently insulate themselves from the fray.

Sorry, but the president is out of town. The administrative assistant will get back to you. Did you talk with the athletic director? Try again next week.

Nothing reflected the gutless soul of most university presidents more than Shalala's tap dance and soft stance on students who should have been expelled.

Instead, most suspended players will wear the Miami colors again in time for the big Georgia Tech game Oct. 28.

In her news conference Tuesday, Shalala defended the punishments, saying: "We will not throw any student under the bus for instant restoration of our image or our reputation. I will not hang them in a public square. I will not eliminate their participation at the university. I will not take away their scholarships."

Unless, of course, they are regular students caught up in an on-campus riot.

College football and basketball fans should expect more, and this ugliest of incidents should trigger accountability from the people really in charge.

Fire Coker? Fire Dee? Yeah, probably. But don't stop there. The person ultimately responsible is Shalala. She's the one assuming the usual university president position, safely tucked behind her desk, away from the line of fire.
Miss Eli Regrets
'Yale has declined to comment on the situation. ("That's unfortunate," a spokeswoman said, when told that this magazine [The New Yorker] was running a story about [Aleksey] Vayner.)'
That's it, baby!
If you got it, flaunt it!
'One of the fake universities, "Robertstown University," used a photograph of Blenheim Castle, the birthplace of Winston Churchill and home of the Duke of Marlborough, to depict its campus on a Web site, according to the indictment.'
Shalala: Cash-cow Protectionist

Selena Roberts, in the New York Times, is scathing:



"I believe they did something awful, but I want them to continue at the University of Miami," said Shalala, as if expelling a player was her only option. "It's time for me to say to the community and to those who have been sending me e-mails that this university will be firm and punish people who do bad things, but it will not throw any student under the bus for instant restoration of our image or our reputation. I will not hang them in a public square."

Suddenly, she is sensitive to ridicule? She spoke of a new "zero-tolerance" standard for the football team even though this year the Hurricanes had already stomped on the logo at Louisville to hone their mocking skills.

It's as if Shalala has discovered her dreamboat job as Miami president has big football as a flotation device. Money matters. Duke officials canceled the lacrosse season when rape allegations illuminated a history of reckless entitlement last year, but acting half as punitively against football could cost millions in lost revenue.

A conscience can be bedeviling to the bottom line. Why else would a respected educator like Shalala become an enabler to the culture of derision in college football?

That's what Shalala did when her university paid F.I.U. $150,000 to be its clay pigeon on the football schedule. She is not alone, of course.

In college football, everyone has put a dollar figure on humiliation. In its duplicitous role in the college football arms race, the N.C.A.A. handed teams a 12th game this season to create a money grab.

This is how lucrative life is as a schedule dummy: As The Times reported earlier this year, universities from Troy, Ala., to Buffalo command $600,000 to $750,000 in appearance fees from teams like Nebraska and Wisconsin.

What's in it for the powerhouses? Elite teams can sell out a stadium for the photo shoot of a team picture, so scheduling a pushover churns revenue.

Playing victim is fast money for anonymous programs desperate to raise profiles on large stages. But punching bags have feelings, too. Florida Atlantic University — an hour north of Miami and F.I.U. — made nearly $2 million this year as the chum for Clemson, Oklahoma State, Kansas State and South Carolina.

•Florida Atlantic lost those games by a combined score of 193-20, making the team experts in salvaging self-esteem.

"It is true that with the lower-profile teams, a lot of players probably wish they could be playing at the higher-end schools, playing in front of 80,000 fans," Craig Angelos, Florida Atlantic's athletic director, said when reached by phone yesterday, "but for one reason or another they didn't get a scholarship there and are playing at this level.

"So I do think there is a chip on their shoulder to go and show some of those players — especially if the geographical location is close, like it was between Miami and Florida International — that they were passed over for a scholarship. They want to say, 'Hey, I'm just as good as you and I'm here to show you.' "

Not every grudge by the disenfranchised manifests into a fight with the establishment. As Angelos rightly pointed out, in sheer numbers, most fights materialize among longtime rivals — see Clemson and South Carolina, or, more recently, Dartmouth and Holy Cross — but with more no-name teams than ever handing over their lunch to bullies, the meek are bound to retaliate against humiliation.

•Few are as artful at ridicule as Miami. Shalala just cannot afford to accept it.

"It's time for the feeding frenzy to stop," Shalala said. "These young men made a stupid, terrible, horrible mistake, and they are being punished. They are students and we are an educational institution and we will act like an educational institution, not like a P.R. machine that's trying to spin and restore its image that we worked so hard to put in place."

Who is spinning whom? Shalala knows politics as the former secretary of the Department of Health and Human Services in the Clinton administration. So when she stepped to the mic yesterday, in her dutiful role as cash-cow protectionist, Shalala did it with the certitude of a skillful politician: she scolded the scandal mongers, not the scandal makers.




It's hard to read a line like: "[W]e are an educational institution and we will act like an educational institution..." Imagine how hard it was for Shalala to say it.
Tuesday, October 17, 2006
A Faculty Dedicated to
The Curriculum as a Whole


"What has gone wrong with the secular university?" asks the philosopher Alasdair MacIntyre, from a Catholic perspective. He's not, he says, complaining that the secular university isn't Catholic; he's complaining that the secular university isn't a university.

It's a flimsy, fragmented sort of thing, a welter of specialized and unrelated courses which offers students no coherent conception of human nature, history, and culture. Anxiety about tenure moves professors toward conformity with established, specialized disciplines: "[L]ong-term adventurous risk-taking and unfashionable projects tend to go unrewarded, and are therefore increasingly rarely undertaken." Anxiety about grades and a career keep students risk-averse and conformist too.


...[W]hatever pattern of courses is taken by an individual, it is unlikely to be more than a collection of bits and pieces, a specialist's grasp of this, a semispecialist's partial understanding of that, an introductory survey of something else. The question of how these bits and pieces might be related to one another, of whether they are or are not parts that contribute to some whole, of what, if anything, it all adds up to, not merely commonly goes unanswered, it almost always goes unasked. And how indeed could it be otherwise when every course, even when introductory, is a course in a specialized discipline taught by a teacher who may be vastly ignorant of everything outside her or his own discipline? Each part of the curriculum is someone's responsibility, but no one has a responsibility for making the connections between the parts.


He proposes a tripartite curriculum:


One element is mathematical and scientific, extending beyond physics to the chemistry and neurophysiology needed to understand recent discoveries about the brain. Another is historical, situating the history of ideas in their social, political, and economic contexts. And a third consists in linguistic and literary studies. All three have a philosophical component: philosophy of mind and body, the philosophical questions raised by different aspects of our past history, the interpretive and evaluative questions posed by our relationship to other cultures. So the faculty needed to teach this curriculum would consist of mathematicians, physicists, some types of biologists, intellectual, social, and economic historians, teachers of English and of one or two other languages and literatures, anthropologists, and philosophers. But it would be crucial that this should be a faculty dedicated not only to the teaching of their own discipline but also to the curriculum as a whole, a faculty with strong interests in and a worthwhile knowledge of some disciplines not their own, so that they, and not only the students, were able to formulate and pursue rival and alternative answers to the questions that give point and purpose to such a curriculum.


The problem is a circular one. Graduate schools are specialization hothouses producing academics unable to integrate the particularities of their education into a larger intellectual world. Many professors express a weirdly complacent lack of confidence in their ability to understand, much less judge, the work of professors even in somewhat related fields. Institutionally, such professors are loathe to teach courses outside their limited range of expertise; and indeed in many schools there's a low prestige attached to professors who regard themselves to some degree as generalists, and who enjoy taking on new courses that make them stretch. The idea, on the contrary, is more and more intensive cultivation of your modest acreage.

There's no way to get the sort of integrated curriculum MacIntyre's after under current conditions. The structure of training, hiring, and promotion in academia would have to undergo radical reform.
"If you want your work to last,
to have it read easily by students
and colleagues alike, publish it
in journals."



UD has written at length on this blog about the baleful book imperative in many humanities departments -- the insistence that only books, not articles, really count. Michael Berube has said in fewer, pithier, words, what UD has said: The book imperative tells us, he notes, that



almost no philosophers deserve tenure in PhD-granting philosophy departments. [Book imperativists are compelled to] think philosophers have poor scholarly standards ... all because they don't require monographs for tenure.

...[T]he monograph-for-tenure standard is not universal in academe. It's not even universal in the humanities. The idea that monographs and monographs alone can serve as guarantors of scholarly integrity bespeaks a particularly parochial view of the scholarly world.

Personally, I'm not against monographs. I like many of them, and I own lots of 'em too. Furthermore, the [MLA] Task Force [on the subject, of which Berube was a part] is not calling for all scholars to refrain from emulating books like Mimesis or The Mirror and the Lamp. We're simply trying to make the case for multiple pathways to tenure and promotion, some — but not all — of which would involve monographs.


It looks as though English departments will be the last holdouts in the humanities in this matter, however. Historians, judging from this essay by the editor of the AHA's journal, American Historical Review, are getting the idea:





Many readers have undoubtedly realized what I am only now coming to appreciate: the balance of [university] reading lists is shifting from scholarly monographs to articles. This is particularly true of syllabi for graduate students, who must be trained in the latest scholarship, which is often in article form. But I suspect it is becoming the case for undergraduate courses as well, especially as we begin to dig into the archive of now classic articles that are often well-suited for that level of study.


The writer goes on to note technological shifts that have made articles far more easily accessible than monographs. He then writes:


...Beyond its value as a means of encountering and thus appreciating scholarship of the past, I would suggest that the scholarly article deserves increased esteem for four additional reasons. First, as I've noted, articles are now both accessible and durable in ways that used to be ascribed to monographs and books. If you want your work to last, to have it read easily by students and colleagues alike, publish it in journals. This all may change, of course, once the Google electronic publishing venture comes to fruition: then books may be as available as journal articles are now. But this project is some time off, and how it will ultimately pan out is anyone's guess. Until then, the article rules.


... [J]ournals remain the best outlet for original research. In the social sciences, this has always been the case. I can certainly understand historians' misgivings about going this route. For one thing, historical argumentation and reconstruction often require the sustained length of a book. But along with the venerable book, there has always been a privileged role for the article, especially when historians want to speak primarily to their peers. Too often we tend to think of articles as second-best, as incidental publications paving the way for the book. In this new environment, perhaps historians — including tenure committees — ought to rethink how we assign professional value to article-length publications.

This leads to my final point. We should consider articles as more than just good vehicles for disseminating specialized research; they are also well-suited for the kind of essay-length historical arguments that can have pathbreaking and paradigm-shifting effects. We all can cite the names of historians who have had their primary impact in our fields through essays. Indeed, some of the most influential historical interpretations have been expressed through the essay form, from Frederick Jackson Turner's "The Significance of the Frontier in American History" to Joan Scott's "Gender: A Useful Category of Historical Analysis." It seems to me that now more than ever — when specialization and specialized concerns have made synthetic work very difficult — the historical essay ought to be looked upon as a means of engaging with large questions, presenting bold interpretations, or perhaps thinking out loud about what direction we want our fields to take.
That Y'All and
Shut Ma Mouthland

Hell's bells, here's a new angle on diploma mills that leaves old UD practically speechless. A state education association has endorsed a political candidate with a diploma mill degree.



'The political arm of the Kentucky Education Association has endorsed a state Senate candidate who received his bachelor's degree from a institution that one federal agency has described as a "diploma mill."

The Kentucky Educator's Political Action Committee recently changed its position to recommend Democratic candidate Douglas Goodman instead of Republican Sen. Elizabeth Tori in the 10th Senate District, which covers Hardin County and a sliver of Jefferson County

KEPAC initially picked Tori as the recommended candidate, but switched to Goodman after Tori indicated in a forum that she would be open to a pilot program for school vouchers. The teachers' lobby opposes vouchers, which allow students who want to attend private schools to get government subsidies.

Goodman, a Hardin County magistrate who manages a construction company, says he received his bachelor's degree from Kennedy-Western University, an unaccredited institution based in Wyoming.

John Warren, state consultant for KEPAC, said Goodman's educational background wasn't an issue in his endorsement interview.

"We would not have the resources to research that closely," Warren said. "The more pressing thing that our folks are interested in is not where candidates have gotten a degree or if they got a degree, but how they look at public education and how it should be funded by the General Assembly."

Goodman said he is firmly against vouchers and noted that he is a product of Hardin County public schools.

Goodman's resume says he attended Eastern Kentucky University in 1988 and the University of Kentucky in 1989, then graduated with a bachelor of science degree in business administration in 2005 from Kennedy-Western.

He said he was "very pleased with their curriculum." He said he took online courses for 28 months that were similar to classes a friend was taking through Sullivan University at the time. Goodman added that he wrote a 75-page thesis on electricity deregulation in order to get his Kennedy-Western degree.

In September 2004, the Government Accountability Office released a report that found federal agencies had spent at least $169,000 for their employees to obtain degrees from two so-called "diploma mills," California Coast University and Kennedy-Western University.

The GAO report defined diploma mills as "non-traditional, unaccredited, post-secondary schools that offer degrees for a relatively low flat fee, promote the award of academic credits based on life experience, and do not require any classroom instruction."

The report, however, also noted that no "uniform verification process" exists for such institutions, particularly online degree programs.

Kennedy-Western's Web site does promote how it "recognizes the inherent value of work experience" through its distance courses.

Some states, including Oregon and California, have refused to recognize Kennedy-Western degrees.'



Seems a bad sign that products of the Hardin public schools end up having to buy their college degrees from diploma mills. It's also disquieting that the Kentucky Education Association doesn't know that it doesn't cost anything to find out whether someone graduated from a diploma mill.
ESPN on
Two Universities
in Florida
'Larry Coker? Fired.

Lamar Thomas? Fired.


The bench-clearing brawl resulted in 31 suspensions between the two schools.

Anthony Reddick and Brandon Meriweather? Dismissed.

The other 11 University of Miami players and 18 Florida International University players who took part in Saturday night's horrifying football gang warfare? Suspended for the remainder of the season.

Miami's 35-0 "victory" against FIU? Nullified. Wiped off the books.

Something has to change at Miami, beginning with the punishment. Atlantic Coast Conference commissioner John Swofford meant well when he initially issued a one-game suspension for all 13 UM players involved in this disaster area, but the penalty was laughable. It isn't a slap on the wrist; it's a soothing caress and manicure.

"These suspensions send a clear and definitive message that this type of behavior will not be tolerated," said Swofford.

No, they didn't. They sent a clear and definitive message that you miss only one game if you do what Reddick did, which was swing his five-pound helmet at FIU players like it was a medieval weapon. Had he connected with skull or flesh, he could have killed somebody. Then what would have the ACC done? Two-game suspensions?

But, to their credit, the conference and UM came to their senses and announced late Monday afternoon that Reddick was suspended indefinitely. Indefinitely is better than one game, but not as good as gone forever.

As for Coker, I think we can all agree he's a nice enough man, much in the same way a substitute teacher is nice enough. And like a substitute teacher, his players act as if he doesn't exist.

"I do have a grip on this program," Coker has insisted. "Don't ever doubt that. Don't ever doubt that."

Sorry, Larry, but your 11-Strikes-You're-Out policy has become Wanda Sykes-funny. Remember, this is the same Coker who recruited and signed Willie Williams, whose police record was longer than a goalpost upright. This is the same Coker who watched his team brawl with LSU players at last December's Peach Bowl, who watched his team stomp on the Louisville logo last month and who said he had no clue Saturday's brawl had escalated into fear-for-your-life status.

If I'm UM President Donna Shalala, I thank Coker for his years of service and then drop-kick him out of Coral Gables. Rehire Butch Davis, one of the few Miami head coaches who actually knew what "zero tolerance" meant. Hell, see if The Rock is available. He has recent experience. Anybody is better than Coker, whose Vaseline grip is useless.

Instead, the well-respected Shalala did nothing except issue the obligatory statement decrying the game's "embarrassing display of unsportsmanlike behavior." A Monday morning meeting with the executive committee of the school's board of trustees resulted in nothing more than an undeserving vote of confidence for Coker.

Shalala doesn't get it. What happened midway through the third quarter of Saturday night's game at the dumpy Orange Bowl wasn't unsportsmanlike behavior. Twisting a running back's ankle at the bottom of a pile is unsportsmanlike behavior. Taunting an opponent after a score (a UM player did that too) is unsportsmanlike behavior. A single cheap shot when you don't think the ref is looking is unsportsmanlike behavior.

What Reddick did with his helmet was so far beyond unsportsmanlike that you need Mapquest.com to chart it. It was criminal conduct. It was obscene. The stomping of an FIU player by Meriweather was only marginally less disturbing.


Larry Coker says he's in complete control of his program.
Shalala said she was "satisfied" with the ACC's penalties. If so, Shalala needs a refresher course on leadership. The melee, as one conference commissioner told me Monday, was "mob violence under the guise of intercollegiate athletics."

A line was crossed Saturday night. Crossed, and cleared by a terrifying mile. What began as childish trash-talking soon became physical confrontation, then a series of escalating cheap shots, then street fighting. It reached nauseating critical mass with the sight of a 6-foot, 205-pound Division I-A athlete swinging a helmet at someone with the intent to injure.

This wasn't a simple bruise mark for Miami and FIU. This was something more grotesque, something that made you question what kind of people these players were.

FIU's players were just as despicable, and Strock is just as accountable. Your team, your watch, your responsibility. But this is the first time Strock's program has gone psycho.

For Coker, it's one in a continuing series of embarrassments. Adding to the absurdity was Miami TV analyst Lamar Thomas, a former Hurricanes player, who tried to justify the melee as it unfolded (Thomas was relieved of his duties by Comcast Sports SouthEast early Monday evening).

"Now, that's what I'm talking about," said Thomas, as he endorsed the fight on live TV. Moments later, he said, "I was about to go down the elevator to get into that thing."

If I were UM athletic director Paul Dee (and I'm glad I'm not), I wouldn't let Thomas read the daily lunch menu over the school intercom system, much less let him see the working side of a microphone again.

There is no justification for what happened Saturday evening. There is no right, just lots of wrong. That's why Shalala ought to offer to declare the score null and void. In essence, admit that the game itself ceased to exist once the brawl began. In its place was an aftermath, a mere shadow of itself.

It would be an unprecedented gesture, but the proper one. Miami, which is trying to reach a bowl, wouldn't be credited for a tainted victory. After all, since when do you reward a team for humiliating itself?

"I can promise you that this will never happen again," Strock told reporters.

Maybe, but doubtful.

But did you see who didn't make the same vow? Coker.

Can you blame him?'
BFD
'Not surprisingly, the ugly brawl in Miami raised concerns among those who keep an eye on the role of college sports in American society. [One observer] said the fact that some commentators had described the Miami violence as "stupidity, and nothing more," meant that big-time college sports had lost its ability to shock. "It's gotten to the point where an event like that happens, and you don't even raise your eyebrows any more," he said. "When abhorrent things occur again and again and no longer shock, to me that means that you can no longer make a credible case that these are isolated incidents, and that higher education has to confront the debate about whether the system [of big-time college sports] is a good one."'


---from inside higher ed--
Harvard to Begin Holding
Formal Title-Stripping
Exercises in the Yard

It's every administrator's nightmare. There are so many miscreants on the Harvard faculty -- plagiarists in the law school, larcenists and shit poachers in economics -- that the flood threatens to become overwhelming.

In response to looming institutional disaster, as well as to the larger public relations fiasco resulting from Harvard's refusal to discuss its faculty review and punishment with the outside world, Harvard has radically streamlined its procedures, and made public the central element of the punishment process: title-stripping.

All faculty found guilty of misconduct will be handled the same way: Nothing will happen to them unless they hold a named academic title, in which case they will be stripped of it.

Moreover, to placate the public, Harvard will institute a public title-stripping ceremony in Harvard Yard, where people can gather, witness, and record the formal shaming as it takes place.

In an echo of the famed
Alfred Dreyfus ceremony,





















Harvard will dress disgraced faculty
in university gowns with special
Harvard epaulets loosely sewn upon
their shoulders. As faculty stand
alone in the emptied yard, crowds
along the edges of the yard will
watch as the university's president
marches up to the faculty member
and solemnly rips each epaulet off
of their shoulders -- an act symbolic
of the stripping of their titles.






The first ceremony, yet to be scheduled, will be a dual affair, featuring the two latest among the title-stripped: Andrei Shleifer and Martin Weitzman. Shleifer's case is well-known; details on Weitzman, from the latest issue of the Crimson, may be found below:



PROF DOGGED BY DUNG IS DEMOTED

Weitzman held the Monrad chair before being mired in manure muck




Andrei Shleifer '82 isn't the only Harvard economics professor to have been stripped of his endowed title after allegedly getting his hands dirty.

Martin L. Weitzman, the Harvard faculty member accused of stealing horse manure from a Rockport, Mass., farm in April 2005, has also recently lost his title as the Ernest E. Monrad Professor of Economics.

While the 2005-2006 Faculty of Arts and Sciences (FAS) course catalog listed Weitzman as holding the Monrad professorship, he now appears in Harvard's directories simply as "Professor of Economics."

Losing an endowed professorship usually does not entail a salary cut, but it is perceived as a drop in prestige.

Former Dean of the Faculty William C. Kirby, who served as FAS's chief through last June, declined to say yesterday why Weitzman is no longer listed as the Monrad professor.

"Consistent with its practices, the FAS is not in a position to comment on any internal personnel matter involving a member of its faculty," Kirby wrote in an e-mail.

Contacted at his Gloucester, Mass., home Sunday, Weitzman said, "I just don't want to comment on it."

And Ernest E. Monrad '51, who donated the money to establish the professorship that Weitzman held, also declined to discuss the matter.

Monrad is the co-founder of Northeastern Investment Management, a Boston firm that supervises over $1.3 billion in assets.

Morton Keller and Andrew B. Schlesinger '70, both historians who have studied Harvard, wrote in separate e-mails that they could not recall previous instances where professors had been stripped of their titles.

Shleifer, who paid a $2 million settlement but admitted no wrongdoing after the Justice Department sued him for allegedly defrauding the U.S. government, recently lost his title as the Whipple V. N. Jones Professor of Economics, apparently as part of the administration's punishment. The change first appeared in Harvard's online directories last Friday.

Harvard also paid $26.5 million last year to settle a five-year-long lawsuit over Shleifer's work advising a U.S.-funded program to privatize the Russian economy during the 1990s, after the fall of the Soviet Union.
Monday, October 16, 2006
An FIU Professor
Mounts a Defense


"Stanley Fish is the Davidson-Kahn Distinguished University Professor and a professor of law at Florida International University, in Miami," it says here, so I figured he'd be writing a first-hand account of his football team's rumble the other day with the University of Miami. Instead, his latest piece is about a much less exciting rumble -- the one at Columbia University, where students shut down the speech an anti-immigrant speaker a student group had invited was trying to make.

Fish makes an odd and unconvincing argument, in which virtually all invited speakers at universities represent a theatrical rather than intellectual phenomenon: Fish himself is, like Michael Moore, Noam Chomsky, the anti-immigration guy, and I guess just about anyone else, a "spectacle" rather than a lecturer or a polemicist or a discussant on a serious topic.


Just as you don't want your rock concert to end in the destruction of property or the injury of spectators (although you do want a little unruliness; it belongs to the genre), so you don't want the provoked energies of those present at a campus spectacle to break up either the program or the furniture. After all, tomorrow is another day and a new act will be coming to town (on October 10th it was I), and it won't come if the university gets the reputation of assembling crowds which it cannot then control.


Given that invited speakers are essentially trained seals or freak shows, the Columbia guy shouldn't have been surprised that things degenerated into Jerry Springeresque squalor. Yes, students hounded him off the stage, but "He has no constitutional right not to be shouted down or hounded off the stage. No government has abridged his freedom of expression." Nor were the students guilty of misconduct, since the event was rigged to excite them, and like Pavlov's dogs they got excited: "[T]he students ... were doing just what they were expected and (in some sense) directed to do..."

The only fault lay with the security guys from the university who were supposed to provide crowd protection....

So in a way Fish does speak to recent events on his campus, especially when he says:


Extracurricular means outside (the Latin extra) the curriculum and therefore outside the protocols and values that govern the classroom. And this means, in turn, that the norms by which extracurricular activities are to be measured belong not to morality or philosophy or constitutional law (all versions of what I call "big think"), but to show business. The question to be asked is not did it further free speech or contribute to a robust democratic culture or provide a genuine educational experience? Rather the questions to be asked are: Did it rock? Was it a blast? Was a good time had by all?


The extracurricular FIU/Miami rumble rocked! Not everyone had a good time, to be sure, but by show biz standards the event was unbeatable: Everybody's talking about it.
Paging Richard Brodhead!

University of Miami President Donna Shalala writes a shitty letter to her university and to the world, in the aftermath of her football team's third major act of violence on the field.

Shalala needs to consult Duke's president, who may not have done everything right in the wake of his own spectacular and ongoing mess, but who knows how to write an honest and dignified letter.

Here, with parenthetical commentary, is Shalala's:



To the University Community:

Saturday's on-field melee has no place at the University of Miami. [Weak and condescending opening line, with its high school teacherish "has no place" business. An onfield riot has no place anywhere; and something like it has in fact happened more than once in the past at the school. Far from having no place, it seems to have an increasingly secure place there. Starting with honesty about the event and its history is the way to go, rather than with a Nurse Rached cliche.]

What happened Saturday night at the Orange Bowl was outrageous. Regardless of who started it, this was an embarrassing display of unsportsmanlike behavior. Fortunately there were no injuries. [Also bad. Don't allude to 'what happened.' Say, in exact and even lurid language, what happened. This letter is supposed to inform the community of the precise nature of the events, not merely allude to them and start ventilating. And 'embarrassing display of unsportsmanlike behavior' is truly pathetic. The word 'thugs' is on everyone's lips this morning, from the major media to the minutest blogger. The president simply must acknowledge how bad things are, or she loses credibility in terms of her response. And 'fortunately there were no injuries' is simply bizarre. First of all, there were -- some of the players who fought were already injured, on crutches, and no doubt hurt themselves more. The injuries may have been minor, but there were injuries. This would also be a good place for the president to refer to the incalculable moral injury done her school in the eyes of the world, by this and similar incidents.]

FIU President Mitch Maidique and I talked by phone shortly after the incident on Saturday night. We both expressed deep disappointment and apologized to each other on behalf of our institutions. [Search this blog for details on what we can expect from His Excellency Mitch Maidique.]

What was envisioned as an opportunity for two hometown teams to provide an evening of athletic competition resulted in a brawl that brought embarrassment to the teams, our universities, and our community. [Again, the president seems unaware that this event way transcends embarrassment.]

The University of Miami simply will not tolerate or condone this type of behavior. Period. We expect the best from our students. Indeed we hold all of them to a high standard of personal conduct. [Crappy writing always ensues when you try to make words do the work of actions. Note all of her intensifiers... "simply...period...indeed..." None of them works. All that's conveyed is her agitation. And everyone who follows the University of Miami even cursorily knows that it does not at all hold its students to high standards of personal conduct, so the president looks hypocritical here.]

The one bright light is that the thousands of students from both institutions who attended the game behaved in exemplary fashion and kept their seats and their heads. [Kept their seats? From what I understand, they were scared shitless. Would you leap out of your seat into thirty huge men hurling things at each other?]

On Sunday the Atlantic Coast Conference conducted an independent review of the incident. As a result of that review, last night the ACC and the University of Miami announced that 13 student-athletes have been suspended for the game this coming weekend.

The ACC maintains rigorous behavioral and academic standards for student-athletes. [Bullshit.] We are satisfied with their decision.



End of letter. No review of UM's history of violence. No announcement of Shalala's own punishments, new rules, more serious suspensions of certain players, whatever. Nothing. Content of this letter?

1. Boohoo.
2. I'll do what the boys at the ACC tell me to.
Wealthy Persons Making
Wealthy Universities
Wealthier
Richard Vedder comments:
...[T]he tax advantages donors to Columbia University receive if it succeeds in its new $4 billion fundraising campaign would fund well over 200,000 Pell Grants.

...Stanford has now topped Columbia, announcing a $4.3 billion capital campaign.

Suppose both campaigns are successful. Wealthy taxpayers will take over $8 billion in deductions against their gross incomes on their federal income tax forms, which should minimally lower their tax liability by $2 billion. That $2 billion could fund 500,000 Pell Grants at $4,000 apiece (far greater than the average Pell Grant today).

Lay those half-million students end-to-end, they would stretch from Washington, D.C. to nearly Indianapolis. Our tax system rewards the bastions of the elite at the expense of educating the poor.

We are giving huge tax subsidies to wealthy persons who want to make wealthy universities richer, and widen the gap between the haves and have nots in American universities. Should we be giving tax deductions to schools whose annual endowment income is, say $30,000 per student or more? How does this promote higher education access or affordability? What national purpose does it serve? Why should a dollar's gift to Harvard, with $1.6 million in endowment for every student, be encouraged as much by public subsidy as a dollar's gift to my university, with perhaps $10,000 in endowment per student? Or community colleges that have virtually no endowment?


One answer to Vedder's Harvard example is that if Harvard didn't have $1.6 million in endowment for every student, they wouldn't be able to blow off thirty million dollars in federal penalties against one of their economics professors.
The Perfect Storm:
A Cold River,
A Cold Brew,
A Typical
Wisconsin U.
'Past midnight, the downtown bars are humming with university students sucking down brews on five-buck unlimited beer night. One patron stumbles outside, twirling around a lamppost. A few tanked-up guys howl and whistle at women.

Two blocks away, on the frigid banks of the Mississippi River, a stone-sober student patrol wearing orange vests and sporting flashlights and radios linked to the police is on the lookout to prevent another heartbreak.

Three weekends ago, a highly inebriated basketball player at the University of Wisconsin-La Crosse turned up dead, a likely drowning victim after a night of Oktoberfest revelry.

Lucas Homan, 21, had the equivalent of nearly a case of beer in his system, authorities said, and he was the latest victim of binge drinking that has led eight athletic young men to their deaths in the river from downtown bars since 1997.

...In Wisconsin, a national leader in per capita consumption of beer, fingering alcohol as a culprit can be highly unpopular.

...Homan, who weighed 205 pounds and was to start this season on the basketball team, began drinking at a house party around 6 p.m. on the first Friday of the city's popular Oktoberfest, his housemates said.

Homan later went to the downtown bars with friends who were visiting from his suburban Milwaukee hometown. He was seen hugging people on the streets and roaming from bar to bar. One of his friends, found stumbling on the streets, was taken to an alcohol detoxification center, according to city officials.

Two days later, Homan's body was found in the river.'
Sunday, October 15, 2006
Saturday Night's Savagery



As someone who has read more than her share of pious bullshit from University of Miami President Donna Shalala about how wonderful it is for everyone that UM's football lads are getting a great education and serving as role models and all, I'm eager to see how she will handle -- rhetorically and institutionally -- the latest and loudest instance of team thuggery. How many vicious brawls will it take for her to admit that her university's football program is disgusting? Is there even now -- after three recent on-field riots -- a way for her to spin her way out of this?

Here's a reporter who witnessed the events. His remarks drew reader comments, some of which I'll quote after his piece.






Saturday night's University of Miami game against FIU was the 137th straight I have covered as the Post's UM beat writer dating back to 1995.

Never have I seen conduct more reprehensible than what I saw on Saturday night.

Thirteen players were ejected following one of the nastiest brawls college football is likely to ever witness. At least that many players should have left the Orange Bowl in handcuffs.

It's amazing that no one got seriously hurt or even killed. Among the many acts of thuggery committed were players using helmets as weapons, several instances of players getting stomped on and kicked in the head, and more sucker-punching than you will see in a Mike Tyson fight.

The most obviously egregious actions were those taken by UM defensive backs Anthony Reddick and Brandon Meriweather. Reddick is clearly shown on replays swinging his helmet and viciously whacking an FIU player. Meriweather can be seen taking a running start before stomping on the back of another prone FIU player.

Neither player was ejected, but UM coach Larry Coker announced on Sunday that Reddick and Meriweather, as well as fullback James Bryant, will be suspended for Saturday's game against Duke because of their goonish behavior.

Coker can do whatever he wants, but a one-game suspension seems awfully kind. If Coker really wanted to send a message, as he claims, he would banish Reddick and Meriweather for far longer because it's obvious neither player respects the university, their opponents or themselves.

This is not to excuse FIU. If you ask me, they started the entire thing. FIU seemed intent on provoking UM for much of the night and they finally succeeded with nine minutes to play in the third quarter when a Golden Panther player picked up UM holder Matt Perrelli and bodyslammed him into the ground.

Pete Garcia's first act as FIU's athletic director today should be to suspend the hoodlums on his football team that aren't good enough to win a game, but seem pretty adept at firing up a riot.

It may seem unfair, but Coker also shoulders responsibility here. This is the third major incident involving the Hurricanes in their last seven games.

Last December's Peach Bowl ended with a post-game fight between UM and LSU players that left guard Andrew Bain and receiver Khalil Jones unconscious. Prior to the Louisville game on Sept. 16, UM players stomped on their opponent's cardinal logo and nearly provoked a fracas.

Now this.

Coker strongly disputed the notion on Sunday that he does not have complete control of his players.

"I do have a grip on this program," Coker said. "Don't ever doubt that."

Anyone watching Saturday night's savagery has to wonder.




********************



Reader Comments


We are in our 60s and sit in the west end zone. My wife was scared and I was both amused and amazed.

In both the sports I officiate (soccer and lacrosse) players who leave the bench to participate in an altercation are automatically ejected. Had the refs had the presence to eject them all the game would have been concluded with 6 aside flag football.

Review the tape and notice how little impact the coaching staff on UM has on its players leaving the bench. There must be 40-50 coaches, assistants and trainers on the UM sideline, and no one stepped in the way of a player entering the brawl. I have no idea how much this talent is paid, but no one is earning their pay this season.

If you watched the pre game warm ups closely UM did control its players. Just before the UM team went to the locker room about 25 minutes before kickoff #42 FIU a defensive end danced through the UM huddle. After that he went to the west end to encourage the UM fans by waving his arms. That was provocative behavior not dealt with by the FIU staff or the officials who were present and "observing."

We certainly have not enjoyed our season tickets as senior citizens, and the 100 mile drive home to Stuart is mostly in silence.




As the mom of a new UM freshman, I certainly hope Donna Shalala, the UM president, holds the coach and athletic director responsible… surely in the first place, the failure lies at the top.



Coker is done. He doesn't have control of his team. And between this and the thug-like atmosphere surrounding the school for years—-calling the school "The U" instead of its proper name not only sounds stupid but contributes to an atmosphere of thuggery—-it doesn't seem like Shalala has control of her school or its image, either.



If any fans in the Miami area are surprised by the FIU-Miami brawl you must have your head buried in the sand. Certainly no one else in the country is surprised in the least. UM is recognized everywhere as a band of thugs. The president, athletic director and football coach should lose their jobs. It is that bad! Miami deserves better.
Couldn't Be More Proud of Our Boys,
Says University of Miami Football Coach
...'Punches were eventually thrown by a few players on the field and then the benches on both teams emptied as numerous fights broke out [between the University of Miami and an opponent] all over the field. Every player from both teams [was] on the field, even injured players.

A total of 13 players from both teams were ejected from the game; however, a number of other players could have also been ejected if the officials [had] kept track of everyone.

"I think that it will affect the image of our program greatly, but in a positive way," Miami coach Larry Coker said. "I think that when they see the video and they see how it was handled they will be impressed with our players. This will not be a very big thing for the the University of Miami. It was impressive in that it was handled very well."

...The brawl was the second for Miami (4-2) in seven games as they had a fight with LSU following the Peach Bowl last season.'




-- via mike -- thanks --
Saturday, October 14, 2006
Beating off to Norman Rockwell
In The Hopkins English Department
... Richard Halpern, an English professor at Johns Hopkins University and author of the new book Norman Rockwell: The Underside of Innocence (Chicago University, $33), [asks of a Rockwell painting]: What's with that creepy doll on the floor?

"There is something slightly indecent about its posture," he writes, noting the raised rump. The doll, he suggests in language too colourful to repeat here, appears to be engaged in a quasi-sexual act with the mirror frame.

And it's no accident, as Halpern interprets it. Adolescence isn't all sweetness and light, of course, and the doll signals Rockwell's awareness of its more carnal side. The doll, he writes, "grotesquely amplifies ... the delicate point of sexual transition at which the girl finds herself."

Eroticized dolls — a running theme in Rockwell's work, Halpern says — are just one category of sexual or Freudian images that Halpern detects in Rockwell's paintings. He enumerates them in an effort to show that Rockwell is a "darker and more complex figure than most people are willing to accept."

"I think he intends to test the viewer," Halpern says in an interview from his Manhattan apartment.

To Halpern, Rockwell's main theme is not just innocence, but the denial required to make "innocent" images in our complicated world. As a result, people owe Rockwell another look: Innocence with lasciviousness peeking in at the edges, he says, is a lot more interesting than mere innocence. ...

Laurie Norton Moffatt, head of the Norman Rockwell Museum in Stockbridge, Mass., finds this all a bit much. Of Girl at Mirror, she says, not without a sense of humour: "I'm a woman who grew up as a girl loving her dolls. I would not see that in a doll.

"I think he is reading more into these pictures than was intended," she said. ...

Consider Cave of the Winds (Girl with Skirt Blowing Up), a Saturday Evening Post cover from 1920. With a grinning boy behind her, a girl at an amusement park is captured in the moment when jets on the floor fire air up into her skirt. The picture's true subject, Halpern says, is not childhood fun but "the shock of sexual difference." The girl has closed her knees and predictably grabbed her skirt, yet her hand finds itself in a suggestive location, Halpern notes. Her face is "flustered" with alarm, but also, perhaps, pleasure.

But Freud is really in the details. An empty peanut bag floats at knee level, its opening pointed at the viewer. Halpern says that motif is repeated meaningfully: "The Cave, the bag, the balloon, the billowing skirts, the girl's pursed but open lips — all are externalized emblems of the empty ... cavelike thing we are not allowed to see but see nevertheless."

Don't blame the critic, Halpern says: It's the painting, not his reading, that's "heavy handedly Freudian."

In his Christmas illustrations, Rockwell returned several times to the moment a child learns something unsettling about Santa Claus. But, Halpern asks, in Santa's Surprise (1949), is that really the revelation we're talking about? A boy has opened a door to find his mother on her knees, sewing the backside of Dad's Santa pants. Dad has only the bottom half of the suit on, and a tremendous pillow bulges out at a 45-degree angle from the front of his pants. "I trust I can leave this one to the readers' imagination," Halpern writes. (Maybe not. The Rockwell Museum's Moffatt says she sees no "sexual innuendo" at all in the painting.)
NEWS FLASH:
Harvard Comes Down on Shleifer
Like a Ton of Bricks!

The latest from the Crimson!


Andrei Shleifer '82, the prominent Harvard economist who found himself at the center of a rare ethics investigation for his alleged role in defrauding the U.S. government, appears to have been stripped of his endowed title as the Jones Professor of Economics, according to an updated listing in the Harvard directory.

Beginning on Friday, Shleifer was identified only as a "Professor of Economics" at Harvard, though his personal website remained unchanged. Previously, he had occupied the more prestigious, endowed chair as the Whipple VanNess Jones professor. It was unclear whether the demotion would correspond with a cut in salary.

The Crimson first reported the news of the conclusion of a months-long investigation of Shleifer on Thursday. The professor's title change was first reported on the Boston Globe's website Friday evening.

"I was a Professor of Economics last week, and I am a Professor of Economics this week," Shleifer told the Globe Friday.

The ethics inquiry had centered on allegations that the economist violated Harvard conflict-of-interest rules by making private investments in the Russian economy while advising a federally funded and Harvard-run aid program in the country.

A federal judge found Shleifer liable for conspiring to defraud the U.S. government in 2004, and Harvard last year paid $26.5 million to settle the case, while Shleifer, who has denied wrongdoing, paid $2 million.

Interim Dean of the Faculty Jeremy R. Knowles, responding to charges that he mismanaged the Shleifer case by not consulting with the seven-member Committee on Professional Conduct (CPC) and a three-member investigating subcommittee before reaching a decision, told The Crimson on Wednesday that "appropriate action" had been taken in the case. He would not indicate whether that action included punishment.

Friday's revelation appeared to indicate that Knowles had chosen to penalize Shleifer's professional rank in the economics department, where he is considered one of its star professors.

Several CPC members were disturbed by Knowles' silence on the case and in recent weeks, some had questioned the fairness of the proceedings, two individuals close to the committee told The Crimson.

Gary Feldman, a physics professor who sits on the CPC, said Friday afternoon that it might be appropriate for Knowles to release a public statement detailing the action he took against Shleifer and the nature of the report that was submitted by the three-member investigating subcommittee.

"It might be in Harvard's interest to have a more forthcoming statement than the dean has provided," he said, adding that he was not aware of any CPC members who had been notified of Knowles' action or the findings of the subcommittee.

Though Knowles is not technically required to notify the committee or the public of his action, some CPC members and the professors on the investigating subcommittee believe it is his obligation to do so, the sources said.

Shleifer's case had involved questions of whether Shleifer was bound by conflict-of-interest rules while he was advising the Harvard program in Russia, according to Feldman. Shleifer had maintained that he was not subject to the conflict-of-interest rules.

"I suppose it would be helpful to know what conclusion the investigating subcommittee came to on those issues," Feldman said.

Feldman, speaking before the news of the stripped professorship had broken, said that a change in Shleifer's title would likely have little significance.

"Endowed chairs are mainly a marketing tool the University uses to get money," he said.

Shleifer's former title honored Whipple Jones, the founder of the Aspen Highlands Skiing Corporation in Colorado who gave Harvard stock that was sold for $18.3 million in 1994.

Feldman said that any financial penalty imposed by the University would be negligible, given that Shleifer has already paid $2 million to settle the federal lawsuit brought against him.

Nancy L. Rosenblum, the chairwoman of the government department and a CPC member, said she was unsure whether it would be appropriate to release the case's details to the CPC or to the public. She said she could not reach a conclusion because she was not privy to the report's contents or Knowles' decision.

"Whether Harvard would be better off with sunshine disinfectant in this case is impossible to say," she wrote in an e-mail. "Unlike general policy matters, there are good reasons to protect individuals—in this case Prof Schleifer [sic], the subcommittee, and the Deans—from public dissection after the fact."

Several of Shleifer's colleagues in the economics department declined to comment on whether the professor had been punished. But Claudia Goldin, the Lee professor of economics, wrote in an e-mail Thursday that Shleifer had appeared "quite content."

"Prof. Shleifer does not appear to have been whipped, beaten, tortured, or starved," she wrote in an e-mail. "I see no evidence of punishment."
Friday, October 13, 2006
David Chernicoff...

...who, among his other accomplishments, is a Yale Daily News writer, comments on the Aleksey Varner thing from a bullshit-tolerant perspective:



This cultural tolerance of bullshit is hardly a surprise, given the admissions process at a place like Yale. Come on, don't look at me like that. You all remember the days of résumé-padding that led up to your getting that big blue envelope in the mail: helping your friends with their calculus homework became "Volunteer Tutoring"; playing percussion in a school play so you could go to a cast party and flirt with a cute actor made you part of a "High School Orchestra"; maybe you even enrolled at a Community College course because the easy A you'd earn in Intro Psych would count for an extra point in your GPA. Whatever. The point is that a little bending of the truth isn't foreign territory to a lot of students who're trying to get into a competitive university like this one.

Vayner just took things too far. Okay, Vayner took things way too far. Okay, Vayner took things farther, and in more creative ways, than most of us could dream. Point taken. Clearly the guy's got a problem-they don't call it pathological lying for nothing, and there's a pretty intense pathology at work here-but the point is that, in a sense, he was continuing to "play the game" that everyone knows, recognizes, and tolerates, even though everyone knows that it's bullshit.

The depressing part is that, in the case of college admissions, Vayner's act worked. (Okay, I don't know that for certain-I haven't seen his admission file-but one can only imagine what kinds of extracurriculars wound up in that little grid of his.) Admissions Officers are so constantly bombarded by bullshit that their radars are overloaded, and every once in a while somebody nuts slips through. That's awful, if you think about it: what you've actually done matters far less in our little world than what you can say you've done, especially if your claims can't be refuted. And who you actually are … well, that matters even less.

Which brings me to my final thought on the matter: Aleksey Vayner may be a perfectly nice guy. I don't really know him, and most of us who've spent the week reading up on his dishonest ploys don't really know him either. My only experience of him was when he (somehow) convinced our Eastern Philosophy professor to let him screen a movie on the last day of our class (a treatise on Zen Buddhism featuring b-roll of Vayner performing various physical feats of questionable veracity). He struck me as a giant toolbox then, but who really knows? Maybe nobody does … and either way, we should cut the guy some slack. He has a problem and doesn't deserve to be raked over the coals by every two-bit jokester who has nothing better to do than troll the internet looking for people to feel superior to.


Chernicoff describes himself at the conclusion of his article:


David Chernicoff is a Senior in Branford College and also a third-year law student and a candidate for PhD's in Philosophy, History of Art, and Women's and Gender Studies. He is has been the Sterling Professor of Humanities since 1997. He is a trained fighter pilot who has earned every major decoration in the armed forces by serving in every United States military action since his birth in 1984 (including pulling the trigger on the nearest miss of Osama Bin Laden on record). He still has top-level intelligence classification and advises the government on matters of nuclear strategy in between stints as a lion tamer at the wildly popular Cirque du Mond, of which he is co-founder. He speaks 74 languages, including the language of the trees, a skill he picked up under the personal tutelage of a legendary Amazonian shaman. Among his lesser accomplishments are: winning a poker tournament between the Allied and Axis leaders of World War II (including a legendary bluff that Winston Churchhill insisted was the real reason Hitler finally surrendered); developing the Theory of Natural Selection with Charles Darwin while serving as captain of the HMS Beagle; painting Guernica; and preventing a catastrophic meteor collision with Earth in the sixth millenium BC; all of which he achieved via the ingeniously deft use of the time machine he crafted at age five from certain mystical substances he developed through alchemy, one of his many childhood hobbies. Chernicoff is also an expert in the Arts of Love, as shown him by a race of sexual aliens whom he seduced upon their attempted abduction of him during his high school days. Three times has Chernicoff nearly achieved enlightenment through a uniquely-blended style of meditation whose expression in words is impossible-though his anthology of poems on the subject recently outsold the entire Harry Potter series and the Bible combined to become the most lucrative, life-changing book in the history of mankind-and each time he has refused to transcend the earthly realm without first reaching out and teaching each child in the world how to lead a healthy, productive life. He is adored by billions and worshipped by millions, but he's really a down-to-Earth guy … and he'd love to have a cup of coffee and chat some time.
The Importance of Being Andrei
Scene I, Act III


[For an update on the Andrei Shleifer case, go here. For earlier Acts, go here.]


Committee on Professional Conduct. It pains us very much to have to speak frankly to you, Dean Knowles, about someone with a named chair, but the fact is that we do not approve at all of Andrei's moral character. We suspect him of being untruthful.

Knowles. Untruthful! Our Andrei? Impossible! He is a Harvardian.

CPC. I fear there can be no possible doubt about the matter. He defrauded our government of a good deal of money, in a clear conflict of interest. He attempted to keep whistle blowers from revealing the truth of his operations. He alienated the American and Russian governments, and did damage to Harvard's relations with them. He has never admitted guilt. He is directly responsible for Harvard having to pay the federal government thirty million dollars in penalties.

Dean Knowles. Ahem! After careful consideration I have decided entirely to overlook Andrei's conduct.
Thursday, October 12, 2006
It's Official

Palgrave Macmillan will bring out UD's book, co-authored with Jennifer Green-Lewis, titled Reevaluating Aesthetic Theory in DeLillo, Woolf and Merrill: Pedagogy and the Return of Beauty.
Your Tax Dollars at Work
'A White House staff member and National Security Agency employees were among 6,000 people who bought bogus online college degrees from a diploma mill, a federal judge has been told.

Others who paid thousands of dollars for phony diplomas in the operation, which used names such as St. Regis University, James Monroe University and Robertstown University, include a senior State Department employee in Kuwait and a Department of Justice employee in Spokane, defense lawyer Peter S. Schweda said Wednesday.

None of the federal officials was identified during the status conference for five defendants in U.S. District Court, nor would lawyers for either side provide any of their names outside the courtroom, The Spokesman-Review reported today.

"We're not going to disclose who bought these degrees until after the trial is under way," U.S. Attorney James A. McDevitt told the newspaper.

Material provided to the defense by the Justice Department shows at least 135 government employees, also including some from the Department of Health and Human Services, bought college or university degrees to use in seeking promotions or pay raises, Schweda said.

The defense team also is seeking access to an Office of Personnel Management report which reportedly provides more detail on federal employees who are believed to have purchased the bogus degrees to enhance their portfolios.

The White House employee who reportedly bought a degree is the subject of a separate investigation, Schweda said.



... The defendants are charged with conspiring to commit wire and mail fraud and laundering almost $2 million in diploma mill receipts in 2002-05.

As webmaster, [one defendant] set up and maintained as many as 125 Web sites for sales of fraudulent college and high school degrees worldwide, investigators wrote in court filings.

Investigators also have asserted that more than $43,000 in bribes were paid to three Liberian diplomats who also have not been identified, including one handoff that was videotaped by Secret Service agents at a hotel in Washington, D.C. Government lawyers have said diplomatic immunity precludes charges against the diplomats.

The Liberian "Board of Education" offered accreditation for the online diploma mills in exchange for the bribes, according to court filings.'



---thanks to UD's 'thesdan pal,
David, for the link--
Just in Time to Give
Joyce Carol Oates
A Lesson in True
Artistic Courage...

... Orhan Pamuk has won the Nobel Prize in Literature.

You may recall Pamuk's protracted trial for insulting Turkey by telling the truth about the Armenian genocide.


The charges against Pamuk caused an international outcry and led to questions in some circles about Turkey's proposed entry into the European Union. On 30 November, the European Parliament announced that it would send a delegation of five MEPs, led by Camiel Eurlings, to observe the trial. EU Enlargement Commissioner Olli Rehn subsequently stated that the Pamuk case would be a "litmus test" of Turkey's commitment to the EU's membership criteria.


Pamuk has been freed. Next stop, Stockholm.
Cruel Use of
the Imagination


The Princetonian quotes from a College of New Jersey professor's protesting email to Joyce Carol Oates, about her short story, "Landfill" (for details, go here):



"You so flimsily disguised the true College of New Jersey story upon which your fictionalized account is based, and used your imagination so cruelly, that it can only add to the overwhelming pain the [Fiocco] family has already suffered."


This says it beautifully. There is a form of mental cruelty specific to the writer-as-parasite upon the vulnerabilities of human beings, the writer who feeds on those among us who suffer the most atrocious fates, who enjoys imagining -- assumes we enjoy reading -- degradation upon degradation. Such writers will always tell us that they're providing the "dark truths" (to use JCO's words in her defense) of our lives... truths that we of course are afraid to look at, in denial about, etc., etc.

Never let anyone bully you in this way. We all know the difference between fair play and unnecessary roughness.



Oates has issued an apology. This is a distinct improvement over an earlier response, when this arrogant woman, 'in an e-mail sent Wednesday to The Associated Press, ... likened the school's criticism to the reaction of Muslim fundamentalists who issued a fatwa, or religious edict, against Salman Rushdie for his "The Satanic Verses."'
From Today's Harvard Crimson
[With UD's Bracketed Commentary]


The Faculty of Arts and Sciences has concluded its ethics inquiry into allegations that Jones Professor of Economics Andrei Shleifer '82 defrauded the U.S. government, but neither Shleifer nor FAS officials would say whether the University had punished the renowned economist.

[Um, did the committee conclude that Shleifer defrauded the U.S. government? This would have some bearing on whether it punished the renowned economist. Perhaps the Crimson reporter is holding onto this information until later in the piece... Let us read on... ]



Interim Dean of the Faculty Jeremy R. Knowles said yesterday that "appropriate action" had been taken in the investigation [Appropriate action given his having defrauded the government, or appropriate given the committee's conclusion that he has not defrauded the government?], brushing aside charges that he mismanaged the Shleifer case by acting without consulting the committees that had investigated the matter.

[Whose charges? What do you mean? Didn't you say that the committee has concluded its report? Did the Interim Dean not consult it?]



The seven-member Committee on Professional Conduct (CPC), along with a three-member investigating subcommittee, scrutinized Shleifer's purported role in conspiring to defraud the U.S. government by making private investments in the Russian economy while he helped advise a federally sponsored and Harvard-run aid program there.

In recent weeks, however, Knowles' silence on the matter has disturbed members of the CPC and the investigating subcommittee. Several committee members are upset with the dean's management of the issue and some have questioned whether the case was handled fairly, according to two individuals who have spoken with professors on the committee. [

Okay... So... This means that the Interim Dean has in some way not taken seriously the punitive actions of the committees?... Or is it the other way around? Has the Dean's silence represented an act of hostility against Shleifer, when the committees wanted him resoundingly endorsed and embraced by Harvard, his sins forgiven?]



The individuals were granted anonymity because the Shleifer case is considered confidential. Members of the committee have declined to comment publicly on the investigation. [See, this is the sort of thing that gives academia a bad name. Anonymity, confidentiality... You'd think these people were Mafia songbirds about to be given new identities rather than tenured university professors charged with clarifying to the institution -- and certainly to the government -- the nature of the misconduct one of their colleagues engaged in.]

Shleifer, who was in Amsterdam to deliver a lecture, declined to say whether he had been punished by Knowles.

"I am delighted that this matter is fully behind me," he wrote in an e-mail message sent from his BlackBerry. "I look forward to following [Knowles'] advice and focusing my energies fully on scholarship, teaching, and on service to economics and to [H]arvard."

[UD thinks Shleifer is a bit premature here. The matter may be behind him - and he's free to care only about himself, of course - but I doubt it's fully behind Harvard.]



Shleifer's statement appeared to indicate that he would remain at Harvard as a professor. [The poor Crimson. This article gives it that "student newspaper" look, doesn't it? Shut up, kids. Hire Bob Woodward if you want anything more out of us... ] The individuals close to CPC members said it would be unlikely for Knowles to revoke Shleifer's tenured teaching post — a move that would require the approval of the Harvard Corporation, the University's top governing body. [The Corporation! Cue Twilight Zone theme song...]

For Shleifer, the investigation's conclusion marks an end to a saga that has dogged the 45-year-old's career for nearly a decade. A federal judge found him liable for conspiring to defraud the federal government in 2004, and last year, Harvard paid $26.5 million to settle the case, while Shleifer, who has denied any guilt, paid $2 million.

When Knowles took over as interim dean this past July, he received the CPC subcommittee's report on Shleifer. The dean has declined to detail the contents of the report or to say whether Shleifer has been punished, citing FAS policy against commenting on personnel matters. [

Of course, this is far from a mere personnel matter. Knowles takes his cue here from Kim Jong Il, who I'm sure must also keep certain important matters secret from the people.]



"This case raised important issues, which have been thoroughly investigated according to the published procedures of the Faculty, and appropriate action has been taken," Knowles wrote in an e-mail. [Father knows best.]

He added that he had communicated the "appropriate action" to Shleifer in a recent letter.

Knowles was the dean of FAS in 2002 when Shleifer was originally elevated to the Jones professorship. That was three years after Shleifer received a prestigious prize awarded to the top American economist under age 40, the John Bates Clark Medal, which his close friend, Lawrence H. Summers, had won six years earlier.

While Shleifer was an undergraduate at Harvard, he was hired as a research assistant by Summers, then an MIT assistant professor, according to The Journal of Economic Perspectives. And prior to Shleifer's appointment as the Jones professor, around the time that Shleifer's once-and-future boss became Harvard's president, Summers told Knowles that he "was concerned to make sure that Professor Shleifer remained at Harvard" because of Shleifer's academic potential, according to a 2002 deposition given by Summers.

Summers later told The Crimson that he recused himself from the Shleifer case "within a few days since I took office." The Corporation's senior fellow, James R. Houghton '58, and the University's former top lawyer, Anne Taylor, have both publicly stated that Summers had no involvement in the Shleifer litigation.

Interim President Derek C. Bok has also said he would not participate in any disciplinary decisions regarding Shleifer because of his role as an adviser to both the Corporation and Shleifer during the Summers presidency.

The Shleifer case has been a source of discontent in the Faculty of Arts and Sciences, especially during Summers' presidency, when some professors thought Shleifer was receiving preferential treatment due to his close relationship with Summers.

In February, McKay Professor of Mechanical Engineering Frederick H. Abernathy contributed to the downfall of Summers when he asked the then-president about the case.

When Summers said that he was not sufficiently knowledgeable about the case to express an opinion, he lost the support of several senior FAS professors and members of the Corporation.

The Shleifer case is not on the Faculty's agenda for next Tuesday, but the topic could be raised during the meeting's free-for-all "question period."

Abernathy said that he has no plans to resuscitate the case at next week's meeting, but he hopes that in light of Knowles' statement, some of his colleagues will press the issue.

"I don't think that the faculty should be satisfied," Abernathy wrote in an e-mail.

Though FAS regulations do not require Knowles to make his course of action public, he is not bound by the same confidentiality rules that prevent CPC members from speaking publicly about the case. [The people are not able to handle the truth of the case. It's in their best interest to be kept innocent of its disposition.]

One CPC member, speaking on condition of anonymity, emphasized that in misconduct cases, "the Dean of the Faculty is free to make any statement he wishes."

In light of a July Crimson story confirming that a report on Shleifer had been delivered to Knowles, "it would be appropriate for some faculty member at the October 17 faculty meeting to ask the Dean what action has been taken," the CPC member added in an e-mail.

FAS rules state that investigations of misconduct should be kept confidential "to the extent that it is appropriate and consistent with other obligations of the Faculty."

Several CPC members believe that Knowles holds an obligation to inform the committee of his course of action, and some members believe the decision should be made entirely public, the two individuals close to CPC members said. The sources added that at least three members of the CPC did not know the details of Knowles' decision. [

Get that? Three members of the investigating committee itself do not know what Knowles decided. We are talking about byzantine layers of secrecy. No fair mocking the Vatican if you're a Harvard faculty member...]



The CPC's chairman, Stanfield Professor of International Peace Jeffry A. Frieden, said that while some deans have in the past kept the CPC in the loop on decisions, "it is really up to the discretion of the dean."

"These cases are very sensitive. They involve people's careers," he said. [

Um, they involve the integrity of America's most important university. Don't they?]



In addition to Frieden, the CPC includes physicists Paul C. Martin and Gary J. Feldman, English professor Philip James Fisher, Government Department Chair Nancy L. Rosenblum, geologist John H. Shaw, and chemist Gregory L. Verdine. The investigating subcommittee's membership is considered confidential, and it includes professors not on the CPC. The two sources said the subcommittee is composed of a Law School professor and two FAS members. [

Why is the membership of the CPC not confidential, and the membership of the subcommittee confidential? UD's head spins... I guess it's just too complex and high-level for simple folk like us to make heads or tails of... I guess the Dean must... know what he's doing...]
Wednesday, October 11, 2006
From an Opinion Piece in
Today's New York Times
The academy responds to the demands of disciplines and faculty. It is a culture that cherishes independence and freedom. And it is a culture seriously out of touch with much of America.

Faculty members decide what they want to teach and when they want to teach, if, indeed, they teach at all. This is particularly true regarding undergraduate instruction, which is something of an afterthought on many campuses. Faculty members typically spend fewer than 200 hours a year in the classroom. That amounts to just five 40-hour weeks.

Take a look at what passes for subjects of scholarly and instructional focus on campuses. Should taxpayer dollars really go to underwrite courses in such things as the history of comic book art? Policy makers and tuition payers need to be made aware of what sorts of courses institutions consider appropriate to fulfill core academic requirements, if anything resembling an academic core even exists. And there needs to be a greater emphasis on teaching students what they need to know, rather than what faculty want to talk about.

One of No Child Left Behind's hallmarks is transparency. Today parents know more about the performance of their children's schools than ever before. This same principle needs to be applied to higher education. Colleges and universities need to be able to explain why they charge the tuition they charge, what their graduation rates are, what they feel constitutes an educated person and how they propose to get first year students from here to there. The various college rating systems and publications are entertaining and interesting to read, but they don't provide the sort of objective data tuition payers need to make informed decisions.



Out of touch with much of America? What could be more American than comic books? The academy's problem is that it's way too much in touch with America.
Kevin Barrett Offered Place
on University of Georgia
Football Team
A university instructor who came under scrutiny for arguing that the U.S. government orchestrated the Sept. 11 attacks likens President Bush to Adolf Hitler in an essay his students are being required to buy for his course.

The essay by Kevin Barrett, "Interpreting the Unspeakable: The Myth of 9/11," is part of a $20 book of essays by 15 authors, according to an unedited copy first obtained by WKOW-TV in Madison and later by The Associated Press.

The book's title is "9/11 and American Empire: Muslims, Jews, and Christians Speak Out." It is on the syllabus for Barrett's course at the University of Wisconsin-Madison, "Islam: Religion and Culture," but only three of the essays are required reading, not including Barrett's essay.

Barrett, a part-time instructor who holds a doctorate in African languages and literature and folklore from UW-Madison, is active in a group called Scholars for 9/11 Truth. The group's members say U.S. officials, not al-Qaida terrorists, were behind the attacks on the World Trade Center and the Pentagon on Sept. 11, 2001.

"Like Bush and the neocons, Hitler and the Nazis inaugurated their new era by destroying an architectural monument and blaming its destruction on their designated enemies," he wrote.

Barrett said Tuesday he was comparing the attacks to the burning of the German parliament building, the Reichstag, in 1933, a key event in the establishment of the Nazi dictatorship.

"That's not comparing them as people, that's comparing the Reichstag fire to the demolition of the World Trade Center, and that's an accurate comparison that I would stand by," he said.

He added: "Hitler had a good 20 to 30 IQ points on Bush, so comparing Bush to Hitler would in many ways be an insult to Hitler."

Moira Megargee, publicity director for the Northampton, Mass., publisher Interlink, said the book is due out at the end of November and the editing isn't finished.

"It is not final and for all we know that essay may not be in the book or may be edited," she said.

The university's decision to allow Barrett to teach the course touched off a controversy over the summer once his views became widely known.

Sixty-one state legislators denounced the move. One county board cut its funding for the UW-Extension by $8,247 _ the amount Barrett will earn for teaching the course _ in a symbolic protest, even though the course is unrelated to that branch of the UW System.

Democratic Gov. Jim Doyle and his Republican challenger, Mark Green, have both said they believe Barrett should be fired.

One essay Barrett is requiring students to read is entitled: "A Clash Between Justice and Greed," and argues that conflicts between Islam and the western world were made up after the "collapse of the Soviet Union to justify U.S. 'defense' spending, and to provide a pretext of controlling the world's resources."

The author of another essay, "Interpreting Terrorism: Muslim Problem or Covert Operations Nightmare?," contends some western intelligence agencies are commiting acts of terrorism to make them look like the work of radical Islamics.

The university's chief academic officer, Provost Patrick Farrell, decided to retain Barrett for the course after reviewing his plans and qualifications. He said Barrett could present his ideas during one week of the course as long as students were allowed to challenge them.

He later warned Barrett to stop seeking publicity for his personal political views.

Farrell said he has not seen the essay, but faculty can assign readings that may not be popular to everyone.

"I think part of the role of any challenging course here is going to encourage students to think of things from a variety of perspectives," he said.
Anguished Questions
From a UGA Fan
UGA has the worst graduating rate for major-sports athletes in the SEC and among the worst rates nationally among the 319 Division I schools. Those low graduation rates for the football and basketball teams mean Georgia is recruiting ballplayers from among the poorest scholastic achievers in high school.

President Adams' excuse: "We have to compete in the SEC."

You gotta be kidding, prez. Georgia is not competing now, except in the blue-smoke-and-mirrors department. Our coaches try to make the Bulldogs look good by scheduling as many weak-kneed Podunk teams as possible. And even the Podunks make the Dawgs whimper. Then along comes a real SEC team, Tennessee, and whips us so badly that Uga VI runs under the porch. You call that competing?

Something smells here. If UGA is going to recruit from the bottom of the scholastic barrel, shouldn't we be getting more for our money? Don't get me wrong. It may be OK to hand out football and basketball scholarships to 200 guys who couldn't pass a real freshman English course on a life-or-death bet, but shouldn't they be the best ballplayers available?
How to Make
UD Happy

Come up to her after class and say: "Would you read this short story I just wrote? No rush... It's just that I can't get anything but 'This is good... This is good...' from the peer readers in my Creative Writing class. I want useful criticism of this thing, so I can really make it better, and the way you tear into short stories in class... well, I think you're what I'm looking for..."

UD has already begun reading the story. It's very good. But there's plenty of room for improvement. My red pen's been slashing through unsavory adjectives...
Tuesday, October 10, 2006
"Russia is a riddle wrapped in a mystery inside an enigma..."

... wrote Winston Churchill, and he might have been talking about Aleksey Vayner, son of Mother Russia, and currently a senior at Yale University.

Everyone's trying to unwrap Aleksey.

Known to classmates in his early campus days as the "Crazy Prefrosh," Vayner makes Jay Gatsby look all the way down authentic. Ivygate, a blog about Ivy League universities, calls this master deceiver "the next Kaavya."

That'd be Kaavya Niswanathan, the lovely Harvard plagiarist ... but while Kaavya and Aleksey share good looks, they seem to me to differ in levels of cynicism and dementia.

Kaavya after all was a freshman, and her novel, plagiarized from many sources, seems to have been engineered as much by editors looking for a diversity babe as by poor Kaavya herself. Aleksey on the other hand is a senior -- even a bit older than a senior, because he apparently flunked out of Yale for awhile -- and he's very much the author of his own much more extensive bullshit.




Aleksey's bullshit is as extensive as the Siberian tundra. To picture its reach, imagine you're Doctor Zhivago, and you and Lara are in that sleigh galloping across the Siberian tundra. You'd have to gallop for forty days and forty nights to cover as much bullshit as Aleksey has covered.

To put it in terms that might be easier for an American to understand: You'd have to lay twenty Godzillatrons side by side on the University of Texas football field to begin to comprehend the extent of Aleksey's bullshit.

His dossier includes a fake charity he claimed to run, and absurdly grandiose claims about himself and his physical strength, courageous adventures, and miracle medical skills. But his breakthrough came with a video resume he sent to a bunch of New York banks which was full of lies so outrageous that, as the New York Sun reports, his "cover letter, resume, and video bounced from bank to bank in New York — from Bain and Company to the Blackstone Group to the Boston Consulting Group to Lehman Brothers and onward," becoming a source of laughter all over the banking community:




Thousands of Ivy Leaguers circulate their resumes each year to New York's investment banks, but few garner as much attention as Aleksey Vayner, who last week submitted an 11-page resume and video to UBS's human resources department.

By the week's end, the Yale University senior's video had raised scores of eyebrows and sparked much laughter in nearly every firm on Wall Street.

Mr. Vayner identifies himself on his resume as a multi-sport professional athlete, the CEO of two companies, and an investment adviser. The video depicts him lifting a 495-pound weight, serving a tennis ball at 140 miles an hour, and ballroom dancing with a scantily clad female. Finally, Mr. Vayner emerges enrobed in a white karate suit and breaks six bricks in one fell swoop.

Between athletic bits, Mr. Vayner takes the opportunity to opine on success. After being described in the opening lines of the video as "a model of personal success and development to everybody," Mr. Vayner says, "Failure cannot be considered an option." He adds: "To achieve success you must first conceive it and believe in it. Remember: impossible is nothing."




Un p'tit peu of commentary:

One: Say what you will, the guy is the perfect Yale applicant. Everything he creates about himself is exactly what universities like Yale are looking for: geographical distribution; international background; fascinating extracurricular activities; jocksmanship as well as intellectuality; self-confidence supreme... In an admittedly naive and over-reactive sense, Alexey is responding to market pressures.

Two: Again, say what you will, but the guy is in some sense the perfect New York money job candidate. Remember Sherman McCoy's insider description of one of these places in Tom Wolfe's Bonfire of the Vanities:



How these sons of the great universities, these legatees of Jefferson, Emerson, Thoreau, William James, Frederick Jackson Turner, William Lyons Phelps, Samuel Flagg Bemis, and the other three-name giants of American scholarship - how these inheritors of the lux and the veritas now flocked to Wall Street and to the bond trading room of Pierce & Pierce! How the stories circulated on every campus! If you weren't making $250,000 a year within five years, then you were either grossly stupid or grossly lazy. That was the word. By age thirty, $500,000 - and that sum had the taint of the mediocre. By age forty you were either making a million a year or you were too timid and incompetent. Make it now! That motto burned in every heart, like myocarditis. ... Masters of the Universe!


In this context, isn't the insane arrogance of Aleksey's cover letter understandable?



UBS's reputation as one of the top investment management firms in the world motivates me to consider a career with your firm. The fast-paced environment and focus on results and excellence that define UBS would be an ideal place for me in terms of both personality and skills.

I strive in intense, competitive environments. As a world-level athlete in several sports, I have developed an insatiable appetite for peak performance and continuous learning. My trainer and world martial arts champion often said, "Impossible is just someone's opinion." I live by those words.


How different is this, really, from the sort of writing UD'd be producing if she'd done better during her short involvement with Trump University?



'Why is Aleksey Vayner at Yale University?!' ask the writers at Ivygate, with all the passionate intensity of youth.

I hope I have begun to unravel that mysterious riddling enigma.




--many thanks to tim,
for the vayner alert--
Ne Quittez Pas

Off to White Flint Mall, ISO a more professional personal appearance. You only have one chance to make a good first impression.

On my return (as soon as humanly possible), I'll offer a post titled

THINGS PEOPLE WRITE
THAT UPSET OTHER PEOPLE.

I have no idea why bold, italics, and other such marks aren't working on Blogger this morning. Maybe they'll be up and running on my return.
Endgame

UD settles into the EZ Recliner nihilism of Joyce Carol Oates short stories only when teaching The American Short Story. It little profiteth UD to be told that life is shit and then you die.

UD used to think her students might be up for this sort of thing, but they too are past the point where what Saul Bellow called Alienation, Inc. rings their bells.

Nonetheless, Oates is a major American short story writer, and if you're teaching the course, she's got to be there.


A recent story of hers, in the New Yorker, has upset people at the College of New Jersey (Oates lives in New Jersey). The Chronicle of Higher Ed recounts:



Joyce Carol Oates, a prolific writer who teaches at Princeton University, is drawing criticism for a new short story whose plot bears an uncanny resemblance to a tragedy that played out on a neighboring campus, the College of New Jersey, earlier this year. According to The Times, a newspaper in Trenton, N.J., Ms. Oates said the short story, "Landfill," was influenced by the strange case of John A. Fiocco Jr., a College of New Jersey freshman who disappeared in March and turned up dead a month later in a Pennsylvania landfill.

But Ms. Oates said the story drew on other sources as well and was not intended to be a fictionalized version of Mr. Fiocco's mysterious death. People at the College of New Jersey aren't buying that. A professor denounced Ms. Oates for a "lack of compassion and humanity" in choosing to write about a recent tragedy that "can only add to the overwhelming pain the [Fiocco] family has already suffered." The family has indicated that it plans to sue the college (The Chronicle, June 6).

For her part, Ms. Oates said she is astounded by the reaction, given that there are many differences between the protagonist of her story, which appears in this week's New Yorker, and the real-life Mr. Fiocco. But there are also many similarities. Ms. Oates's character disappeared after drinking, and so did Mr. Fiocco, his friends said. Both ended up in a trash bin on their campuses, and both were found later in a landfill.

Ms. Oates said the story was intended only as a reflection on what she described as the dark side of undergraduate life nowadays.




The story (feast your eyes) is indeed a pretty unembellished retelling of this latest of many alcoholic deaths on American campuses. The College of New Jersey incident is distinguished from others like it only by the extreme degradation of its trashbins and landfills, and these details no doubt inspired Oates, most of whose oeuvre is a testimonial to Samuel Beckett.

Just as the parents' lawsuit against the college will fail (if you could successfully sue schools when undergraduates died of alcohol poisoning, all schools except Harvard, whose thirty billion dollar endowment would keep it afloat for awhile, would have to close), so the understandable unhappiness of people at the college in the face of this gruesome theft (it stops being theft when you transform it into art) will go nowhere. Oates has issued her lame apologia about the dark side of undergraduate life; the story's been printed.

But it's worth pointing out what a very bad story it is. It has no point whatsoever. Its narrator revels in every sordid soupcon. Its prose is without style.



Next morning when Scoot woke up, groggy and dazed, with a pounding headache, a taste of vomit in his mouth, and dried vomit all down his front, he'd had to admit with the cruel clarity of stone-cold sobriety: They left me here on my back to puke and choke and die, the fuckers. His friends! His fraternity brothers-to-be! And he thought, Never again. Not ever. Meaning he'd de-pledge Phi Ep, and he'd stop drinking. But, somehow, the next weekend he'd come trailing back, couldn't stay away. These guys are his friends, his only friends.

Except tonight there's some kind of bad feeling again, Scoot's feelings are bruised, but, fuck, he isn't going to show it. Of the pledge class, Scoot Campos is possibly the alums' favorite, he's been given to know. Ethnic diversity — an idea whose time has come for Phi Epsilon.


Plodding, voyeuristic, thematically lifeless (the diversity thing is tossed in and forgotten, part of the tasteless salad of this tasteless tale), "Landfill" trashes the dead boy whose death it tells in order to titillate us.
Monday, October 09, 2006
Heads Up
'In the multimedia presentation "Game Day and God: Football, Faith, and Politics in the American South," Eric Bain-Selbo, chair of Religion and Philosophy at Lebanon Valley College in Pennsylvania, will focus on the fans' experience at major college football games throughout the South. He subjects the sights and sounds of the spectacle that is Southern college football to a multidisciplinary investigation that sheds light on the sacred dimensions and religious functions of the game day experience -- an experience shared by other fans throughout the country but also one that has a distinctive Southern flavor.

The free presentation will be at 7 Wednesday night in 125 ten Hoor Hall on the University of Alabama campus. It is sponsored by the Departments of American Studies and Religious Studies and by the College of Arts and Sciences.'
Sunday, October 08, 2006
A Few More Scraps
From the ACTA Roundtable......

...which, if you haven't been following this, is the discussion on the future of the university, held at Harvard's faculty club, from which UD just returned.

The rest of my posts about the event -- all of them live-blogged -- are just below the brief post immediately after this one, about the University of Georgia. Scroll past that and you're there.

Oh, and if you've been sent here by Inside Higher Ed, welcome. Feel free to look around.



A certain vagueness of purpose, and a certain internal conflict, presented itself at the meeting. This is a group primarily composed of trustees and alumni who care about things like serious core curricula and high standards for faculty teaching and conduct. The group attempts in a variety of ways (having a greater voice on boards of trustees; publicizing faculty misconduct, etc.) to influence universities in the direction of greater intellectual and moral rigor, as well as greater intellectual diversity.

Yet to an outsider (moi-meme), it wasn't always clear where the main intent lay. There was lots of beating up on faculty for caring only about what President Trachtenberg called "the eternal superego of their disciplinary peers," rather than about doing their share of teaching, and being willing to teach core courses, and this is fair enough. But there was an absence of faculty in the audience, and I felt throughout that some ACTA speakers were demonizing us in a rather silly way, as when the head of the organization went on about Ward Churchill and called him "so typical." He's not at all typical, and it's a distraction from what matters to fuss overmuch with him and Annie Sprinkle and the 9/11 deniers.

Sure, blogs and organizations like ACTA should rail against these idiocies; and they've done so to great effect. They'll continue to do so with each eruption.

But, for instance, it seems to me it'd be a better use of ACTA's time to invite some truly typical faculty members at American universities to discuss -- maybe to defend -- the complex ethos by which many of them live. This is not as irresponsible, selfish, and madcap an ethos as some at ACTA believe (though there's plenty wrong with it), and it'd be helpful for the organization to gain some nuance about it.

As for the internal conflict: As is often the case at conservative gatherings, there was a libertarian/conservative split at this one, with Dershowitz believing, as does UD, in what he called "ism-equity" on the issue of campus speakers. "The university must be neutral" in regard to invited speakers; it must be willing to pay for security when controversial people appear, and it should never reject any speaker invited by a duly constituted campus group (although I can imagine extreme circumstances in which a university would be within its rights to put intense pressure on student groups to change their minds about this or that monster). Speech codes should function in fact to keep university administrators from acting arbitrarily in the matter of punishment; in principle, such codes should never be used. "We need speech codes to prohibit the punishment of students. We need speech codes precisely to deny discretion to administrators."

But this laissez-faire attitude was in the minority at this gathering; though they protest the left-liberal aspect of many speech codes, many in the audience, I suspect, want speech codes rejiggered in favor of right-conservative points of view. The question is whether they're willing to condemn (it was a question asked in his talk by John Wilson, of collegefreedom.org) places like Patrick Henry College when they purge faculty whose speech is insufficiently fundamentalist.

**********

Mark Bauerlein, a skinny stooped Ichabod Crane, also went after the tenurati, wondering why "one of the most pampered, protected, elite groups" in our country shows "so much conformity, timidity, and bullying." He thinks it has to do with the way we're "socialized," but regular readers know that UD has a different take.

I think that by and large the people who are attracted to academia were born nerdy and frightened and then generally overparented to within an inch of their lives. The rare toughies you see among academics often represent post-nerd triumphs inside the nerd asylum. The bespectacled friendless slob who discovered in himself a genius for economic theory and now reigns as uber-nerd at MIT is never going to be a bold nonconformist. He will wield power in a very small setting, and his bullying will be revenge for his years being bullied because he was a nerd.

People don't start being bold non-conformists once they get tenure if being a bold non-conformist was never in the most tenuous sense an option for them.... And think about it. What sort of person is going to be attracted to one of the few jobs in America that grants you lifetime job security in the form of academic tenure? As to the risk in going up for tenure itself -- the overwhelming number of people who go up for tenure in the United States get it. At some schools, the rate is around 95%.

Of course there are exceptions to what UD is describing here. Most of them are in the hard sciences.

************

A few pleasurable linguistic moments:

-- Someone used the phrase "seminal probe."

-- Trachtenberg talked of his ideas for change at GW "perishing in live burial." I think this a very beautiful phrase, and wonder if it comes from a poem.

Trachtenberg's accent is a delight, as when he talks about how trying to work with faculty is "doowanting...the word is doowanting."

-- I was convinced the very old Harvard hand sitting next to me wouldn't know the word "blog," let alone its meaning, but because he asked why I was taking notes, I told him I'm a blogger. "Great blog stuff, eh?" he said after one particularly adamant speaker. "Oh, I know all about blogs. My grandchildren all have them."

-- Jack Ackerly, a trustee at U. Va., is the compleat Southern gentleman, with another rich accent. "Ah don't want to convey the impression that we're doing everathang raght and everyone else is doing everathang wrong... Ma fraternity's not in biznus eny moah because we had a sex scandal every ten yeahs...."
Saturday, October 07, 2006
The University of Georgia Burnishes Its
"Worst University in America" Credentials
University of Georgia President Michael Adams says the school will continue to accept some student athletes who do not meet admission requirements despite an NCAA report that shows poor graduation rates for men's basketball and football teams.

Adams told The Atlanta Journal-Constitution in an interview Wednesday the university still has to compete in the Southeastern Conference.

Figures released last week by the NCAA show only nine percent of UGA men's basketball players and 41 percent of its football players who were accepted from 1996-1999 graduated within six years.

The basketball rate was the second-worst among the 319 Division I institutions that fielded teams. Both rates were the worst among 12 Southeastern Conference teams.

Many major college sports programs routinely recruit athletes who have grades that are lower than the general student population. UGA football coach Mark Richt has said it's necessary to take calculated recruiting risks since coaches' job security often depends on whether they can lead their team to a bowl game or berth in the NCAA tournament.


Nine percent! UD thanks Nancy, a reader.
Friday, October 06, 2006
A Few More Notes
From the Roundtable


Should have added to that list of obligations to one's university the administrative side, which can involve working on formulating a new honors course in art, chairing awards committees, applying for faculty/student research money from the university and then working with the awardees on their projects (to take a few examples from the sort of thing UD's doing lately), and many other non-teaching and non-research activities....

Back to the roundtable, which I should say at this point, now that it's over, was terrific -- I learned a great deal about, well, university governance, as well as free speech issues, trustee responsibilities, and curricular debates. I was impressed by the whole thing -- ACTA put on a great conference. They even happily fed me when I showed up for lunch inexcusably late, having fled back to my hotel to do some blogging for most of the lunch hour.

It did get weird at points, though. Into this rather stuffy crowd, for instance, stepped a professor from Hamilton College who gave a very loud speech which kept getting louder and louder... and more obscene. He read from the way graphic work of naughty Annie Sprinkle, whose guest appearance at his college, though it happened rather a long time ago, still infuriates him. This speaker, and Candace de Russy, and Allan Dershowitz, took, UD thought, quite the wrong rhetorical and emotional approach to the event. They were hot, while the setting and subject seem to me to have called for cold.

Like the professor from Hamilton, Dershowitz got all dirty in his talk, showing us a blown-up cartoon of himself masturbating over some dead Arab bodies... the work of one of his enemies... Although he's a very smart person, he's also, like de Russy, an ideologue; he's vulgar and narcissistic and insistent about his issues. He thinks his vile endless fights with an ideologue on the other side of some divide or other are representative of the way things are in academia these days, whereas they're only representative of what happens when you put two foolish people together and let them scream at each other.
More Stream o' Consc.

Justin Pope, higher ed reporter, introduces President Trachtenberg with some more put-down-of-other-Ivy-League locales lameness... Something about Princeton and boozing...

Soon-to-be-ex President Trachtenberg begins by saying that during his presidency he held his tongue, but now that he's almost free, here it goes.

"Working with the faculty was my greatest challenge over the decades at GW. And while many of them are lovely people..." Lovely people. You know major shit's gonna hit. "Faculty have a substantial weight in the governance of the institution," but they don't know anything about governance, for one thing, and for another the faculty senate is dominated forever by people profoundly phobic about change of any kind. "Tenured faculty are actually managers who should see themselves as part of the university's mission... But most know little or nothing about university administration... Worse, far too many don't appear too interested in knowing more than they do [cue UD!]... I got a blank stare... a glazed look... impenetrable surfaces come over their eyes..." when he tried to talk to them -- us --about governance...

Hm. I wonder what we're thinking when we look at him that way. I can't speak for others, but I find my thoughts drifting to the enormous salary and benefits many university presidents earn. I find myself thinking that it seems a reasonable exchange that faculty get paid somewhat modestly, but on the other hand are left alone to think about higher things and to have a relatively unburdened affective life; in particular, not getting themselves into the lifelong irritable states that university deans and presidents get themselves into.

Trachtenberg suggests making all new faculty take university governance courses. But I don't want to learn university governance. Trachtenberg says that as part of what he wonderfully calls the "tenurati," I'm actually a "manager" relative to the institution. The hell I am. I see myself as part of the university's mission in that I teach as well as I can at the university, and I try to contribute, through what I write, to knowledge in general and to the university's well-being in particular.
Instablogging from the ACTA Roundtable...

...on the future of university education... This is gonna be stream o'consc...

There's an undeniable ick aspect to all such public, Ivy-located, well-heeled events -- they all involve some degree of snobbery, self-promotion... They tend to be, like this one, overwhelmingly male, sixtyish, white, wealthy...

The Harvard Club, which I've walked by a million times but never til now entered, is your standard well-tended New Orleans house of pleasure, with brooding maroon walls and curtaining so dark you wouldn't know it's a gloriously sunny autumn afternoon out there...

Martin Peretz begins things with a rambling autobiographical nothing sort of address full of uhs. Some of what he says draws the insider laughter that's another unpleasant element of this sort of event... Indeed, there's a parochial, Harvardcentric feel to much of the day so far (this is the lunch break, and I'm racing through this to get back by 1:30, so apologies for typos, etc.)... Peretz says he can't even understand Harvard's course descriptions in political science, let alone the course content they designate... he's full of contempt for Rational Choice but doesn't say why... Prefers Irrational Constraint? ... Yet another unpleasant aspect of such parochial gatherings -- Peretz and others make lame jokes at the expense of Princeton and Yale... In the interests of full disclosure, I must say that Mr UD, a Harvard grad, does this on occasion too, and it's... so lame. Peretz mentions the Minuteman dustup at Columbia, and this is indeed fair game, but he doesn't do much with it... or rather he tries to do too much with it, calling the idiots in the audience who shouted down a conservative speaker "ideological thugs." Ends by saying "These have been rambling remarks," which was the only on-point remark he made.

After that, genial Harry Lewis is a relief -- he gets right to the point: "I wanna talk about the curriculum." Harvard's, that is. He thinks the latest report from the committee on that gives grounds for hope... But he reiterates the argument of his book (about which I've already blogged) that the consumerist model of student happiness combined with a bunch of highly specialized researchers who don't care much about teaching has killed the general core. Like Stephen Trachtenberg, president of UD's own George Washington University, who will speak later, Lewis dumps on faculty: "Professors are cut off from reality... They only care about the impression they make on the small number of peer faculty in their discipline across the country... No real institutional loyalty..."

Young Ross Douthat is next - he has a pleasantly modest demeanor -- he's pale, with a scruffy beard and thinning scraggly hair, so you expect a British accent, but he's one of us. A very well-spoken lad, he offers a list of things that are wrong with elite institutions -- consumerism, again, and a kind of bland corporate attitude on the part of presidents that it's important just to "keep the money flowing" rather than take stands and shake things up. He argues that despite a certain surface diversity, most elite universities continue to be sustainers of existing elites rather than creators of new ones.

Stephen Thernstrom's next -- the very model of an academic: comes to the podium clutching crinkly papers; wears a way-tweedy suit, has wispy gray hair... a Daniel Moynihan hat... looks like Carl Sandberg! As he speaks, comes across as a snob and a crank... though I like the way he pronounces ad hoc ODD HOKE. Complains that "female faculty members" constituted the true source of evil against Larry Summers; and the way he says female makes me think he thinks we're animals... which is kind of exciting in a perverse way...

In comments and questions, the Summers case dominates, which rather bores me... Old news, parochial story... Things indeed get more and more gossipy, with Peretz inanely starting to name names of people who undid his buddy Larry and then saying "Oh no... I guess I shouldn't name names..." [My tablemate, a profoundly well-connected Harvard person, whispers this to me: "Summers was descended from one too many economists. The genes went haywire!"]

Second Session: Who knew? I didn't. Do you think I read conference schedules? It's the president of GW. John Silber was supposed to be here but he slipped and fell and broke his arm. Trachtenberg is smart, funny, has a tres Jewish shtick which I enjoy. ... Ay yay yay... I'm running out of time on this computer, and I wouldn't mind getting a bite to eat... Later...
Thursday, October 05, 2006
Haiku


"Is that all you're bringing?"

Mr UD just asked the classic UD's-taking-a-trip question.

I pack light.



The morning is cool, windy, and overcast.

I've stepped from the Metro platform into a Red Line train in the direction of Union Station. I'll go to a ticket machine there and hope a Boston train's leaving pretty soon. Then I'll go to another machine to withdraw some cash. Must remember to keep my receipts!

The Metro car is full but silent. An extremely civil transportation system, this one, with well-dressed people tending to laptops and newspapers.

...Wow! That's something new. As we sped in the dark from Metro Center to Gallery Place, a film appeared out the righthand windows! How do they do that? Vast posters lining the tunnel walls? You fly by and it's like those picture books whose pages you flip to make their images move...

The flashing figures were an advertisment for Target. A strange sort of ad. No content; only a series of variations on red circles, each variation cartwheeling along against the black rectangles of the windows.



In A Station of the Metro

The apparition of these faces in the crowd:
Petals on a wet black Target ad.



Boston bound.

We've paused at Wilmington. The overcast's over; it's sunny as all get-out, with thin clouds, under which the city looks toylike.



Christ, the Quiet Car is a tomb. A few rows behind me, the loud, wise-cracking ticket-taker sprawls unconscious. Everyone's half-asleep as we slide along...

Is there a word for the annoyance you feel when none of the annoyances you anticipate arises? Plenty of Quiet Car seats; funereal hush; all stops on-time...



We're in Philly.

"Be careful getting the luggage down. Don't want to hit that lady in the head," says a woman to her husband as he stands athwart UD. She smiles at me as she says this.

"If you hit me, I couldn't even cry out," says UD. "Quiet Car."



Boston, Massachusetts. Early evening if you want to be pretty about it. Height of rush hour would be another description. Big Dig mess. Still, a lovely dusky night in the big city.
The Future of Universities

I'm on my way out the door to take a train up to Cambridge for a roundtable on the future of the American university. I'll be blogging from there.
Fiddling While Tome Burns

A British house is madly burning copies of a book it just published about the ancient art of playing the violin at funerals. Turns out the author made it all up.


In 208 pages [the author] told how the Guild of Funerary Violinists – motto Nullus Funus Sine Fidula (No Funeral Without A Fiddle) - had been established in 1580, received a Royal warrant from Queen Elizabeth 1, flourished under practitioners like George Babcotte and Herr Hieronymous Gratchenfleiss, and was almost wiped out by the "great funerary purges of the 1830's and 40s."

Such was the fervour of the art, he said, that violinists duelled with each other at funerals to see who could wring the most tears from mourners.

Duckworth's owner Peter Mayer, who also owns the American publishing house Overlook, reputedly paid Kriwaczek – acting president of the Guild of Funerary Violinists - more than £1,000 for the book: 'An Incomplete History of the Art of the Funerary Violin' which is currently on sale in Britain for £14.99.

Except, as has now been discovered, there is, nor never was, any such thing as a funerary violin, nor a guild, nor a Royal warrant, nor a history, let alone an incomplete one.


That was the Daily Mail. The New York Times is also sawing away, featuring the hoax on the first page of its arts section.


Database searches for the Guild of Funerary Violinists produced few results, among them Mr. Kriwaczek's Web site, a MySpace page and a deleted Wikipedia entry on the topic.


The American publisher, Overlook, having overlooked the obvious, will brazen it out and publish the book anyway. It'll make good money as a hoax.
Wednesday, October 04, 2006
The Globe is Wonderful...

...and full of many amazing things, including one Professor Hall at the University of Florida, who, for at least one class session, lost it. Times being what they are, he was filmed losing it.

He has now lost his job. Here's a description, from Inside Higher Ed, of what he does in the video (I haven't seen it):



A video of a lecture shows an obviously gleeful Hall, clad in a polo shirt and perched on the edge of stage, in front of a student audience. His musings seem thoughtful as he demystifies ancient texts by comparing them to modern ideas.

After reading a passage from the Code of Hammurabi, he proclaims, "This is a product liability … law, right?" There is a long pause as he searches for the word "law." He recovers and then holds up Machiavelli's The Prince, calling it "a 16th century, principle of management book."

But when he reaches for Sun Tzu's The Art of War, his poise leaves him. "Sun Tzu, this is how old? 2,000 years?" he asks.

A student from the audience offers up an answer. "Check the copyright."

Rolling onto his back, Hall splays out over the stage and starts cackling.

He then sits up laughing. "Noooooooo. You can't check the copyright because he didn't copyright the damn thing!" he responds, taking a few more seconds to compose himself before losing himself in another laughing fit.

He then continues with his lecture. "And what Sun Tzu was saying was, 'Here's strategy,' " he says, nodding his head to draw agreement from the students. "Here's how to compete."

Within another minute, he has strayed off on another tangent, and begins advising a student he notices in the audience to go visit the Globe Theater. "Eh, I'm not a big Shakespeare fan, but the Globe is wonderful," he says.



Couple of things. I saw my share of bizarre teaching as an undergrad and a graduate student, but it was always in a minor key: The professor was clearly depressed that day, or hung over or something. But I went to school in Chicago. In sunny Florida, bizarre teaching seems to take the form of extreme happiness.

More seriously, it matters whether this behavior was a one-shot deal, or whether this guy is a career hebephrenic. He seems to have won teaching awards, etc. Certainly take him out of the classroom for awhile; but if the behavior was atypical, give the guy another chance.
Tuesday, October 03, 2006
As Long As We're Talking About
The Trouble with Diversity...


...it turns out that the wonderful play, Spinning Into Butter, which satirizes diversity-think at an American college, has been made into a film, to be released this year.
U. Whore


Richard Vedder:



The fact that persons get a tax break for gifts that actually serve a private goal (getting a child into Elite U) raises some questions, but that is part of a broader issue of whether we should even allow tax deductions for gifts to [the] country club-like elite havens that are today's top private universities, gifts that widen the divide between the rich and merely moderately affluent public flagship universities. Why should we subsidize colleges who have as a major institutional principle the DENIAL of admission of many generally bright and worthy students?

What does especially irritate me ... is the hypocrisy of universities regarding this issue. Many schools claim that admission is determined strictly on the basis of merit, except of course, if you have a favored (non-white) skin complexion, or if you have some special talent (e.g., shooting a ball through a hoop). I would be less irritated by "development admits" if schools admit that they engage in some whoring, particularly if the customer will pay top dollar.

...For the right price, even the best of schools will become academic hookers. That is fine, but I question whether the taxpayers should be subsidizing academic prostitution.



I think Vedder's right that the highly sought after universities who sell admission to the children of extremely wealthy people should make this policy public. (Those universities which, like Brown, will ease up on the demand for money if the family's degree of celebrity is extremely high should also make this generally known.) Beyond the matter of hypocrisy, which Vedder notes, there's a clear financial advantage to universities willing to do this. The more extremely wealthy people, from all over the world, who know about the extreme wealth policy, the more competition among this cohort there will be, and the higher the bids they will make against one another.
How To

Jay Mathews, in the Washington Post, reviews what sounds like a somewhat cutesy book giving college students advice on getting A's.

The authors apparently acknowledge that in these grade-inflated times, showing up is pretty much the ticket; yet they also note that some universities are enacting grade-deflation policies.

Mathews highlights what he found particularly good advice. For instance, the authors mention something I've mentioned on this blog too: If a course feels all wrong -- the professor is terribly dull, or adores PowerPoint, or just wants to show you her favorite movies -- drop it right away. (Yes, the course that asks you to watch movies may be an easy A. But you'll hate yourself in the morning.) In many cases, a glance at Rate My Professors will be all you need to avoid or drop a particularly rancid course.

Much of the book's advice can indeed be reduced, though, to Show Up. Listen. Take notes. Think about the course content for yourself, and write papers that reflect independent thought.
It's That Good!



A typical early autumn Sunday,
la vie 'thesdanienne.

UD, Mr. UD, and UD's sister take
a fifteen minute ride to Great Falls,
Maryland.

First stop (click on each photo
to enlarge), food for the rigors
of the hike to come along the
C & O Canal, and over the raging
waters of the Potomac River.
We choose a restaurant in downtown
Potomac, which greets us with a sign
that says it all: It's that good.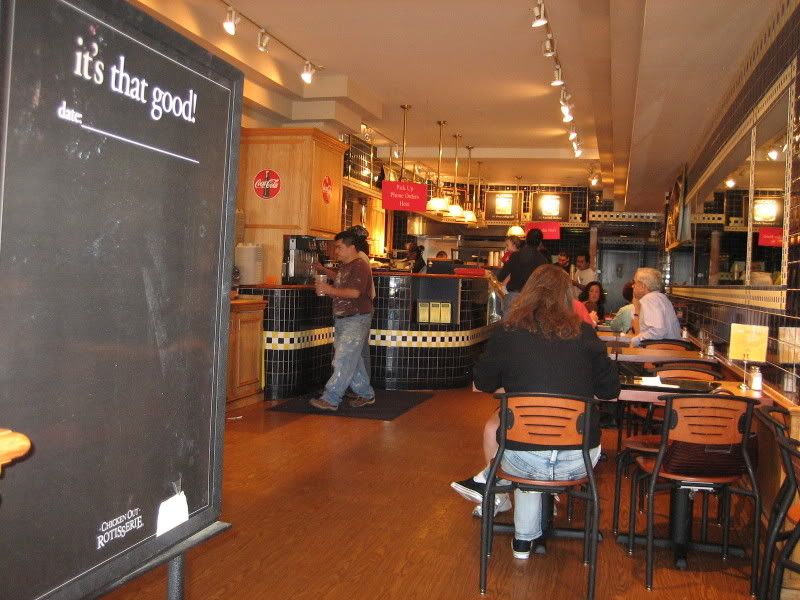 Mad kayakers tumble down the rapids while
crowds of onlookers stand at the Maryland
and Virginia river overlooks. As is often
the case, our threesome is the only group
of people here speaking English.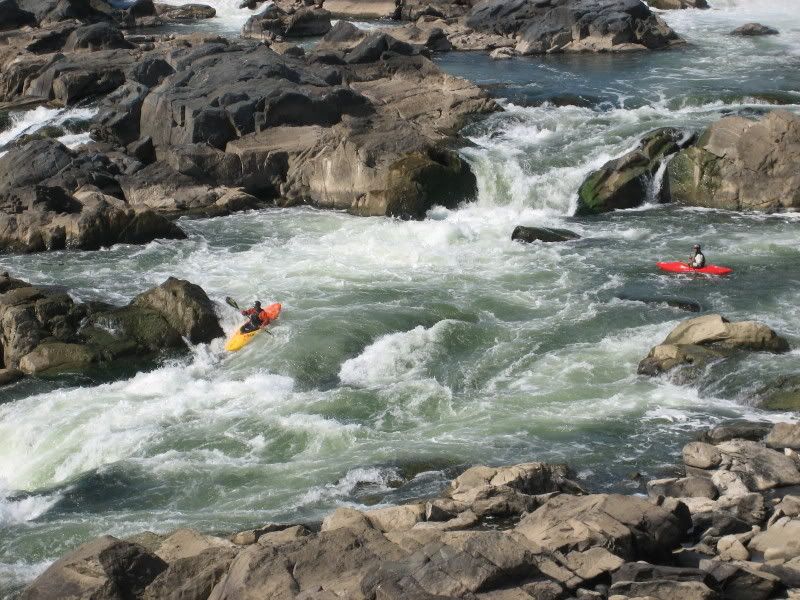 Mr. UD (all in black, head of the line) joins
a group of other ordinary citizens to help the
historically-accurately-dressed canal keepers
(who arrive in historically accurate Dodge pickups)
close (or open - I can't remember) one of the canal locks.












After our walk on the wild side,
we return to our mum-infested
houselet in Garrett Park.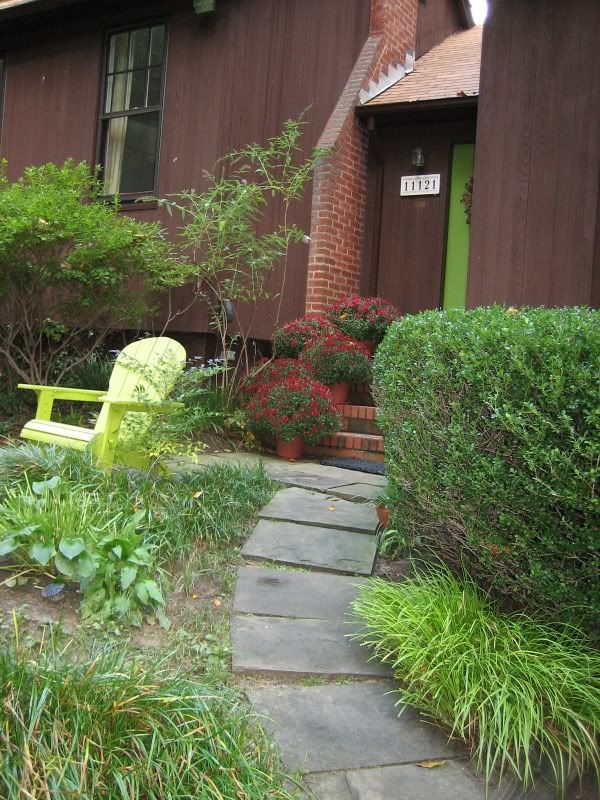 Update on Ohio University Shocker!

Nobody, but nobody at Ohio University had any idea there was so much legal trouble on their football and basketball teams until a nice reporter added up all the recent player and coach misbehavior and told them about it in a newspaper article.

It was quite a shocker! OU's athletic director is staggered by " the current situation in which we find ourselves today," as he reviews the seventeen recent arrests racked up by the lads and one of their leaders... a number which, if you want to be competitive about it, puts Duke's to shame.

New policies with real teeth in them are on the way, so you won't be seeing this sort of thing anymore.
Monday, October 02, 2006
A Sucker's Game

New York Times sports writer Selena Roberts scores.



True, it was a reputed cupcake course. But as an English major at Rutgers University, the honors student Robert Andersen couldn't just curl up with Chaucer or Twain. The guy needed a science credit.

It was in a geology course called Dinosaurs where Andersen discovered the extinction of the Rutgers student athlete.

Outside the classroom door, Andersen witnessed paid attendance takers, who functioned as nannies, as they waited patiently for athletes, usually football players, to walk up and utter the magic password, "I'm here."

Check, the player went to class. Check, the coach is happy. Check, the program has integrity.

"It's just a sham," Andersen, a senior, said Friday. "Are you truly a student athlete if there is someone who has to make sure you go to class?"




The definition gets narrower by the budget cut. At a university besieged by a fiscal crisis — with shortened library hours, staff reductions and canceled classes — Rutgers is eliminating six sports, including crew, fencing and swimming, to save $1.2 million. Nearly equal to the salary of the football coach, Greg Schiano.

"One of the saddest parts," said Norman Levitt, a math professor, "is that some of the people getting hurt the most are the student athletes — and I'm talking about the student who gets up at 3 a.m. to row."

"Rutgers," he added, "is turning into a standard-issue football factory."

It's industrial athletics. All around the country, the quaint notion of a student athlete has been stored in a hope chest amid a fool's-gold pursuit of big-time football.

Officials are lining up to sell their souls to join the arms race of Division I-A, right down to the Rev. Jerry Falwell, the founder of Liberty University. As Forbes recently reported, the Liberty student handbook warns of "witchcraft, séances or other satanic or demonic activity." (And yet the football program plans to leap to I-A from Division I-AA, anyway.)




Big football is a faith-based proposition. Athletic directors go rah-rah when they talk of their revenue-producing team as if to cleverly conflate it with profit-making. They are not the same.

Almost all Division I-A football programs bleed money in school colors. In the fuzzy math of college accounting, it is difficult to tell the depths of the red because many football teams put, say, laundry, outside the athletic budget ledger.

Whatever the exact total, the Scarlet Knights lost at least $3 million on football last year. As officials will say, this is the price for winning. For the first time since 1976, Rutgers is in the top 25, a ranking bound to surge after the team's tense victory Friday night against the South Florida Bulls — a football team since 1997. For South Florida, a little-known commuter college, football was born as a branding tool.

"I would rather say it's a rallying point, not a branding tool, for us," Robert E. Mulcahy III, the Rutgers athletic director, said by telephone Thursday. "We're a research university that stands on its own as an academic institution."

Football has put that identity at risk. Campus computer labs shut down early to conserve money, but the football machine churns on with game films rolling across what has been described as a 42-inch plasma television in the locker room.

"We have a television in the locker room," Mulcahy said. "I can't tell you what it is. I don't know."




Rutgers's recruiting money for academically distinguished students with stellar SAT's has been slashed, but the football budget will increase next year along with Schiano's salary. "It's demoralizing to the faculty," Levitt said.

It's not as if the bandwagon has square wheels at Rutgers. It's not as if Rutgers is a campus full of football curmudgeons.

"When Rutgers was horrible at football, students tailgated but never went into the game," Andersen said. "Now they tailgate, but a larger majority of kids actually go into the game.

"They're doing well, but it's like, at what expense?"

The cost is to Rutgers's intellectual capital. How can the university square its football excess with a fiscal demand for academic austerity? Just what kind of student is wooed by the siren song of a supersize football program? As Andersen said, it appears the university is in search of "kids who want to paint their faces and scream and yell at football games."



There is another aspect to Rutgers's football strategy: provide rich boosters with a business perk and an incentive to give. Ply them with victories, with luxury amenities for clients, a winner's identity for themselves, and watch the money roll in. Last year, Mulcahy said, the Scarlet R Club, the fund-raising arm of the athletic program, collected a record $5.8 million in donations.

The amount doesn't touch the $20 million-plus raised by organizations like the Gator Boosters from Florida. But even at universities with deep-pocketed donors, the money doesn't cover the football debts.

This is a sucker's game. The sport is a money pit and, often, a magnet for corruption. As seen throughout college football, booster influence creates conflicts and opens the way for chicanery. As it traverses this slippery slope, Rutgers seems oblivious to cautionary tales.

So football expands. Let the fencers fall on the sword with the rest of Rutgers.

"Everybody has to decide what's important," Mulcahy said. "Just because we have budgetary concerns doesn't mean we have to stop having a vision for the future."

Mulcahy is doing his job. But the vision is just as much of an illusion as the attendance by some football players in a certain cupcake class.

"Halfway through, a few at a time, they'd walk out the back," Andersen said.

At Rutgers, the disappearance of the authentic student athlete is embodied by a course called Dinosaurs — a study in extinction.
Sunday, October 01, 2006
I'm Not Sure the Book
The Trouble With Diversity...

...is so necessary (to use the language the book's author uses to describe the woman in his life, in dedicating the book to her... And why did UD's skin crawl at this dedication?... 'To My Wife: So Necessary.'...? Because it puts rather unfair pressure on the poor thing? Is she so necessary that if she keels over from a heart attack he'll expire on top of her because there's no sense going on? The author's So Necessary seems to boast that the rest of us, who find our mates right as rain, to be sure, but not perhaps SO necessary as the author finds his, can never attain this... this liebestod ...) as to justify a major book event about it on the wonderful group blog, The Valve. But they've gathered an intriguing bunch of articles by Michaels, and by commentators on his work (UD's one of them), and it's worth a look.
University Diaries Has Been...


...missing in action, as Oso of Slaves of Academe put it to me in an email. My niece suggested this and that, and now I'm able to get the thing to open. If you're still having trouble, let me know.
Insert Coin Here


Weirdly disembodied opinion piece by the president of the University of Pennsylvania in the Washington Post today. It's a contorted effort to defend her university's continued use of 'early admissions' even as other universities, recognizing how unfair and demoralizing early admissions is, are dropping it.

Penn's president dismisses early admissions as a trivial internecine debate among universities; it's a policy, she claims, which makes little difference in real numbers of students admitted. But this is clearly incorrect. Plenty of rich students with insider information about the admissions game apply via early admissions and get in to places like Penn, destroying the chances of impressive but less informed and poorer lower and middle class students. These students simply can't afford to play the early admissions game, since they typically have to wait until all admissions offers are in to see about what sort of financial aid they've been offered, and therefore can't lock in to early admissions deals the way rich students, fully able to pay for themselves wherever they go to school, can.

The flagrant unfairness of early admissions is the reason so many schools similar to Penn are, one after another, getting rid of it.

Not only that. Early admissions is one of many symbolically potent, discouraging elements of the prestige-university admissions game -- a profoundly money-advantaged procedure in general, whose most scandalous elements are described in the much-talked about recent book, The Price of Admission.

Pious blahblah about democracy ("American democracy," Penn's president intones, "can flourish and our economy remain competitive on a global stage only if we offer the highest-quality education to the most talented children from all socioeconomic backgrounds.") in the context of a rigged upper-class admissions game is the sort of hypocrisy guaranteed to make all of us - including very smart students without the kind of counseling, cosseting, and money rich students get - cynical. Indeed this opinion piece can be read as a coded announcement to rich parents that - with Harvard, Princeton, and other prestige schools dropping early admissions - Penn is the place to put their money.